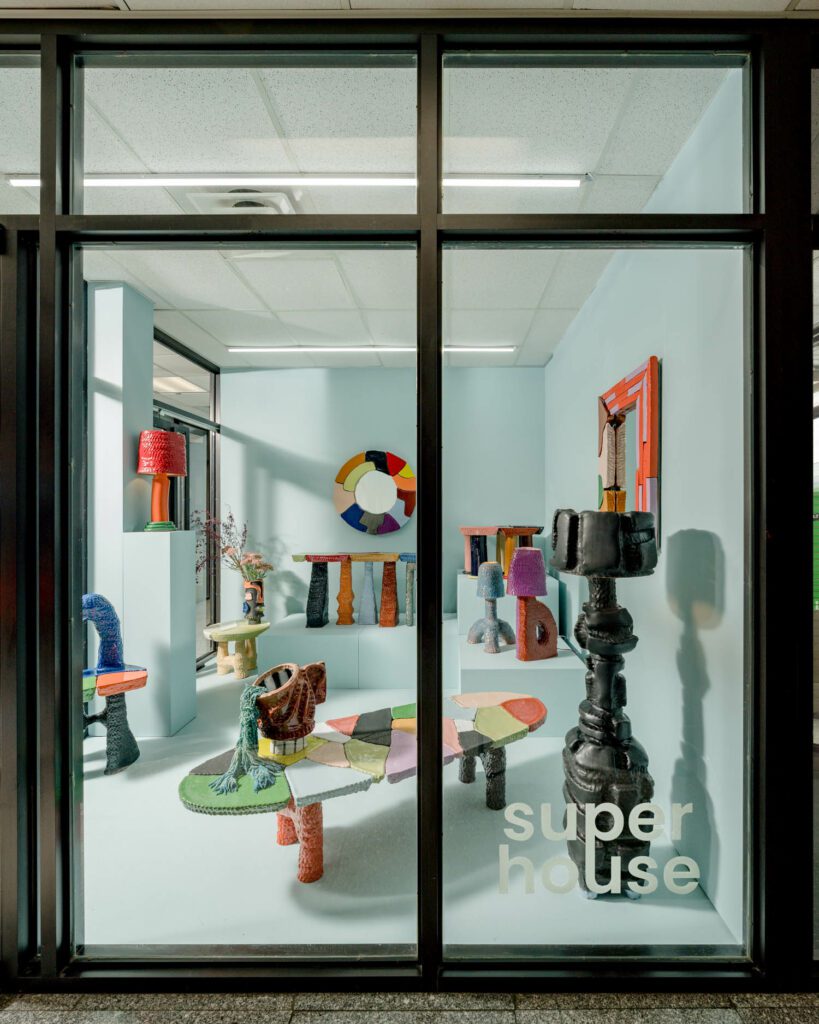 10 Questions With… Superhouse Founder Stephen Markos
The transformation of Superhouse into a brick-and-mortar design gallery is a textbook case on starting from scratch: First an engaging Instagram account, later an experimental online space, then a word-of-mouth pop-up gallery, and finally a vitrine storefront inside a vibrant market in Manhattan's Lower East Side. For its founder, Stephen Markos, creating a platform to present queer design along with historic work meant opening a physical space from the start. "In the summer of 2021, space became available in the Chinatown mini-mall that I had had my eye on for years, and I leased it right away," he tells Interior Design.
From a group show dedicated to queer and women-identifying woodworkers to a two-person display subverting domestic and functional codes of color, the shoe-box sized gallery has held exhibitions that challenge the status quo on promoting contemporary design. "A wonderful and unexpected result of having this physical space has been the community that has formed around it," Markos explains. "Openings are packed with new and familiar faces, while others pop in whenever they are in the neighborhood to see the latest show or to have a chat."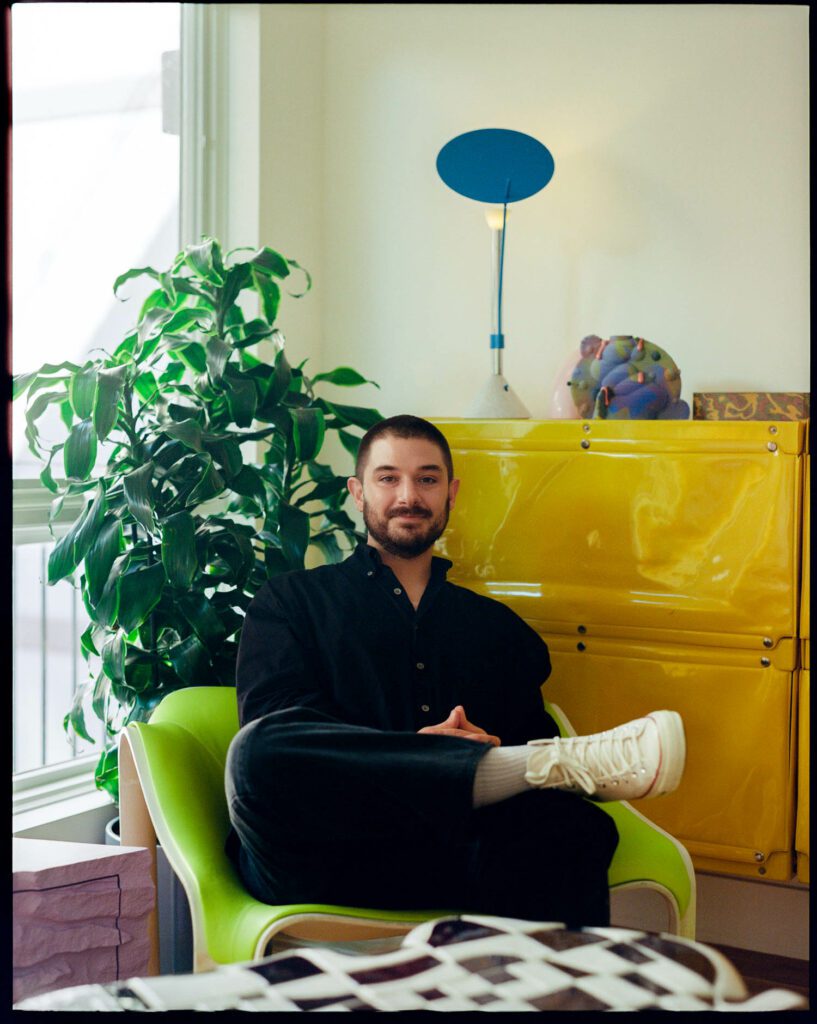 After starting in downtown Manhattan, Superhouse is expanding globally. This month, the gallery's first international exhibition will open during Milan Design Week in collaboration with womenswear brand, The Attico. Back in the States, Superhouse fall programming includes debuts of historical works by artists and designers popular in the Downtown NYC art furniture scene in the 1980s and '90s, such as Elizabeth Browning Jackson, James Evanson, Dan Friedman, and James Hong. The November slot belongs to the first solo exhibition of emerging ceramic artist Ellen Pong. And the gallery's first design fair presentation will be held during Design Miami/ in December in its Curio section
Interior Design caught up with Markos before he makes his way to Milan Design Week.
Interior Design: Could you talk about the evolution of Superhouse from an IG account to a physical gallery?
Stephen Markos: Initially, the Instagram account helped me build an audience, share my knowledge, and meet artists, collectors and business partners. Additionally, Superhouse presented both historical and contemporary design through innovative digital experiences, employing the 3-D skills of multidisciplinary artist Duyi Han and building a collaboration with Friedman Benda, OrtaMiklos and Guillaume Roux. I inaugurated the physical gallery with a solo show by Sean Gerstley and I have been lucky enough to fill the space with incredible art furniture and design by other talented artists and designers ever since.
ID: How effective has the pandemic been in this transition, both in positive and negative ways?
SM: While the pandemic delayed those plans a bit, it also created unconventional opportunities to exhibit work. For instance, in December 2020 Superhouse held a weekend-long group exhibition called "Super Group" that was such a hit that it has now become a semi-annual showcase of leading contemporary design.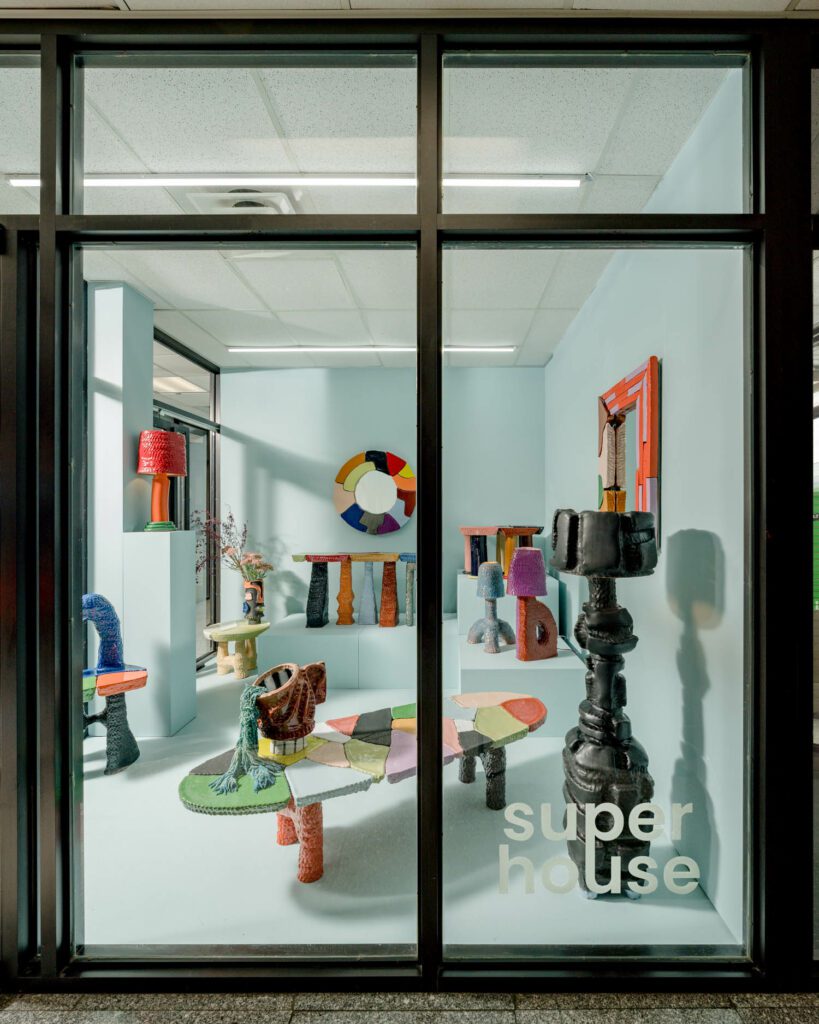 ID: With the rising popularity of online galleries and viewing rooms, why did you feel a need to open a physical space?
SM: There is no comparison to a physical space. Early in my career, I worked to launch the first fine art online auction platform with Artnet. Back then, it was exceedingly difficult to coax buyers into purchasing art online. But through Artnet's diligent efforts, as well as those by other companies, buyer perceptions have changed. While furniture can certainly be purchased online, getting to experience the work in real life is so important to many buyers. Sitting in a chair, turning on a light, feeling the surface of a vase, or understanding the scale… The sensory information gathered from this in-person experience cannot be replicated online (at least, so far). 
ID: You used the virtual space and video games in your projects before. How do you bring a similar sense of experimentation to your storefront space? 
SM: Firstly, the "vitrine" is a non-traditional concept. While the art world has been using the concept for years (Anton Kern has its WINDOW, Paula Cooper has its vitrine on West 21st Street, etc.) I haven't seen it used so much in the design world. Secondly, the context in which I show the work is critical. The pieces are typically exhibited in immersive environments where the viewer can be intimately surrounded by the design on the display. With Ryan Decker's solo show "Feudal Relief," the artist took the concept further, covering the walls and floor in digital prints replicating a stone-walled dungeon and transport the viewer into a wholly new world. The space is an approachable size that can be a laboratory for experimentation and (somewhat) easily transformed with each exhibition.
ID: Your interests range from the Radical era of the Italian design to artists flirting with the cyber space, how do you see curation as part of your strategy as a design dealer?
SM: I feel that my varied interests in design are important to my clients, bringing them exciting new work that they've never seen before and also re-contextualizing familiar, historical work in novel ways. Someone told me once that I am "blurring the timeline" as design is concerned. While I am flattered at such a statement (though I'm not sure how accurate it is), I do appreciate the idea of mixing aesthetics, materials, and periods to achieve my point of view.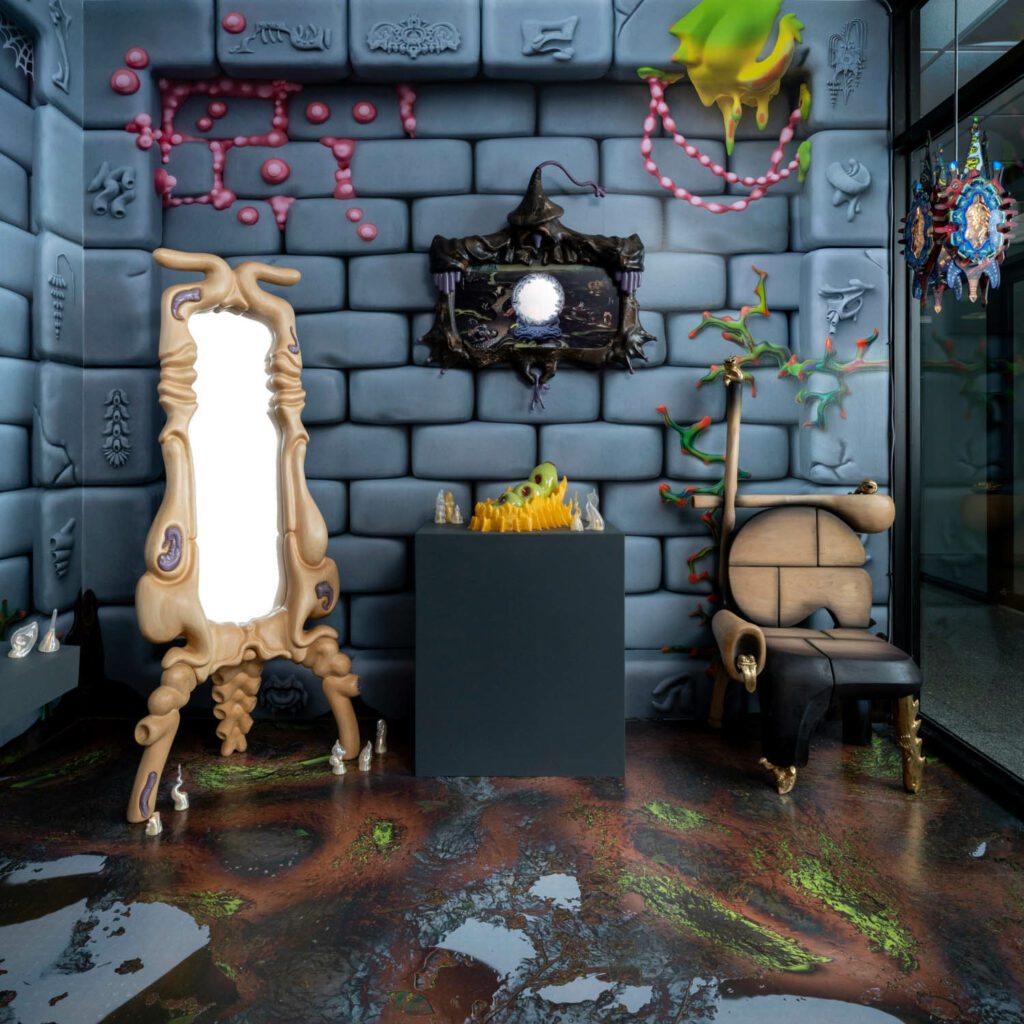 ID: While queer artists are gaining a growing visibility, the design world seems slower in accepting similar representation. What have been some of the challenges of representing queer designers?
SM: Queer artists and designers are everywhere. What is interesting, however, is how some do not necessarily feel their identity is important in defining their work. My role is not to force artists into sharing their private life for commercial reasons, but to honor how they want to be represented. With that said, as more artists feel comfortable expressing this part of their identity, the greater the visibility of queerness in design we will all have.
ID: "Ingrained" for example was dedicated to woodwork—how do you see a parallel between queer designers and certain materials? Fiber for example is a common material and wood is an interesting one.
SM: From my perspective, queer people are largely absent from the cultural discourse as it relates to specific materials or forms. Using sex and gender as a dividing line is more commonplace. For instance, women have traditionally been associated with textiles and surface decoration. Men, on the other hand, have been associated with wood and metal working. What I found through my conversations with artists and designers during "Ingrained," however, is that contemporary women, non-binary and even cis-men find it hard to break into certain trades because of prevailing notions of how a certain material relates to sex and gender. 
ID: Performance and the making process are crucial elements of queer design today. How do you emphasize these steps that precede the finished work itself in your representation of the designers and exhibiting their work in your physical space?
SM: To me, this is one of the best parts of the job. Bringing people into the gallery, having them crouch under a table to see how the artist fitted pieces together to form the whole, or encourage them lift a vessel to feel the weight. I like to have them turn on or off the overhead lighting to get a sense of the ambiance a lamp might give and even have visitors smell a work are all ways to give the audience a sense of the material and what went in to making the work. It's also a bit of a performance for me.
ID: You mainly work with young designers who came of age during the rise of the internet. What kind of parallels do you see between their physical works and the reality of a cyber space?
SM: Ryan Decker's solo show Feudal Relief showcases the effect the digital world has on the physical. His works, while taking inspiration from Medieval art, have a computer-generated aesthetic, influenced by years of playing video games and creating digital art. The internet created an access to visual imagery and information that previous generations didn't have. The masses of information consumed through online searches and experiences have created a prevailing contemporary style that blends aesthetics, references, and time periods.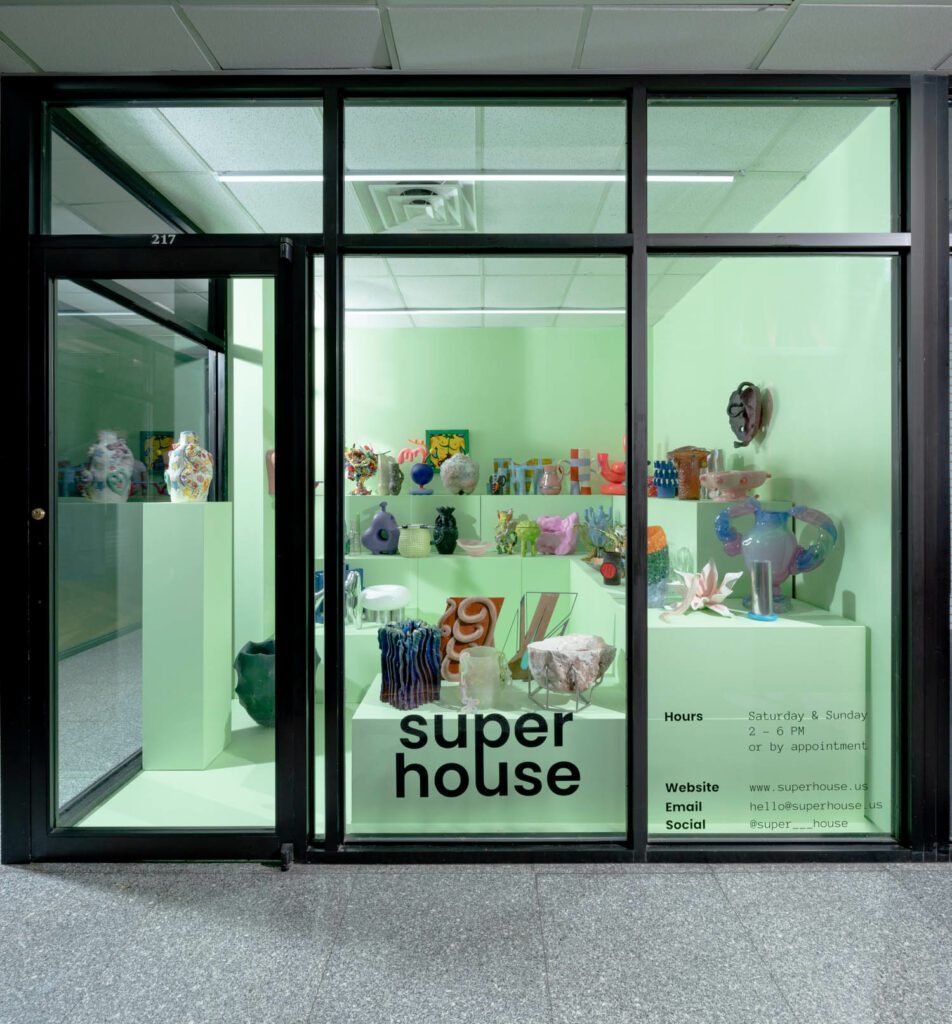 ID: What kind of reactions do you receive from collectors and the general public about the current panorama of queer designer as well as the future?
SM: Many collectors strive for diversity of representation in their collections. They are interested in supporting artists they might identify with or that gives them a window into a world they're not accustomed to. Collectors and the public love learning about an artist's background and how that may have influenced the work they produce.