10 Questions With… In Common With
The duo behind Brooklyn-based lighting studio In Common With call each other "design soul mates," and like any symbiotic relationship, they think the strength of their bond comes from "not doing necessarily the same things but complimenting each others works." The fixtures, made by studio founders Nick Ozemba and Felicia Hung, reflect this duality, not only through their serene balance and material-first sculptural qualities but also through occasional collaborations.
Terra Series, their eight-piece second collaboration with ceramic artist and designer Danny Kaplan is a vivid example of effortless creative unity. The trio's first attempts together, which started out as an Instagram crush, centered around taking their designs and smashing them together, ultimately creating monochromatic lighting objects in 2020. In Common With describes this process as "less about dissimilarities" and more about drawing on various ideas to "create a new language."  
Ozemba and Hung's paths crossed at RISD where they first talked about collaborating. "We balance each other out and build on our work together," they say, "which explains why we feel comfortable bringing in a third voice." Their new line with Kaplan, which they recently launched at th Brooklyn design shop, Assembly Line, merges the immediate tactility of hand-thrown ceramic with the duo's minimalist approach to the form and function of lighting. The interplay between clay and light yields both sculptural and utilitarian potentials, pushing their practices to new lengths.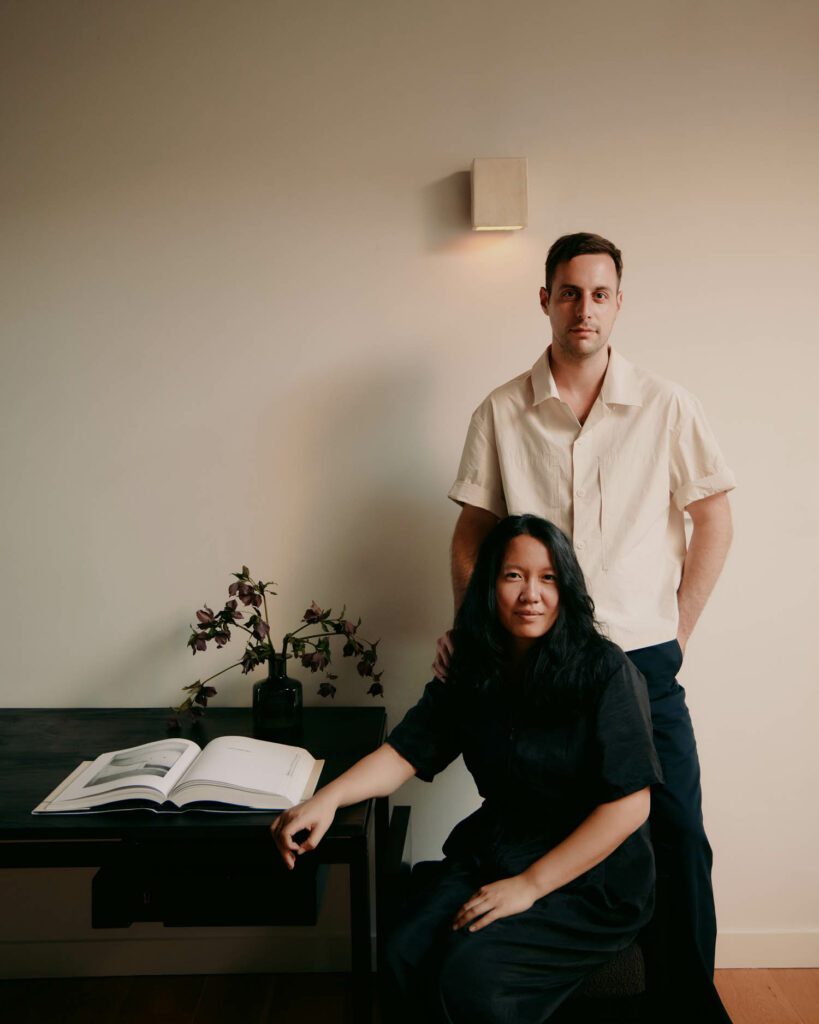 Interior Design: Could you talk about the sculptural potential of light fixtures? Do you think about the idea that when turned off, light fixtures gain sculpture qualities?
In Common With: In fact, we think about this aspect often. What do light fixtures become when they're off? The pieces we've made with Danny do live in that type of way. A lot of them have artwork qualities but they function as lights too. The new floor lamp, for example, holds so much presence in a room—it's 5 feet tall whether it's lit or not. We live with light fixtures but the majority of the time, they are not on, so this is a very important component of our thinking.
ID: The name In Common With references to a partnership but also a duality. Does the name represent your dynamic as well as your work with others?
ICW: Collaboration was very important to us when we first decided to start this company, whether it's with another designer artist, like Danny Kaplan, or with the interior designers, architects or anyone looking to buy a light fixture. Our whole ethos is to work with other people. We have our own design opinions, but the experience has been so much more when we add another opinion into the process.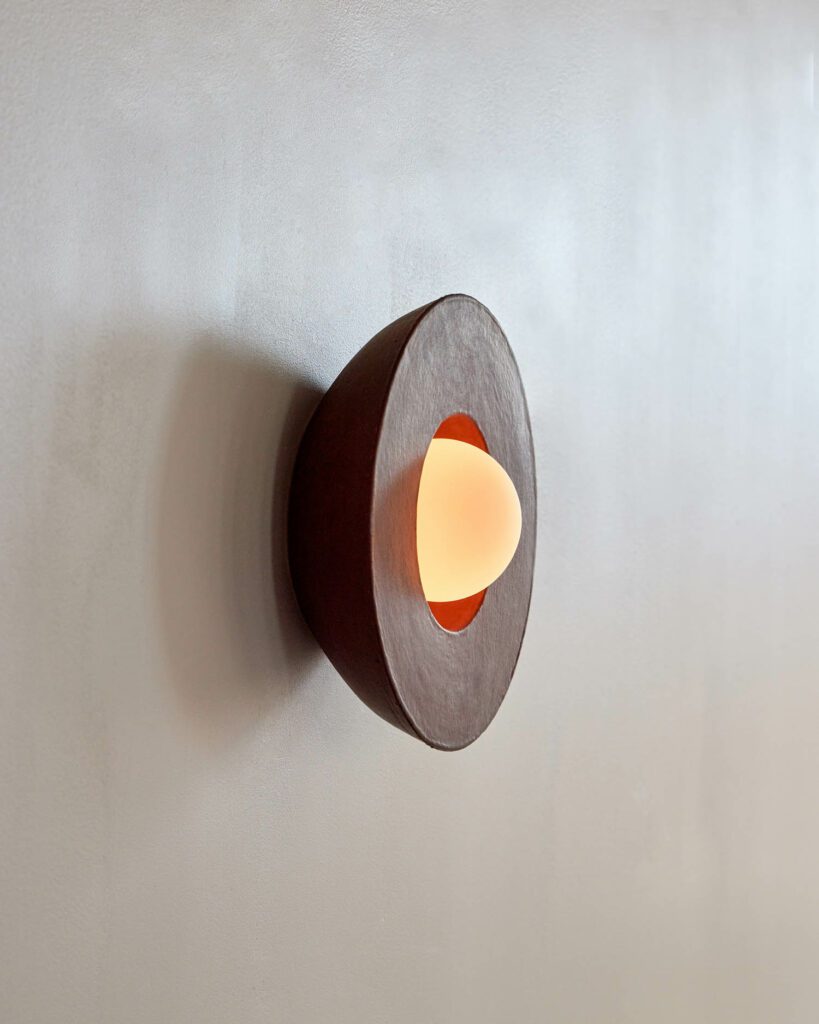 ID: What are some of the rewards and challenges of collaborations?
ICW: Like any relationship, there are parts that are always amazing and those that are a struggle. The real element is being able to find the balance to come together and push all of our boundaries for something new. With Danny, for example, we work so well together because we're able to see where everyone is at, and with the new collection, we've taken this to a new level. The objects look unlike any work any of us has made before, in ways that neither one of us or Danny probably would have done. This also applies to manufacturers we work with or the interior designers who we do special projects with for new ideas. Working with someone else comes with new constraints that push us to do things we just normally wouldn't do. The challenge is to do the situation that pushes you to think in a different way.
ID: When washed with light, the materials gain new looks and textures. What is the role of materials in designing light objects?
ICW: Our backgrounds are both in furniture design, but our training is all material driven, and that interaction is really where our ideas start and stop. Even with the ceramic pieces, we push the boundaries of the material to make something more interesting than they are. From a perspective of light as well we think about how they're going to be used and what type of light we want it to be. With Danny, the table and floor lamps are down lights for reading but the pendants give off an ambient glow. Light is something we always keep in the back of our minds, but we are always seeing what the material wants to let the light become and then use that as an inspiration.
With the ceramic material, the negative space between the light and the material is important—we keep in mind the idea of creating these interesting negative spaces within the fixture.
ID: Are there specific visual reactions you look for in materials in terms of their interactions with light?
ICW: We look into what the material wants to do and where we can push it to do so. With our glass collections, we've pushed the ways glass can be blown. In the same way, we have also pushed the colors we could use so they interact with the light in interesting ways. The ceramic works with Danny have really been driven by the material and the attention to how detailed the artistry could be.
ID: Ceramic has been gaining popularity both in fine art and design. How do you see this rise parallel to the escalated need for touch in reaction to technology's impact on design?
ICW: Ceramic is probably one of the entryways to what people consider a very manual practice but we think about this moment beyond ceramic too. We have for example taken ceramics classes to test with the material. We are both very hands-on with the way that we learn and we prefer being able to physically do something instead of watching it on a computer. Our glass is also completely handmade, which can be a scarier skill to have. More than a trend, for us, the handmade is a timeless part of how we think about design and what it will be like moving forward.
ID: What prompted you to go towards a geometric form in your second iteration with Kaplan?
ICW: There's one piece from the first collection, the Augustus, which has a flat bottom to it. We came up with that together, it was not something that Danny had ever done in his work before and it was one of the parts we thought was the strongest and most interesting. So we wanted to play up the flat planar geometry with some of the like organic pieces still in the collection, too. The simple geometry, I think, is what is most similar to a lot of our work outside of our collaboration with Danny. So I think a lot of it feels it's right in the middle of where we've come together. A lot of the surface mounts and pendants… have that flat surface on the bottom, which are really unique and not present in a lot of other ceramic pieces. It feels really unique to us and different from all of our work.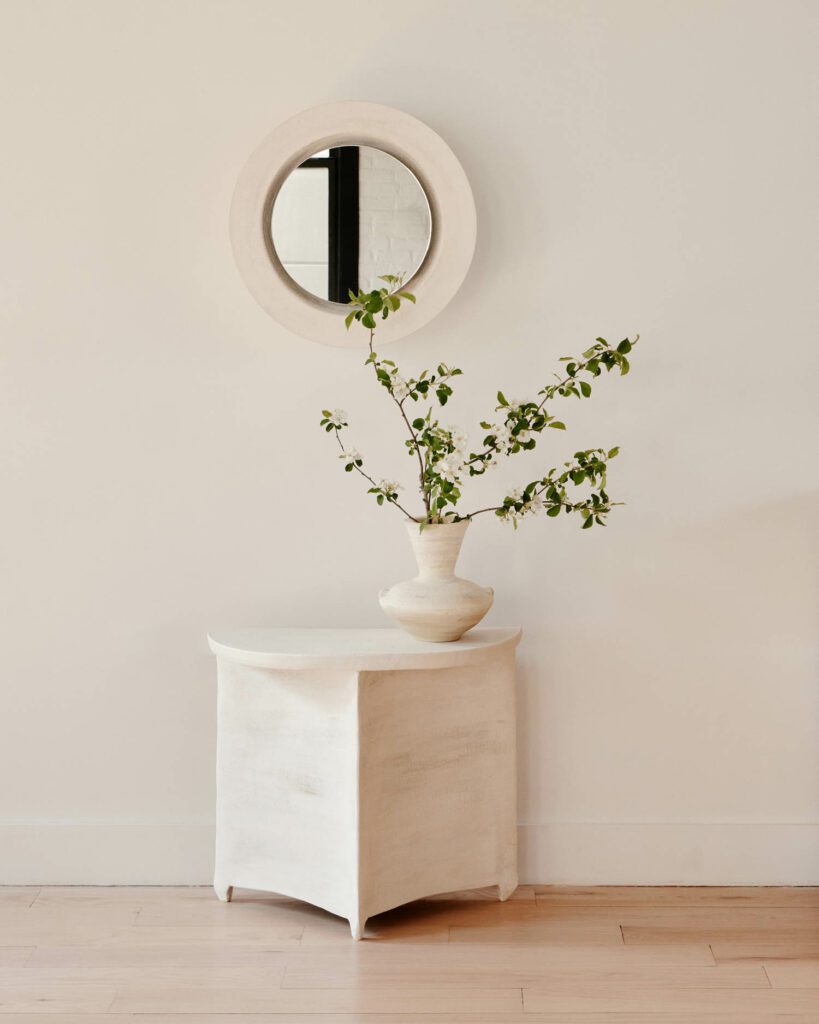 ID: As light design continues to evolve in the wake of the pandemic, how has it prompted an interest and demand in design objects?
ICW: We started our company at the right time in 2018. Then we were more focused on hospitality, hotels and restaurants but with the pandemic, we saw a lot more people buying objects for their homes. This reality has somehow allowed us to hire more people and build the brand. Collecting has been embedded in European culture for a long time, and we're just starting to see that in the U.S., people are invested in acquiring pieces that have the potential to become family heirlooms. This shift is also happening in the general culture, such as fashion. The pandemic however has expedited it for our industry, and we don't think it will go away.
ID: Light fixtures are part of product design but they affect the overall interior. When lit, they impact the furniture, wallpaper, drapery, and the overall architecture. What do you think about this omnipresence?
ICW: After studying furniture, our intention was always to do both furniture and other things. The reason why we started off with lighting and has stuck with it for so long has been about how much it affects a space. Light is one of the easiest ways to change your space. You can just switch out the lights in your room and this will just make a big difference. Light has a much greater impact on our moods than a piece like a table or chair.
ID: Terra collection has an earthy color palette. How was your decision making process about the colors in a collaborative way?
ICW: Our first collaboration in 2020 was all in black and white, and now we have three new colors. We gravitate towards natural tones because they they fit everywhere and stay timeless. Think about a Noguchi lamp in a cream color—it will fit into any interior for the rest of time. I think that that's what we think about when we're choosing colors, too, is where's this going to be? And like? How is it going to stand the test of time?