10 Questions With…. Jane Atfield
"Designing with recycled materials was generally seen as being a bit weird and unconventional," remembers the British designer Jane Atfield about the early '90s when she created her now iconic RCP2 chair with discarded plastic. "They were perceived as being of dubious quality and a 'second best' choice." A furniture design student at the Royal College of Art at the time, Atfield found encouragement among her classmates, as well as her son, Noah, who enjoyed counting the vast range of radiant colors stemming from bits of suntan lotion and shampoo bottles used for the chair.
Upper East Side's Emma Scully Gallery recently invited Atfield to revisit the chair, which now sits at the Victoria & Albert Museum's collection, displaying a suite of chairs and a table in three new colors. RCP2 chair's revival coincides with the design's 30th anniversary and invites young designers and collectors to explore an early case study in environmental consciousness.
Soon after RCP2, Atfield opened her design practice MADE OF WASTE and continued her practice in sustainable design. Here, Atfield shares her path to creating sustainable pieces with Interior Design.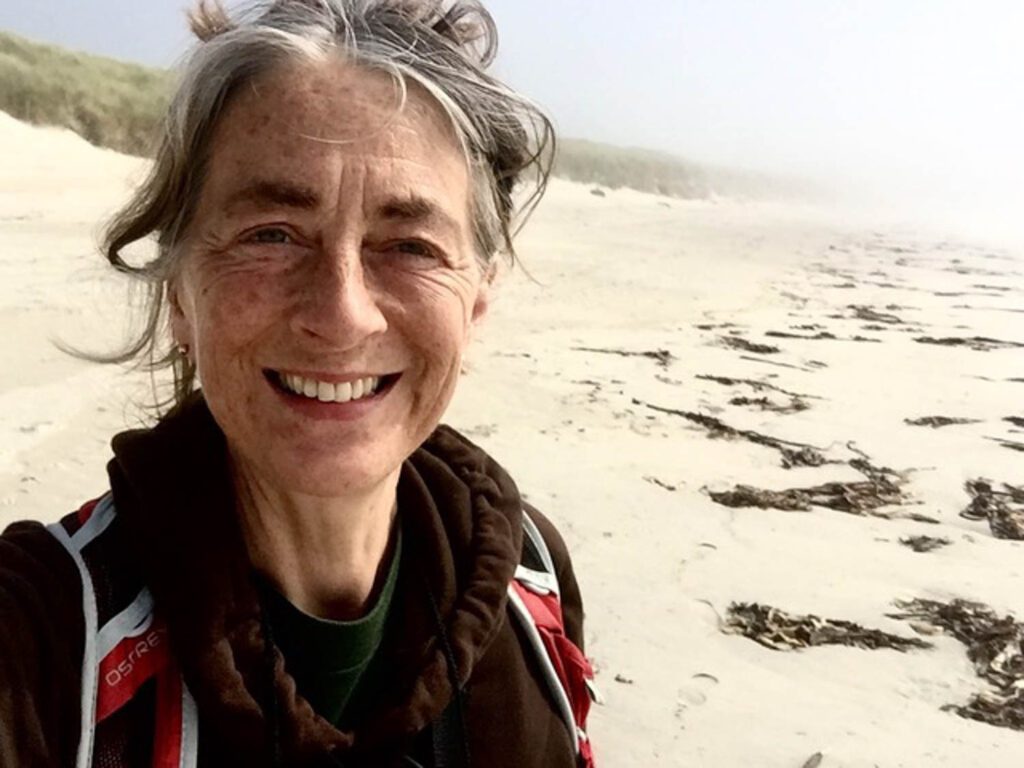 Interior Design: Could you talk about the changes you have witnessed in the design world in terms of environment consciousness since you first created RCP2?
Jane Atfield: We have this incredible and beautiful world that we are destroying. Wider recognition and understanding of this has been the biggest change in 30 years. Environmental awareness has gone from being marginalized to mainstream, and now there is a commitment towards nature and sustainability being at the heart of design. Many young designers especially are passionate about wanting to make the world a better place for everyone. Words such as eco-friendly, circularity, regenerative, net-zero and material ethics are embedded into their design thinking. Waste is increasingly being used as a starting point in furniture and everyday objects with imaginative new sources are explored, including agricultural, industrial and food remnants.
Plastics were seen as a wonder material in the '90s. Now, there is a growing back lash with the anti-plastic movement. Even if all plastic chairs are from recycled sources, the effects of this are diminished if we are still drilling new oil fields. Designers are increasingly aware of the social and political environment they work in with issues like climate justice extending the climate change debate along with problems like greenwashing.
ID: Do you remember the reactions to your idea of designing with recycled material three decades ago?
JA: In the early days, I used to have a shopping bag full of recycled plastic samples that I would take to designers to try and entice them to incorporate the recycled material into their work. We made up some customized sheets for Philippe Starck, although the project did not progress. Jasper Morrison thought the material was ugly! However, the London-based architect Ben Kelly was really positive and used it extensively for desks and benches for the London Science Museum children's center. MADE OF WASTE also sold the recycled plastic sheets directly to the public who used it for things like kitchen and bathroom surfaces.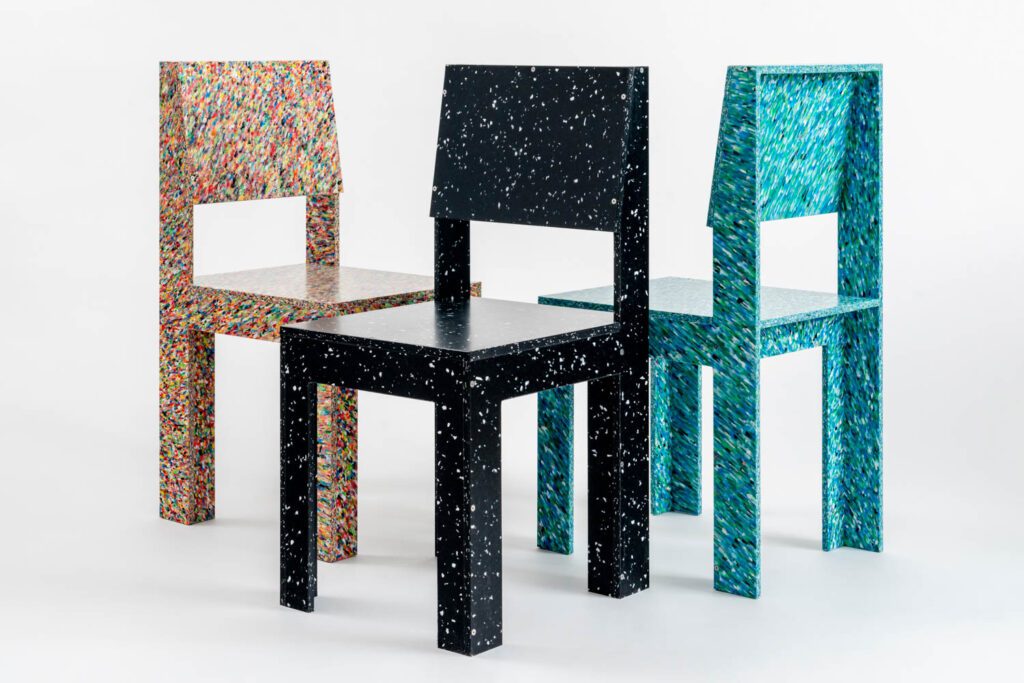 ID: How much information was available back then about the possibility of using recycled material in design?
JA: It was not easy to get information in those pre-internet days. Trade shows were important sources and also material libraries or contacting companies directly on the telephone or by fax.
ID: What type of role did MADE OF WASTE play in your exploration of recycled plastic over the years?
JA: MADE OF WASTE was set up in 1993 to research and develop recycled plastics using the U.K.'s post consumer plastics, and the resulting construction sheet materials were made available to architects and designers. Following on from developing the HDPE plastic from post-consumer bottles, other sources of raw material, including HIPS yogurt pots, Marks and Spencer coat hangers and discarded cling film from the catering industry, were evolved. I would often experiment with these materials in furniture design and explore their working properties before making them more widely available.
ID: Could you talk about your process of collecting plastic tubes and bottles back then? Are there moments and interactions that stayed with you?
JA: I started experimenting with recycled materials when, during my second year at the RCA, I came across a curious blue material sample on the desk of a fellow student studying sculpture. They had bought it back from a New York trade fair, but the manufacturer's name wasn't on it. I eventually found out it had been made by Yemm & Hart, and I got in touch with them to see if I could import some larger pieces. I was very interested in their approach and how they were connecting new materials with a wider societal context, namely the problems of plastic waste and using this as a resource. There was potential to incorporate the material into furniture, and it seemed like a good antidote to the slick, style driven furniture of the '90s. Stephen Yemm shipped over some sheets for me to explore, and we started a dialogue over the material. I designed some furniture with it and this led to a commission for a student bar at the University of Westminster with the architect Joe Hagan in 1994.
In time, the need to find a way to fabricate the material in the U.K. was apparent, using our own plastic waste, as it was expensive and environmentally unfriendly to ship it over the Atlantic. This involved liaising with community recycling schemes to source the HDPE plastic bottles derived from discarded shampoo, detergent and milk containers which were then color sorted and chipped. Searching for the correct machinery to press the chips into construction sheets proved difficult, and in the end we used presses intended for manufacturing plywood at a factory in West London. The colors in the finished sheets reflected those of the plastic bottles in public circulation. When a new color was introduced by a bottle manufacturer—I remember a bright blue detergent—it was exciting to see it go from a supermarket shelf and later turn up integrated into the recycled plastic sheets. Ways were explored to develop community production facilities using local waste, for example, to recycled school plastic waste into classroom furniture. I remember approaching Camden Council with this idea, but there was unfortunately no investment for such schemes. In fact, it was difficult to get anyone to invest in MoW.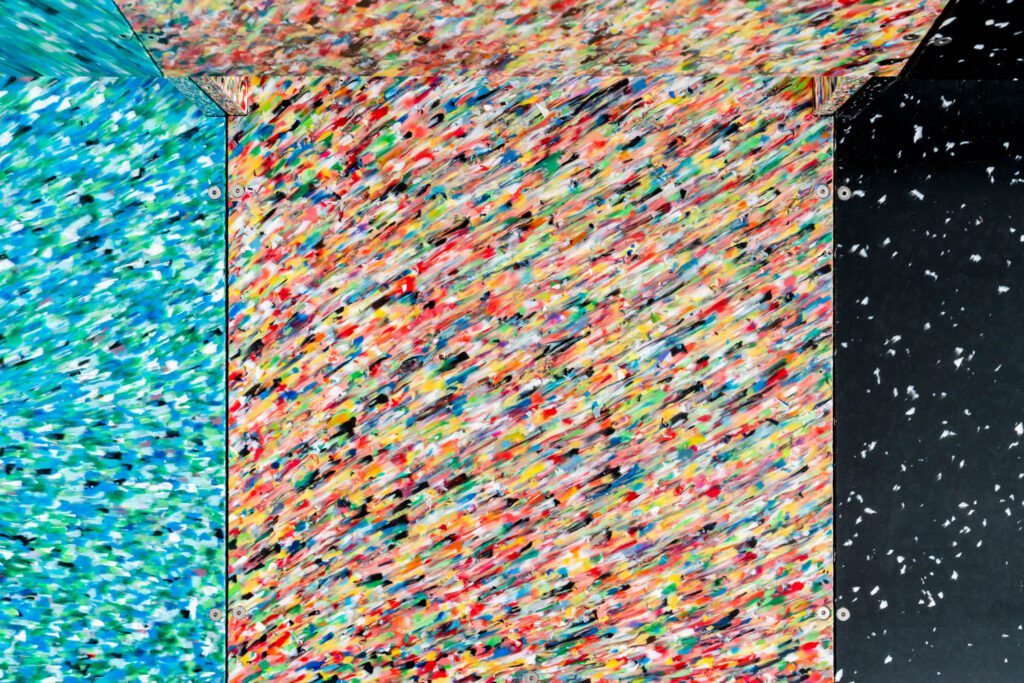 ID: The process somewhat dictated your aesthetic: Victoria & Alberts's web entry about the chair, for example, says, "This chair is not painted as you might at first think." Could you talk about this idea of prioritizing the material and process over the aesthetic?
JA: The recycled plastic was decorative without being decorated. I loved its expressive qualities, its directness and integrity. In order for this to sing out, I needed the design of the chair not to compete. Hence it was kept very simple with no emphasis on formal innovations. I wanted the chair to be archetypal so you would look beyond its function and focus on what it was made from. The first chair RCP1 made from the Yemm & Hart material was a version of Rietveld's Crate Chair, using the recycled plastic as if it was reused plywood. The second chair, the RCP2, was inspired by his Military Chair of 1923. These references to Gerrit Rietveld were influenced by my Dutch modernist professor at the RCA who loved the DeStijl movement. The material has its own inherent aesthetic, dictated by the flowing pattern of the chipped up plastic bottles when heated and compressed during manufacture.
ID: How did you reconnect with Yemm & Hart three decades later?
JA: Emma [Scully] approached me last summer to suggest a re-edition of the chair using the original Yemm & Hart recycled plastic, with the chairs to be fabricated in New York. I had not been in contact with the company for over 20 years and was delighted to find they were still in business in Missouri. Stephen Yemm sent me lots of samples and the original Confetti multi-colored recycled plastic was still in production.
ID: What material and visual differences did you adopt in this new iteration?
JA: We decided to re-issue the chair in three color ways, the original Confetti, a blue version, and a newer black and white one. I specified the original 'satin' finish and it was very noticeable how the quality of the materials had improved with no paper labels or holes in the surface. The materials thickness remained constant throughout the sheet and hence the new RCP2 chairs could be made with greater precision, using CNC routing.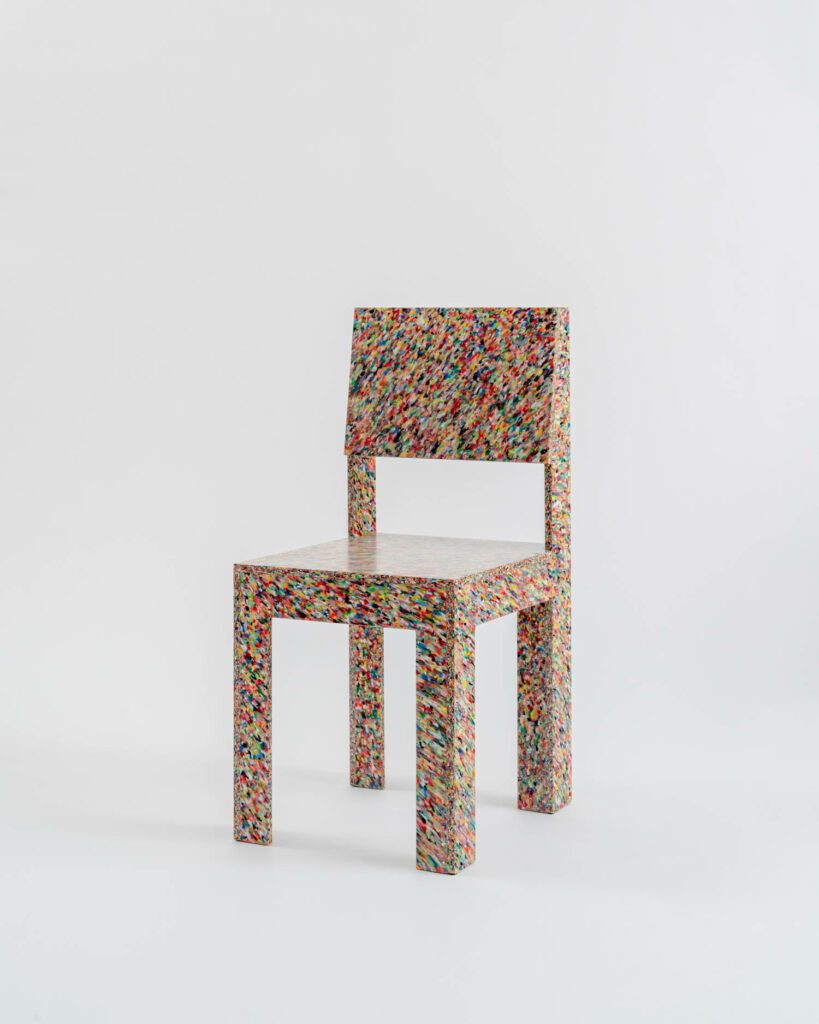 ID: What are some of the current sustainable design techniques that you feel inspired by?
JA: I love the idea of car-free cities, with the streets given over to bicycles and pedestrians such as the Superblock program being implemented in Barcelona aiming to increase shared public spaces, sociability, biodiversity and reduce pollution.
I am inspired by nature-based ideas including re-wilding projects, both rural like at the Knepp Estate in southern England and in cities such as the London National Park City proposal which aims to fully integrate people with nature and create green corridors connecting gardens, parks, woodlands, playing fields and allotments. Also I am encouraged by tree planting and the resurgence of community gardens and vegetable growing projects. The U.K. activists group Extinction Rebellion certainly gives me hope. They offer creative techniques and opportunities to help us face reality. Also offering hope is the increase in building with sustainable, natural materials and finding ways for all existing buildings to be recycled, along with progressive ideas for more communal living. Projects such as El Catllar in Catalonia, Spain are converting old buildings into shared living, growing and working spaces to create a sustainable community.
Calls for dematerialization also resonate with me and the challenge of how to make that widely fashionable by celebrating less stuff. How can we go beyond ownership and focus instead on sharing and on forming new relationships, human and ecological together?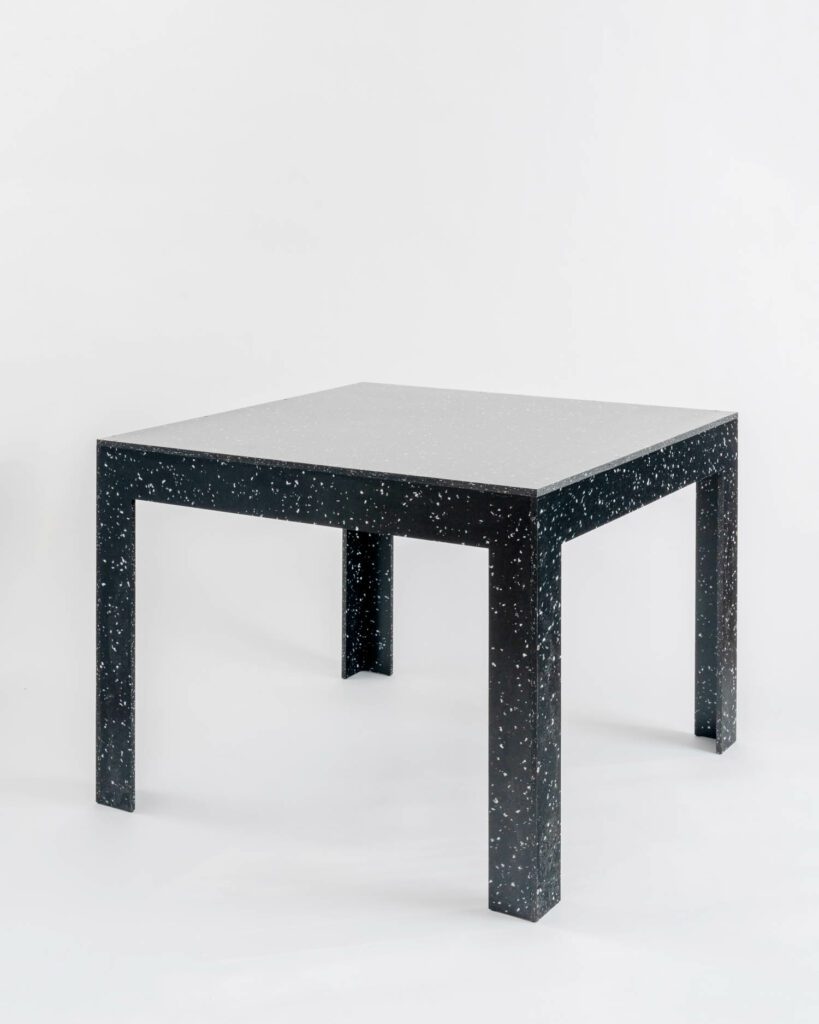 ID: The new collection also includes a dinner table which signifies gathering and community. How do you see design's role today in social change?
This time of transition requires big shifts in deep-rooted behaviors and requires designers to have strongly held values, in addition to creativity and resourcefulness, that they can share in collaborations. There aren't enough people thriving in the world, so design's role must help improve lives for as many people as possible.