10 Questions With… Jobe Corral Architects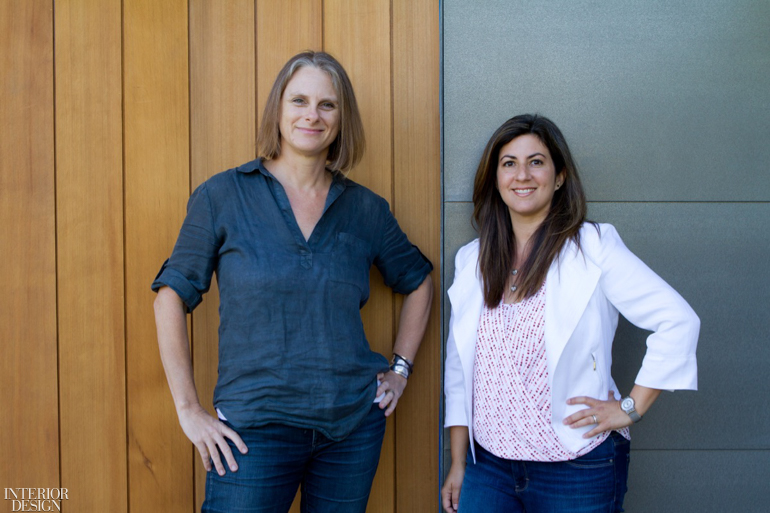 Texas is known for its harsh climate—something that Camille Jobe and Ada Corral, principals of Jobe Corral Architects, keep in mind when they are sketching out plans for the mostly residential architecture and interiors projects out of their headquarters in downtown Austin. Previously practicing independently as architects, Jobe and Corral joined together five years ago to form one of the rare women-owned-and-operated architecture firms in the United States. Most recently, the duo completed River Ranch, a modern house in the Texas Hill Country built employing traditional rammed earth construction. Interior Design sat down with Jobe and Corral to learn more about River Ranch, why they have debates about front doors, and the clear division that drives their creativity.
Interior Design: So, tell us a little about the River Ranch project.
Ada Corral: The clients were really in love with the land. After an arborist came and talked about the big oak trees on the site and how it was all very rooted and connected underground, we came up with this idea of using traditional rammed earth construction. The rammed earth is a conceptual way of tying in the love of the land and the connection with the earth. Having a building that is sheltering and protected was also important. Our solution is an almost U-shape, with expansive glass in the direction of the view.
Camille Jobe: For River Ranch, the rammed earth is made of decomposed granite, Portland cement, and water. It's a dry mix that is poured into forms in 'lifts' of about six to twelve inches and then rammed down to compact it. This layering process is what gives it the striated appearance. It has been done for thousands of years and was an easy yet sound construction method because it requires no heavy machinery and can be done incrementally. The rammed earth was really the boss of this project because once we created these walls, they sort of ran the show. There is not a single space where you don't see them—so we had to be very particular about texture and color, warmth and coolness next to these super striking and very distinctive walls.
ID: How did you choose the furnishings, which have a Scandinavian feel?
CJ: The project began with a collection of pieces that we called 'artifacts,' which the client had gathered from around the world over time. We started thinking about filling the space solely with items that were just as well-crafted—where you could see the connection, detail, and materiality—and make each one of these pieces a new artifact. So, all of the new furniture either has a notable provenance story—in terms of where it came from—or appeal in the way it was assembled. For example, in the living area, the pink leather and wood sling chairs are from a company called Fenton and Fenton and are made in Indonesia.
ID: What's coming up for you?
CJ: In collaboration with a branding company in Oregon, we're doing the architecture and interior design for a young company headquarters in Austin. It's a large commercial space that we're figuring out how to make look like home.
We also have a fun project that is literally three toilets. In Austin there's a trail that goes around Lady Bird Lake, and up and down the trail are these little boutique, sculptural restroom projects by different architects. We've admired the previous restrooms that have been out there so we're really excited about it. Ours will be of terracotta tile, concrete, and steel, and to create the sink we are reusing a concrete pipe.
ID: How do you work together as a team?
CJ: I am the big-picture person and Ada is the detail person.
AC: So, it is very clear.
ID: In what kind of homes do you live?
AC: We're actually neighbors and live on the same street about five houses down from each other in the same style of post-World War II residence. There was a shortage of wood at that time, so the houses were built out of concrete blocks instead of wood framing. As such, they are both very simple mid-century concrete block houses. After we started our partnership, we brought the houses into the office and designed additions for both of them at the same time.
ID: How did your childhood play a role in your creativity today?
CJ: My dad and everybody on his side of the family are civil engineers and my mother was an artist. My brother is a product designer and my husband is an architect. I've always just been around people who make and design things. It never occurred to me that there were professional options outside of that area of work. I started out in engineering, but architecture—a field that is still rational yet where you can bring in a lot of creativity—was a much better alignment for me.
AC: I grew up in Puerto Rico, where construction and the way people live is very different. Most houses are much smaller and modest, without air-conditioning. That informs my thinking about efficiency and creating beautiful, comfortable spaces that are still very functional and efficient.
ID: How do think your Midwest or Texas location influences your design thinking?
CJ: Design here has to do with the climate. We have hard cold snaps and very hot times, with high humidity. The way that you deal with the interiors versus the outside is very instructive to the form and how you live in a space.
Secondly, I think there's a certain sense of informality about life in general in Texas. I grew up in a family where there were constant gatherings of friends and family and lots of entertaining—there was no real sense of formality about how you live in a space. There's something about being out in the land, often in the middle of nowhere. One of the bigger discussions we've had is why is there a front door? Should there be a front door? It's more dictated by individuality.
AC: And the newness of everything. Austin doesn't have a lot of really old buildings—or those that are, are maybe 80 to 100 years. There's a little bit more of a clean slate.
ID: Is there a person in the industry that you particularly admire?
AC: Miguel Rivera is one of the partners at Austin-based Miró Rivera Architects, and he and I worked together for many years. It's now been eight years since I left, but we still have a really good relationship. He's also Puerto Rican, so someone with a similar background to me. They didn't inherit a big firm, but created some really great architecture, starting their firm from nothing.
ID: What are you reading?
CJ: Ada gave me Where'd You Go, Bernadette by Maria Semp a while back. It's a fictional story about a female architect and the unraveling of her life. It's hilarious and actually coming out this year as a movie.
AC: Bossypants by Tina Fey because she is the best and has great business advice for anyone.
ID: Do you have a secret you can share?
CJ: An architectural practice can be a stressful endeavor. The problems that you run into every day are very different and there's always something lurking around the corner that you'll need to deal with. On top of that, there are families at home and spouses that work. There's a lot of work/life balance questions that come up, especially with being a woman in the workplace or being anyone in the workplace, frankly. Ada and I both have sports that we religiously participate in. I am a rower and she's a runner—and we always joke that when we take a little time off from our sports, our personalities are just not as good. That physical breathing in and out, being out in nature a few times a week­—that keeps everything rolling.
Keep scrolling for more images of Jobe Corral projects >
Read more: 10 Questions With David Sutherland