10 Questions With… Kengo Kuma
Kengo Kuma is a renowned Japanese architect and founder of Kengo Kuma & Associates, which employs over 150 architects in Tokyo and Paris. The firm is currently engaged in around 100 projects in Asia, Europe, and the USA, including the new National Stadium in Tokyo. Its Hongkou Soho building in Shanghai, China, was named an Interior Design Best of Year winner for commercial building/lobby. At the Euroluce fair in Milan, Kuma launched a collection with lighting brand Lasvit that is inspired by an ancient Japanese technique of preserving timber by charring its surface. We asked Kuma to tell us about his new projects.
ID: Tell me about the collection for Lasvit. Why did you want to explore a new application for the traditional Yakisugi method of timber preservation?
KK: The intention was to explore the interaction between two radically different textures, questioning the materiality of glass and natural wood grain. After reviewing the method of blowing glass inside the wooden mold, I found the natural reaction fascinating. The burned texture of the wooden surface was perfectly expressed on the glass surface and reminded us of Yakisugi.
ID: Do you enjoy designing products as much as working on architecture projects? What are the main differences between these two aspects of your studio's output?
KK: I enjoy all parts of design and its phases, from product design and small architecture to large-scale projects and urban planning. It's important for designers to explore and challenge the process of creation in every field, if possible.
ID: You work all over the world. Do you still draw most of your inspiration from Japan and Asia or do you feel there is a more international flavor to your work now? How has it evolved over your career?
KK: Each space has its own unique character, local cultural heritage, particular climate, habits, and preferences. I always try to get maximum inspiration from the places and their people for my projects. It's important for me to care and respect local influences during the design process.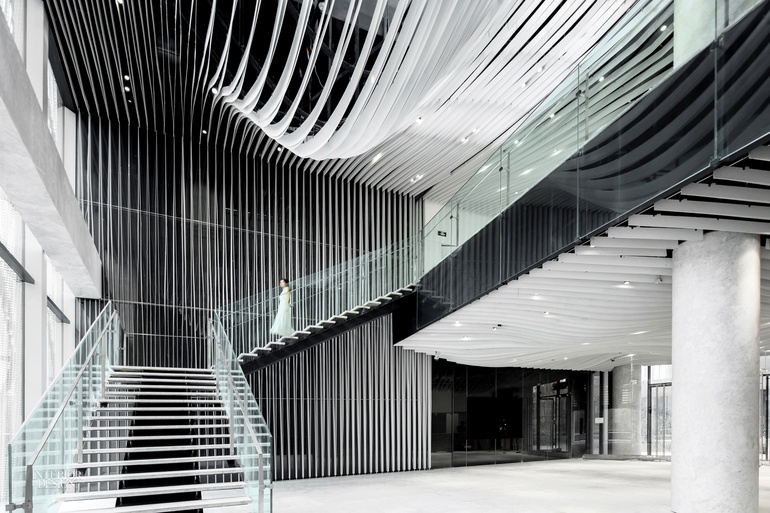 ID: Can you tell me how the V&A museum in Dundee, Scotland, is coming along and how your design fulfils the requirements of a contemporary museum?
KK: We are preparing the art space as white cubes and angled zones, wrapped up by a dynamic geometry to express the movement and propel visitors' experience beyond daily life. A floating concept with a reference to a ship's bow will allow the design to sit well in its environment. A large horizontal "hole" was provided in the center of the building. This feature was adopted in order to create a 21st-century cultural facility that is an integral part of the environment and community. This is designed to improve the model created by 20th-century art museums, which were cut off from the environment.
ID: How about the national stadium in Japan—what did you want to achieve with that project and what sort of response are you expecting when that project finally completes?
KK: My intention was to create a unique landscape, with the stadium design becoming part of the forest. I hope people will enjoy this special green area sitting within a dense urban structure.
ID: You've used wood for much of the stadium's structure. Do you think there should be more of a focus on training architects to use this and other sustainable materials?
KK: Definitely. There is a big future in sustainable materials and I do believe wood is one of them.
ID: Which of your studio's projects are you most proud of and why?
KK: From currently running projects, I'm proud of the Museum of Indigenous Knowledge in Manila, Philippines. I really like the results of the proposed integration between public facilities and local, tropical vegetation.
ID: Which other architects or designers working today do you admire?
KK: Bjarke Ingels, for his attitude—he fights and cares about design.
ID: Is there a building with a special interior that you find particularly inspirational?
KK: The St. Mary Cathedral by Kenzo Tange. It's about experience and harmony of the space.
ID: What are your hopes and aims for your studio over the coming years? What are the key things you really want to achieve?
KK: I wish I could focus more on urban design. Compared with singular architecture, urban design can provide a series of experiences and can be enjoyed by more people.