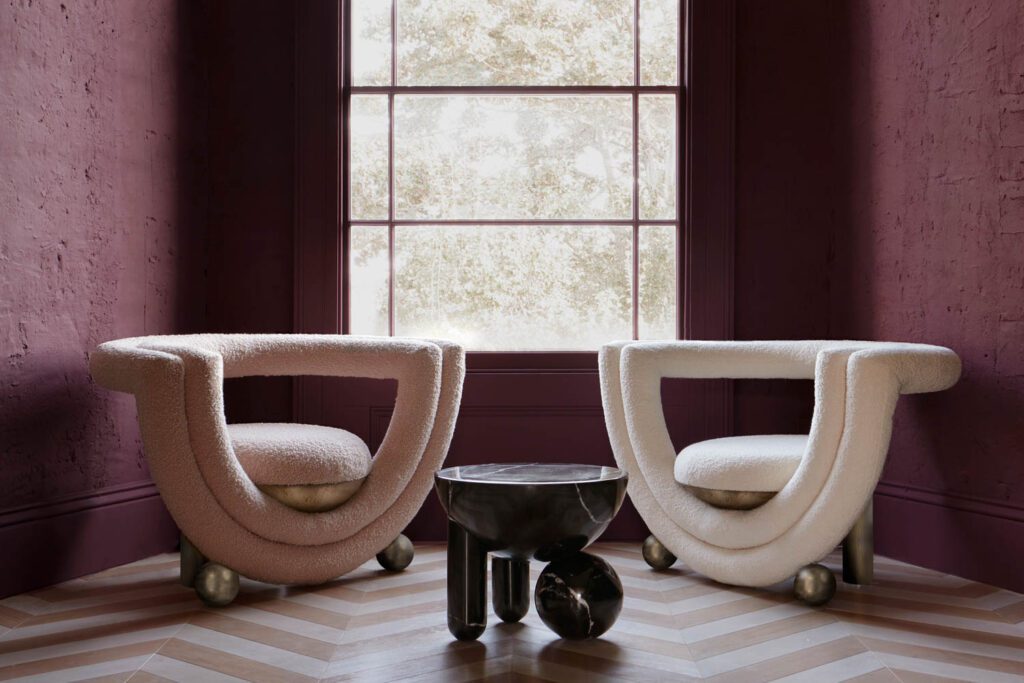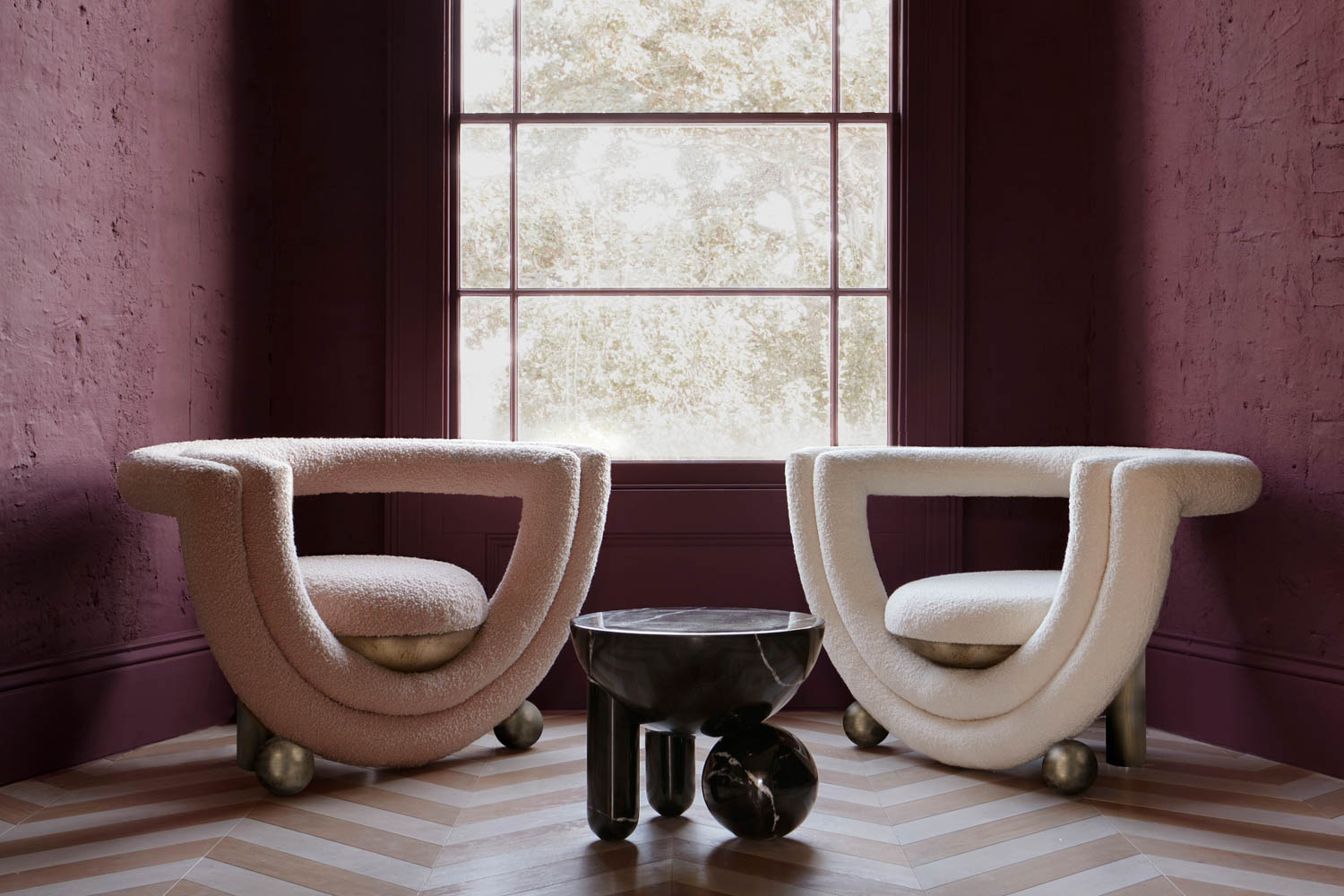 10 Questions With… Lara Bohinc
Lara Bohinc is a Slovenian-born, London-based designer whose work effortlessly cuts across different mediums and typologies, ranging from jewelry to textiles and from furniture and objects to interior design. After studying industrial design at the Ljubljana Academy of Fine Arts and then then metalwork and jewelry at Royal College of Art in London she became a design consultant for luxury brands, including Montblanc, Gucci and most notably Cartier, a post she held for over a decade. Her first item of furniture was the Solaris Kinetic Table, launched at the Wallpaper "Handmade" 2014 exhibition in Milan. The success of this piece resulted in further furniture collections and eventually the founding of Bohinc Studio through which she continues to explore furniture and object design.
A lot of Bohinc's work is preoccupied with the breaking down and reconfiguring of geometric forms though her most recent collection, Afternoon Tea, shows a growing interest in softer and more rounded, enveloping shapes. Currently she is working on a collection that pushes this new passion for roundedness further, due to premiere at the Salone del Mobile in June. "This collection will be even more rounded and very curvy, very feminine. It's like a big, curvy girl," she says with a smile.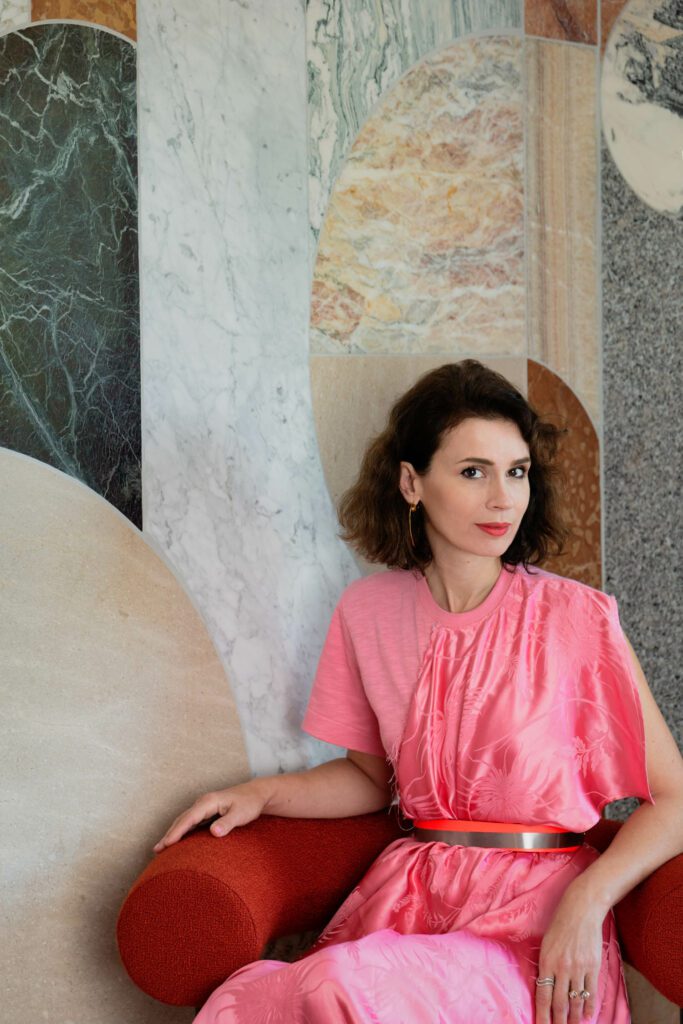 Interior Design: Tell me about your recent collection Afternoon Tea. You showed it at London Design Festival last year and then a few pieces at Design Miami too. How did you get into patisserie? And is patisserie something you actually do in your life?
Lara Bohinc: The collection was designed during lockdown when I was doing a lot of cooking and baking. I was looking through lots of patisserie and cookery books and missing the kinds of occasions where friends would come round. I mean, when you are making a lot of cakes you want people to come and eat them. You want grateful customers! So, to me this whole body of work symbolizes a kind of longing for being with other people. And it was also about trying to create objects that are cocooning and embracing, and kind of loving and playful, like little animals in a way. It is one of my ambitions to become a patisserie chef actually but that's going to have to be when I retire because it takes a really long time to learn and it's not something you can do part time! I wasn't making super complex cakes, more things like scones and sponges with nice fillings.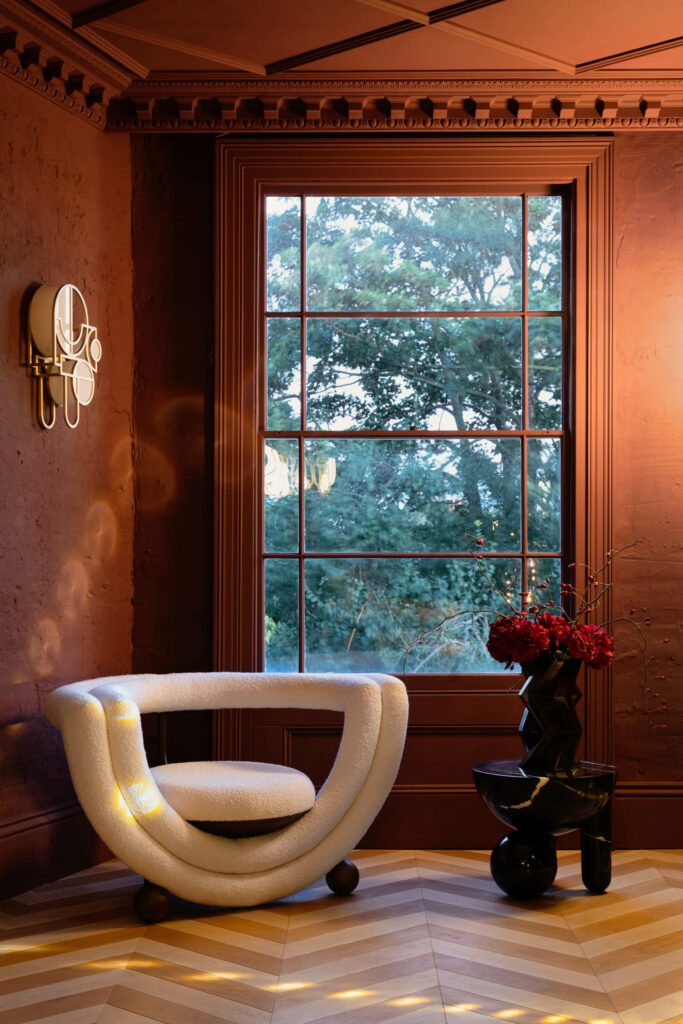 ID: Why did you go from making smaller objects like jewelry to bigger pieces?
LB: I did metalwork at college so the whole jewelry career just sort of happened. But after several years, I felt I was getting bored with making pieces that always had the same function and were made out of the same materials. As a designer, to design a ring or to design a chair takes the same amount of time to be honest. But the amount of attention a ring gets versus what a chair gets is completely different. Small ring, small attention, big piece, big attention. So when Wallpaper asked me to do the Handmade project in 2014 they thought I was going do something small and I said, 'No, no, I want to do something really big. And really heavy.' Because with jewelry everything has to be light. So it was like I was reacting to everything that I was missing out on. What I really enjoy now is that I can work in ceramics, textiles, wood, marble, metal, a whole array of materials I didn't have access to before. Obviously, I love jewelry, otherwise, I wouldn't have been doing it for so long. But as a designer you have so much more freedom when you design objects and furniture.
ID: What kind of themes and styles are you passionate about?
LB: I go through phases. In the last let's say five years, I have been in a phase where I really like playing with geometric forms and dissecting them but I also like things that feel sort of feminine and rounded. Certain art and design movements such as Art Deco and Bauhaus, but also Memphis and Postmodernism, all played with this kind of deconstruction of geometric shapes. So that's why people say 'oh, it looks a bit art deco', 'it looks a bit Memphis.' On the other hand, since a young age, I've always been interested in space and the planets and a lot of my work revolves around this theme of planets and orbits. I am fascinated with the moon and geometric explorations of different phases of the moon. Once you start playing with this kind of geometry it creates amazing structures.
ID: What are your favourite materials and why?
LB: Metal is the material that I know best because I have been working with it for so long in small and large scale. I think it is one of the best materials to use for many reasons. It is one of the most sustainable materials, you can melt it down, reuse it infinitely, it lasts forever. It's also beautiful. I love the smell of burning metal and you have so many different colors so I always come back to it. Wood is something I never really used before but I tried working with it in the last collection and I really loved it. Obviously, stone I love too, marble, lava stone, travertine. I love how every slab is different. It's almost like nature's way of painting.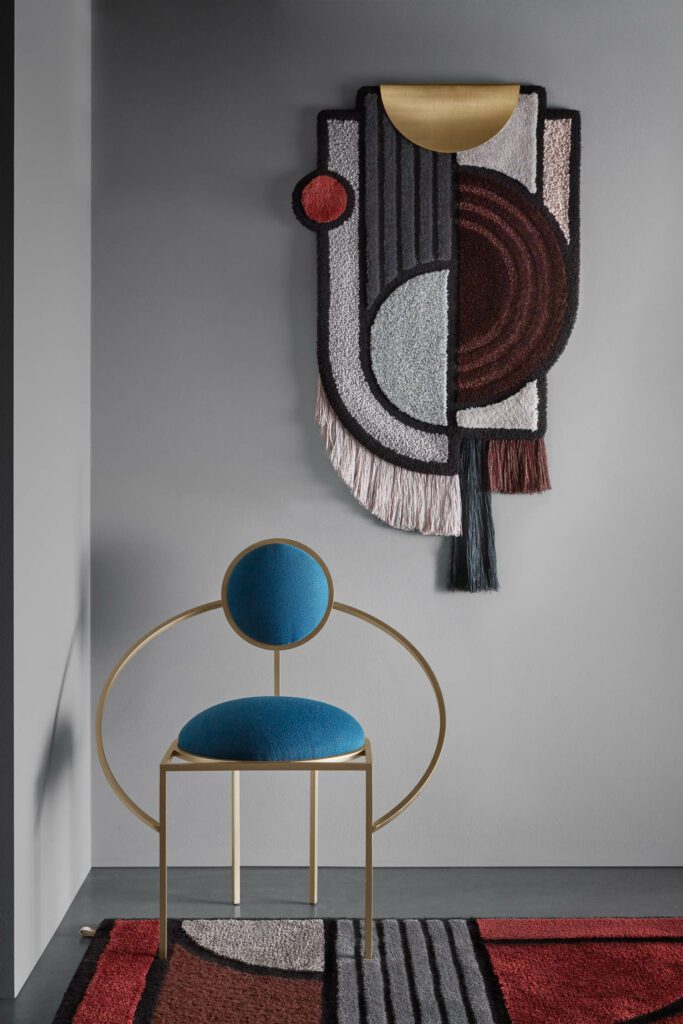 ID: Where do you do most of your manufacturing? Do you do any in the U.K.?
LB: I know upholstery is something that Italians are really known for but we also use a lot of Portuguese workshops and currently I am doing some of the upholstery in a place not far from London. So for the Milan collection, we are working a lot with the U.K., which is really handy, especially if they lock you in. In Portugal they are very good with metalwork, especially brass, which the Italians are not so good at. Italians are very good with steel. And marble is good in Portugal and Italy, they both have very good expertise so we work with both countries. The rugs we make in collaboration with Swedish textile company Kasthall are actually also made in Sweden. You would never think of Sweden as a place where you can make rugs but they make them beautifully and they have a huge textile industry in Sweden, which isn't really known about. When I was making jewelry a lot, I tried to make it in Sheffield and Birmingham, which were real metal-working centers, but a lot of the industry has gone. And I found it quite expensive. We make some wood pieces, our side tables, in Slovenia. They are very good with wood there. They're famous for making skis because there's lots of forests there.
ID: What is good or less good about the design scene in London and the U.K.?
LB: One thing I struggle with is how underrepresented women are. At college, there were a few less women in industrial design than in graphic design, but there were still quite a lot. I don't think there's any big plan to eliminate or ignore women, I think a lot of it is simply that men have certain tastes and women others and there is a difference. I can see, for example, that on Instagram 75 percent of our followers are women, which shows that me, as a woman, I design more for women. And maybe the men who are in charge of certain projects or galleries or collaborations, the people in power let's say, wouldn't be naturally attracted to my designs. So I think the problem is not that there aren't enough female designers, but that there aren't enough females in positions of power.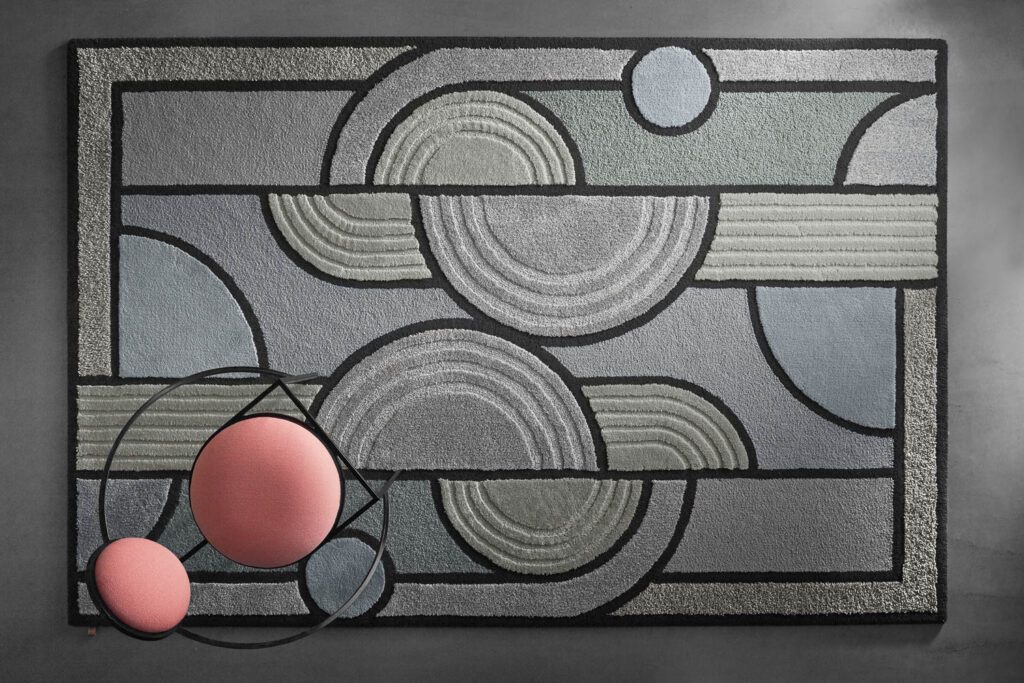 ID: Do you enjoy London Design Festival? Do you have any other design fairs that you like?
LB: I enjoy LDF. It's big and I think it is sometimes quite difficult for people to get around. But on the other hand, it's also about these local hubs and showing local designers, which I think is great. Milan I find a bit difficult actually. I mean, obviously everyone's there so you feel you have to do it. But, from experience, I think smaller fairs are better. They're easier and everyone gets more attention. I went to Dutch Design Week in Eindhoven and thought that was really cool. And also Stockholm Design Week was really great. I mean, it's unfortunate timing that it's right in the middle of their winter as it was very dark. But I still really liked it. In Slovenia, they have the Biennial of Design or BIO, which I have to admit I haven't been to, but it's been around for ages. Slovenia has a big design and architecture scene and there are so many architecture studios there. For a tiny country it's really impressive.
ID: What has been your most humbling creative experience?
LB: It's always incredible seeing the craftsmen as they make things. They are the people who make the magic happen. I always ask them what they think because they're the ones handling the material day in, day out, so they're able to advise on the making or construction techniques much better than anyone else. Often they come up with solutions I haven't thought about. And they're an essential part of the creative process because it's one thing to draw something and have an idea how something might be made. But then they say 'no, that's not possible' or 'it is going to take half as long if you do it this way'. They always come up with really great solutions.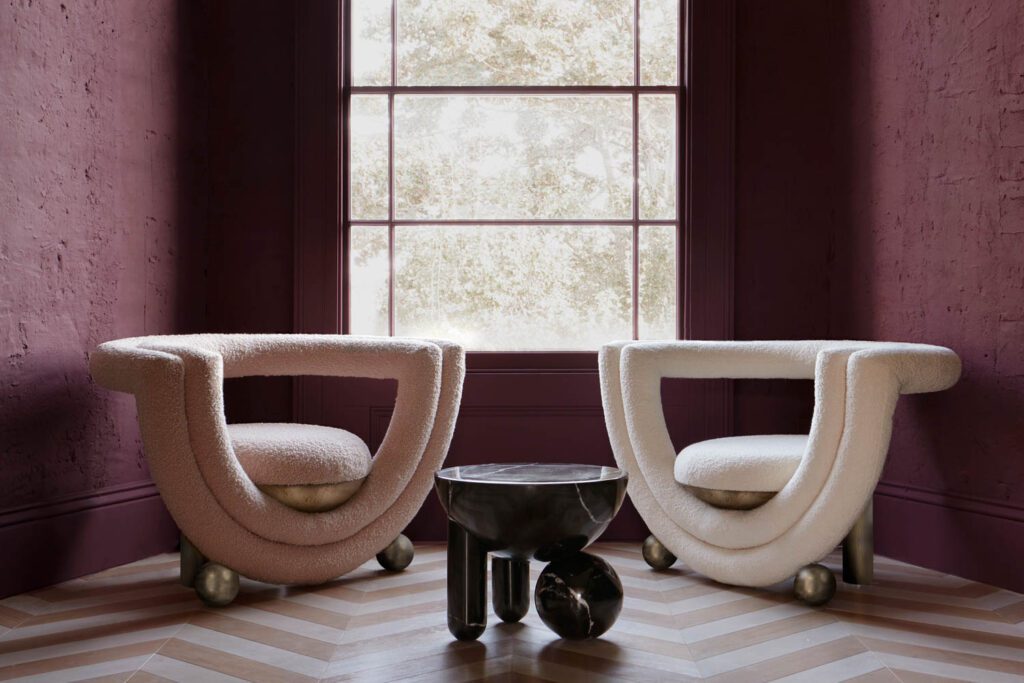 ID: What is your relationship with social media like? Do you like it? Do you think it's useful?
LB: I like it because it gives you a chance to create your own magazine, or portfolio, to show to the world. So it is a great tool to communicate your design language. And increasingly, it has also become a sales tool. But what I don't like is this thing with algorithms now, because I follow some super interesting people but I never see their posts unless I look for them. And also I don't like how if you've got a business account, they basically force you to advertise, they call it boosting. If you don't, your followers don't even see you. It started out great but it's becoming increasingly about promotions and algorithms and advertising. I find that totally off-putting and I think it will be their downfall in the end because I'm sure people will turn away from it. It used to be a lot more interesting.
ID: You went through a period of calling yourself Lara Boeing, which sounded really funny but wasn't without consequences.
LB: Yes! Nobody could pronounce Bohinc and everyone would just say Boeing and I got so fed up trying to correct them that I said I'm just going to go with it. I'm going to call myself Laura Boeing 747 from now on. Without ever thinking that this was any kind of copyright infringement. Until I got a letter from Boeing, quite a long time afterwards, it must have been two years, saying, 'Hey, we own the name Boeing so you can't use it.' So of course I dropped it immediately. This happened straight out of college. I was very naive and didn't even realize that this is something you shouldn't do…it was just a joke.