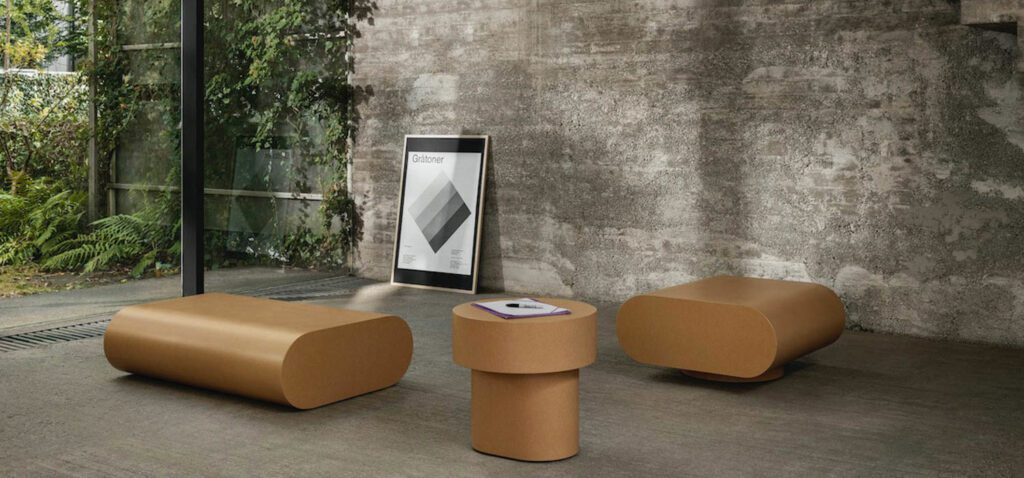 15 Highlights From Stockholm Design Week 2022
Scandinavian design forges on, despite a postponement. The Stockholm Furniture & Light Fair, planned for this month, will now take place September 6-9. However, a small-scale version of Stockholm Design Week, which took place February 7-13, ended up being more celebratory than expected, after most of Sweden's Covid-related restrictions were lifted on February 9. From a chaise lounge you can build yourself to a blown-glass ice cream frozen in tragedy and a sleek rolling sound absorber, here are 15 of our favorite finds.
4PM and 4PM Self Build by Massproductions
After all that has happened these past two years, isn't it time to lean in to leaning back? A study on high comfort from a hard material, the 4PM chaise lounge by Massproductions is available in laminated Douglas Fir or Cherry.
For a similar piece of furniture at a fraction of the price, Massproductions introduces a DIY version, the 4PM Self Build. Online instructions allow construction of the DIY chaise longue—inspired by Italian designer Enzo Mari's Autoprogettazione self-build furnishing series—from materials sourced at a local hardware store for around $60. There's no need to stay true to the design, as a series of customized versions by artists and designers prove. Artist Chris Fallon made his with an eye-catching human-shaped pillow.
Thelma by Pauline Deltour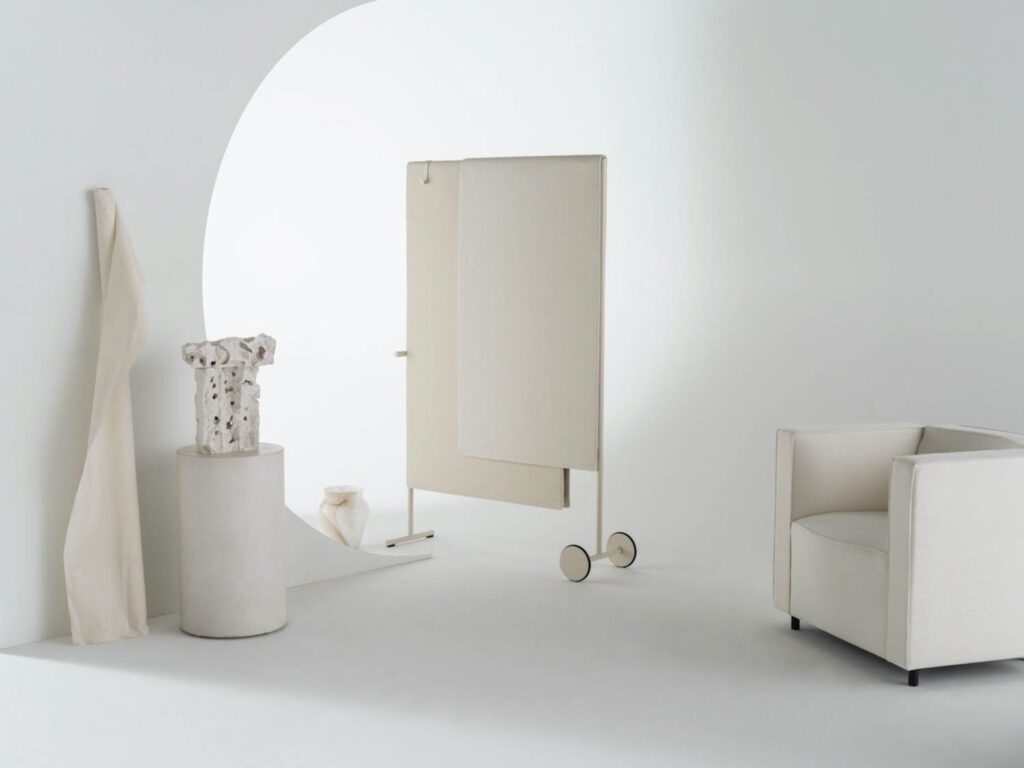 Silence is within reach when Thelma for Offecct Sweden rolls in. One of the last designs by Pauline Deltour (1983-2021), who unexpectedly passed away last Fall, the sleek and modern acoustic room divider on wheels caters to our new way of working with flexibility and ease. It's upholstered textile sits on a frame and wheel of lacquered metal.
Paula Pääkkönen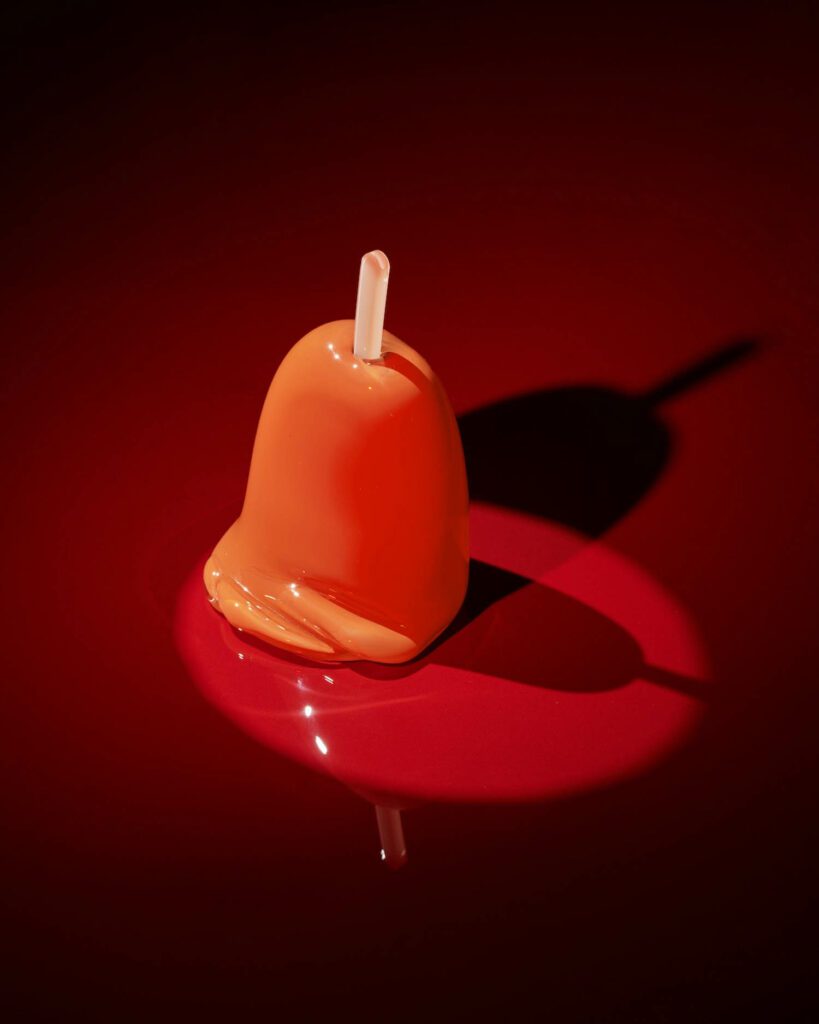 The orange popsicle crashed to the ground—actually, that's Crashed Orange Toffee, a blown-glass sculpture frozen in tragedy by glassblower Paula Pääkkönen. Celebrated for her playful and colorful glass ice cream series, Pääkkönen is featured in "Serving Sculpture – Renewal of Finnish Craft & Design," an exhibition shining the spotlight on 10 rising Finnish designers selected for their bold and sustainable designs. On view through April 2 at the gallery of the Finnish Institute in Stockholm, the exhibition is curated by Milla Vaahtera and Hannakaisa Pekkala of design agency and gallery UU Market.
Trienna 2.0 by Carl-Axel Acking
Designed in 1957 by Carl-Axel Acking, the Swedish oak and vegetable-tanned leather Trienna armchair is available once more through Verk. With the exception of an adjustable seat that can be tightened as the leather gives, the design of Trienna 2.0 stays true to the original, down to the leather-covered nails.
Koster by Studio Norrlandet
Despite a climate notable for its icy temperature plunges and scorching summer days, the Koster Islands, an archipelago on the west coast of Sweden is preserved and celebrated for its natural beauty. Koster, a range of outdoor furniture including a chair, stool, and assorted tables by Studio Norrlandet for Skargaarden International is crafted to persevere under just such harsh weather conditions.
Lumi Pouf by Lisa Hilland
In another tribute to Sweden's climate, the Lumi (Lumi means snow) pouf by Lisa Hilland for retailer Nordiska Kompaniet has pockets arranged to recall a snowflake in its distinctive upholstered wood form. The padding is created from recycled PET bottles. To support Together NK Design, a scholarship for young Swedish designers, Nordiska Kompaniet teamed up with retailer Magniberg, designer Pia Wallén, and clothing brands Maxjenny and Remake/Stockholm City Mission to create one-of-a-kind poufs in signature hues.
Big Sur Low by Andreas Engesvik
A dramatic natural landscape of rocky cliffs dropping into a changing ocean is reborn as the tinted glass and wood Big Sur Low table by Andreas Engesvik for Fogia. For its design, Engesvik turned to Big Sur, a scenic and rugged stretch of California's coastline.

Kitchen by Buster + Punch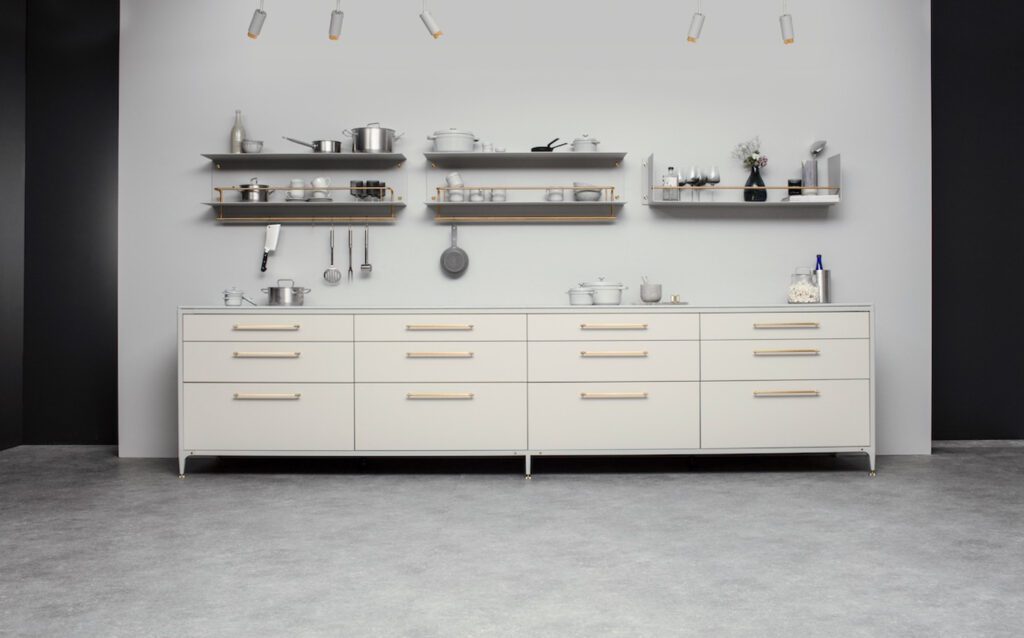 A bespoke kitchen is within reach, with Kitchen by Buster + Punch. Known for its hardware, the brand enters a new realm of creativity with a modular, freestanding, extruded metal kitchen that can be configured online. Personalization is provided by two frames, three cabinet colorways, three worktops, and hardware of all shapes and sizes from the brand's collection. For a complete fit-out, Buster + Punch also offers tap, shelving, and lighting.
Stump by Faye Toogood
Experimentation in sculpted wood gave rise to the hollow forms of the satin-matte finished MDF Stump table collection by Faye Toogood for Hem. Slashing material consumption, yet still recalling solid wood, the collection consists of two coffee tables and a side table.
A22 by Anya Sebton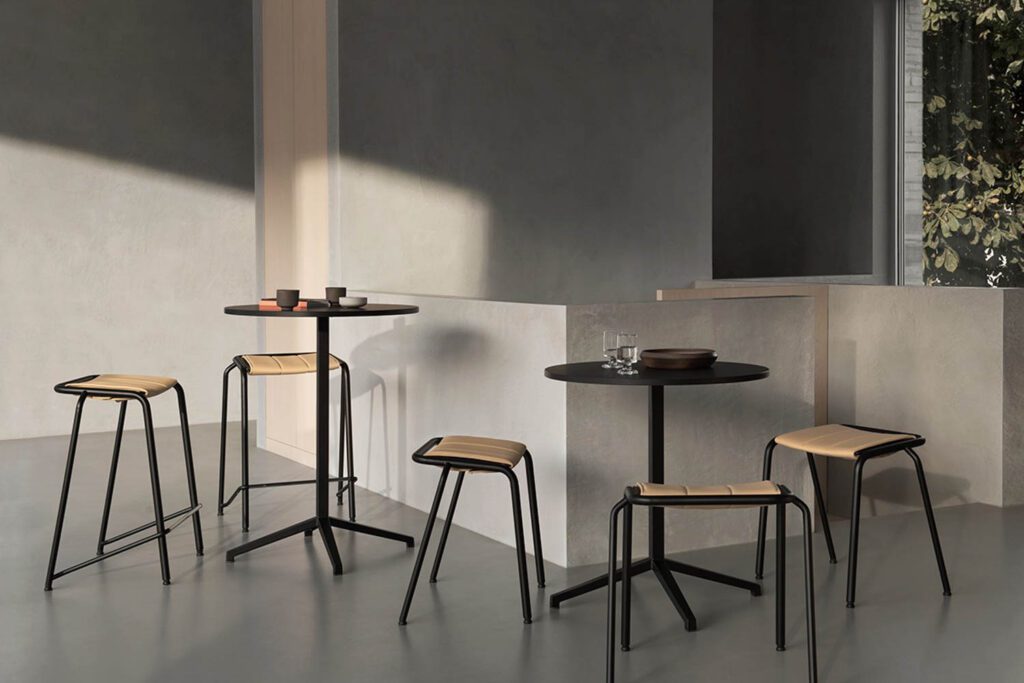 To ease the end of its lifecycle, Anya Sebton designed the stackable tubular steel A22 stool for Lammhults without bolts or screws.
Sugar by Rebecca Wiik and Emil Ahlgren
Two rising stars at Stockholm's Beckmans College of Design teamed up with Johanson Design for the milled wood armchair Sugar, which has a seat of padded cubes made of repurposed upholstery scraps.
Via by Anki Gneib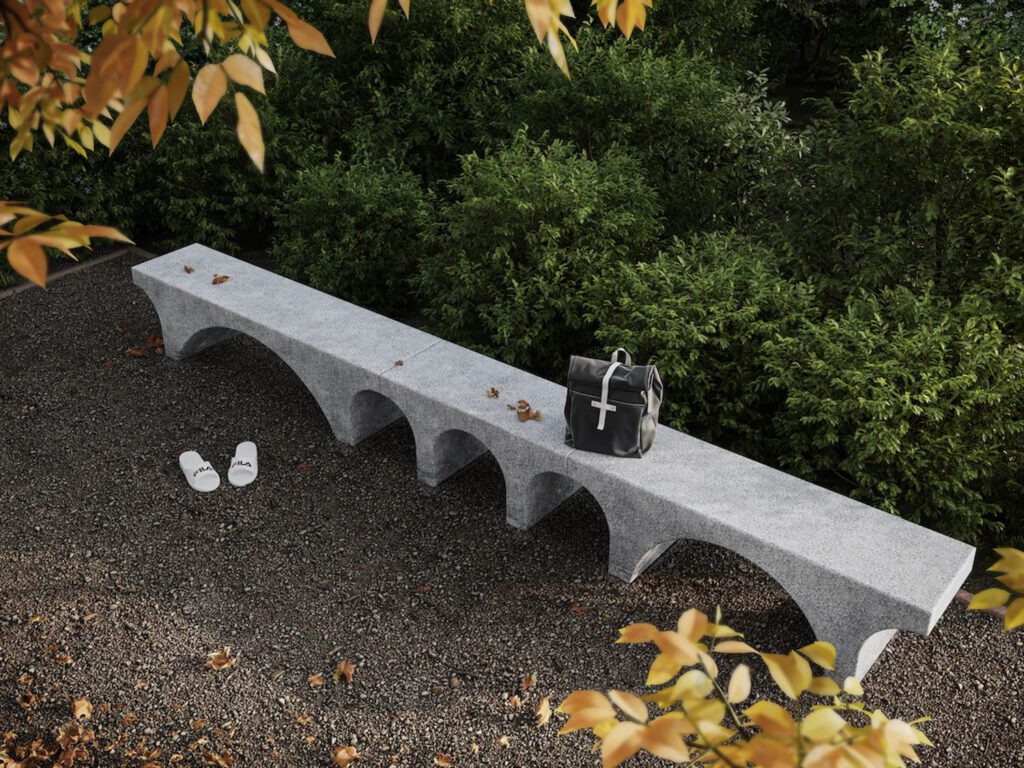 Roman aqueducts and viaducts influenced the graceful curved feet of outdoor bench Via by Anki Gneib for Nola. Hardy granite makes Via an architectural statement piece for a garden.
Continue by Berg & Hindenes
Both durable and expandable, the wood-topped Continue table by Berg & Hindenes for EFG-European Furniture Group grows with just a few parts.
Checkerboard by Kasthall's Design Studio
One of two new woven wool rugs by the in-house design studio at Kasthall, Checkerboard joins the rug manufacturer's Arkad collection and renders the classic pattern in four color combinations. Shown here is Checkerboard in Sunny Day.
Behind the Scenes at Baux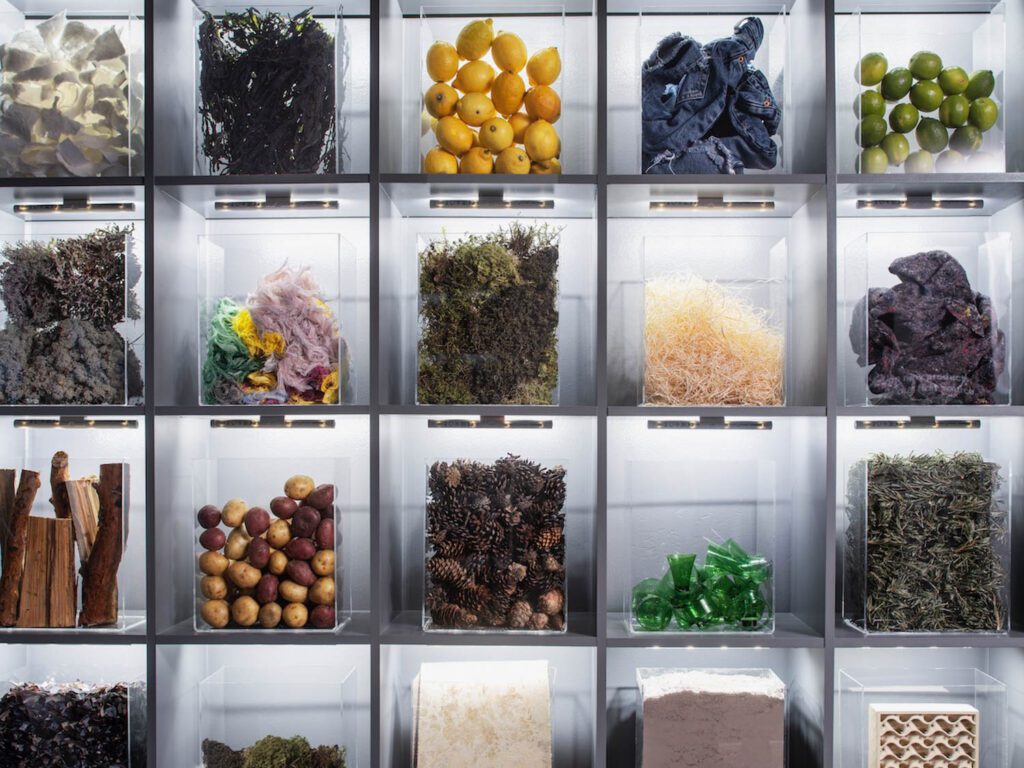 The company that introduced acoustical wall tile made out of 100 percent biodegradable materials wants to share its sustainable innovation with a wider audience. With a film by Carl Engberg from Stavfel Production geared towards architects, designers, and engineers, building material company Baux dives into its sustainable solutions, which can range from algae-based dyes to repurposing PET plastic, fish nets, and denim.