10 Questions With… Romain Jouffre and Olivier Garcé
When talented people join forces, the result often is astonishing. This holds true for Romain Jouffre, who helms Ateliers Jouffre, and Olivier Garcé, cofounder of Garcé & Dimofski. The two decided to work together on a new space in Long Island City, New York, which opened last November. The Jouffre workroom and showroom pays tribute to the French savoir-faire of highly skilled artisans who produce made-to-measure pieces for renowned interior designers including Rafael de Cardenas, Drake/Anderson and Pierre Yovanovitch, among others. Through a poetic scenography, Garcé & Dimofski created a mesmerizing space well worth a visit.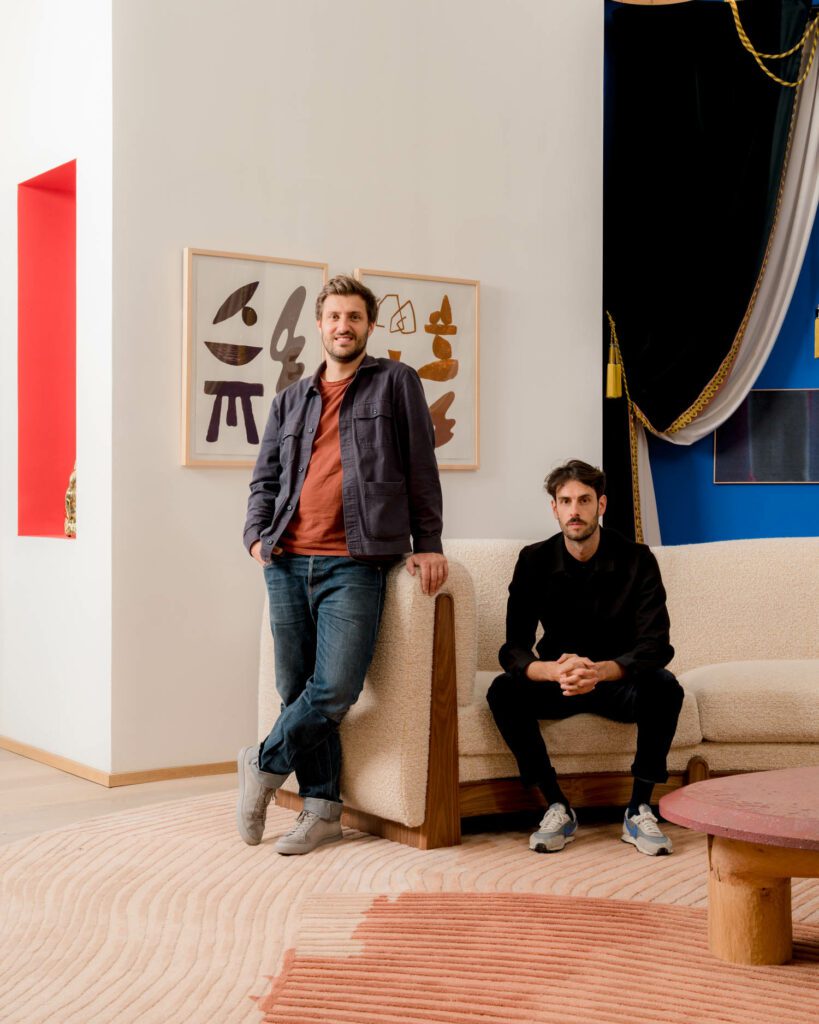 Interior Design: Why did you decide to open a new space?
Romain Jouffre: This new move marks a big step in the history of Jouffre. Our teams continue to grow and take on more and more ambitious projects. We were maxed out in our former space and we also wanted to buy our own building to create a space exactly according to our needs and tastes. 
ID: How is the space organized?
RJ: At this new address, people will find the workroom with all our artisans for upholstery, window treatments and carpentry; an area with our collections of fabrics from our favorite textile designers such as Rruka, Tara Chapas, Perrine Rousseau, Maison AD or Sam Karsten, to name only a few; and our new showroom at the entrance of the building, which was designed by Garcé & Dimofski.
ID: What convinced you to work together?
RJ: Olivier, who is my friend, and I have a fantastic relationship. I've always loved his and Clio (his business partner and wife)'s taste. I trusted they would be 100% dedicated to showcase our craftsmanship. 
Olivier Garcé: I was interested in working on this project for the challenge to bring in one majestic room all the handcrafts and knowledge of Ateliers Jouffre. Romain and I share the same passion for architecture and design, and it was natural to create an aesthetic that would reflect the company. 
ID: How would you describe the whole space?
RJ: It reflects who we are and what we love. It is bright and very open, without any private offices. There is a huge family kitchen that feels just like home. With the team we really like to be together and we consider ourselves a family. Creating a space in which we could keep on developing that culture was important to all of us.
ID: What was the biggest challenge to design the showroom?
OG: It was to achieve elegant curves in an existing industrial space. We were interested in showcasing as much as possible one of Ateliers Jouffre's main crafts, which is featured in particular through the curtains.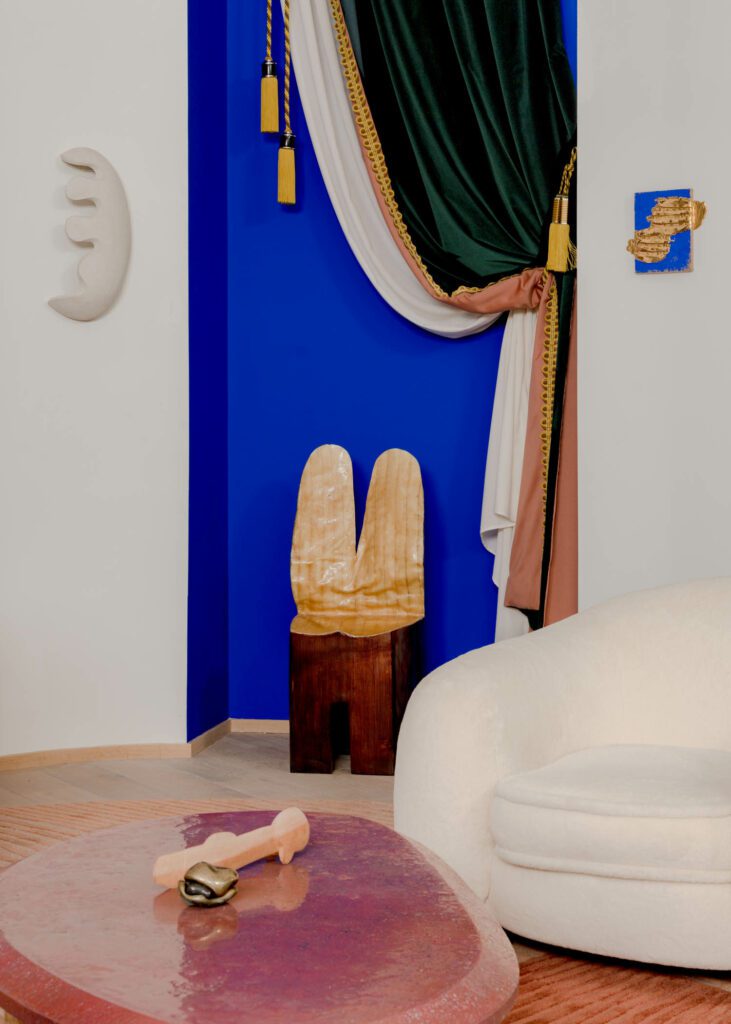 ID: What was the main source of inspiration for the showroom?
OG: Our source of inspiration came from artist Pierre Le-Tan who illustrated snippets of daily life on the covers of The New Yorker. We set up the objects of the exhibition as elements emerging from an illustrated dreamscape. 
ID: What is the theme for the scenography of the showroom?
OG: Based on the theme "eclecticism," it poetically approaches the idea of a figurative universe, which reflects different styles and eras and is the result of the exceptional French savoir-faire.
ID: What is the creative concept behind the showroom?
OG: We are trying to share a story where the objects become the messengers. Among them are a sculptural wooden black lacquered floor lamp by Minjae Kim, a lava stone coffee table by Ian Felton and surrealist paintings by Garance Vallée, to name a few. 
ID: What are some of the collaborations showcased in the showroom?
RJ: The central space of the showroom is reinforced by the presence of a carpet designed by Manufacture des Tapis de Bourgogne and a curved sofa designed by Garcé & Dimofski specifically for this setting. Additionally, our designers Steve Avakian, Eric Nakassa and Taylor Scott Ross imagined three upholstery pieces. It's also a space where we are introducing our partners at Par Excellence. Adjacent to the showroom in the new photo booth, iconic pieces from Maison Royère are presented—all created from the designer's personal archives and all manufactured in France by the best craftsmen. 
ID: What are your projects/ambition for the next few years?
RJ: We are working hard to become the most high-end and prestigious upholstery workroom in the United States and we needed a space to represent our ambition and goal. We want to train new generations of artisans and spread the love that we have for this beautiful and century old fine profession.
OG: With my partner Clio, we have just launched our design studio, Garcé & Dimofski, in Lisbon, Portugal and we will open our gallery this summer. We are also currently working on several residential projects.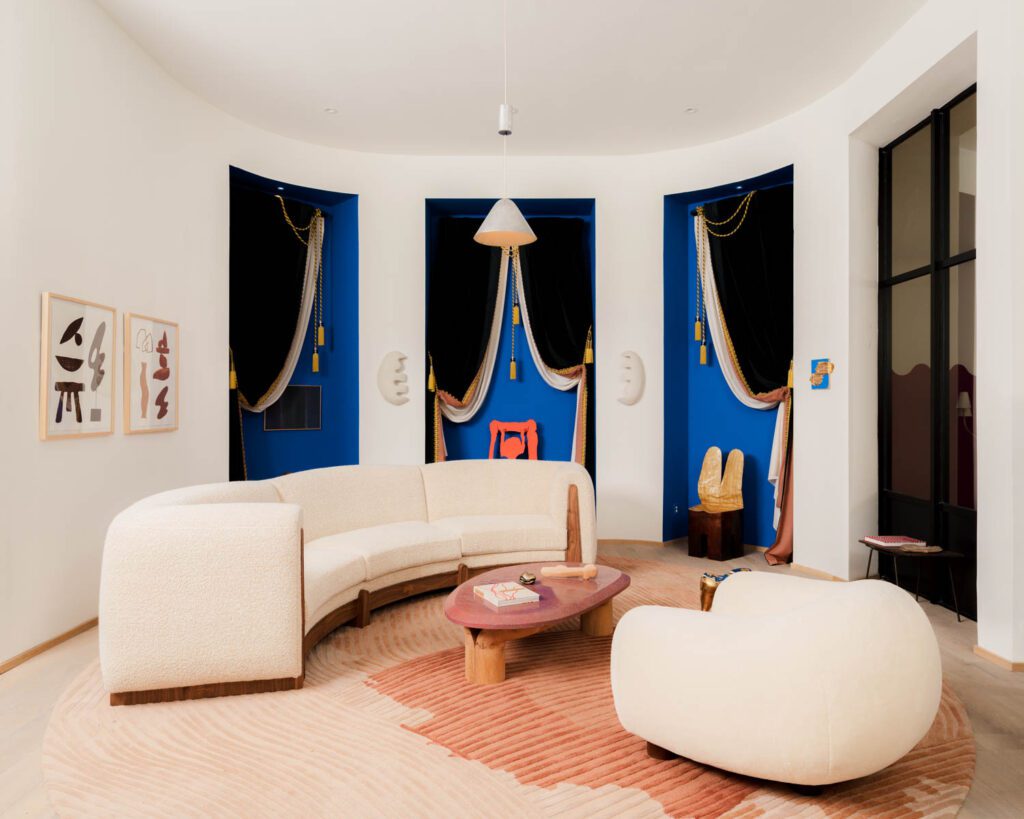 read more
DesignWire

Salone del Mobile to Spotlight Sustainable Design

Milan is getting serious about global warming. The 60th edition of Salone del Mobile, the world's largest furniture fair, which this year runs from June 7 to 12, has taken on climate change, placing a strong focus on s…

DesignWire

10 Questions With… Lara Bohinc

Designer Lara Bohinc sits down with Interior Design to discuss the success of Bohinc Studio and her latest collection set to premiere at Salon del Mobile this June.