15 Product Highlights from KBIS 2020
The latest product launches from more than 600 leading brands were on display last week at KBIS, North America's largest trade show devoted to kitchen and bath design, which took place in Las Vegas. Trends ranging from customizable faucets and bold-hued appliances to ceramic innovations and smart technology drew more than 31,000 attendees, including interior designers, architects, contractors, and manufacturers.
Here are 15 highlights from the show floor.
1. I Filati di Rex by Florim in collaboration with Rubelli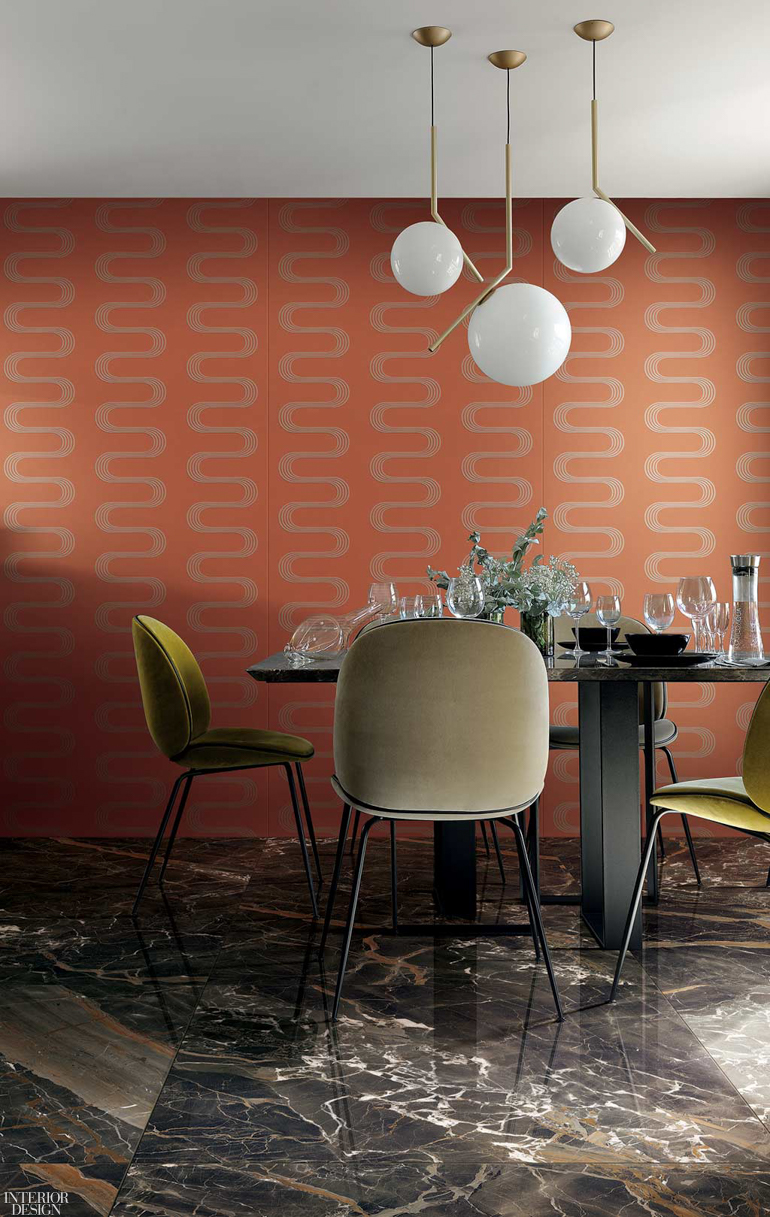 Italian craftsmanship crosses genres and centuries in I Filati di Rex, a collection of large ceramic porcelain slabs that evoke the craftsmanship of centuries-old silk. The innovative new offering by Florim in collaboration with Rubelli features nine fabric-effect surfaces inspired by Rubelli's signature patterns, which range from geometrics to baroque motifs, and are available in large Magnum formats.
2. Collezione Metalli by Bertazzoni
Italian manufacturer Bertazzoni launched its Collezione Metali, which adds genuine material finishes to its Heritage suite of appliances. Designed to complement the Ivory, Matte Black, and Stainless Steel finishes of its Heritage Series ranges, Collezione Metali's Knob and Finial Decor Sets are available in Gold, Copper, and Black Nickel coating.
3. True Residential Adds Saffron to Build Your True Program
Anyone looking for a boost of positive energy in their kitchen can now find it in the newest hue—Saffron—available in refrigeration brand True Residential's Build Your True program of custom finishes. The vivid color joins an array of colors, ranging from Emerald and Cobalt to Gloss Black and Matte White.
4. Spoke Door Knob by Emtek
Unique in the market, the Spoke Door Knob by Emtek made its debut at KBIS. Available in eight finishes (Satin Brass, Oil Brubbed Bronze, Polished Nickel, Satin Nickel, Flat Black, Polished Chrome, and Unlacquered Brass), the Spoke Knob is a deconstruction of the traditional door knob that complements other modern design elements.
5. Kintsu Bath Collection by Brizo
New product offerings at KBIS from Brizo included The Kintsu™ Bath Collection, inspired by both the Japanese philosophy of wabi-sabi with its broken geometries and the elegant minimalism of Scandinavian design. The collection is available in multiple tub and lavatory faucet configurations and features five all-natural knob options: Mother of Pearl, Teak, Concrete, All-Metal (with a void design, shown above) or Custom (which allows inlays).
6. Contemporary 36″ Induction Cooktop by Dacor
Part of Dacor's Contemporary Collection, the 36-inch Induction Cooktop features advanced induction technology that is cool to the touch and is designed with preset guided cooking modes and nine flexible cook zones controlled with the swipe of a finger.
7. Avoir Toilet by Kohler
Kohler introduced a new platform in the tankless space with an enhanced design aesthetic: Avoir, a battery-powered one-piece tankless toilet—needing just 4 AA batteries to power it for a full year—that features a Quiet Close Seat and Cover Hinge and is ideal for customers who want the look of an Intelligent Toilet but lack access to electrical outlets.
8. Murano Collection by Native Trails
Native Trails launched its Murano Collection, a line of glass vessel sinks handcrafted by Italian artisans. The unique colors and patterns in the collection are creating during the molding and spinning process, resulting in a product that is both functional and a work of art.
9. Living Impressions Series by Formica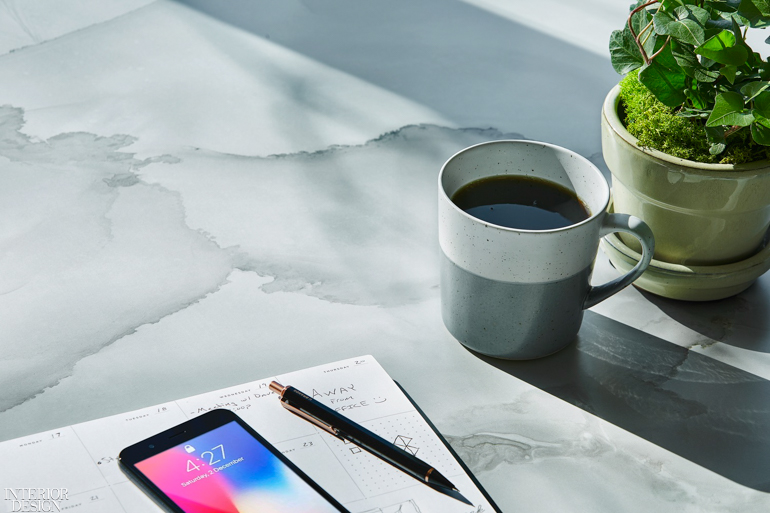 Formica's 2020 Living Impressions™ Collection features six new patterns in painted marble and watercolor patterns, each originally handcrafted by artists and then transposed onto either Formica 180fx or Formica laminate. The collection is focused on beautiful, simplistic designs in a palette of black, white, and gray with names such as Watercolor Porcelain (shown above), Calacatta Cava, and Black Painted Marble.
10. Parabola Bath Collection from Riobel by House of Rohl
The newly introduced Parabola™ Bath Collection from Riobel by House of Rohl is inspired by a parabolic surface, which is the only surface that allows the focusing of multiple elements into a single point. The result is a sculpted faucet with simple yet elegant curves that offers maximum light reflection in the surrounding area. The collection is available in Chrome, Polished Nickel, Brushed Gold, and Black.
11. Scala by Ann Sacks, a division of Kohler
Kohler division Ann Sacks introduced Scala, a natural stone featuring dramatic patterning in colors that range from grassy green to deep sapphire blue, broken by creamy white veining that ebbs and pools. It's an excellent choice for countertops and vanities and is offered in four slab sizes with additional custom sizes available by special order.
12. Integrated Wine Column by Signature Kitchen Suite
The new Integrated Wine Column by Signature Kitchen Suite measures just 18 inches wide, has a 71-bottle capacity, and features both Wine Cave Technology (tailored to mimic the ideal environment of historic wine caves) and SmartThinQ Control via iPhone or Android app.
13. Tuya Fire Bowl by Kindred Outdoors & Surrounds
Kindred Outdoors & Surrounds offers a collection of outdoor living and fireplace products, including nine fire bowl styles—among them the Tuya Fire Bowl, which offers table space alongside an elegant circular fire feature.
14. Häfele Micro-Living Convertible Island designed by Michael K Chen Architecture
Häfele's micro-living exhibit at KBIS included this convertible island that's ideal when design space is tight. Offering functionality for both entertaining and everyday use, it features a pull-out, folding table set in motion with the company's Accuride Linear Motion Track System, integrated Häfele Electronic TV Lift, and bar area concealed behind a Häfele exclusive Free Up Lift Up Fitting.
15. Marvin Skycove
The Marvin Skycove—a projected glass-box structure by Marvin that can seat one or more people on an integrated bench—is pre-engineered, fully constructed, and designed with a minimal geometric aesthetic that creates 16 to 20 square feet of usable space by extending a home's footprint.
See more: ID Live from KBIS 2020