15 Rising Stars of Product Design
Meet 15 rising stars who are shaking up the industry.
1. Lucie Roy
In the small town of Favières, in the north of France, a collective of young female glass designers is making waves. Dubbed Kaléidosco, its five founding members include Roy, whose Blue Lands float-glass wall tiles play with translucency and opacity in aqueous hues. The puddled effect of pigment on the roughly 6-inch-square, beveled-edge tiles is obtained from multiple enamels and three successive firing processes. Subtle gold-painted details provide the glimmering finishing touch.
2. Bond Hardware
Turning scrap metal into edgy jewelry has been Bond Hardware's body of work. But founder Dana Hurwitz and partner Mariah Pershadsingh have recently added furniture for the home to their offerings.
3. Ben Erickson
Manufacturer: Erickson Aesthetics
Product: Halo Drippp
Standout: A rainbow spectrum enlivens a fundamental form.
4. Soft Geometry
Their parallel paths have taken them from India's National Institute of Fashion Technology Delhi for college to the Savannah College of Art and Design, where they completed their master's in 2017. Settling in northern California, Palaash Chaudhary and Utharaa Zacharias have since founded Soft Geometry, a reference to their easygoing personalities and passion for shapes.
5. Asa Pingree
Apprenticing in his father's boat-building shop in Maine, Asa Pingree learned how to solve the challenges of designing and fabricating. His sense of discovery endures today at his Brooklyn workshop, where he recently began experimenting with fiberglass.
6. Jude Heslin Di Leo
While feng shui expert Colleen McCann was arranging the chi in an apartment by NYCxDesign Award winner Jude Heslin Di Leo, she remarked that quartz increases natural energy. It was a lightbulb moment for Di Leo, who proceeded to channel the notion into Amplifier, a 15-inch-high table constructed from pure quartz crystal.
7. Sasha Burchuk
Products: Gemstone Terrazzo, Ziv
Standout: The New Age Design Studio founder uses the centuries-old terrazzo technique to make cement tiles and candleholders, swapping standard marble chips for ethically sourced precious and semiprecious stones.
8. Marie Schumann
Products: Softspace #5 and #6
Standout: Lively tapestries with haptic fringing and draped threads are woven by the Swiss designer from shimmering Lurex and Trevira CS or cotton on an industrial jacquard loom. Through OKRO.
9. Henri Judin
Product: Liquorice
Standout: The shelves, available in a vertical or horizontal orientation, are made with Lankapaja metalsmith from black rods of bent and powder-coated steel reminiscent of the candy after which they're named. Through Young Finnish Design.
10. Felicia Arvid
Product: Addéra
Standout: Knowing the value of mix and match, the wool-covered cushions, arm and backrests, and painted-birch tablet of this daybed by former fashion designer Felicia Arvid are all reconfigurable, thanks to their ability to slot into the tubular-steel base.
11. Emiliana Gonzalez and Jessie Young
Product: Flecha
Standout: The Estudio Persona founders and creative directors are Uruguay natives, but to celebrate the opening of their Los Angeles showroom and studio, they launched the angled side table made of mahogany-veneered plywood.
12. Virginia Valentini and Francesco Breganze
Product: Aracne
Standout: Like the name implies, the 40-inch-diameter glass top is supported by eight legs in light oak or dark walnut, creating a coffee table that the LatoxLato creative directors say "brings the novelty of unexpected structure."
13. Brecht Wright Gander and Suna Bonometti
Product: Brutiful U&I
Standout: Inspired by the repeating symmetries of Carlo Scarpa's Brion Cemetery, the cocktail table by the Birnam Wood Studio founder and jeweler Bonometti is in Valchromat wood-fiber that can be admired through its acrylic top.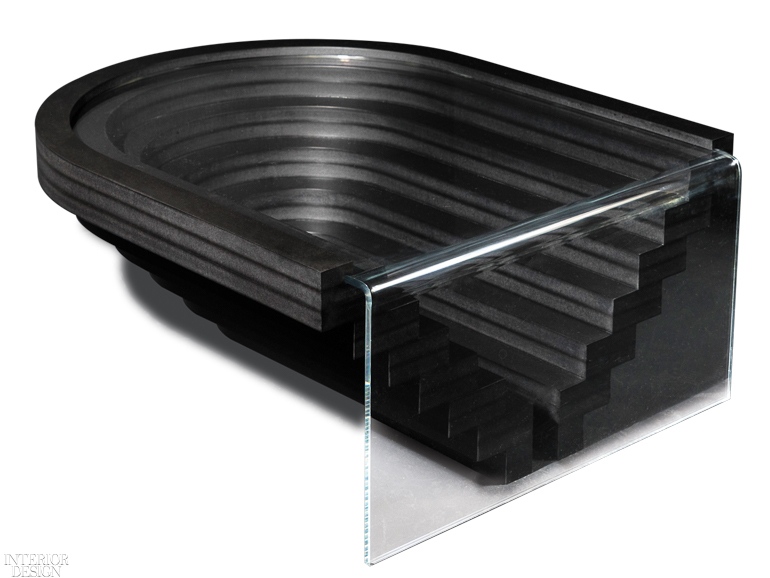 14. Kyle Comeaux
Product: Walden
Standout: The Komolab founder's handsome dog bed features a base in walnut or white oak topped by a removable cushion upholstered in wool, with a handy waterproof liner in case of mishaps.
15. Daria Belyakova
Product: Paspartu
Standout: In chromed, molded fiberglass with wool upholstery, the architect describes her piece as an "inhabitable sculpture" that cradles the body, the armchair supported by a barely visible glass stand. Through Palisander Gallery.
Read more: 9 Designers Share Insights on Building a Business for World Entrepreneurs' Day