6 Highlights from the 18th Edition of Design Miami/
The boom in the number of design collectors, especially in recent years, is evident at design fairs and Design Miami/ is a sector force. During the opening of its 18th edition, the fair's CEO, Jennifer Roberts, noted the rising interest around collectable design, particularly among younger demographics. "The design market has never been better," she told Interior Design. "There are new people coming to the market and they're building thoughtful collections that tell stories." At Design Miami/, 50 exhibitors and intimate scale presentations in the Curio section are housed inside a tent at Pride Park, across from Art Basel Miami Beach. As the "first full fair after the pandemic," says Roberts, noting the smaller version that took place last year, it's sure to impress. The 2022 theme, "The Golden Age: Looking to the Future" is reflected in works that reference tradition with a boldness towards new visual lexicons and materials.
From U.S.-based powerhouses such as R& Company, The Future Perfect, and Moderne Gallery to international fixtures Nilufar Gallery, Carpenters Workshop Gallery, and Galerie Maria Wettergren, the industry's key players are peppered throughout the aisles. Curio also offers experimental presentations with younger galleries, such as Superhouse and Emma Scully Gallery, as well as single designer presentations by Harry Nuriev and Objects of Common Interest, which promise intriguing explorations on material and forms.
"Whimsy is a running thread among the booths," Roberts adds, noting the terms "craftsmanship" and "handmade," as strong elements on display. Winners of the fair's annual Best in Show award also were announced: New York-based Magen H Gallery, which focuses on mid-century French design, and London's Sarah Myerscough Gallery, known for its emphasis on craftsmanship, shared the prize.
See Interior Design's Design Miami/ highlights, on view through December 4, 2022.
New York-based Atelier Courbet created a booth that radiates with its earthy tones and seamless blend of organic forms in furniture and objects. Emma Donnersberg, Hamza Kadiri, Abel Cárcamo, Jonathan Hansen, Gianluca Pacchioni, and Noé Duchaufour-Lawrance unite over a marquetry flooring designed by Oscar Ono. All exhibiting pieces, created for the gallery's fair presentation, deliver experimentations on material and silhouette. Cárcamo and Donnersberg's table series Penzai recalls majestic trees in rain forests as well as fungi. Each table sprouts two or three biomorphic surfaces from its thick body, blending function with sculptural experimentation. The two designers have modeled the forms in France and produced the tables at the French bronze foundry Fonderie Fusions in Auvergne.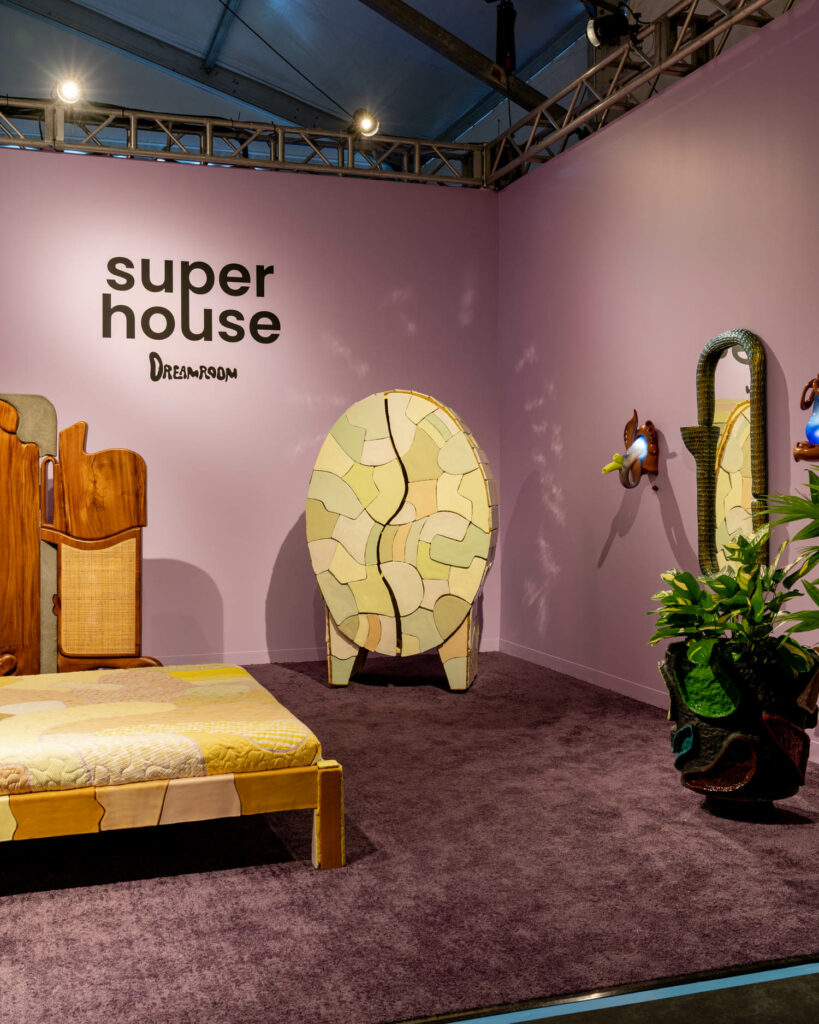 Superhouse gallery invites visitors to plunge into a phantasmic bedroom of colors and materials with a quartet of artists and designers—Sean Gerstley, Ellen Pong, Ryan Decker and Kim Mupangilaï—from the Chinatown-based gallery's programming. The gallery founder Stephen Markos nods to the atmosphere of a bedroom in Dream Room, featuring a six-foot tall armory designed by Sean Gerstley, made out of chunky ceramic blocks, as well as a queen-size bedroom frame. Ellen Pong's nightstand which replicates a dolphin riding a horse taps both onto the booth's bedroom theme and Markos's nod to the dream state.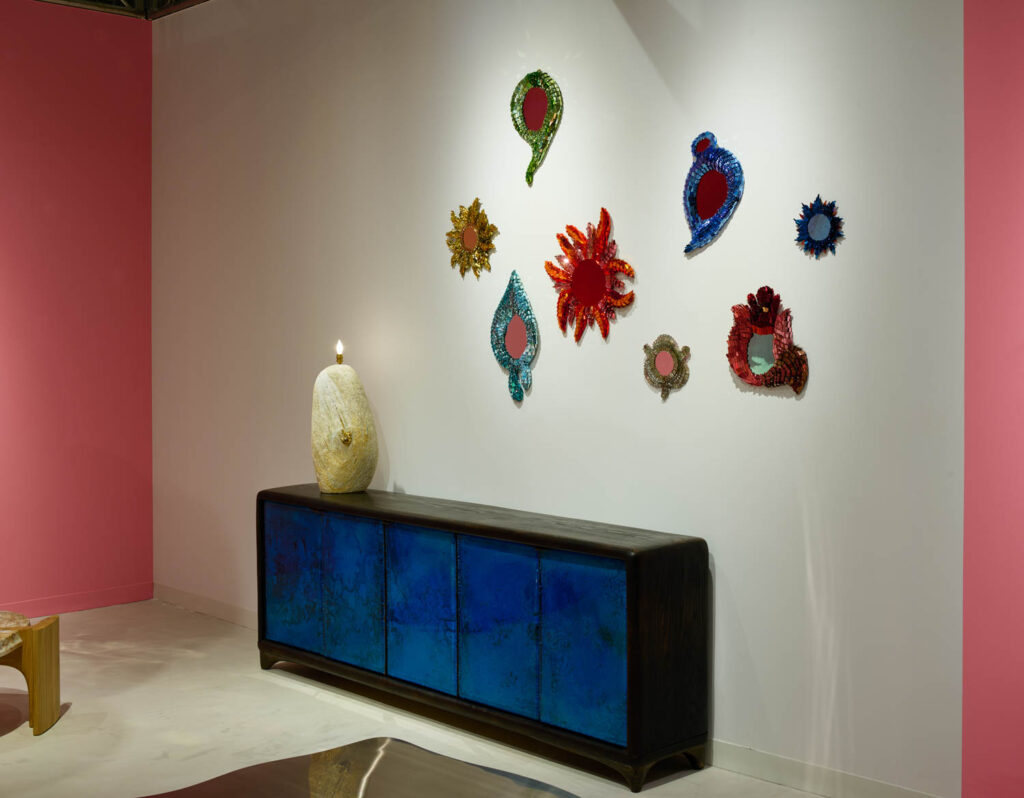 Tribeca-based Twenty First Gallery presents a grouping of eight designers from its roster, delivering a variety of materials and types of furniture. Polish-born, London-based designer Marcin Rusak's signature furniture technique of soaking real flowers into resin is represented with a white coffee table that holds romantic fall flora, forever suspended inside bio-resin and suspended with lacquered oak. Another coffee table yet in a completely different visual radiance is by François Corbeau, made with silver mirrored bronze and gleaming throughout its sleek surface and liquid corners with a mercurial fluidity.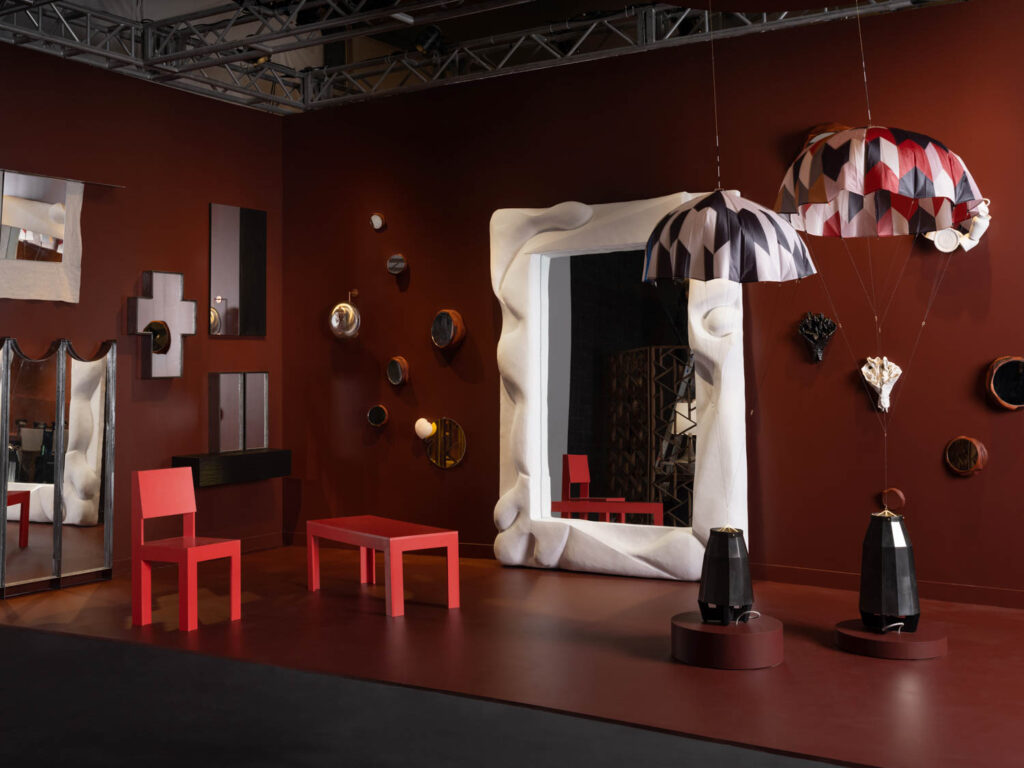 Another striking Curio presentation is by Emma Scully Gallery in which an all-women designer presentation, titled Reflecting Women, includes pieces by Jane Atfield, Rooms Studio, Bec Brittain, and Jenny Min. The scene-stealer is Brittain's moving light fixtures Parachipers series, titled Zora 1 and James 2. With their cast aluminum bases with black lacquer finish, the parachute shades in textile, silk thread, brass, and gold-filled chain blow in air, pulling the gallery-goers into the celebration of woman design.
Greece- and Brooklyn-based design duo Eleni Petaloti and Leonidas Trampoukis, collectively known as Objects of Common Interest, join the fair this year through the Curio section without a gallery attachment. The duo's new objects include a freestanding opal mirror that reaches 76 inches in height. A fluid form combines the sensation of melting with rigidness of acrylic opal, produced by the duo at their studio outside of Athens. The same material also embodies a light fixture with a rather more sculptural figures that is both otherworldly and rock-like. The rod-form light bulb is stuck within the vertical form, washing the opal's liquid surface with illumination.
Maestro Dobel Artpothecary's presentation with Clásicos Mexicanos
Tequila makers Maestro Dobel brings its Artpothecary series, spearheaded by its creative director Alejandra Martinez, to Design Miami/ through a collaboration with Mexico City-based furniture brand Clásicos Mexicanos. This year's presentation includes furniture that uses original designs of the late Mexican architect Ricardo Legorreta from his Vallartacollection which was the furniture used at various locations of Hotel Camino Real in the early 1970s. The chairs are made out of pine wood frames and woven palm seats, and they decorated the hotel chain's locations in Puerto Vallarta, Cancún, and Ixtapa. Besides the visual abundance, the booth also taps into the visitors' taste buds with the offering of a selection of cocktails that pay homage to the 70s' Mexican Golden Age in design.