12 Simply Amazing Kitchen Designs and Renovations
These kitchens hand-picked from our archives serve up design à la carte. From modern and contemporary to colorful and eclectic, see the latest trends in kitchen designs and renovations. For more inspiration, check out our kitchens board on Pinterest.
Editor's Note: This story was originally published May 12, 2017, and has been updated to serve up even more designer kitchen inspo.
12 Cool Kitchen Designs to Inspire Your Next Interior Design Project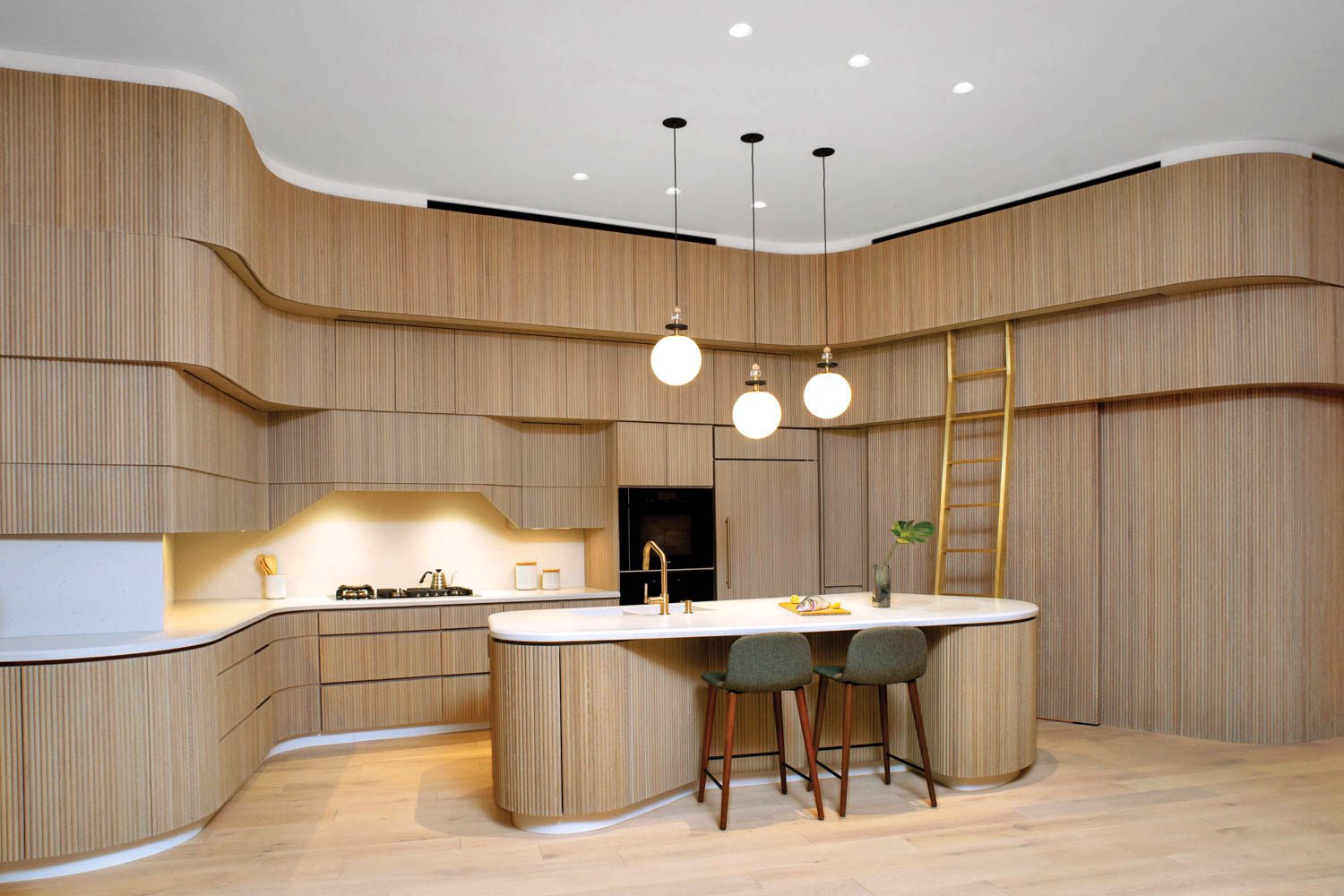 For their TriBeCa pied-à-terre, a young professional couple was seeking a home that would keep the stresses of outside life out and "hush the hustle," as Dash Marshall partner Ritchie Yao puts it. The team developed an open plan that would flow with the homeowners' daily routines as well as reference their Chinese heritage by keeping in dialogue with the principals of feng shui. Those teachings led them toward gently curving forms and away from the "poison arrows" of sharp corners. Anchoring the 1,800 square feet is a kitchen wrapped in solid white oak tambour. Read more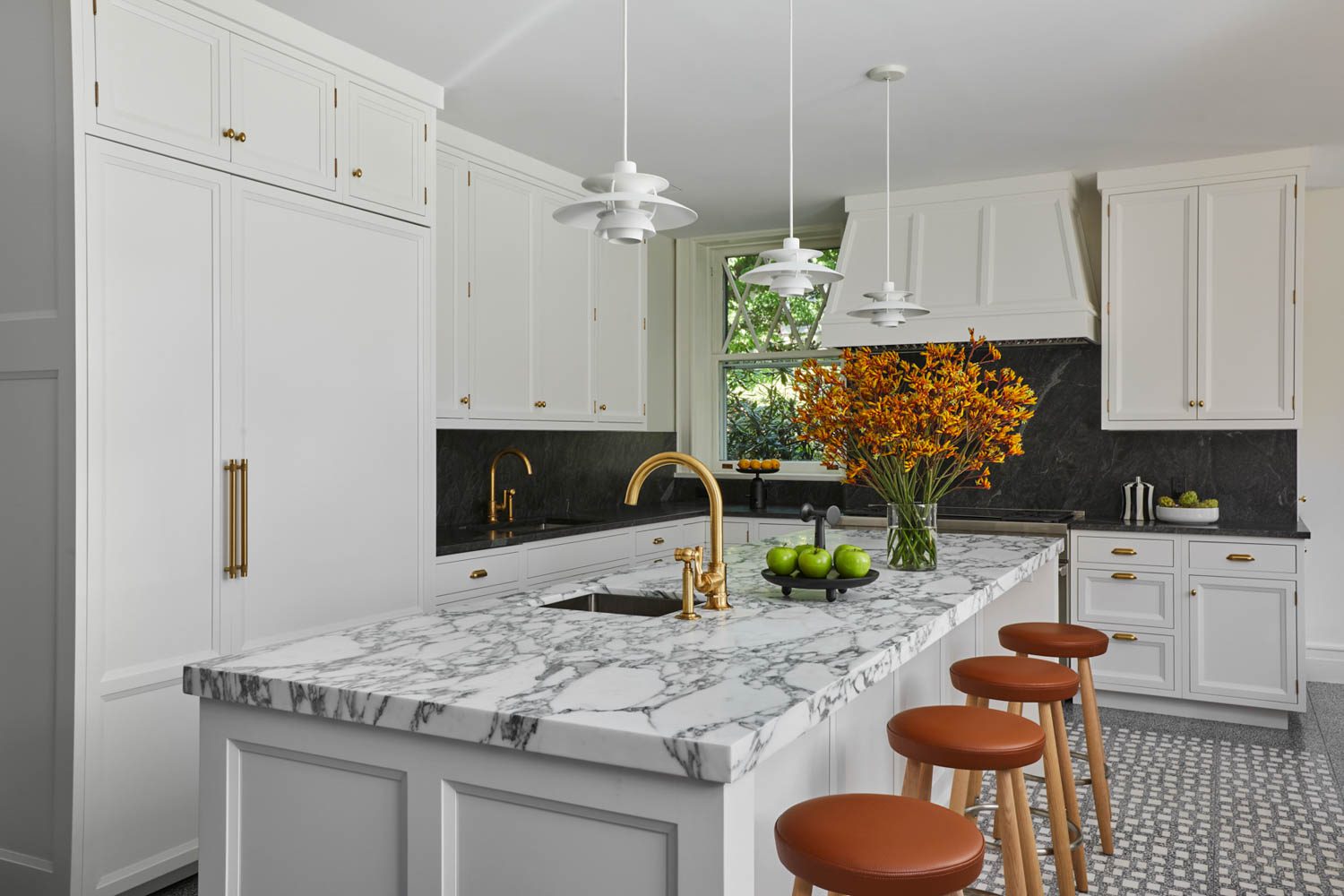 When choosing the cabinetry for the kitchen renovation in this historic Pelham, New York home for SANDOW CEO Erica Holborn, the goal was to select a design compatible with the century-old oak millwork yet contemporary enough to speak to the Holborns's midcentury-modern décor. For the backsplash and countertops, stone topped the wish list. Ultimately, designers chose Jet Mist granite from Artistic Tile in a honed finish with a slightly velvety touch. Read more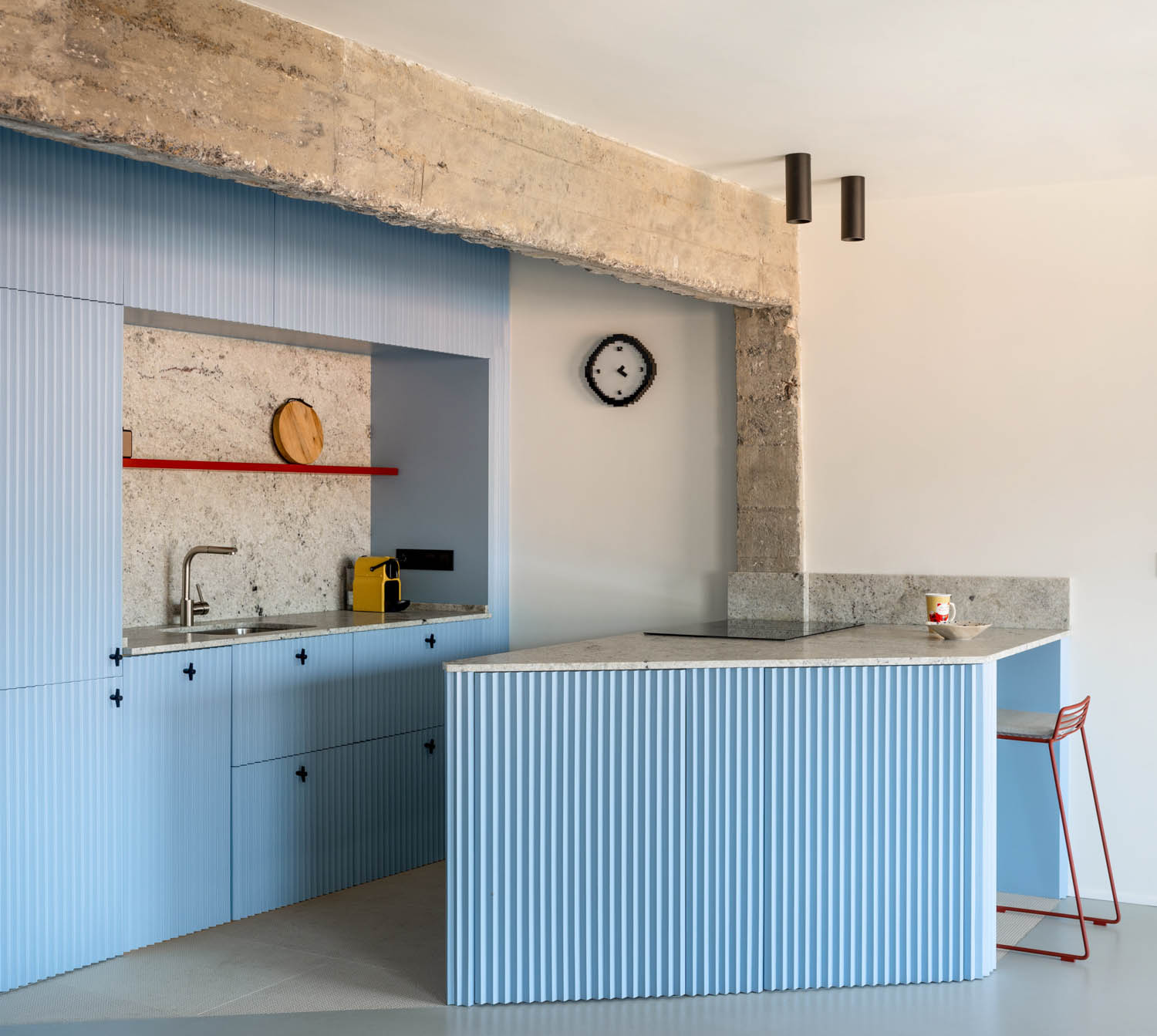 Sinuous walls of blue swirl through this home like ocean waves, enabling the compact space to meet the multifaceted needs of a young family. Designed by Tenka Arkitektura, the home is located on the top floor of a residential building built in the 1960s. Initially, the space consisted of a narrow L-shaped layout interrupted by structural beams used for ventilation. To amplify the functional zones in the home, an outdoor terrace and curved wall were added, separating bustling hubs of activity, such as the kitchen with its fluted grooves, from more relaxed areas like the living room.  Read more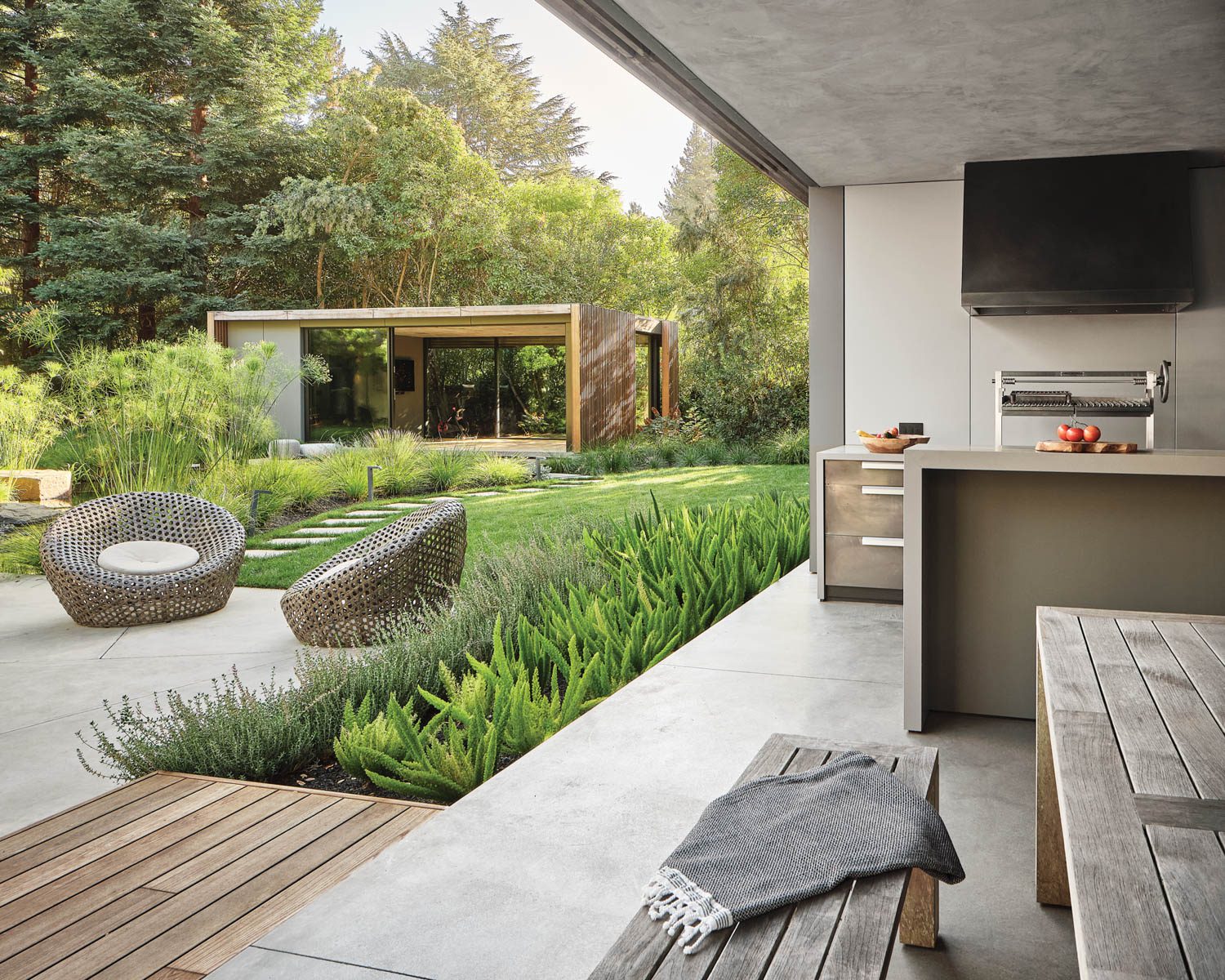 This 2021 Best of Year Award winner for Residential Landscape is a showstopper throughout. Designed by Feldman Architecture, glass-box structures were added around the property, with each minimalist 450-square-foot pavilion having an identical footprint and materials palette but a distinct function. Case in point, this breezy indoor/outdoor blended kitchen and dining space embraces the stunning landscape. The open-walled kitchen/dining space comes complete with a wood-fired pizza oven. Read more
5. Ghat House by Max Núñez Arquitectos
Max Núñez tackled the topography head-on at this remarkable waterfront residence for an adventurous family in Cachagua, Chile. The space is filled with surprises—theatrical indulgences, if you will—such as a long, railingless staircase that descends into the kitchen. Overall, a restrained materials palette dominates throughout, with polished concrete flooring mingling with stainless steel counters. Slightly red-tinged timber—a local wood similar to American cherry—clads cabinetry, which doubles as the platform for a mezzanine seating area. Read more
SABO founder and principal Alex Delaunay thought outside the box when renovating a 775-square-foot penthouse apartment in a century-old Paris building. In the otherwise white-on-white kitchen, a vertical garden sprouts from one wall and flooring is a veritable rainbow—whimsical six-inch-wide stripes of rubber in 14 colors deliver a chromatic treatment. It perfectly suits the client, a fashion forecaster, who "always flips through material swatches," Delaunay explains. Read more
"The futuristic look is reminiscent of 2001: A Space Odyssey," asserts Marie Deroudilhe, describing a 19th-century workshop turned apartment in Paris. She mostly refers to the kitchen, in which all-white furnishings and shimmering white epoxy flooring contrasts with the limestone structure. Harry Bertoia stools accompany a solid-surfacing island, where concealed LEDs create a luminous frame. Read more
8. Chris Bosse's Sydney Home by Laboratory for Visionary Architecture (LAVA)
Laboratory for Visionary Architecture (LAVA) is best known for ambitious master plans and large-scale biomorphic installations, so designing a residence in a Sydney suburb heralded a marked departure for principal Chris Bosse. In signature LAVA style, organic elements pervade—the globular bamboo-topped kitchen island was fabricated at the same Shanghai factory where Zaha Hadid Architects interiors are made, and above hangs a standard office light punctuated with laser-cut plywood discs like vertebrae. Raw-edged plywood and high-pressure laminate clads custom cabinetry, providing a geometric backdrop to the curvaceous kitchen centerpieces. Read more
Clean-lined modernism is no match for Uri Michael Palan, who studied under Pierre Koenig in the 1980s before establishing his namesake Tel Aviv–based firm. One of his recent commissions, a 2,000 square-foot apartment in the same city, boasts a Danish kitchen system consisting of stainless steel modules in powder-coated black. The finished island, which makes room for two sinks and integrated gas burners, leads to a bright yellow wire sculpture—a giant abstracted dandelion—hanging on the rough concrete wall. Read more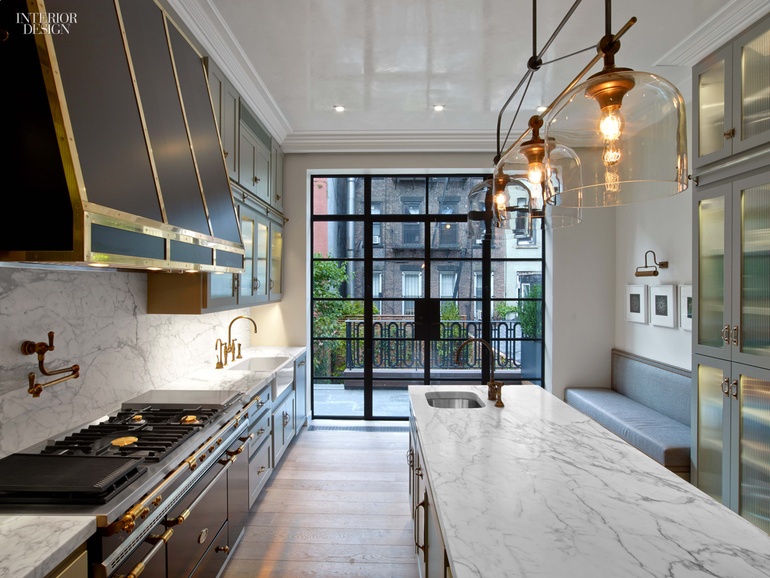 Single-family townhouses are the Holy Grail of New York living, but this formerly abandoned 1869 brownstone on a tree-lined West Village street breaks the mold—a diamond-in-the-rough as Manhattan towers climb to unprecedented altitudes. Mark Zeff spearheaded this gut renovation for a young family, his first course of action being opening the living and dining rooms for seamless circulation to the kitchen. Occupying a sun-drenched space facing the backyard, subtle details such as calacatta gold marble countertops, oak floorboards, and banquette seating deliver low-key luxury. Read more
It's no question that Messana O'Rorke leans toward a gallery-like aesthetic, so when a young family commissioned the duo to lend their design prowess to a 1,600 square-foot apartment in a 1938 Art Deco building in New York's West Village, all roads led to refined minimalism. The kitchen is a highlight—pristine white Corian countertops sit underneath a custom brass linear fixture, illuminating the BassamFellows stools that provide the two children-in-residence with a breakfast nook. Read more
When a marketing executive purchased the ground level of a distinctly utilitarian garage in residential Amsterdam, she entrusted i29 Interior Architects to open up the disjointed layout. The firm's first order of business included pouring pale grey epoxy resin flooring throughout, nodding to overcast Dutch skies. Anchoring the kitchen is a charcoal-gray synthetic ceramic island—the room's only work surface—but nothing more than four integrated gas burners interrupt the 3 by 10–foot countertop. Rough-sawn oak cabinetry in matte acrylic coating hides storage, maintaining the crisp aesthetic. Read more
Looking for more design inspiration? Check out our latest kitchen and bath projects, products, and news here.