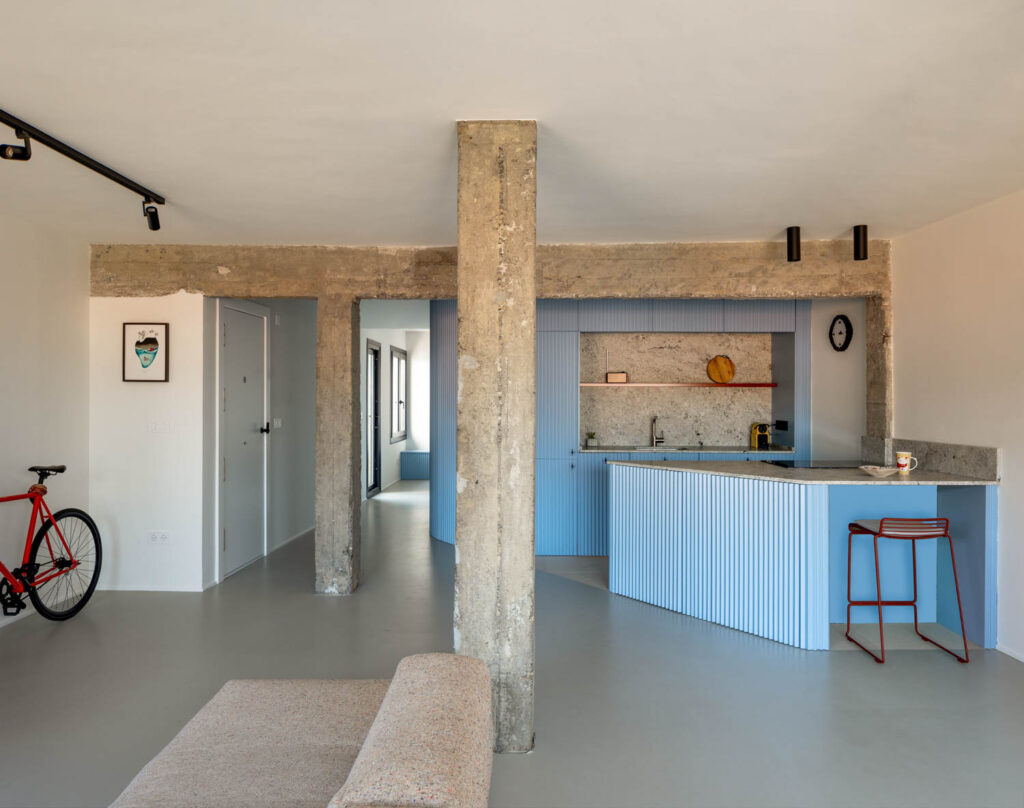 Set Sail in This Blue-Hued Nautical Home in Bilbao
Sinuous walls of blue swirl through this home in Bilbao like ocean waves, enabling the compact space to meet the multifaceted needs of a young couple and their son. Designed by Tenka Arkitektura, the abode—named Burgatoi after a nautical term that refers to a piece of curved wood used in shipbuilding—is located on the top floor of a residential building built in the 1960s. "We wanted to solve the house's [challenges] by reinforcing the feeling of fluidity, creating a single continuous space—that is where the idea of creating a curve that runs through the house begins," the designers share.
Initially, the space consisted of a narrow L-shaped layout interrupted by structural beams used for ventilation. To amplify the functional zones in the home, an outdoor terrace and curved wall were added, separating bustling hubs of activity, such as the kitchen, from more relaxed areas like the living room. "That ultimately determines and articulates the relationship between public and private rooms," the designers assert of the wall. "We sought to give the house its personality… with a geometry that would move away from a compartmentalized and straight form, favoring more fluid daily relations."
The design concept draws on Le Corbusier's promenade architecturale, or the act of discovering the dwelling as one moves through it. "The curve itself, when translated into the floor plan, is able to transmit a fluid space, maximizing its flexibility," the designers add. "This avoids unnecessary compartmentalization within the house; this curve converted into a wall protects the views and opens up to the space without the need for enclosures."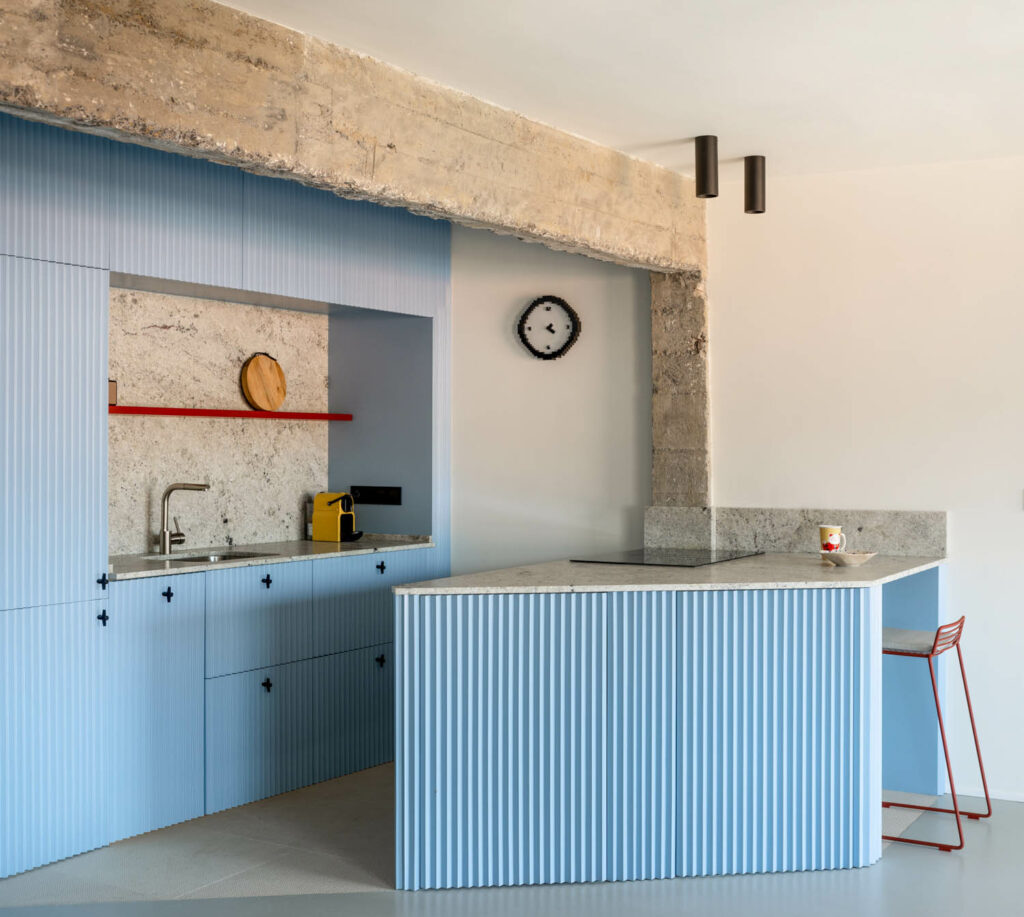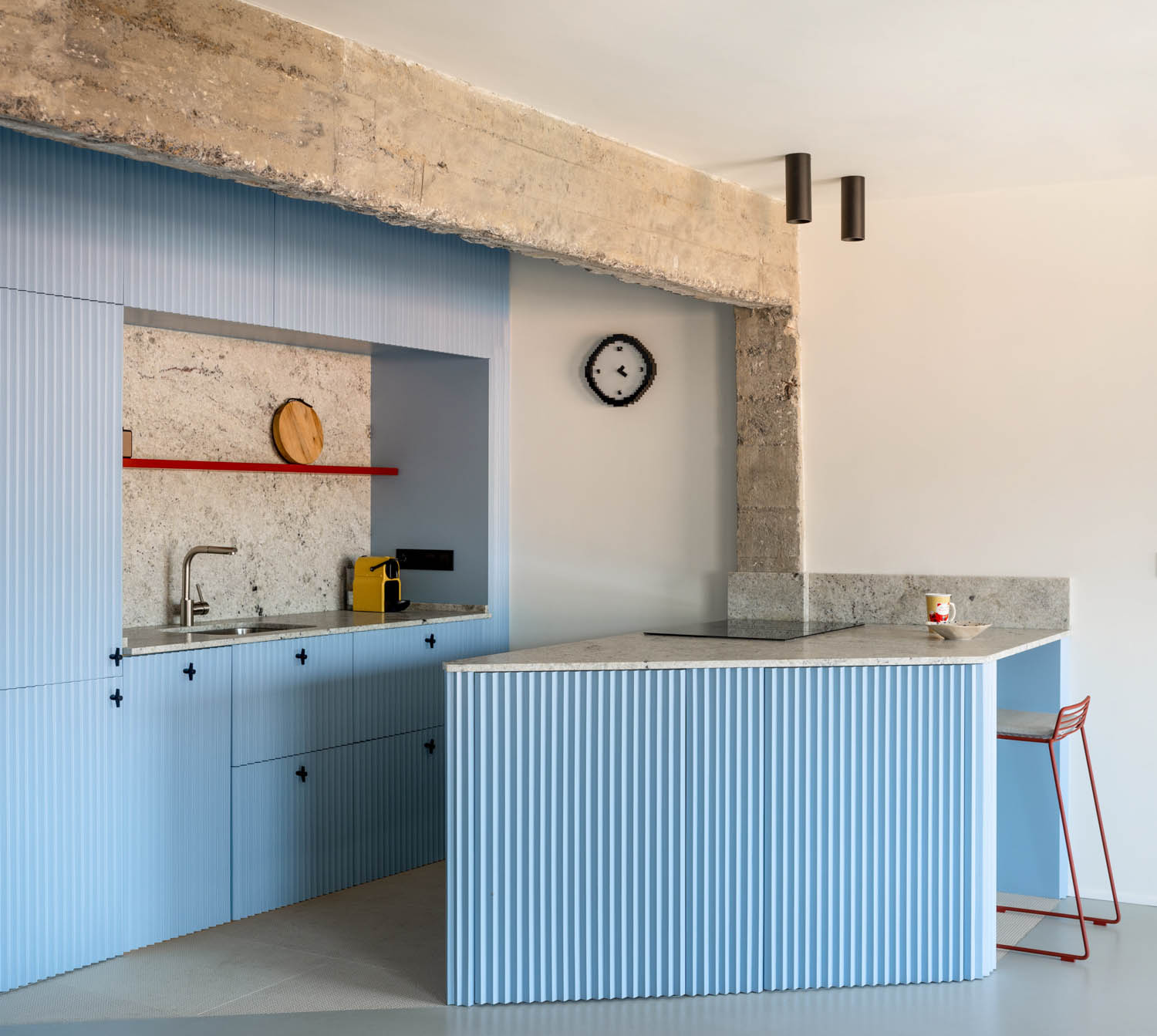 The wall's fluted cladding, lacquered in a turquoise hue, further emphasizes the effect of its wavelike form, enabling light to create patterns of rhythmic movement. "The house had to transmit freshness, calm, elegance, and joy, and we believe that the blue color palette responds to all these sensations," the designers note.
As for the sleeping areas, a small corridor snakes up a slope toward the main bedroom—the highest and most open point in the house. Complete with a bathing area, dressing room, and bed, the bedroom serves as a culmination of the sleek aesthetic throughout. Even the floor is continuous, made of gray epoxy resin—every element designed to emulate the vast views aboard a ship at sea.
Explore the Shades of Blue in This Interior Design