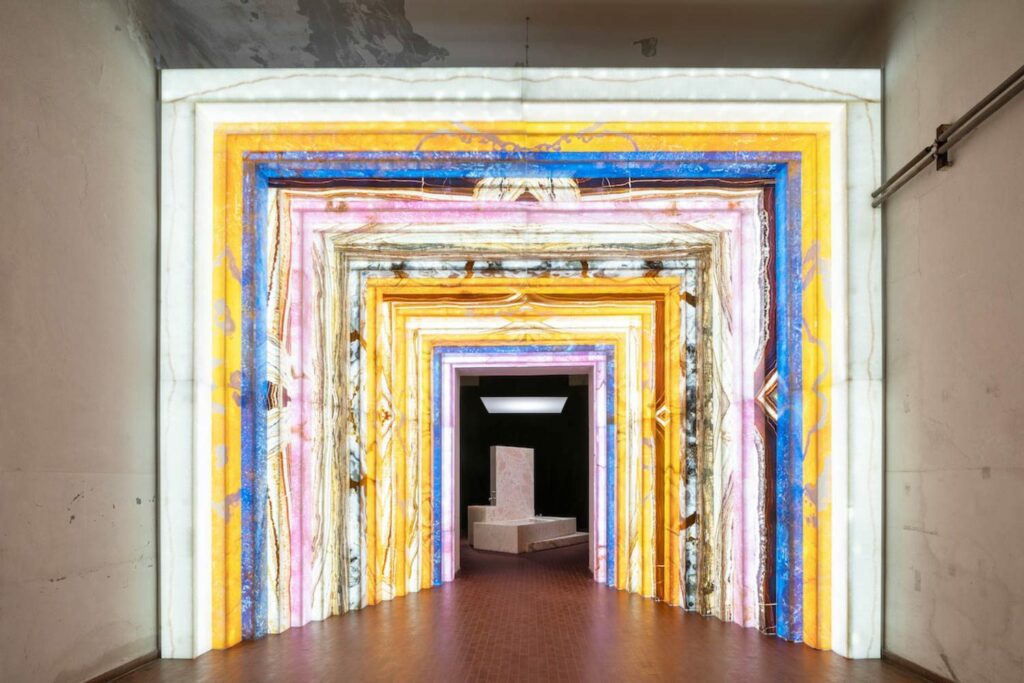 9 Show-Stopping Installations Seen at Milan Design Week 2022
There is a trick to quickly erecting a temporary destination that seduces the design community during Milan Design Week—and wow-factor is a must. At Alcova, the offsite exhibition which took place for the second time in an abandoned nunnery and military hospital, several installations shined, taking advantage of an abundance of space and the decayed elegance that only comes from derelict structures. In the Brera district, La Palota, a former sports venue beckoned with lofty ceilings. And why not add a famous villa to the mix? From a kitchen installation at a location of a recent crime drama to a portal of natural and semi-precious stone to a colorful sphere-filled sound studio, here are nine of our favorite installations from Milan Design Week 2022.
Highlights from Milan Design Week 2022
1.  A Statement of Form by Gaggenau
The luxurious Italian villa seen in "House of Gucci," a recent crime drama inspired by true events directed by Ridley Scott, dominated Instagram feeds this Milan Design Week. Completed by architect Piero Portaluppi in 1935, the Villa Necchi Campiglio an estate with private garden, swimming pool, and tennis court, is the beautiful home of the Necchi family. A slice of verdant oasis in the center of Milan, it has long been a seductive and coveted party venue.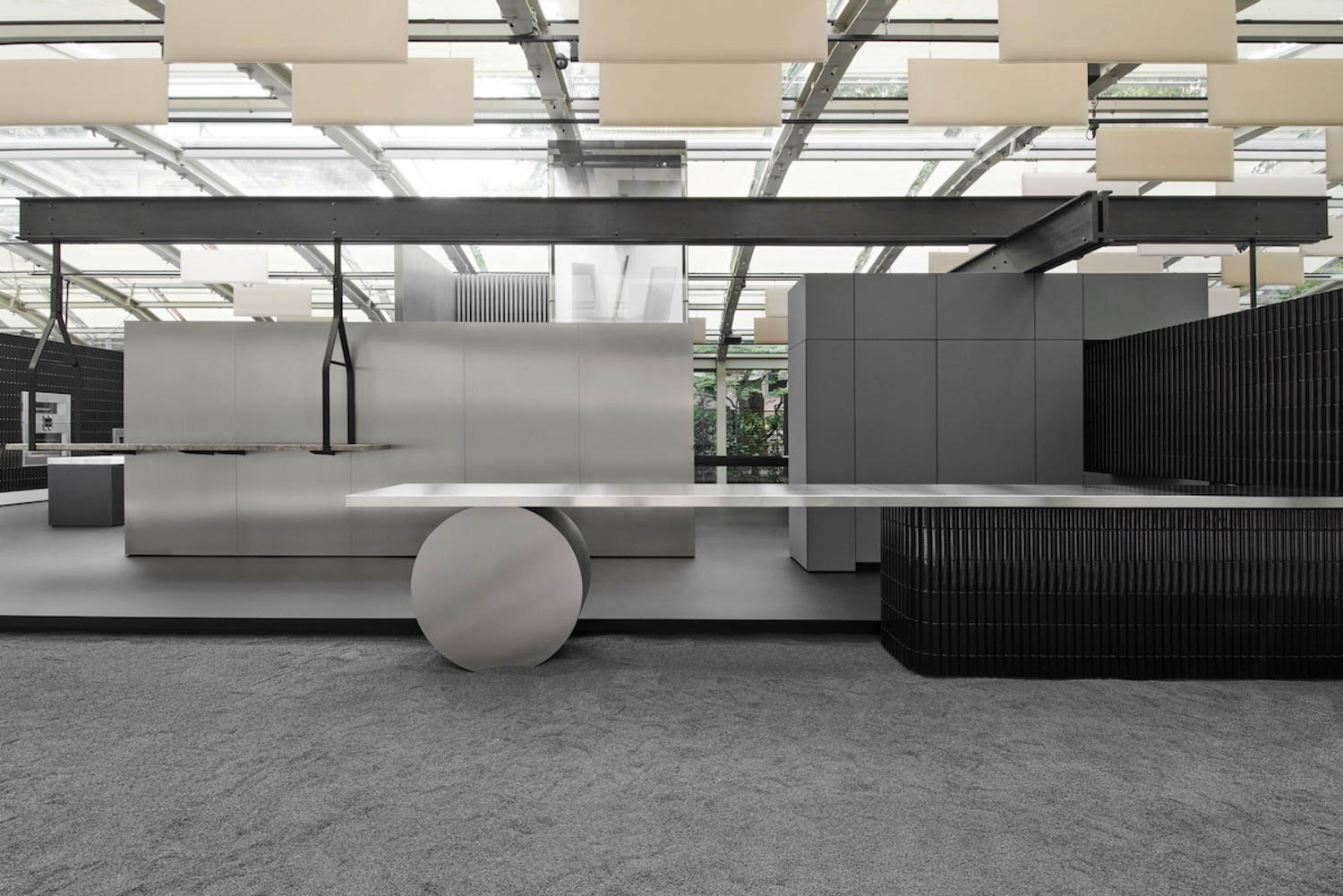 This year, the villa hosted "A Statement of Form," a sleek kitchen installation by kitchen manufacturer Gaggenau, in collaboration with Munich-based architecture firm 1zu33 and its founder Hendrik Müller, with contributions by marble expert Salvatori (behind a stacked marble centerpiece) and ceramic specialist Kaufmann (maker of the tiles).
2. "Monumental Wonders,"  by SolidNature
At Alcova, nine different types (and colors) of onyx composed the dramatic entry portal to "Monumental Wonders," presented by SolidNature. Demonstrating what is possible upon breaking the perceived boundaries of designing with natural and semi-precious stone, the installation commandeered five rooms at Alcova's Lavanderia building and highlighted creative use beyond raw marble block—think stone dust and off-cuts—with a series of monumental commissioned pieces.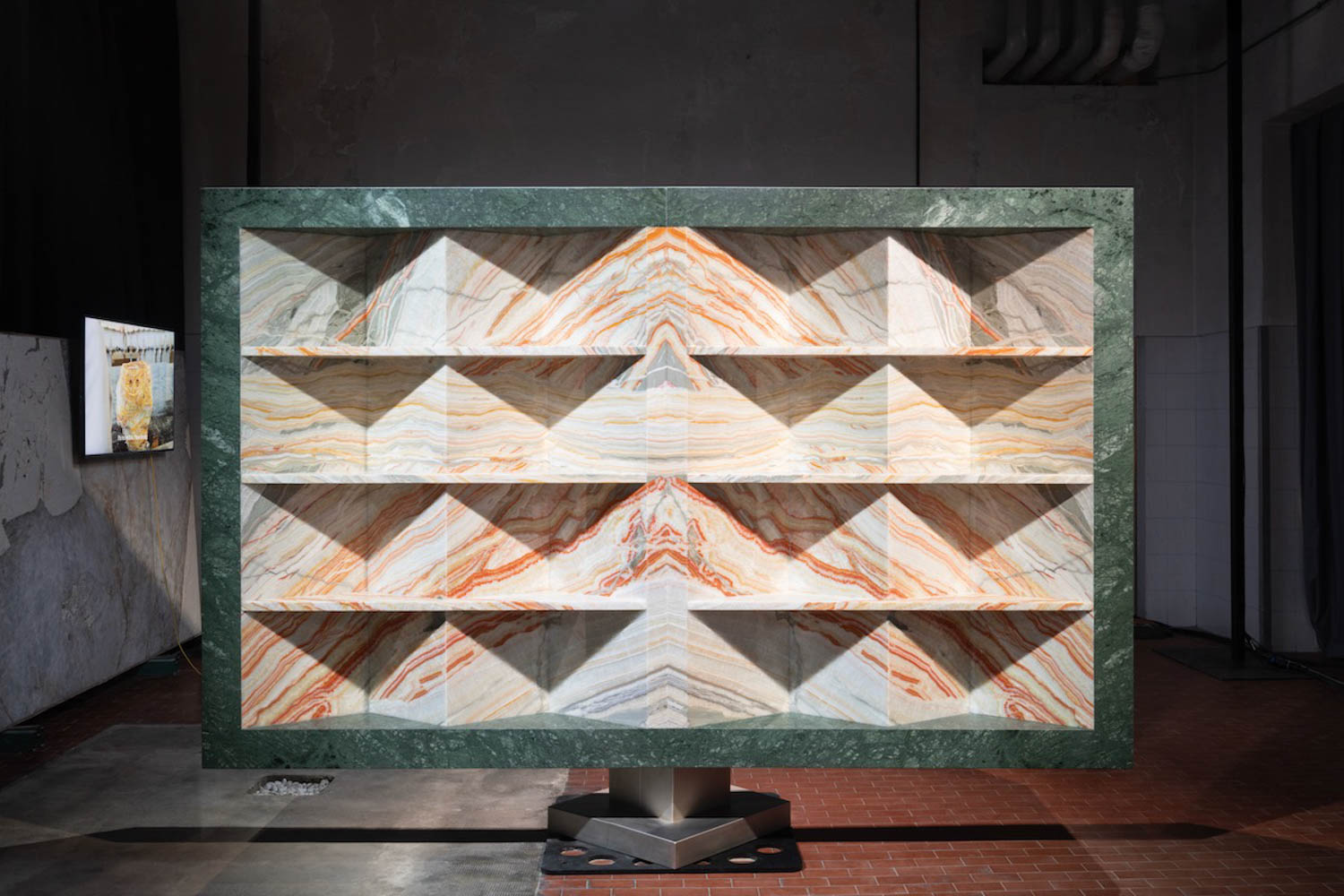 Architecture firm OMA, headed up by principals Ellen van Loon and Giulio Margheri, designed the stone-wrapped doorway as well as a rotating cabinet doubling as a movable wall and a bed tucking away a hidden table and storage space (both made of marble and onyx).
A dazzling bathroom built entirely of pink onyx by Dutch designer Sabine Marcelis took center stage. The 360-degree free-standing sculpture showcased an apt merger of form and function while an internal glow drew attention to the natural veins and raw beauty of the stone.
3. "Silentscape" by Isabella Del Grandi for Slalom
Within the soothing embrace of "Silentscape," a colorful sound studio installation by Isabella Del Grandi at Alcova, the chatter of voices—and the bustle of Milan Design Week—dropped away.
Exploring, with texture and material, the acoustical sound absorbing possibilities available from acoustic system manufacturer Slalom, Del Grandi clad walls in soft surfacing material and dangled round upholstered spheres from the ceiling—these slowly swayed as mellow music played.
4. Houses by Charlotte Macaux Perelman for Hermès
A luminous installation of ash wood and translucent colored paper houses featured items for the home from Hermès.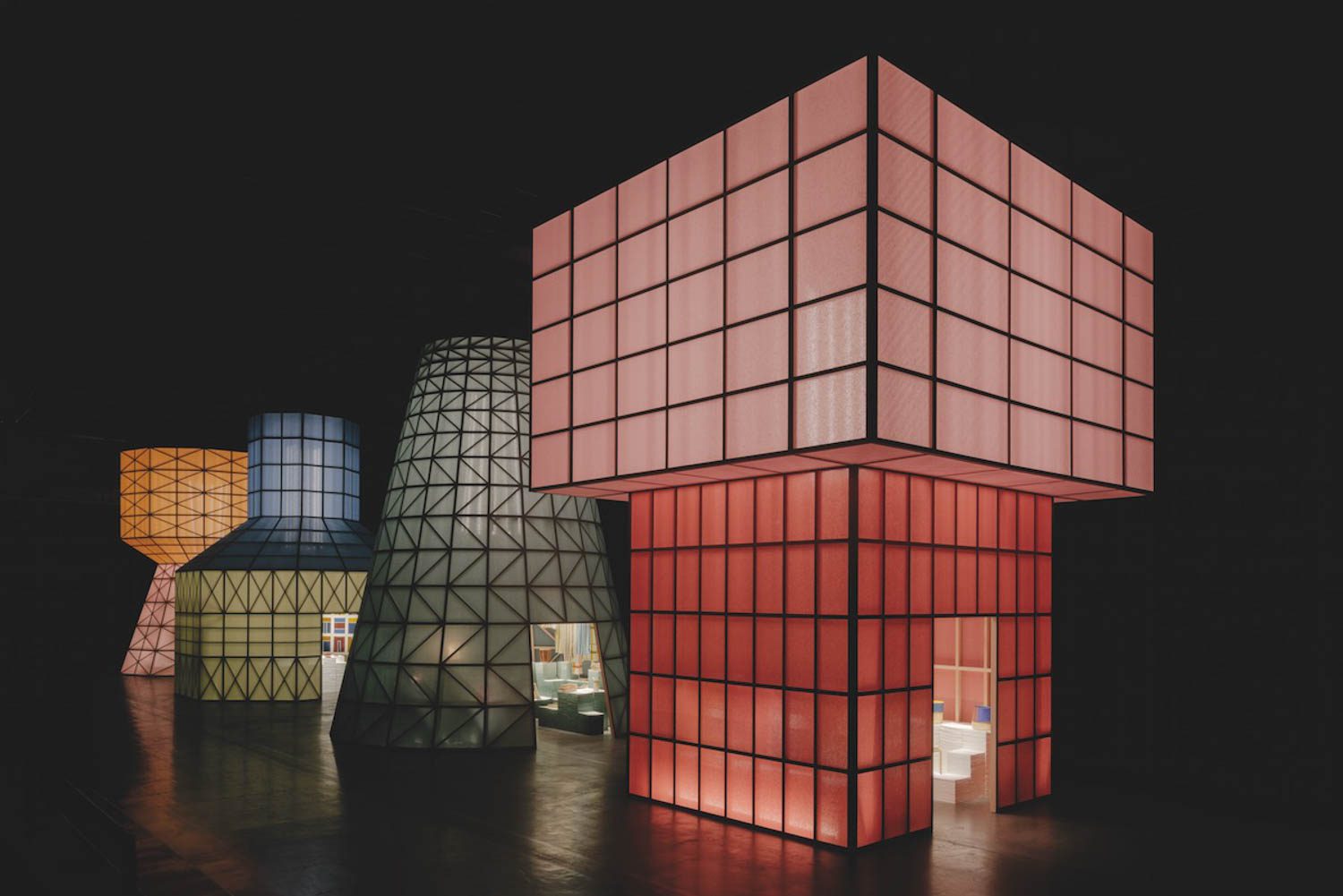 Inspired by water towers, the one-room stand-alone geometric structures glowed like lanterns at venue La Palota, a spacious former sports center benefited by sky-high ceilings and accommodating up to 1,200 people. Charlotte Macaux Perelman, the artistic director of Hermès Maison who conceived similar displays for the luxury fashion brand for previous Milan Design Weeks, was behind the design. As visitors traversed through, they discovered six new fabric designs, all made of cashmere. 
5. See the Stars Again by Flos
As a soothing voice talked about the future, Arco K, an anniversary version of the iconic Arco lamp by Achille and Pier Giacomo Castiglioni spun around in a slow wide circle while surrounded by raw white stone and set within pristine white walls. Part of "See the Stars Again" a temporary destination conceived to highlight 14 new product launches by lighting manufacturer Flos, the eye-catching presentation offered visitors a close up look at the lamp's lead-free crystal base, which exposes its inner mechanics. Curated by Calvi Brambilla and held at the 65,000-square-foot former factory Fabbrica Orobia, the installation also included sculptural displays, indoor gardens, and projections of animals.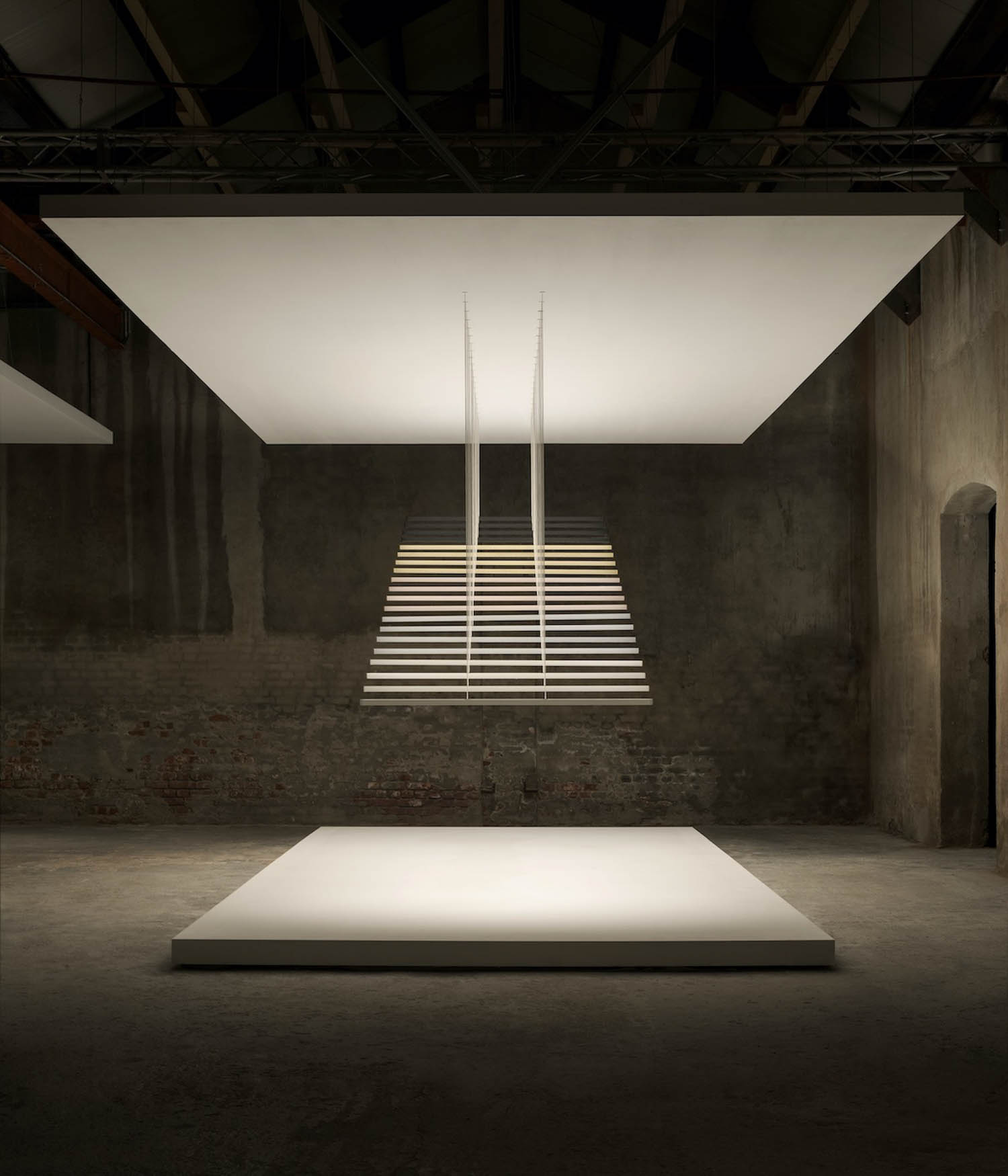 6. "Divine Inspiration" by Lee Broom
Taking centuries-old display know-how from religious places of worship, Lee Broom launched six lighting collections and 30 new products in "Divine Inspiration." The British lighting designer's largest initiative yet for Milan Design Week was set in a gallery, within a warren of rooms—each with its own curated lighting product display and unique mood.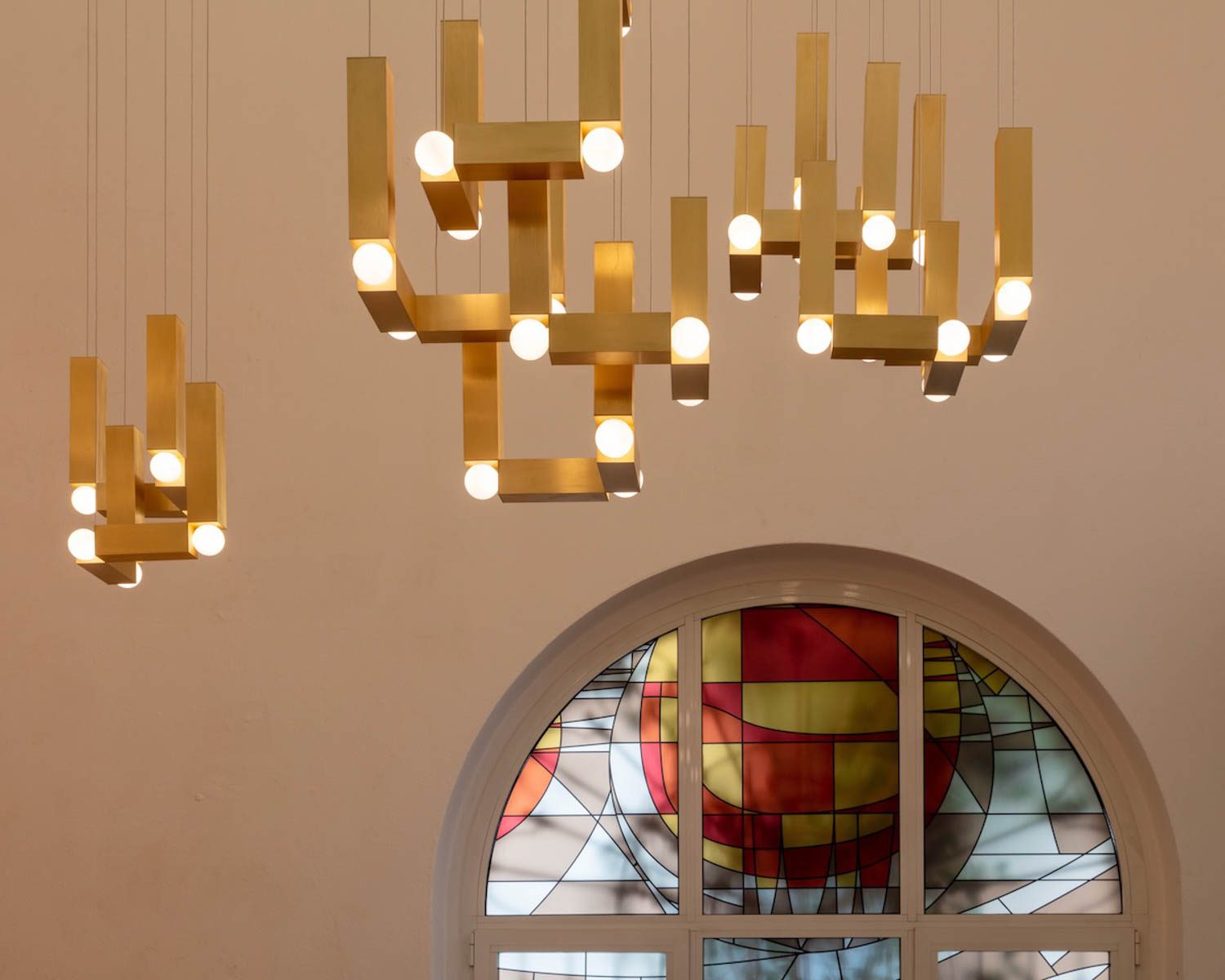 Among the limited edition hand-sculpted pieces in the Requiem collection, a seemingly beautifully and artistically broken pendant light is a showstopper. 
7. Weaving by Amine El Gotaibi for Beni Rugs
A ceiling-mounted 300-pound weaving by Moroccan artist Amine El Gotaibi set the stage for Spoken Lines, a collection of 10 rugs by Colin King for Beni Rugs unveiled at Alcova.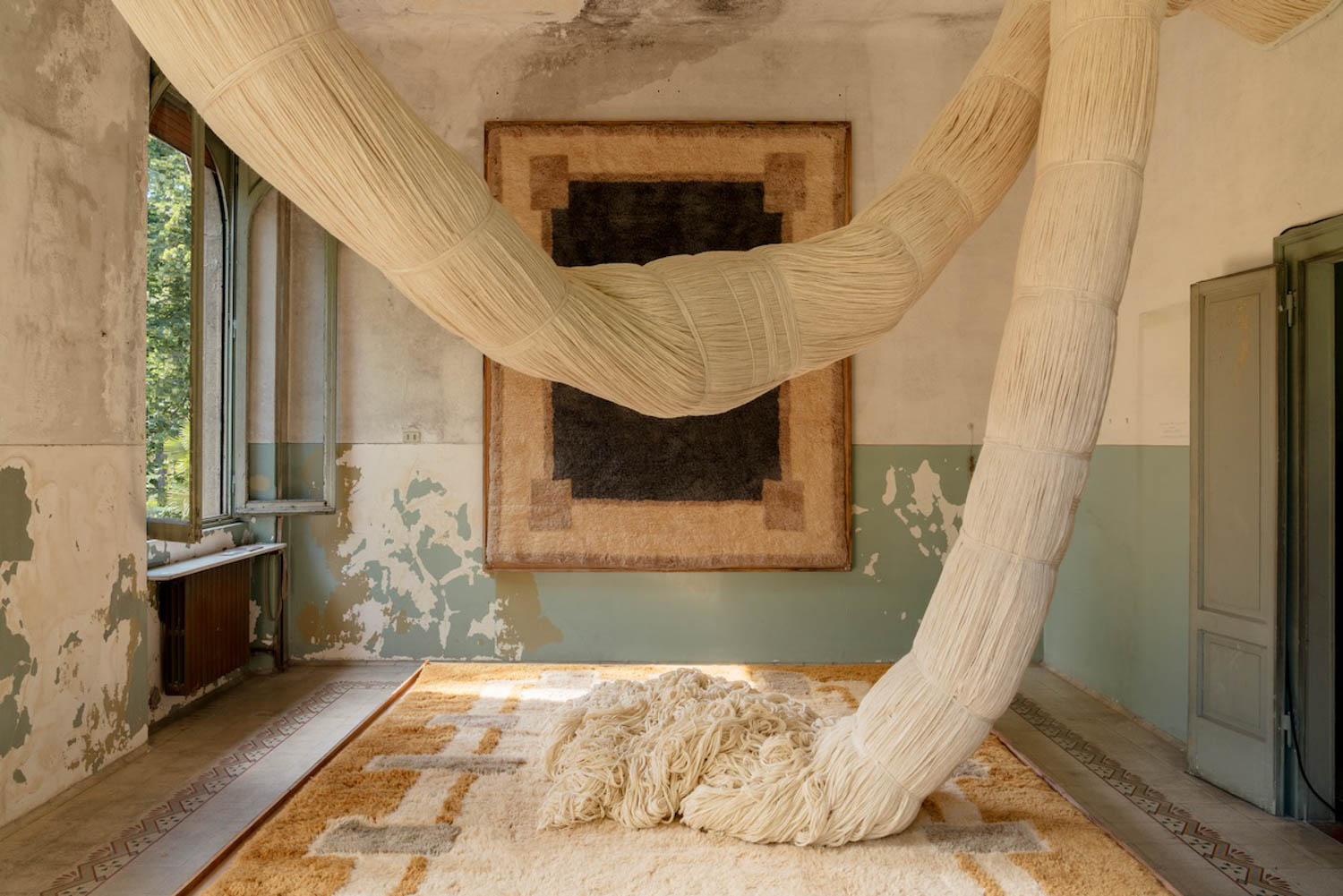 Made of nearly 80 feet of natural wool, the site-specific artwork was woven in part by a cooperative of female weavers in Morocco—who weave all of the company's rugs—and took four weeks to create. 
Aperitivo opportunities abound during Milan Design Week, but the truly special ones take place in temporary venues built entirely for the occasion. Set on the grounds surrounding and within an indoor-outdoor temple dating back to the 1930s at Alcova, the second edition of Caffè Populaire was an aperitivo garden presented by Lambert & Fils and DWA Design Studio. Water flowed amidst sculptural lighting (from Lambert & Fils) and flowered wallpaper (by New York-based wallpaper studio Superflower) and plantings of wildflowers and grass.
Focusing on the senses, the installation included an elevated interior garden—a central table planted with wild flowers—and a water sculpture. Throughout, the Brutalist, tower-like forms of the Silo lighting collection by Lambert & Fils juxtaposed with Florescence, a wallpaper collection by Superflower with hyperrealistic flower imagery taking cues from Japan's Edo period Ikebana (art of flower arrangement) and 19th century Victorian patterns. 
The scent of turmeric wafted through the air at "Holotype," presented by the freshly launched Chicago-based furniture brand Refractory and held in the E/Spacebuilding, a new attic and adjacent terrace location at Alcova. The spice was both heaped on the ground and sprayed on the concrete walls – tinting them orange. This unique backdrop for Refractory's artisanal consoles, dining tables, occasional tables, benches, lighting, and objects in materials ranging from cast bronze to solid black walnut was joined by paleontological specimens and imagery of America's West, in collaboration with Sarah Wilson, co-founder of Go-Valley, a Texas-based production company.