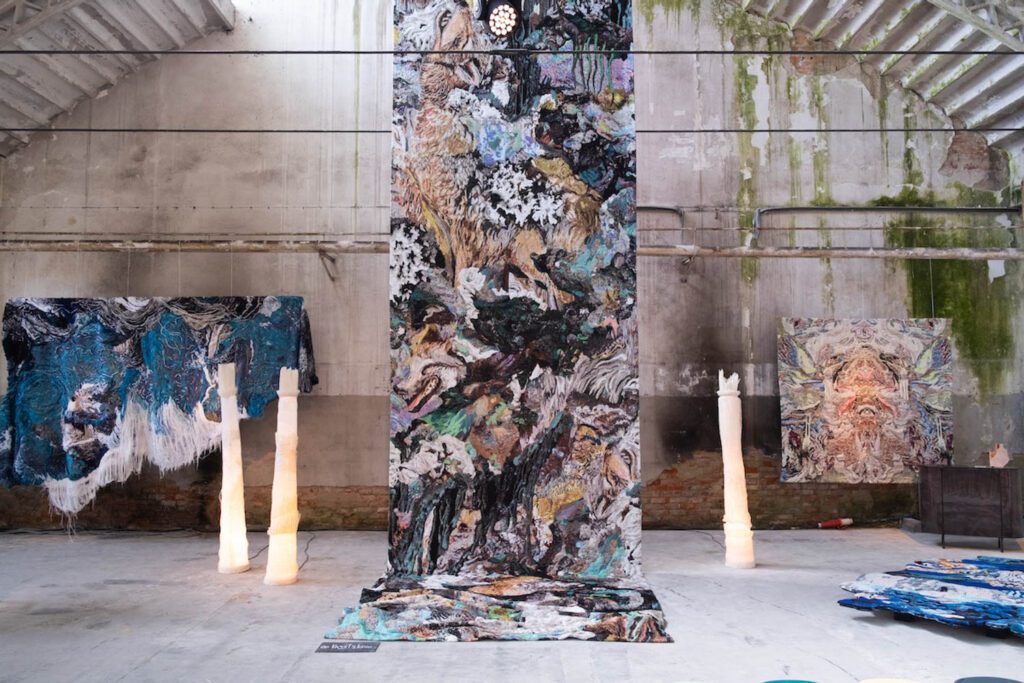 In a Former Necchi Factory, Baranzate Ateliers is Milan Design Week's Hottest New Show
Milan Design Week always promises something new and fantastic—and the 21 emerging and established creators featured in "Baranzate Ateliers" stole the show for 2022.
Like the wildly popular Alcova, also taking place coinciding with furniture fair Salone del Mobile in the Italian city, tumble-down architecture delivers a stunning backdrop for contemporary design (and was well worth Interior Design's visit to the far-flung Baranzate district).
A generous gift to designer, artist, filmmaker, and adventurer Lionel Jadot and the studio he founded, Belgium-based Zaventem Ateliers, this new rough and ready venue is the 32,000-square-foot former Necchi factory, built in the 1950 and owned by the Necchi family (as in Milan's stunning Villa Necchi featured in the recent film "House of Gucci").
Sharing the costs and sleeping (in a trim row of parked camper vans), eating, and partying at the lightly spruced-up derelict space together with Galerie Philia (which presented a collection by Studiopepe), Everyday Gallery, Modern Shapes, Ben Storms, Atelier Serruys, Mircea Anghel, and Bela Silva, Zaventem Ateliers unveiled a wild abundance of innovative collectible design, partitioned by billowy parachute fabric and framed by exposed concrete and large windows. Plastic was thrown over the roof for protection from the rain. "A huge community or family of designers is more powerful than working alone in a workshop because we share and make collaborations," Jadot explains.
From furniture collections inspired by lost roads and religious monuments to a chair fabricated from polyurethane foam frozen in time, here are 12 of our favorite finds.
1. Lost Highway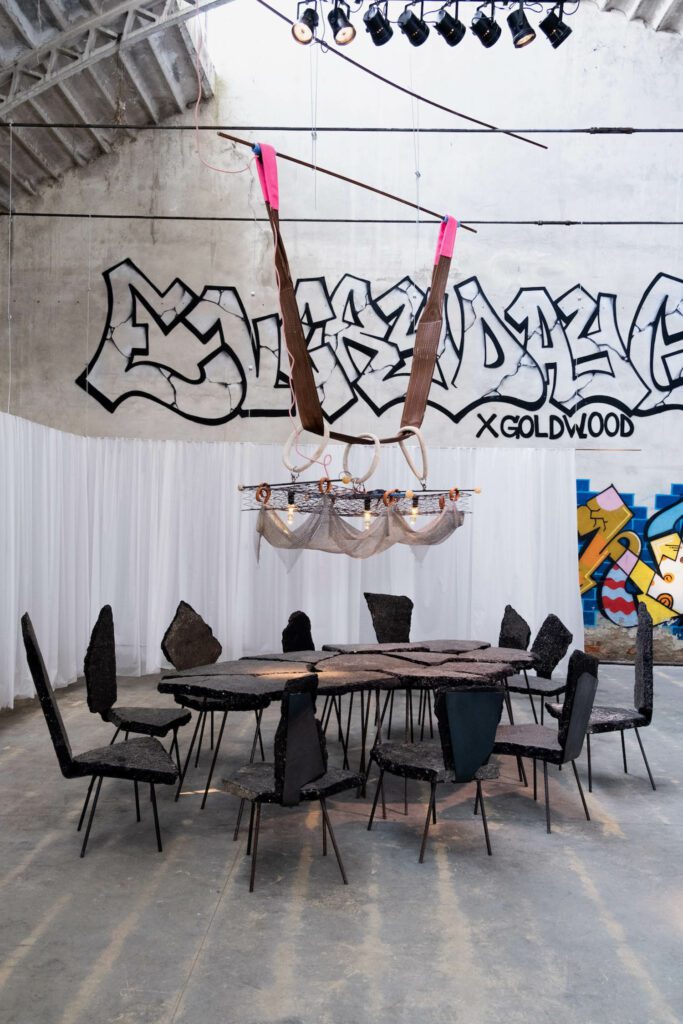 A road less traveled by finds new life under the hand of Lionel Jadot. Recovered pieces of road and construction metal form his Lost Highway series. Coated with a matte varnish, the dining table and chairs are clean and surprisingly soft to the touch.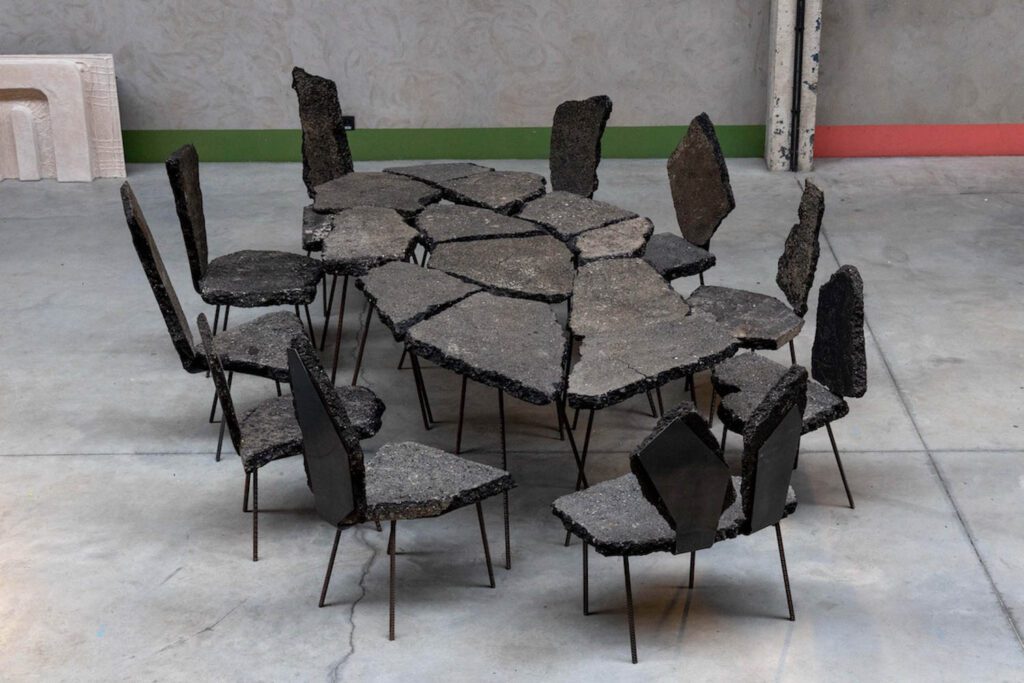 "There's something really punk about them—and that's Lionel's work," says Leo Lopez head curator and artist liaison at Everyday Gallery. "Taking pieces of his travel, he creates a new story."
2. Hermanos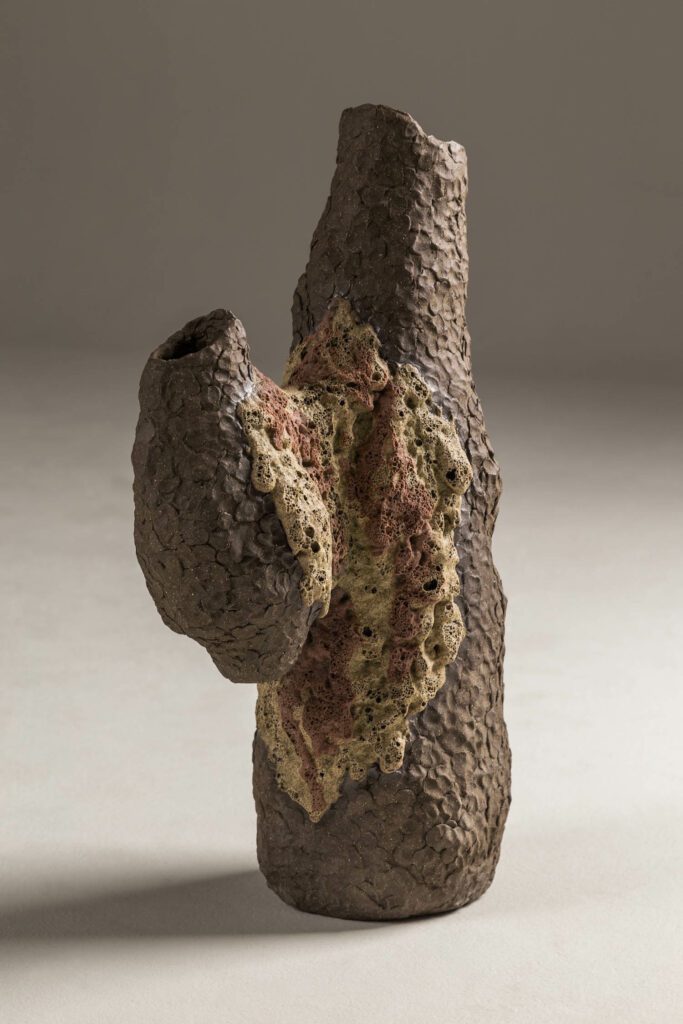 To achieve the unique finish of his Hermanos vase collection, Cristian Mohaded joined two types of clay (in "brotherhood," he says), chamote grit (a type of stone fragment), and four types of oxides. He then pressed the materials with fingerprints and fired the forms at 2,200 degrees Fahrenheit.
3. Hal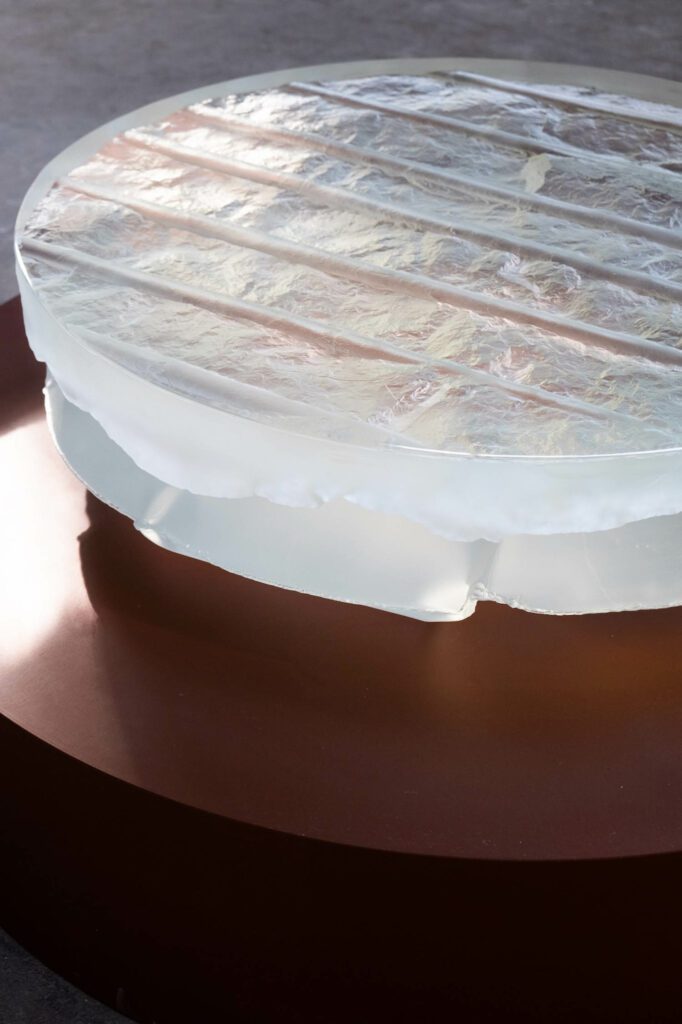 The pipes Ben Storms used to cast his plaster and frosted-glass Hal coffee table remain, reflecting the fabrication history in delicate tubular-shaped imprints.
4. Temenos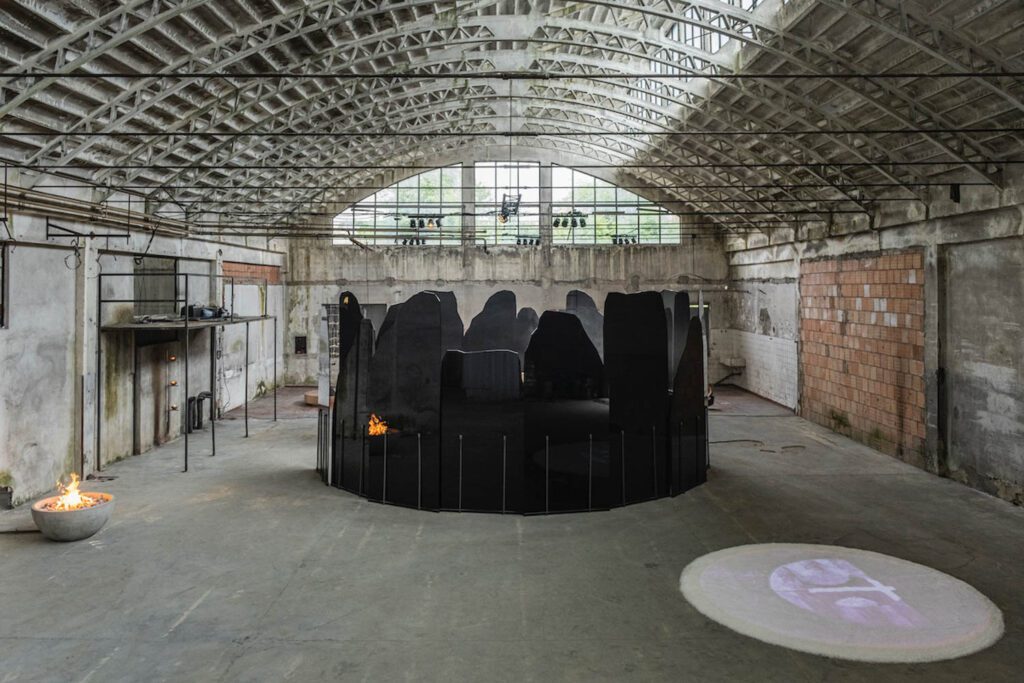 In a jagged circular enclosure recalling the prehistoric monument Stonehenge, Galerie Philia presented Temenos—sanctuary in Greek—the first series of collectible design by Studiopepe. Exploring the idea of religion in the history of objects, the series includes tables, chairs, a console, a mirror, and a lamp.
5. Thoth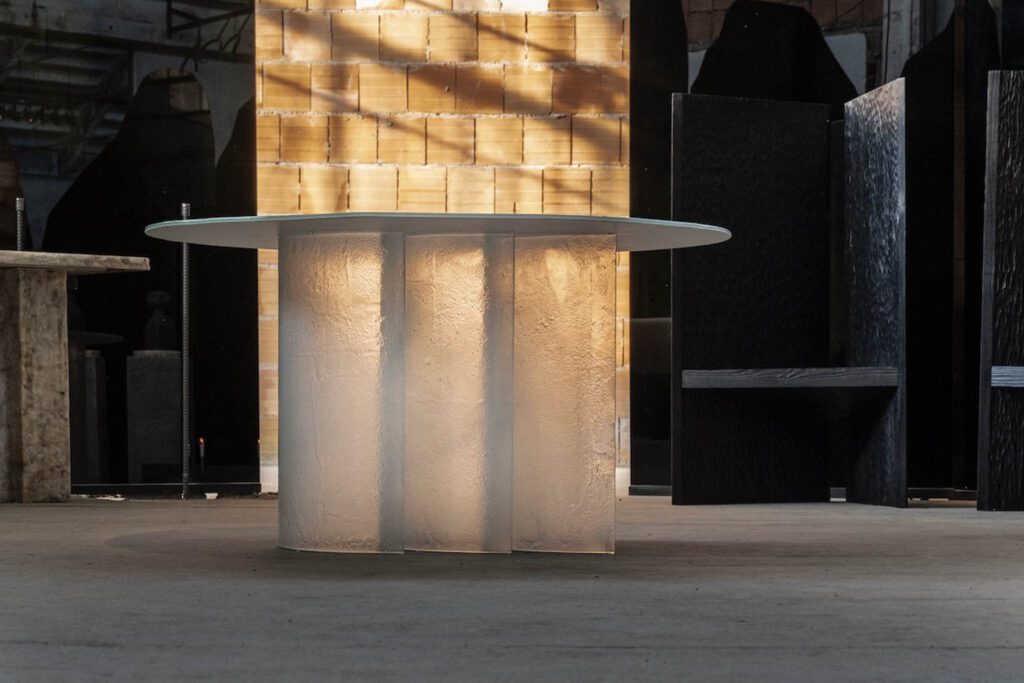 Careful experimentation and a top-secret layering process achieved the polished, cratered glaze of the glass Thoth table by Studiopepe. "With a moon or a space feeling, it's a reminder of what transcends us, what is even above earth," says Ygaël Attali, co-founder of Galerie Philia.
6. Timetable
Tapping a childhood passion for archeology, Pierre De Valck placed a rare, nearly veinless black Belgian stone in the center of his solid bronze and found stone Timetable coffee table.
7. Shaped Pipe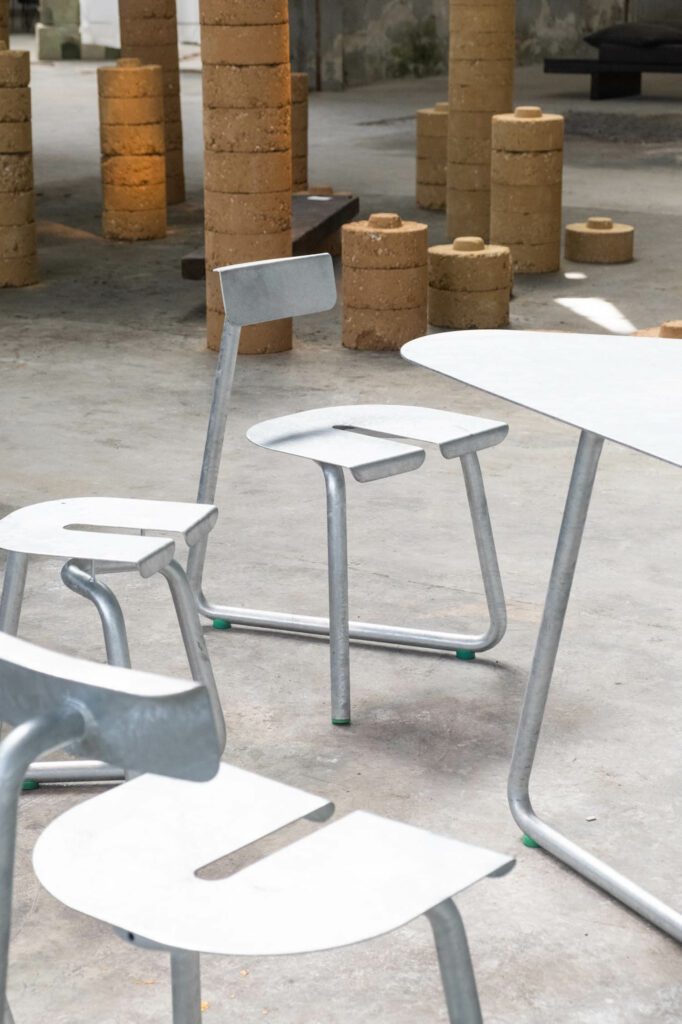 One piece of bent steel pipe is behind the Shaped Pipe chair and stool by Thomas Serruys. "I thought it was really interesting to galvanize it—something they usually do at construction sites or for street lanterns," says Serruys. "As outdoor furniture, it's really resilient as it can't rust and the patina is lovely over time."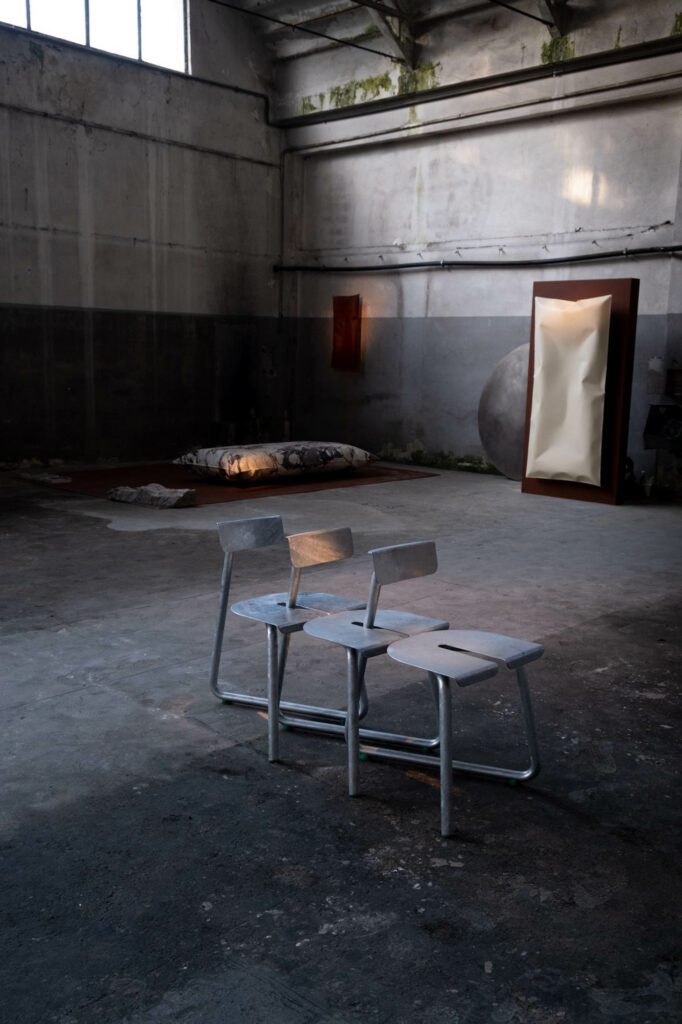 Instead of stackable, the chair is slidable for compact arrangement.
8. Tabouret Bruxellois v2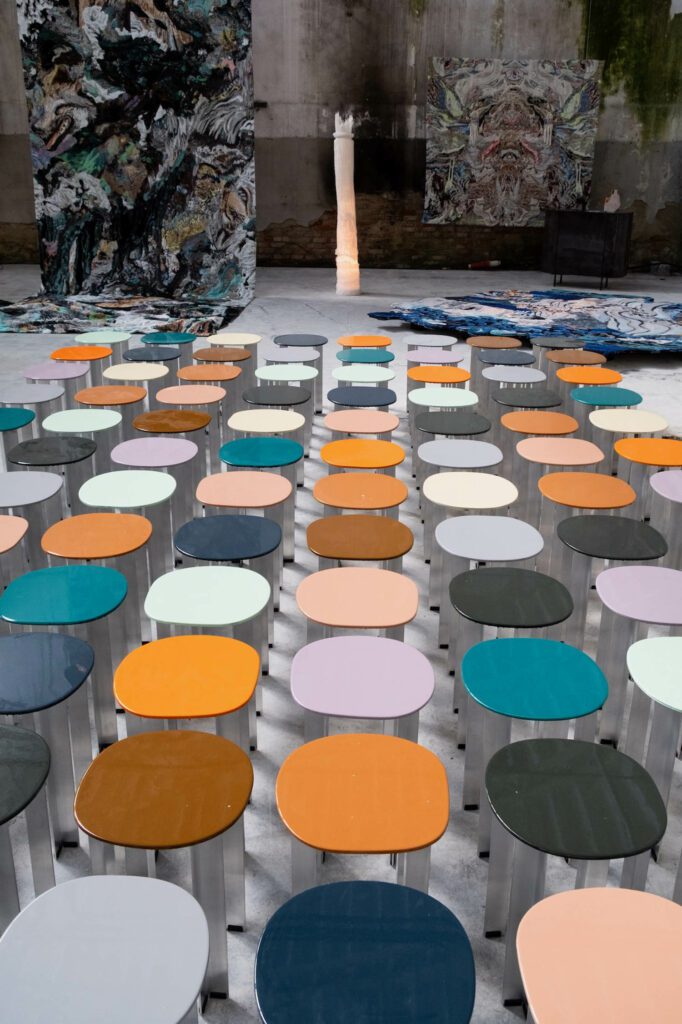 "If someone asks for blue, it's going to be blue," says Pierre Coddens, who purposefully did not write down the exact hue of the colorful lacquered tops of his Tabouret Bruxellois v2 side tables, displayed in an installation of 100. Four forms are offered, each also slightly different.
9. Blow Up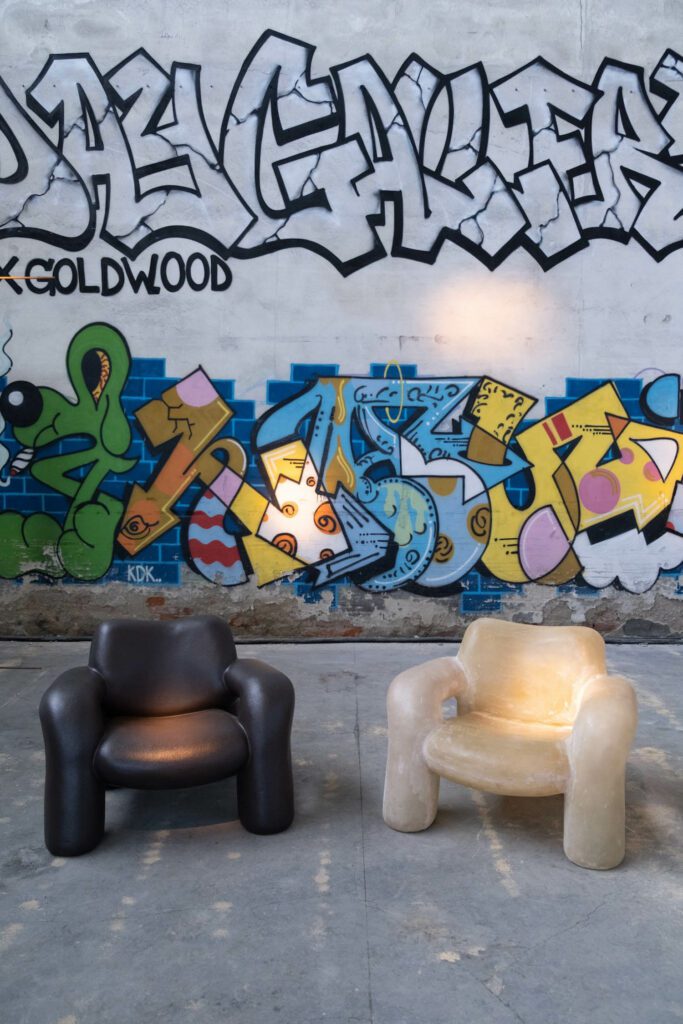 Surprisingly comfortable, the Blow Up lounge chairs by Schimmel & Schweikle are a study on the premise that destroyed design keeps its properties. Taking a standard office chair made for comfort and time, the designers then blew it up—rendering it in fiberglass.
10. Colour of Honey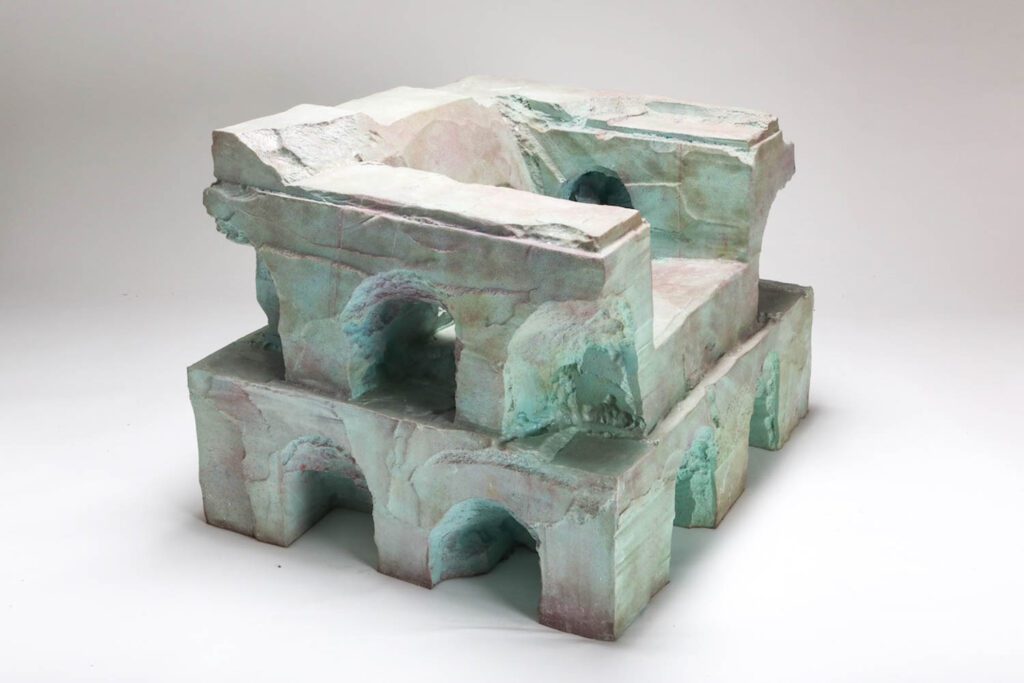 Experimentation in the materiality of polyurethane foam gave rise to the Colour of Honey armchair by Touche-Touche. To set the shape and make the piece water- and time-resistant, the designers coated it with a hi-tech glue. "Transforming the polyurethane into a sort of mineral is almost like returning the material to the naturalness of stone," Lopez notes.
11. Fish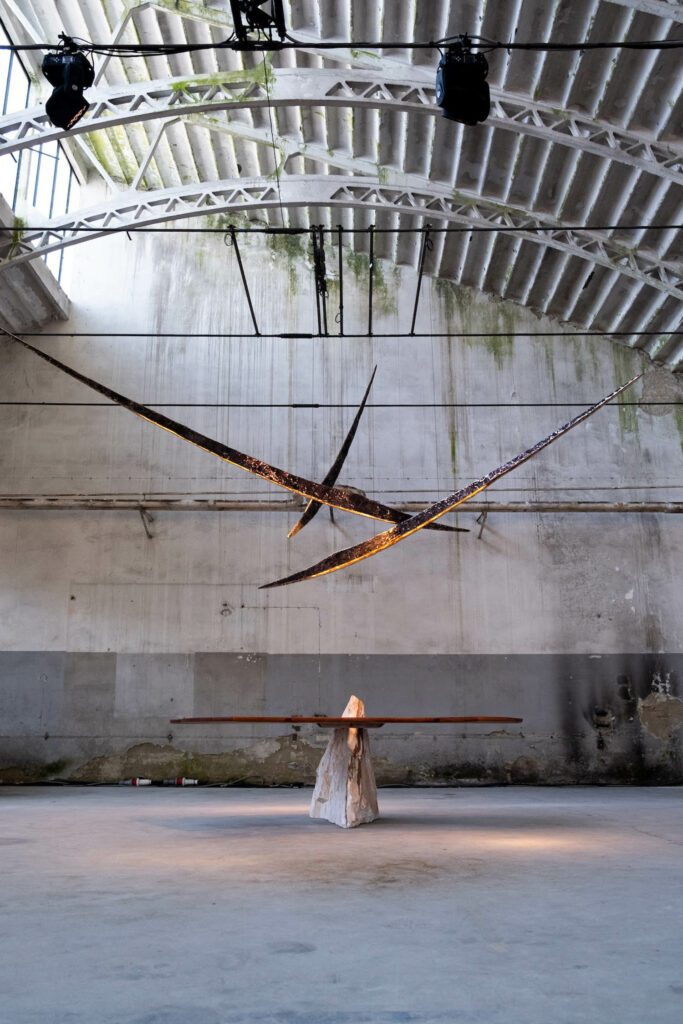 A large raw stone interrupts the hand-shaped wood and stone Fish table by Mircea Anghel. Dangling above, in perfect juxtaposition, is the cast bronze Labia, an LED pendant light by DIM Atelier.
A detail of the Fish table by Mircea Anghel.
12. Abstract tapestries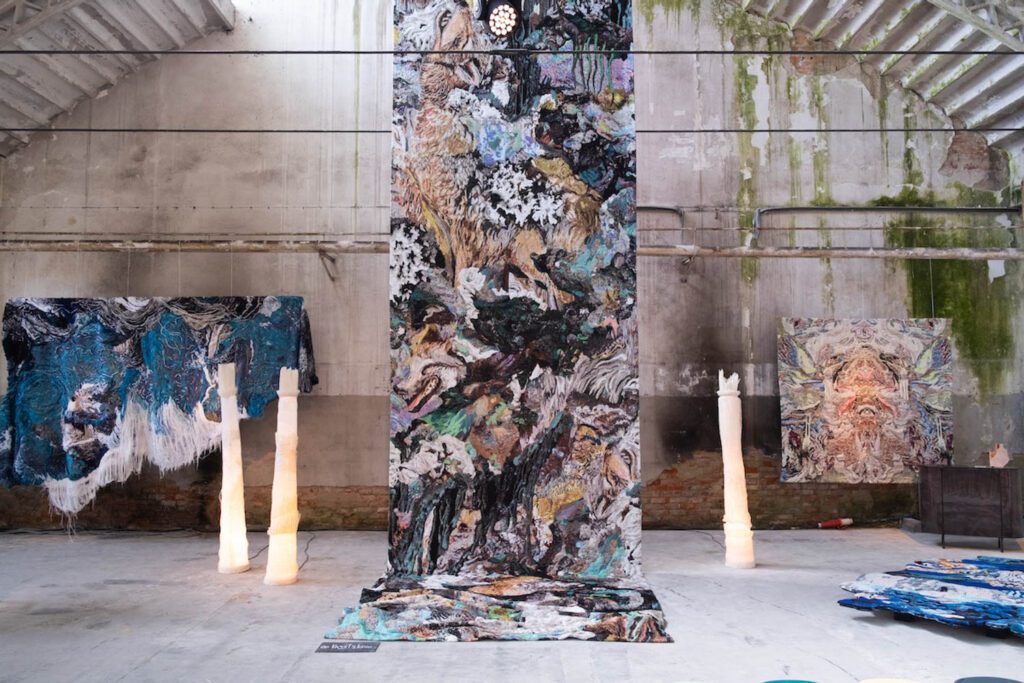 Abstract tapestries by Krjst Studio are illuminated by woven standing lamps by RSLT—treated to stay rigid.
Bespoke for indoor door and outdoor use and display, the tapestries depict imaginary landscapes of varying emotions—from calm to tormented.