A World Within: Ryumei Fujiki Investigates Architecture of the Future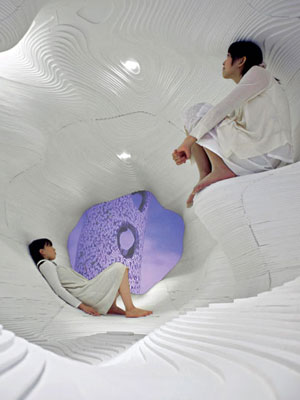 For a society to make it in?the future, what kind of architecture is?necessary? Ryumei Fujiki looks to nature to answer that question-in his dual roles as professor at Tokyo's Kogakuin University and principal of F.A.D.S. (Fujiki Architectural Design Studio). His installation Artificial Topography, which took the grand prize in the Kobe Biennale's Art in a Container International Competition, explored this interest, too.

Rethinking an earlier experiment into irregular formations on the surface of a body of water, he figuratively transferred the idea to dry land as negative space defined by soft plastic foam: 1,000 sheets glued and carved to form 11 comfortable nooks for sitting or lying down. They were spaced out across the container's 40-foot length to create, yes, an artificial topography. He allows that the imaginary landscape could be interpreted many ways, however. "For the earth, it could be a cave," he says. For anyone still interested in the water version, he suggests the amorphous shape of a jellyfish.