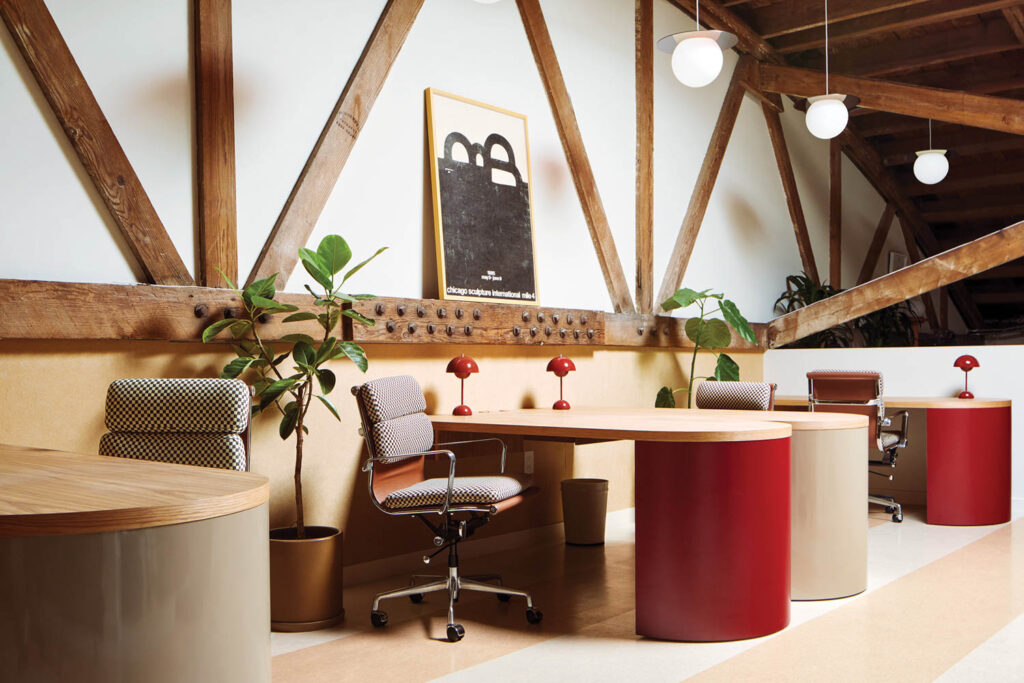 Multitalent Adi Goodrich Talks Film Sets, Furnishings, and More
If Adi Goodrich's peripatetic life and varied career signal one thing, it's that, for her, all roads lead to design. Goodrich's winding path to her current base, the Echo Park neighborhood of Los Angeles, began in Momence, a small Illinois farm town. From there she moved 60 miles north to Ukraine Village in Chicago to study painting and drawing at the city's esteemed School of the Art Institute. Further studies followed at the Sorbonne in Paris, where, ensconced in her own studio, she also learned a bit of French and a lot about smoking cigarettes. A job as a window dresser for such high-profile stores as Barneys New York and Anthropologie brought her to L.A., where she soon transitioned into set design.
In 2015, Goodrich and her now-husband Sean Pecknold, an animator and director, founded Sing-Sing Studio, a multidisciplinary practice that designs large-scale film and advertising sets, site-specific art installations, and sculp­tures; more recently, it has broadened into interiors and small-batch furniture production. The latter, launched in 2022 under the witty name Sing-Thing, returns Goodrich to her design roots, which began at home, since her family lived above the proverbial shop—her artisan father's woodworking and antiques restoration business—where she came to appreciate materiality, construction, and craftsmanship.
"I was a working-class kid who stumbled onto things with random jobs," she remarks. Looking at her client list, which includes Apple, Google, Headspace, Instagram, Lavazza, and Lyft, we should all be so lucky. Goodrich proved as exuberant in conversation as in her work when we asked her recently about her enviably colorful career.
Get to Know Adi Goodrich, Cofounder of Sing-Sing Studio
Interior Design: You describe yourself as a "spatial designer." What does that mean?
Adi Goodrich: It checks multiple boxes: designing a set, an installation, or a sculpture in a public place. I build worlds for photo shoots, commercials, and film.
ID: Window dressing brought you to L.A. How did you get into set design?
AG: Within a day of my moving here, a guy who had studied with the same teacher in Paris as I did sent me a script, and we formed a film collective. I'm addicted to storytelling in design so building sets felt good to me. Our 13-minute film, Red Moon, hit the festival circuit, which led to commissions for commercials, like a campaign for Lavazza that incorporated costume design, a custom espresso-cup chair, and the use of bold colors and shapes. In 2016, I went to UCLA Extension at night to study interior design and architecture, and now I'm getting into interiors and furniture.
ID: Wine & Eggs, a chic neighborhood bodega in L.A.'s Atwater Village, was your first interiors commission. How did you get it?
AG: My husband Sean and I had written a children's book that the owner, Monica Navarro, liked. The interior is inspired by small grocery shops in France. Monica then asked me to design her nearby lifestyle store, Dreams.
ID: It has a surrealistic quality, doesn't it?
AG: I dream all the time and believe in surrealism. I'm doing everything I can to not be a boring person! We also did the first brick-and-mortar shop for online fashion retailer Lisa Says Gah!
ID: Its ice-cream and terra-cotta colors, distinctive materials palette, and use of pattern seem inspired by Gio Ponti's mid-century Italian style.
AG: Yes! My other favorite inspirational artists and designers include Josef Albers, Jean Arp, Merce Cunningham, Charles and Ray Eames, Alexander Girard, and India Mahdavi. We recently completed our first office project, two floors for iam8bit, a media production company, which we made into a playful space meant to promote collaboration.
ID: Tell us about your debut Sing-Thing furniture collection.
AG: I wanted to create pieces my friends could live with. They're handmade here in L.A., primarily of cherrywood and colorful high-pressure laminate. I like to say, 'Picture a wet Sophie Taeuber-Arp painting that's fallen on top of a Charlotte Perriand table'—that's the essence of the collection.