Bouroullec-Inspired Tables Help Children's Charity



India Mahdavi's variation on a table by the Bouroullecs. Photo by James Graham.



In 2004 French designers

Ronan and Erwin Bouroullec

designed a metal side table for

Vitra

and it quickly became an ubiquitous classic. So much so that when

La Source

, a Paris-based organization that exposes under-privileged kids to art, was looking for a way to raise funds for international expansion, they approached the Bouroullecs and voilà, "Metal Side Table Revistée" was born.
Over 60 variations of the original welded-steel table, by established designers and enfants terribles alike, were auctioned off earlier this month at the

Hôtel de L'Industrie

in the heart of Saint Germain des Près.
Quention Garel stuck a duck head on it, Christian Ghion added a wig and Hubert Le Gall a lamp on a tall stand projecting out of the table's surface. Many painted the table gorgeously (Christian Louboutin, Ara Starck and Vincent Corpet among them), Mathieu Mercier turned it into a musical instrument and India Mahdavi, perhaps in a nod to Duchamp, flipped it over and made it into an umbrella stand. Philippe Starck gave it a rich, rusty patina – his version wouldn't look out of place in a biker's garage.
The Bouroullecs contributed an early prototype for good measure.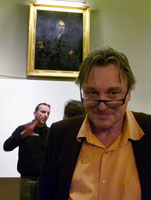 La Source, founded by Gérard Garouste, not only pulls together art materials and personnel, but takes children into the ateliers of working artists and designers who act as instructors and mentors. "Like these tables," Garouste says, "art is neither a luxury nor an end in itself. It's a necessity."
The organization raised over $175,000 at auction. And Garouste's version fetched the highest price of the evening: $32,000. See all 60 tables

here

.

Left: Gérard Garouste, founder, La Source, at the Paris auction. Photo by James Graham.