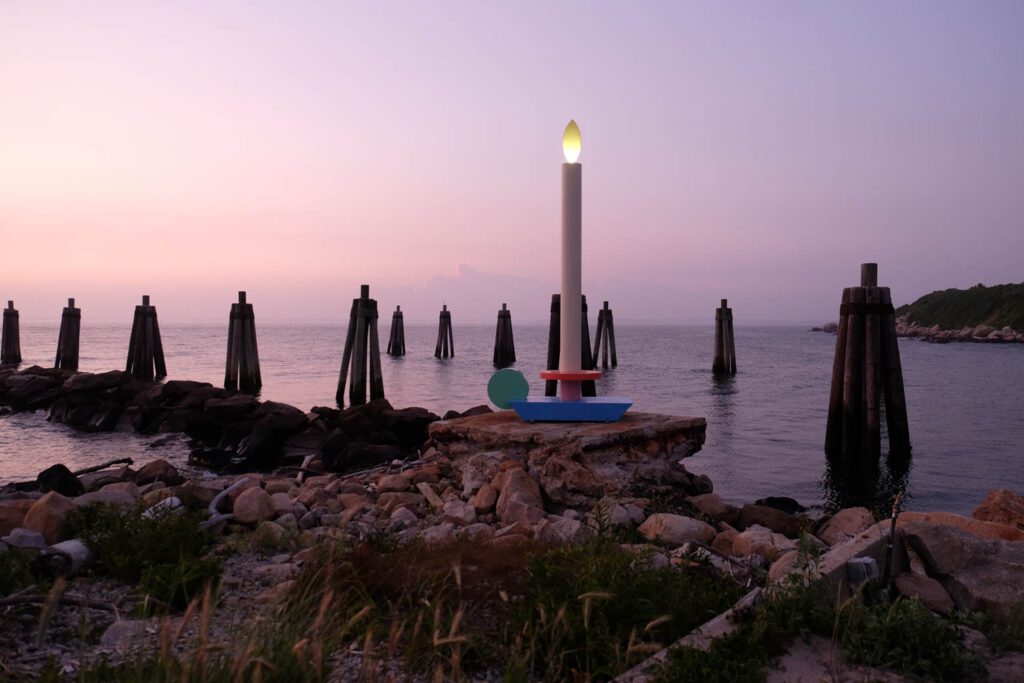 Chris Bogia's Candle Sculpture Illuminates Fishers Island, New York
Shag carpet, Atari, floral wallpaper, West German pottery, embroidery. These are among the varied influences that have shaped Chris Bogia's mixed-media sculptures, which masterfully meld the approachable and homespun with a Scandinavian-esque sleekness. Bogia, who recently proclaimed, "I love interiors!" and worked for Todd Oldham during college, is also the cofounder of Fire Island Artist Residency, off Long Island's southern shore, an experience that may have contributed to his latest installation on another islet—and his first outdoors: Candle on Fishers Island, about 5 miles east of the Connecticut coast.
Bogia was awarded the annual public-art commission from Lighthouse Works, a nonprofit organization celebrating its 10th anniversary that's devoted to encouraging artist development and Fishers's year-round cultural enrichment. "In my research, I thought about mid-Atlantic summer communities and their homes clad in shingles and shutters. One of the shutters I discovered had a small cut-out of a candle, which inspired me to think of the candle as a sculpture," explains the artist. He scaled that motif way up, chose a palette that evokes "the faded colors of well-loved beachwear," and had it fabricated in aluminum. He then fitted the shaft with an LED so the "flame" is illuminated at night, like a lighthouse.
Bogia grew up in Wilmington, DE, and earned his MFA from Yale in New Haven, CT, but has otherwise spent his adulthood in New York City. He graduated from NYU, where he currently teaches sculpture, has his studio in the South Bronx, and is represented by Mrs., the Queens gallery that just hosted his second solo show. A few blocks north, he's part of a group exhibition at Sugar Hill Children's Museum of Art & Storytelling through August 20. Farther afield, his work is on display at Wasserman Projects in Detroit, also through August 20, and he is currently preparing for a show opening September 3 at Perrotin gallery in Paris.