Collective Concept to Showcase Emerging Designers at ICFF
Collective Design's sixth edition popped up at Skylight Clarkson North in New York City in March, presenting a curated selection of contemporary art galleries, design up-and-comers, and global creative talent. But 2018 marked a departure for the fair, led by architect Steven Learner. Instead of signaling the beginning of NYCxDESIGN in May, the fair became New York's premier design event during Armory Arts Week. Despite this shift, Collective Design still plays a vital role in championing emerging talent during NYCxDESIGN. The fair will present Collective Concept at ICFF from May 20-23, showcasing a curated group of contemporary designers at booths 2901 and 2805. Check out product highlights below.
Allied Maker, which recently inaugurated a showroom in TriBeCa, reveals a series of three large totem luminaires in stone, glass, and wood.
Coil + Drift presents Unconscious Forms, which includes the June Floor Mirror in carved walnut wood, the mobile-like Cirrus Double Pendant in cast resin and mirror-polished chrome, and the Soren Dining Table in ash wood and black leather.
Crosby Studios collaborated with Opening Ceremony to create a limited-edition line of anatomical furniture, lighting, and objects inspired by a plastic replica of Pedro Friedeberg's hand chair that founder Harry Nuriev found outside his Williamsburg apartment.
Continuing their Qualities of Material collection, Fort Standard debuts limited-edition Stacked Stone Vessels in precision-cut stacked and laminated rings of marble.
Gradual, a new design concept from RUX Studios, displays a new collection of LED chandeliers called Lightweights, which depict time via a columnar stack of thousands of sheets of paper that hang stalactite-like from cotton cables off of brass beams.
Vancouver-based Jeff Martin Joinery unveils blown-glass vessels using their signature cork excavation method in collaboration with glass artist Brad Turner.
Rhyme Studio debuts the Insula Series, a rug collection inspired by Insula Art, an artistic movement that emerged during early Irish monasticism. Each rug evolves from a hand-drawn artwork and is fabricated by a rug maker using hand-spun pure Irish wool.
Slash Objects presents pieces from COEXIST, a series that explores how materials with different natural properties—in this case, marble and brass—combine into one coherent piece without the use of hardware.
Cladding the booth's walls is TILT by Moonish, a composition from their collection of modular wall cladding.
The Coast unveils Either/Or, a series of touch-controlled nightstand, table, and floor lamps.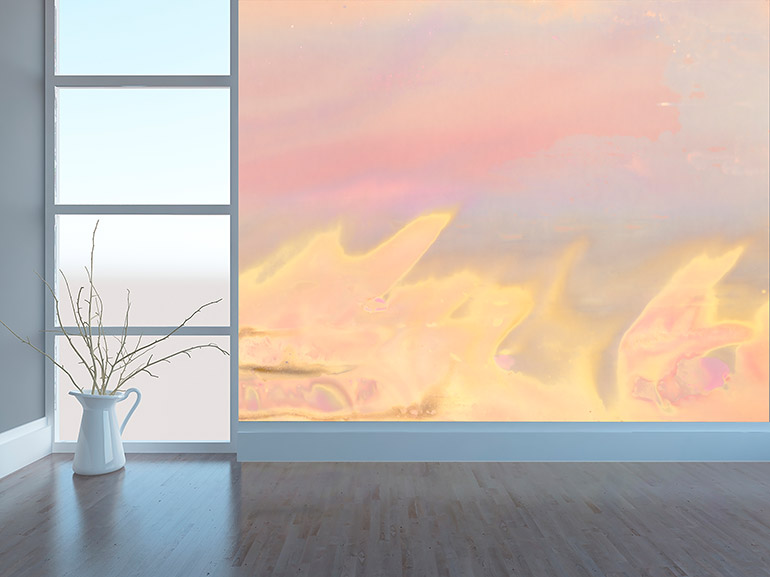 Wallpaper Projects shows Silver Studies 13, a piece from an ongoing series of photographic prints that experiment with chemical processes to create abstractions of colors and shapes.
Lighting pieces by Farrah Sit play with the illusion of weight and strength—Ida features a strand of neon arcs that sit below a bar of Carrara marble, while Pingala centers around a stone pendant wheel.