Cutting-Edge Fixtures Colored by the Classics
Hudson Valley Lighting draws from history's aesthetic movements to create its portfolio of contemporary fixtures. The brand's in-house team of artisans harnesses their design knowledge to conceptualize products informed by the past, yet suited for the constantly evolving demands of today's interiors. Located in New York's Hudson Valley, the company's designers find inspiration at every turn—in Manhattan's Art Deco glamour, New England colonial architecture, the industrial grit of 1800's factories, and more.
Desmond's angle-cut arms and knurled bulb base, riffing on a classic motorcycle, evoke a timeless sense of Americana.
Boca's spherical glass diffusers, bisected into metal and glass, are arrayed in a cage-like display.
Hudson Valley Lighting's team of artisans uses an in-depth procedure of collaborative drafting and redrafting, machined precision in production, and a series of handcrafted treatments to fabricate each fixture. The result is an impressive offering of pendants, sconces, flush mounts, chandeliers, and portables that demonstrate meticulous attention to detail while making a strong aesthetic statement.
Garrison channels florals using scalloped curves, crystal bobeches, and sturdy metal arms.
Explore some of our favorite fixtures, described in detail below:
The futuristic Alpine features a staggered candelabra centered in a polished nickel frame.
Wellington's exposed filament bulbs, intersecting cast metalwork, and acrylic make a modern statement.
Gaines heralds history with industrial details such as studded rivets, perforated metalwork, and brass extrusions.
Marlow's hand-cut latticed bulb, supported by a half-vaulted suspension, revisits the late 19th century.
Ludlow's trimmed silhouette, stepped backplate, and pleated shade embody timeless grace.
The Burton table lamp references classical design with a wide shade and textured metal frame.
Tate draws from mid-century New York design with a long-stem lamp, incandescent bulb, and cylindrical shade.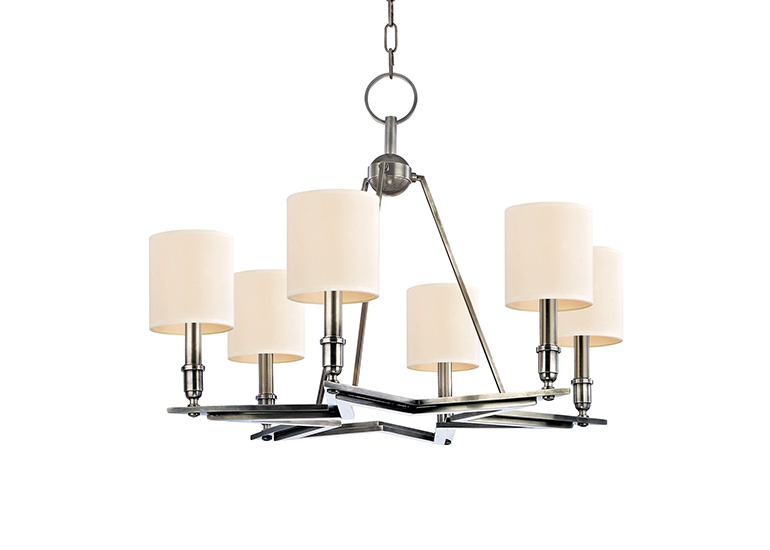 A six-pointed star base defines the Bethesda chandelier's solid metal construction.
Julien's satellite shades and polished opal diffusers are simultaneously mid-century modern and futuristic.
Patten unites conical shades and brass arms for a distinctly modern chandelier.
Learn more about Hudson Valley Lighting's history-inspired fixtures.