10 Must-See Exhibitions at Design Week Lagos
When it comes to the vast array of design aesthetics in Africa, output by Nigerian designers and architects continuously commands attention—and visibility. And there's no better place to take in the country's experimental designs and enriching shapes and textures than Design Week Lagos.
Curated by event founder Titi Ogunfere, the event kicks off October 20 and runs through October 23 centered around the theme: "Beyond The Box." The lineup includes exhibitions, installations and product launches by creatives near and far, including Ini Archibong, Tosin Oshinowo, Tola Akerele, and others.
True to the theme, this year's exhibits spotlight the unexpected, from a video installation uncovering futuristic ideas in the metaverse to an enticing Jesmonite lamp. Don't miss Interior Design's 10 highlights from the Design Week Lagos 2022.
Amber Lampshade by Jade Folawiyo-Shitu for Design Week Lagos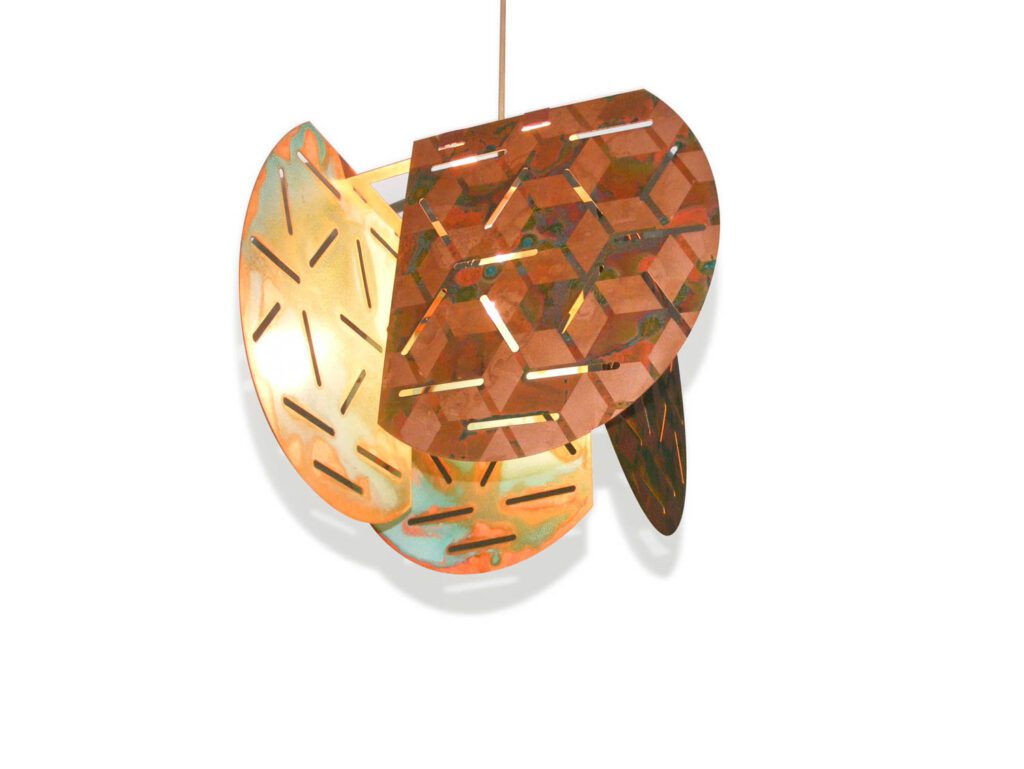 Jade Folawiyo-Shitu's latest metal composition references traditional craft techniques, transforming copper into a work of art. The Amber Lampshade reflects the designer's ability to construct firm geometrical shapes into succinct half circles and rectangles. For the piece, Folawiyo-Shitu envisions the soft illumination produced when copper comes into contact with a lighting source. The work is made of four panels that hang from a single unit dimension.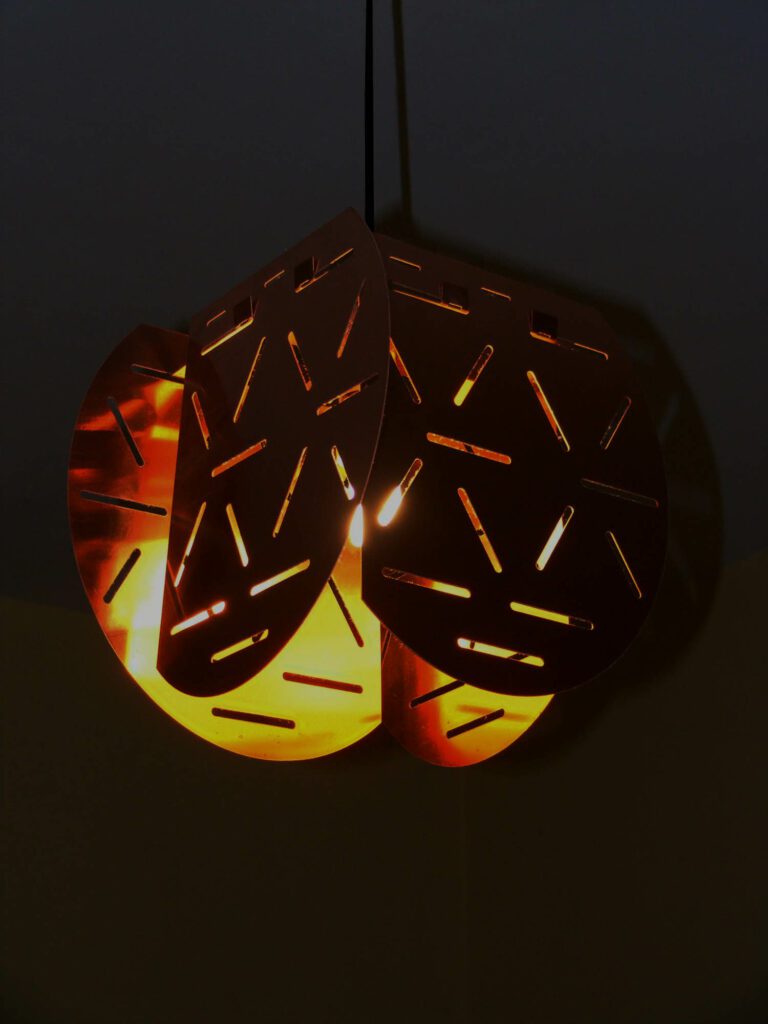 Via, Bukan and Hat by Charles O Job
There is a spirit of improvisation in Charles O Job's designs, the sort that is playful but still offers a subtle nod to minimalism. At Design Week Lagos, Job takes visitors through three products: Via, an umbrella stand that looks both functional and sculptural; Bukan, a receding set of crossed-shelves for storing magazines and books; and Hat, a wall-mounted coat hanger shaped like its namesake object that takes on a trompe-l'oeil three-dimensional form.
Jesmonite Arch Lamp by Tejumola Butler Adenuga x Soho Home
Nature and handmade works often make for great collaborations and this lamp by Tejumola Butler Adenuga and Soho Home is no exception. For the project, the happenstance duo created an arch lamp using jesmonite rock for its firm, two-legged stand, which is capped by cylindrical lampshade.
RawUrban and tableware collection by Afrominima
Afrominima is a design brand where minimalism meets functionality—but in the kitchen. For their raw-urban and tableware collection, Olubunmi Adeyemi offers a fresh take on cutlery woodworks and ceramics; handcrafting each utensil and carving well-patterned wavy and spiral lines with immense spontaneity, and a Nigerian touch.
Vekpuk limited edition by Victor Ekpuk
Colors and patterns offer designers outlets for bold statements—as seen in Victor Ekpuk's works. For the designer's latest collection, Ekpuk reimagines art as wearables, aligning with a fashion intuition. Motifs come to life in shoes, headscarves, sweatshirts and others. "I wanted to democratize access to my artworks and make them available as fashion items that collectors could express themselves in," he shares.
Toguna World by Pierre-Christophe Gam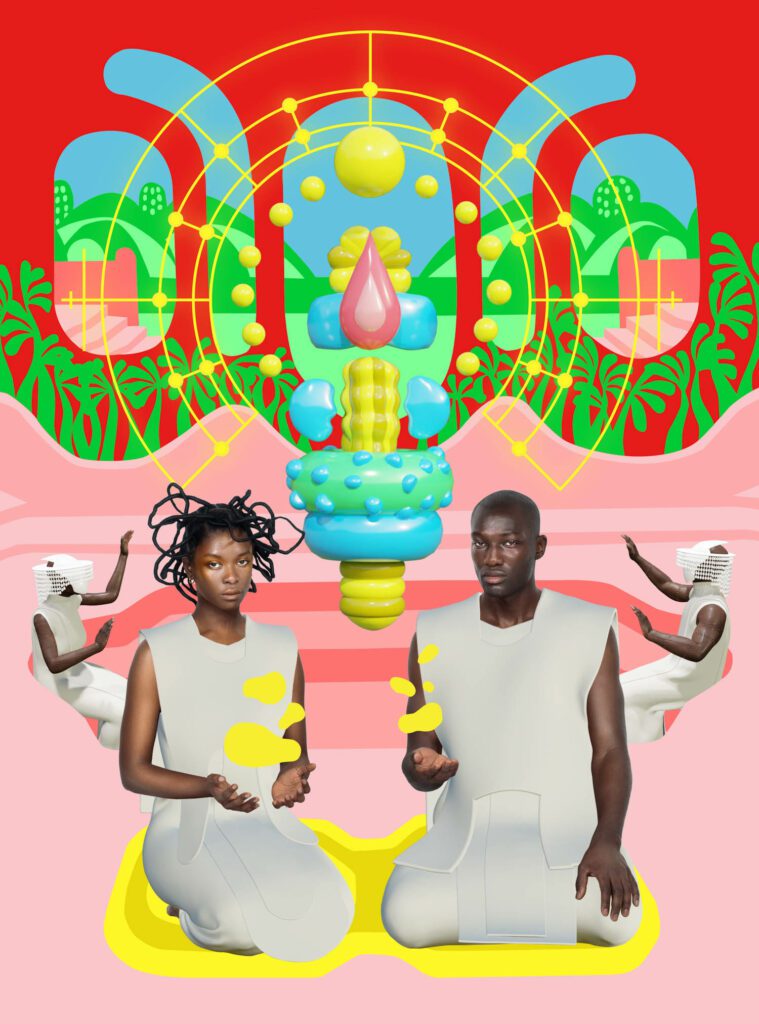 Design Week Lagos would not be complete without a digital installation. Conceptualized by Pierre-Christophe Gam, the Toguna World is "an art installation informed by IFA, an ancient divination system from West Africa," in the designer's words. In the work, Gam weaponizes multidisciplinary art tapestry, fusing film, photography, music, ceramics and food to bring the audience's thought to a futuristic concept— a value the metaverse is built upon.
Raffia Ottoman & Raffia Lamp by Bubu Ogisi
There is a heart to sustainability, a purist thought to erase the world of damage—that's the concept Bubu Ogisi brings to Design Week Lagos, seeking solace in traditional African aesthetics for two products on exhibition: a handmade raffia ottoman and handmade raffia lamp.
KANO collection by Eva Sonaike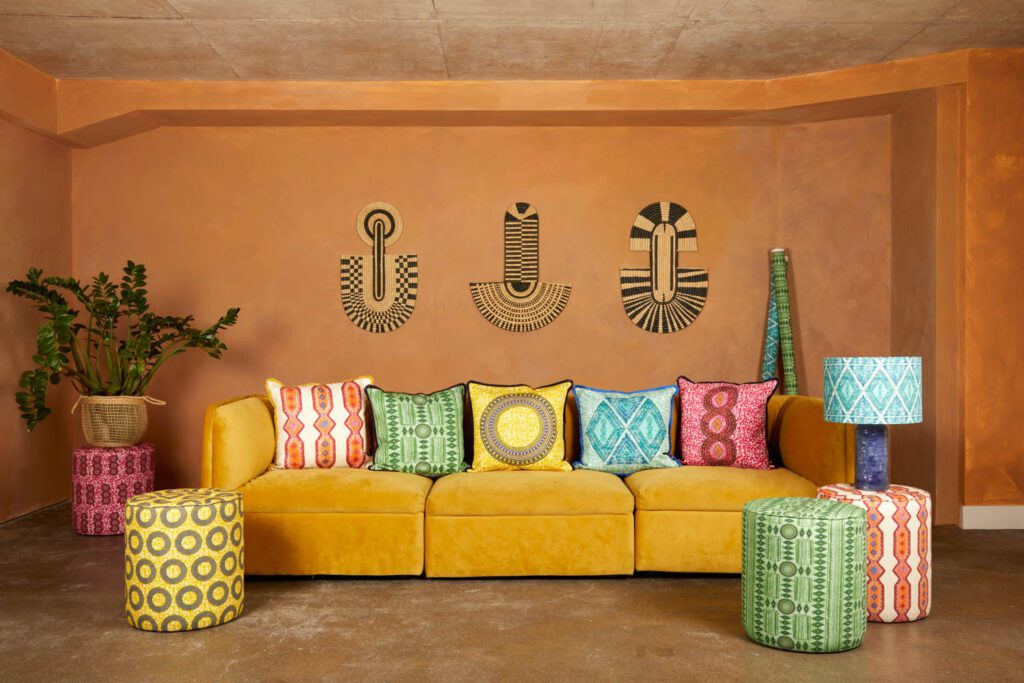 Eva Sonaike is conscious about colors, relishing the way they add detail to her work. For the fair, Sonaike introduces her KANO collection, a series of cushions with designed motifs willed in deep traditional semantics—the Hausa culture of Nigeria precisely. The cushions interpret the message of ancient African art forms in a contemporary design aesthetic.
Boomerang Chair by Chibu Nwoko-Oloyebua
A very functional and minimalistic chair takes visitors on a journey to the past. Made with fine cedar wood, the Boomerang Chair speaks on designer Chibu Nwoko-Oloyebua's approach of making Afro-cosmopolitan designs. The chair was boldly inspired by "the weathered look of exposed wood commonly found in the local Lagos market or the simple basic 'eazzy' outdoor chair left outside to the elements," shares the designer.
Tray collection by Mpho Vackier
Elegant trays in geometric shapes offer an air of sophistication. Here, the Johannesburg brand theUrbanative displays an Afrofuturistic tray collection. Sets include: Ziyanda (squared trays), Ile (triangular trays), Amahle (rounded tray), Ntombi (half-moon tray), and Bongi (quarter-round tray) as well as Lungi (L-shaped tray) and Asanda (small half-round tray). The team also collaborated with the South African candle maker, Okra Candles, to make Vanilla scented Oku Hut Candles in ebony and coffee.