DesignTV by SANDOW Week in Review: Create & Collaborate
This week on DesignTV by SANDOW, three Interior Design segments aired, spanning in content from artisanal techniques for creating wallpaper to the collaborative efforts behind a timeless collection to the latest research findings about the industry.
5/26
Interior Design started off the week with a segment called The Maker's Studio, featuring Calico Wallpaper. In the clip, viewers were treated to a behind-the-scenes look at this Brooklyn-based, bespoke wallpaper company. Co-founder Rachel Cope offered a tour of the Calico office and studio—both bare spaces with white walls meant to inspire design via a "blank canvas" mentality. Cope, with a background in sculpture and exposure to fiber art throughout her childhood, produces some of the most unique modern and abstract wallpaper with the art of paper marbling at its core.
Watch the The Maker's Studio segment with Calico Wallpaper here:
5/27
Wednesday's episode focussed on furniture, with Editor in Chief Cindy Allen interviewing Leanne Ford and Sebastian Brauer for a 1on1 segment about their collaboration with Crate and Barrel. Ford, a renowned designer and first time author, teamed up with the VP of product design and development for Crate and Barrel to create an ethereal home collection. "If ever there was a match made in heaven this seams to be one," Allen says about the pairing.
From the first phone call they had 18 months ago, Brauer and Ford emphasized that the team was on "the same wavelength" and the resulting refined and modern collaboration makes that evident. Ford's fashion background came through in selecting the black and white palette accented by neutral tones while the soft arches and curves reflect the design tastes of Brauer, which Crate and Barrel's manufacturing team completed to concept. "We tied in the dining chair with the bedroom furniture," Ford says about the synergetic and edited home suite.
"No time, no space, no place" is how Ford describes the longevity of the design of the collection that Crate & Barrel produced with tried and true materials. Brauer describes working with black cane/caning for the first time, describing how the fiber must be woven first before it is dyed. Luckily, Crate and Barrel has teams in different places around the world, enabling them to consistently deliver on their designer collaborations, and this one left Allen saying: "Wow!"
Watch the 1on1 with Leanne Ford and Sebastian Brauer in partnership with Crate and Barrel here:
5/28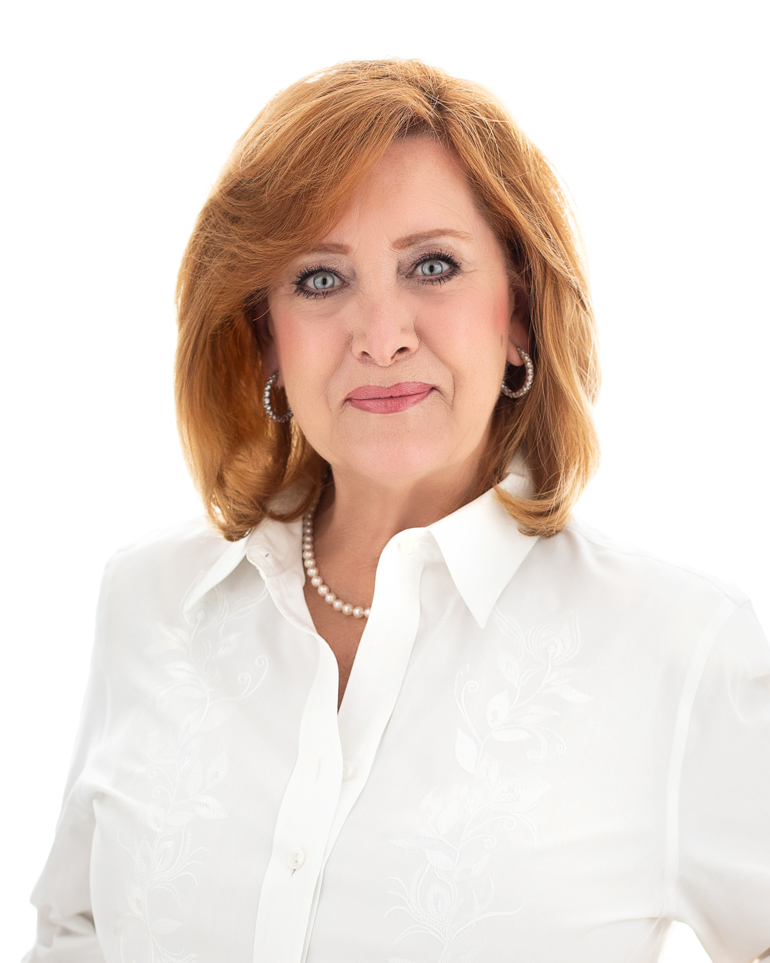 Another enthusiastic Allen response came at the very beginning of Thursday's episode when she introduced her friend, "the queen," of NKBA, Suzie Williford (pictured left). Williford is back on DesignTV by SANDOW for another installation of NKBA Live, this time featuring interior designers Kerrie Kelly, Laurence Carr, and Sarah Robertson. With 50,000 members strong, NKBA has been focused on kitchen and bath research and sharing their findings with the many designers, manufacturers, architects, and others who depend on them. In fact, NKBA has compiled so many findings on the topic, they've launched Living Impacts Design with information about the industry sourced from its professionals and their experiences.
"This study focuses on the 'why' on design decision… it's about how people live and feel in their kitchens and baths," Williford explained about this pre-pandemic study. Kelly (pictured right), of her namesake design lab, communicated with hundreds of people all across the design industry—from showrooms to studios—to see what the macro-trends are. "Connected living, simplified living, healthy living, and living in place, which all totally apply today," as Kelly says, spans generations and location. "This is a lifestyle study, not life stage study," she says.
Together, the guests broke down the different meanings of the four major trends. Connected living is not simply restricted to technology. As Kelly explains, its about one feeling connected with their environment, be it through bringing the outdoors in with plants, open layouts to engage with many people in one space, and creating multi-purpose rooms as the kitchen table has now become a school desk. A master in storage, Robertson (pictured left) explains how simplified living has lead to cabinetry being taken away to give a kitchen more space, which means a new challenge for kitchen designers. She sums it up with one of her favorite sayings: "A place for everything and everything in its place."
Next, Allen turned to Carr (pictured right) who explained that the biophilia trend has shifted from hospitality to residential design and, proven to help circadian rhythms, removing toxins from the air often makes plants a key bathroom accessory. This is just one example of the healthy living trend, spotlighting reclaimed woods and metals with recycling and composting key elements of kitchen design. Lastly, Williford summed her perspective on living in place: "It's designing for everyone, no matter their ability or age," inspired by the different generations with different needs who live under one roof.
Watch the NKBA Live segment Living Impacts Design with Suzie Williford, Kerrie Kelly, Laurence Carr, and Sarah Robertson in partnership with NKBA here:
Read next: DesignTV by SANDOW Programming and Schedule