DORMA's World of Access Design Center Opens in New York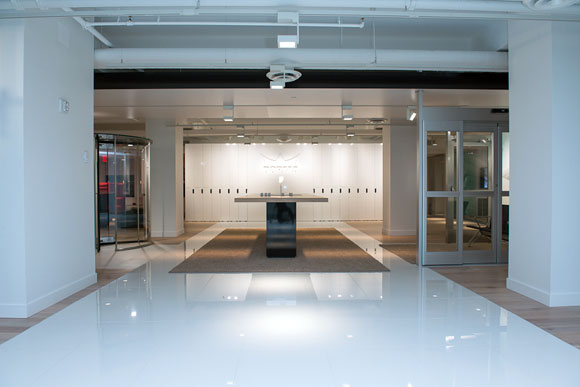 DORMA's design center in New York, with the showcase revolving door to the left.
New York's newly opened 8,500-square-foot World of Access Design Center for DORMA , the leading global manufacturer of door controls and movable walls, is more than just a sleek, glass-and-steel showroom. Imagine having a selection of doors and door controls at your fingertips, along with a cadre of experts available to answer any questions you might have about a certain product. You can do just that at DORMA.
The space offers a 360-degree interactive experience of DORMA's extensive collection of products, installed in interactive vignettes of offices and conference rooms meant to help designers, architects, and planners visualize how the products would perform in real life. The center also features a multimedia table for showing videos and reviewing case studies on products, as well as seeing how certain products would appear when incorporated into specific projects.
Ronan & Erwan Bouroullec's Alcove Chair for Vitra inside the DORMA design center.
Perhaps the showpiece of the center is its all-glass revolving door, a fitting tribute and very definition of the DORMA brand. "There are not many places where you'll see a revolving glass door in the middle of a room," says Wendy Ordemann, Manager of Architectural Design Services at DORMA. "It looks like a piece of art."
Before coming to DORMA, Ordemann worked as an editor at publications including Metropolis and Architectural Record , and was the outreach manager of the Brick Industry Association .
In addition to managing the center, Ordemann is eager to create a sense of community within the design industry through the center. So far DORMA has hosted a number of talks and presentations, with more on the horizon, including one on the NYC Energy Code January 22 and a presentation on the ADA's Standards for Accessible Design and how they relate to the hotel industry January 29. More info here .
Arne Jacobsen's classic Egg chairs inside the DORMA design center.