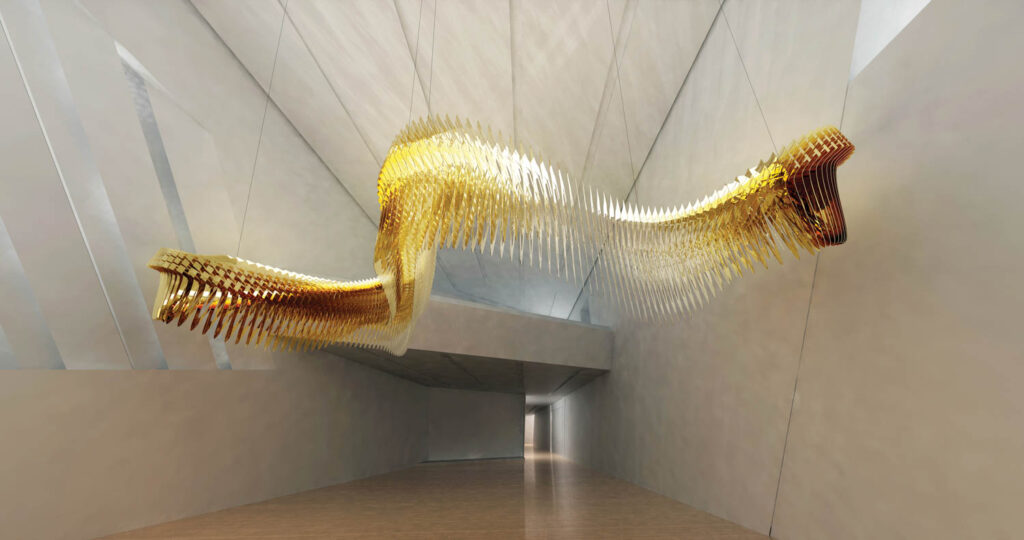 Discover 13 Standouts From Dubai Design Week
Dubai Design Week recently took over the D3 design district from November 7-12, and this year's event celebrated the 10th edition of Downtown Design—the main product showcase—with an expanded selection of international and local contemporary designers.
With over 500 designers, architects, and creative practitioners participating, the 2023 edition featured thought-provoking public installations, commissioned projects, exhibitions, collection launches and a growing focus on sustainable design and reinventing craft heritage.
Standouts included Isola's immersive exhibit at Downtown Design called "Anatolia," centered on Turkish collectible design and neo-craftsmanship, and the "Arabi-An Tea House" installation in D3, combining UAE tea culture with Japanese sustainable material experimentation, alongside a cup of matcha. 
Must-See Highlights From Dubai Design Week 2023 
Abwab commission: Of Palm by Abdalla Almulla
This year's Abwab commission, awarded to Emirati architect Abdalla Almulla, is a public installation in D3 inspired by the indigenous palm tree. The entire pavilion—its structure, the interiors and design objects—have been derived from the palm tree and brought to life with talks and workshops inspired by this organic material. The pavilion features traditional palm weaving methods and furniture elements made from compressed palm wood chips, to showcase the versatility of local, natural materials.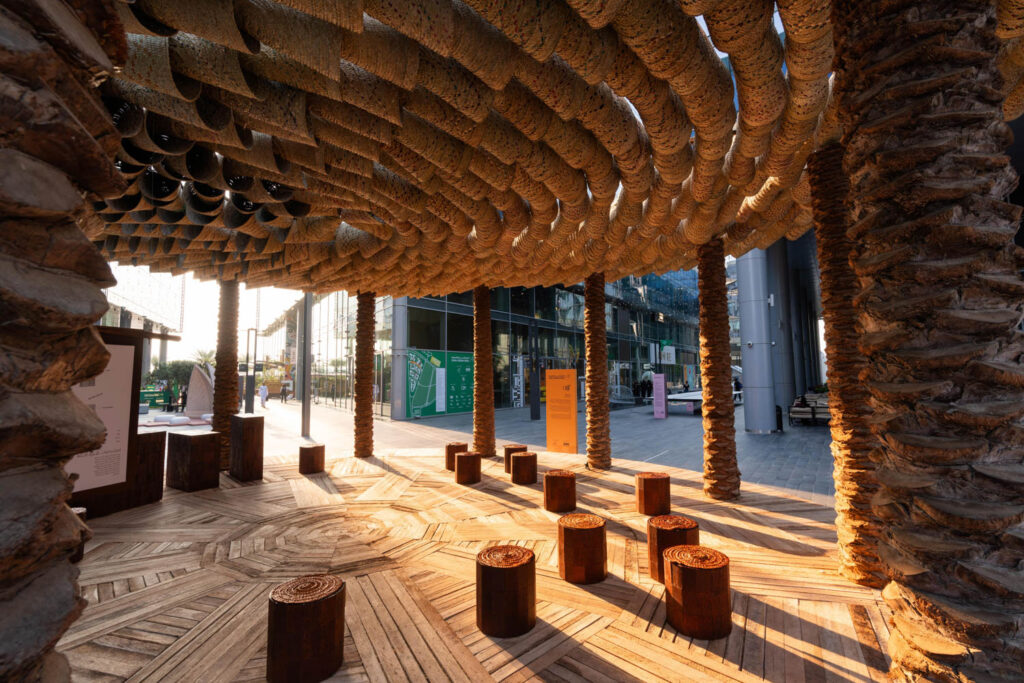 Moruna by Don Tanani
A hot newcomer of contemporary Egyptian design, Don Tanani's Moruna collection of sofas and tables are inspired by the concept of flexibility, rebirth, and the merging of indoor and outdoor spaces. The collection features undulating curves, solid hand-carved wood and bold colored fabrics, for a versatile range of seating options that seamlessly blend into any space.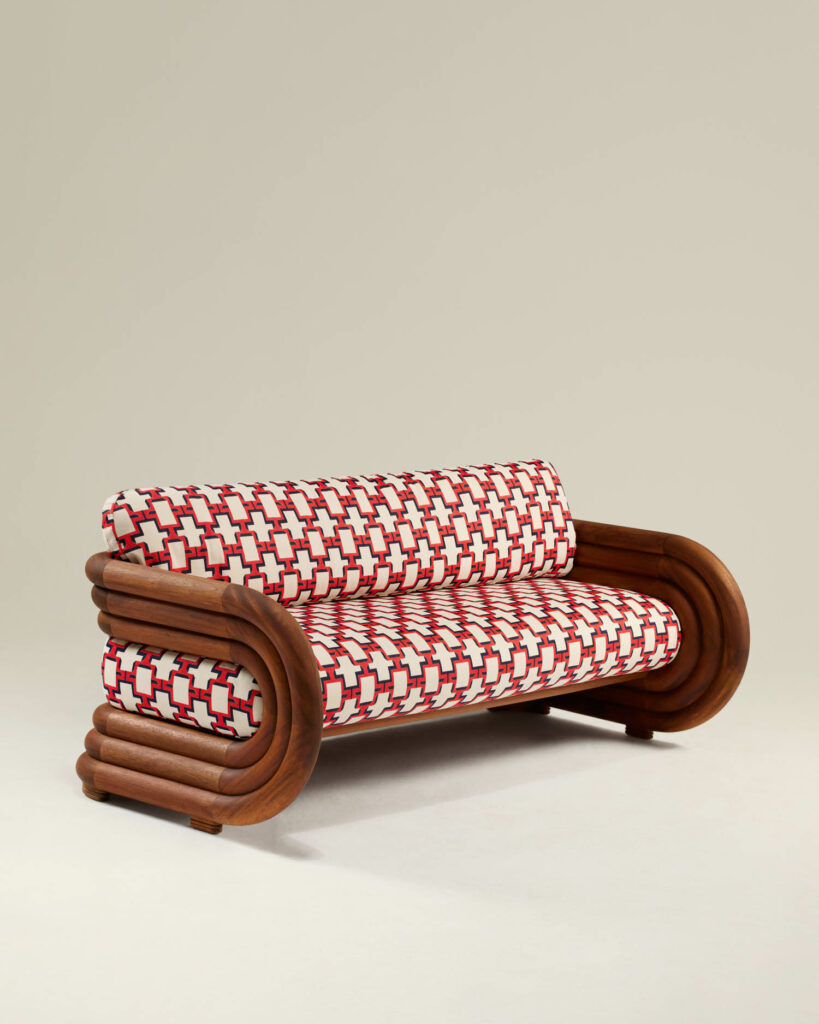 Euphoria by Vanessa Barragão for Double J Collective
Created especially for the Dubai-based collective, the Portuguese designer creates 3D textile wall murals using artisanal yarn made from discarded sheep's wool. Inspired by Dubai's vibrant Ras Ghanadah coral reefs, the colorful, marine-themed knitted organic shapes aim to champion ecological protection and keeping oceans clean.
Form of emptiness, emptiness of form by Abrahamm Creative Studio for Isola
These large clay vases and decorative pots borrow on Anatolia's ancient pottery forms, reminiscent of amphorae, revelling in the imperfect, non-symmetrical shapes of handmade design from a bygone era. Some have been purposely cracked and broken, then reformed with moss creeping out of the fissures. Through the transformative material of mud, the studio explores themes of healing, transcendence, and freedom of letting the material take its own form.
Arabi-An Tea House by Mitsubishi Jisho Design
This Tokyo-based design studio is presenting the UAE iteration of their sustainable tea house project, made from food-waste-based materials from the location it's being built—in this instance, Emirati tea grains and grapes—construed using the Miura method of Origami. Located in D3, the installation acts as a temporary tea house, performing a Japanese tea ceremony inside, and acts as an experiment to hopefully use this sustainable material for permanent projects in the future.
Spike and Sprout by MODU Method
This Emirati design studio is all about comfort and customization. Their natural wood Spike coat rack, modeled after traditional Saudi pigeon towers and desert cacti are fun and functional. The newly launched Sprout collection is a series of small add-ons that notch into the holes, intended to be personalized to the user's needs—extra pegs, small dishes and shelves designed to be added and moved as needed.
Corinthian collection by Hamza Mekdad for Beit Collective
In a nostalgic tribute to his childhood, Lebanese designer Hamza Mekdad's new collection takes multipurpose essence of an original Corinthian-shaped heirloom from his family home—a cherished artefact that once seamlessly transitioned from vase to sink to cooking vessel. Further inspired by the iconic Corinthian columns of Lebanon's ancient Baalbek temple, Mekdad has taken the decorative form and recreated them as hand-hammered brass or ceramic vessels, with a multitude of possible uses.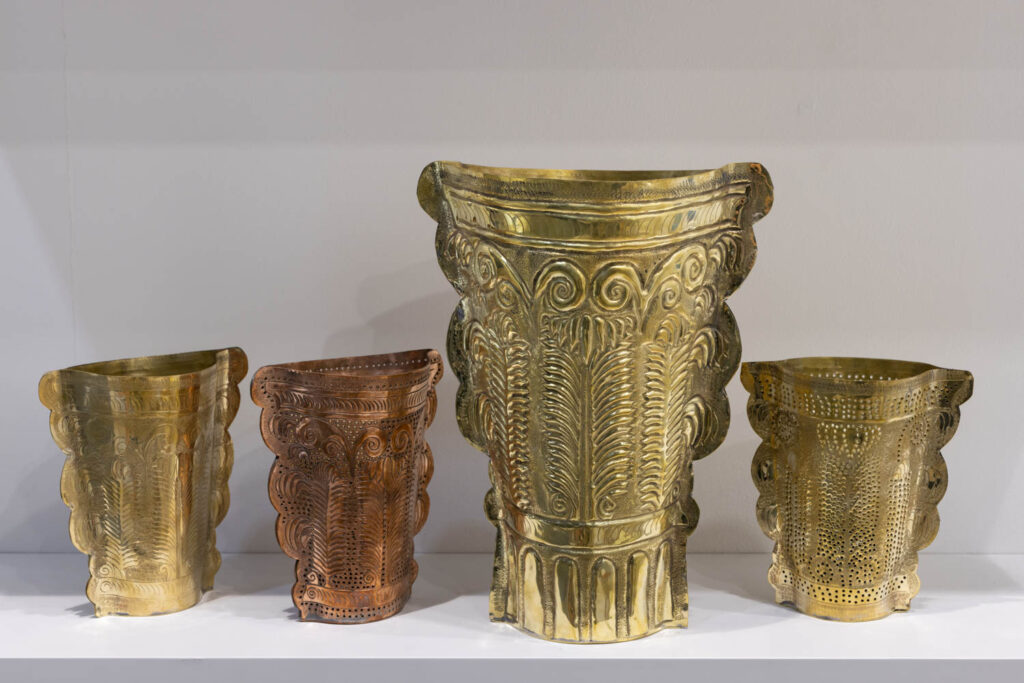 Elements of Anatolia (Shibumi) by OD Art & Design for Isola
This series of vases and tables by this emerging Turkish studio might look 3D-printed but is actually hand-rolled layers of stoneware clay, meticulously stacked to form these eye-catching structures. The use of gradient colouring and the unusual shapes demonstrate that traditional techniques can still create a modern, contemporary looking design, whilst paying homage to Anatolian heritage.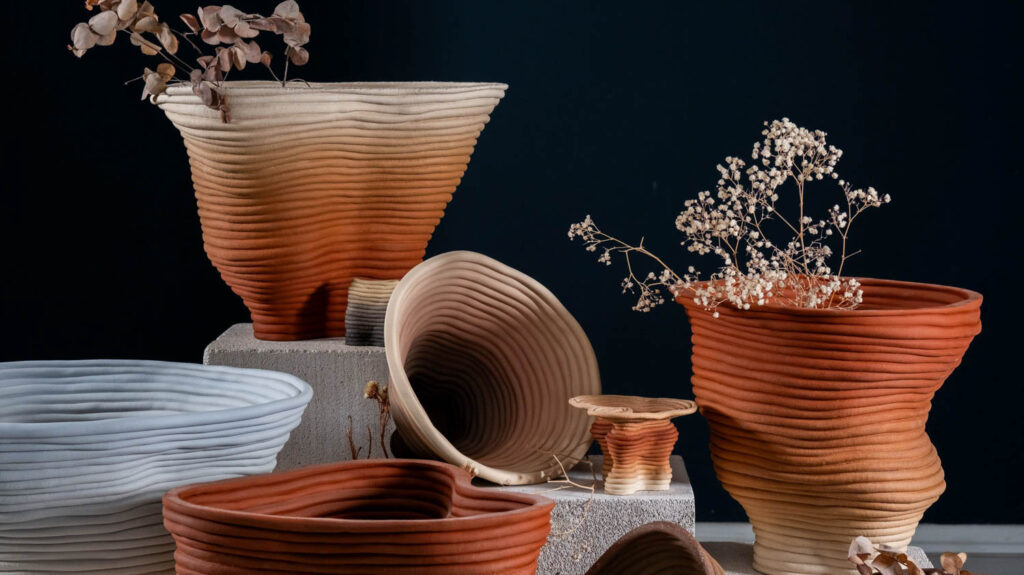 Ova Cabinet Collection by Dilara Kan Hon for Isola
These quirky cabinets, inspired by the vivid colours and repetitive patterns of seeds and egg clusters found in nature—as an ode to vitality, fertility, and creativity—are made with hundreds of soft shapes handsewn by artisans, made from a hand-woven silk fabric called 'Kutnu,' woven from the designer's hometown of Gaziantep, Turkey. Inside, a secret compartment in contrasting maple plywood awaits inside when opened, perfect as a drinks cabinet or hideaway library.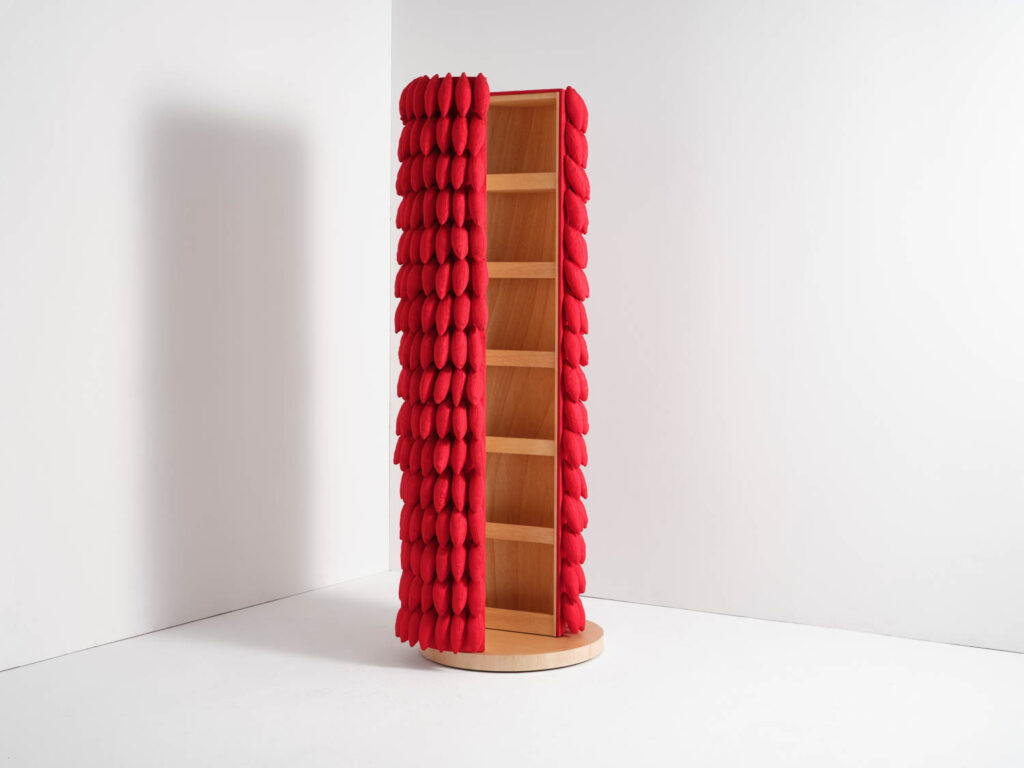 Aria Infinita by Zaha Hadid Studio for Slamp
Italian lighting studio Slamp is this year celebrating its 10th anniversary through this collaboration with Zaha Hadid Studio, with the release of the dynamic Aria Infinita light feature. The architectural suspension winds in sinuous waves, reaching two-metres-high at its highest points, available in either white or gold shades. The layers are handcrafted, tailored around a Lentiflex® source that casts an ever-evolving glow, altering the view from varying angles.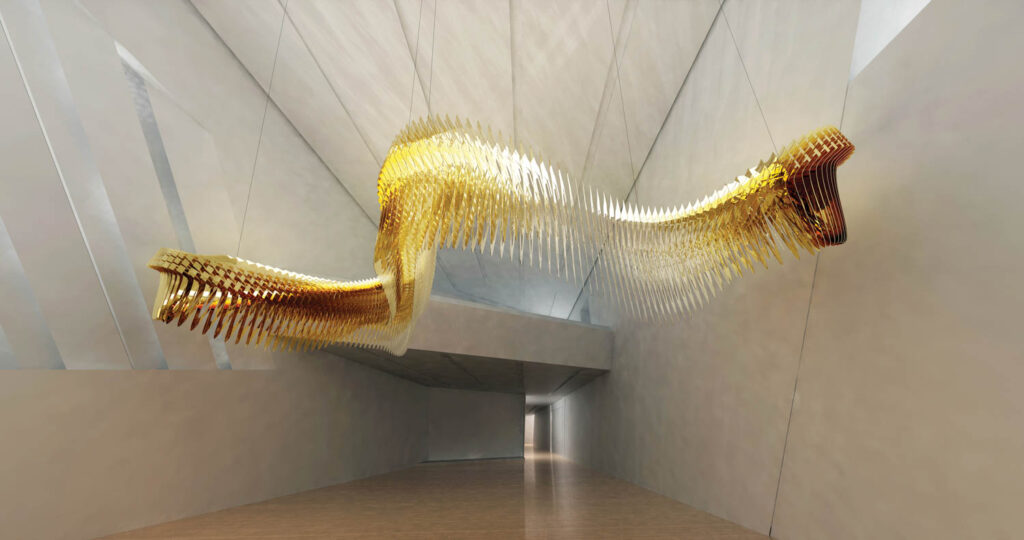 Charta Alba by Studio Palatin
Created by Austrian designer Barbara Palatin-Doyle, the Charta collection lamps and candlestick started from humble brown wrapping paper salvaged from an Amazon shipping box. Using a single piece of paper wound around a vertical axis to create each shape, the wrinkles of the paper are used to make a mold for porcelain, making angular creases perfect to playing with light and shadow.
Roots by Parallel Studios for UAE Designer Exhibition
Roots orchestrates an assemblage of mirrors, weaving together many mirror fragments that seeks to celebrates the rich tapestry of cultures found in the UAE. The mirrored snaking shapes, etched with vines and leaves, create an eye-catching piece of wall art that invites viewers to take a second look at the fractured reflections as they walk past.
Snotneus by Atelier Ruben van Megen for Dutch Collective
This new table lamp by Dutch designer Ruben van Megen is inspired by the traditional Dutch oil lamp, but upgraded with a retro futurist theme. The charmingly kitsch space-travel aesthetic also extents to his Oyster Lamps—resembling bisected planets with the glowing core revealed—but using a material made from compressed sand, from his previous Sandcastle series.