10 Questions With… Hibah Albakree, Cofounder of Designlab Experience
With offices in Dubai and Riyadh, Designlab Experience (DLE), founded by Hibah Albakree and Mootassem El Baba, aims to inspire awe through their large-scale installations and interactive exhibits. The group's creative prowess is evident in the way they work, approaching each project as if bringing together the strands of an orchestra. Everyone, from architects and engineers to stylists and set designers, plays a vital part.
Taking this approach, DLE has designed and produced events in the Middle East and Gulf region that leave a lasting impression on those fortunate enough to partake. For a wedding in Dubai, the team created a 'lucid dream' using 15,000 light sticks, 65,000 Swarovski crystals, 4,000 paper cranes and a full orchestra as well as falcons, gazelles, and flowers.
When asked to describe the most extravagant project they've worked on, Albakree says: "In a way, they can all seem extravagant, but that is not how we would describe them. For every new project we take on, our aim is to challenge ourselves and add more layers—to elevate the experience. What sets us apart is our risk-taking and originality. We like challenges and the unexpected."
Here, Albakree shares with Interior Design insights into her design background, how she first connected with El Baba, and the power of mystery and illusion.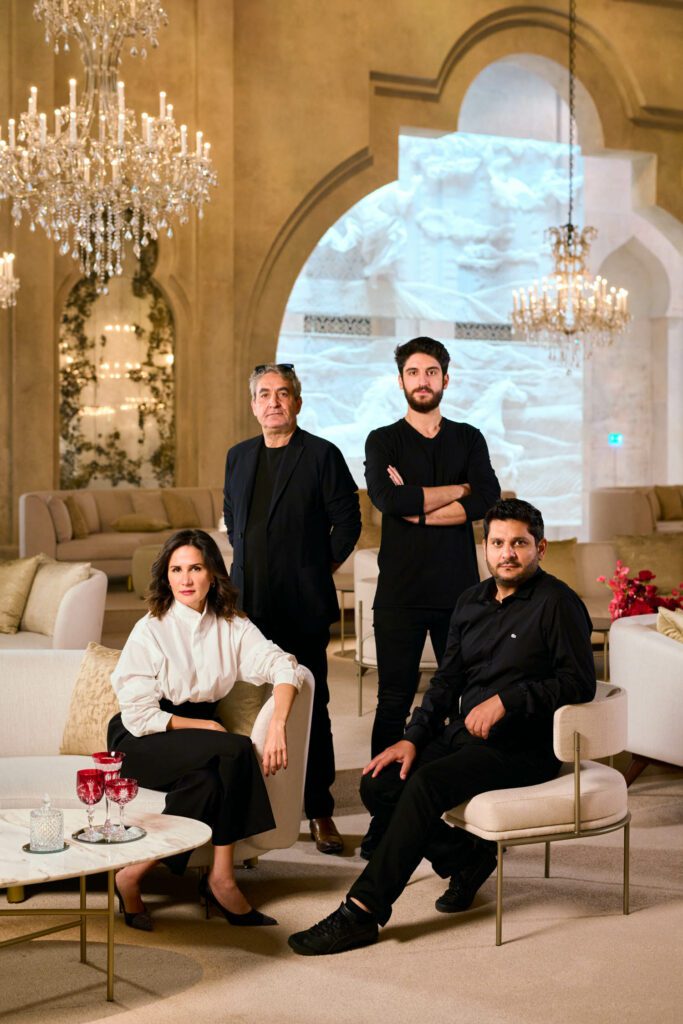 Interior Design: Tell me about your background and how you came to be a designer of immersive experiences?
Hibah Albakree: I grew up in Saudi Arabia but had the opportunity to study and travel abroad. I graduated in art and French studies at Smith College and lived in Paris before returning home to Riyadh. I worked every summer since my teenage years with my family, who owned a salon in Jeddah, and learned very soon how to relate to people, a quality that helped me tremendously with our clients. I got married and had four kids in my 20s but I still cultivated my entrepreneurial spirit in activities that gave me flexibility, including founding a fitness studio. I found my vocation when I organized my sister's wedding, an affair of 500 people featuring an installation with suspended white flowers that seemed like snowflakes. Many of the guests noticed and started asking me to produce their events.
ID: Were you creative as a child? Were there any early signs that you would enjoy orchestrating large events?
HA: Creativity came naturally to me and my parents encouraged it. I started a business of customized photo albums at 13, sourcing all sorts of materials, such as repurposed pieces of embroidery found at the souk. I realized I was passionate about creating something original while paying attention to the smallest details. I was always part of the decorating committee at my school and for the parties we organized with friends. We went all out picking themes such as 'Alice in Wonderland,' where we would build enormous flowers out of sponges. For 'Out of Space,' we covered the room in black garbage bags and used neon paints and lights. My mother always involved me in helping out at my family's dinner parties, which could be for up to 30 people, something I carried on after I got married, creating elaborate settings for my guests.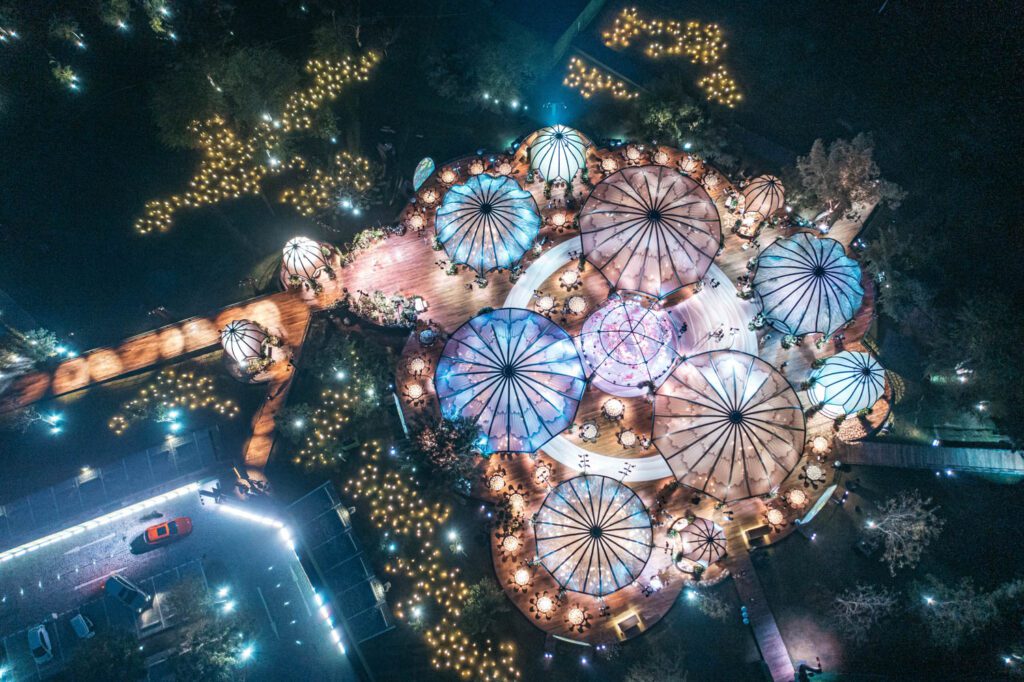 ID: How did you meet fellow managing partner and co-founder Mootassem El Baba and what made you realise you wanted to work together?
HA: I heard about Mootassem when we were both pitching for a client in Abu Dhabi. I ended up winning that project, but when that client called again, I approached Mootassem to pitch together. I was intrigued by his work and by his level of perfectionism. He is a very ethical designer that always puts the client first, which was rare at the time and crucial for the relationship with high-level clients that put their trust in us. He also has a unique background. He was an actor who went on to create set designs, commercials and films. When I met him, he already had 20 years of experience in theater, advertising, and scenography; he's an absolute genius in visual effects. Marwan [Maloouf], lead architect at DLE, was the third part of the puzzle with his ability to make our ideas tangible. He was also exposed to the world of design at a young age as his father was an artist and a set designer before he studied architecture. He is not only a brilliant architect but very talented in painting and drawing.
ID: How do you devise a new experience or project? Do you start with sketches? Do you create renders and videos?
HA: Storytelling sits at the forefront of our projects. Our creativity journey begins with meticulous research of the architectural and design components. We study the cultural and artistic contexts and tie them into multi-layered yet cohesive storytelling that makes everything come together. During the design process, we partner with collaborators, brands and institutions. There is always logic and a purpose behind our design and people connect to them because every detail is intentional. We proceed by doing sketches, renderings, and a lot of testing.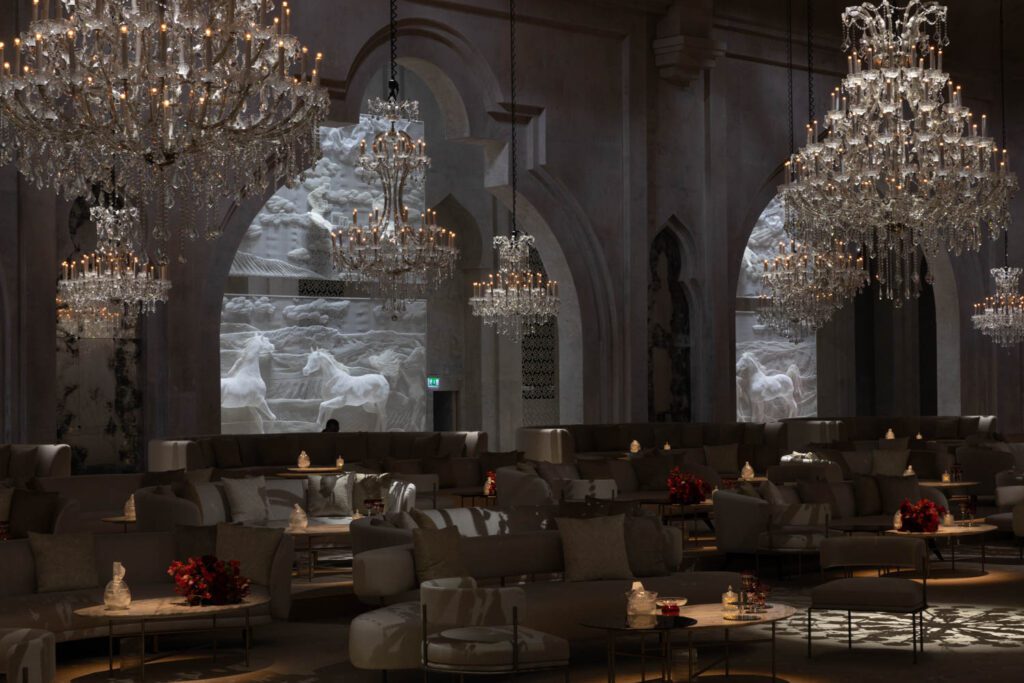 ID: How do you know how the experience or event will work out on the day? Is that nerve-wracking?
HA: We always have a good idea of the outcome; there is a great deal of experimentation before the event. Our projects are complex and very detail-oriented, so nothing can be left to chance. When possible we ask vendors to build at least 25% of our structures in an empty area. We stand by it, experience it from different angles and feel how it affects us. The team spends days going from vendor to vendor, checking every element of the production. When all these elements are gathered in our warehouse, we can see how they come together. We make a giant mock-up to envision what the project will look like, in addition to detailed renderings with accurate proportions. The nerve-wracking part comes with things that are out of our hands, like weather changes or a last-minute client's change of mind.
ID: Tell me about your experience of putting together 'Memoir', the setting for a high-profile Emirati royal wedding? What stands out as the most hair-raising moment and the most satisfying one?
HA: We had some issues at the start, as the event was supposed to take place in Qasr Al Watan, the Palace of the Nation in Abu Dhabi. Our initial project was to integrate our vision into that truly majestic space. When the location was no longer available, we had to start over and build everything from scratch with a five-week delay; we only had eight weeks to design and produce a new project. The bride expected the new space to have the same grandeur as the original venue, which we conveyed with an oversized space featuring big arches and a massive dome. She also wanted the feeling that the space had some history, so the finishing on the wall, for example, had an antique look. We drew from the bride's memories with her late grandfather and from chapters of her early life to produce a complex architectural space and scenography that created an emotional journey for her and the guests. It is something we are very proud of.
ID: Can you talk about a couple of other recent projects?
HA: The magnitude of the Diriyah Oasis, a large open-air entertainment district built in Riyadh, was a first for us. We have always integrated art into our projects, but in this case, we had to do it for a space that welcomed 30,000 people daily. We have always worked in a controlled environment but here we had to apply our experience and knowledge on a much larger scale, in a 1614,586-square-foot space, and still have the same impact. For example, the painting on the floor by Chilean artist Dasic Fernandez covered 430,556 square feet and guided the visitors to the entertainment zones through colors. The Gharfa installation by artist Edoardo Tresoldi and Studio Studio Studio [the interdisciplinary lab he founded] stood in the centre of the plaza, a wire mesh architectural fortress that reached up to 85 feet in height. We had to transform the oasis and heritage Al Bujairi area in only 53 days. I think what we were able to achieve was unprecedented.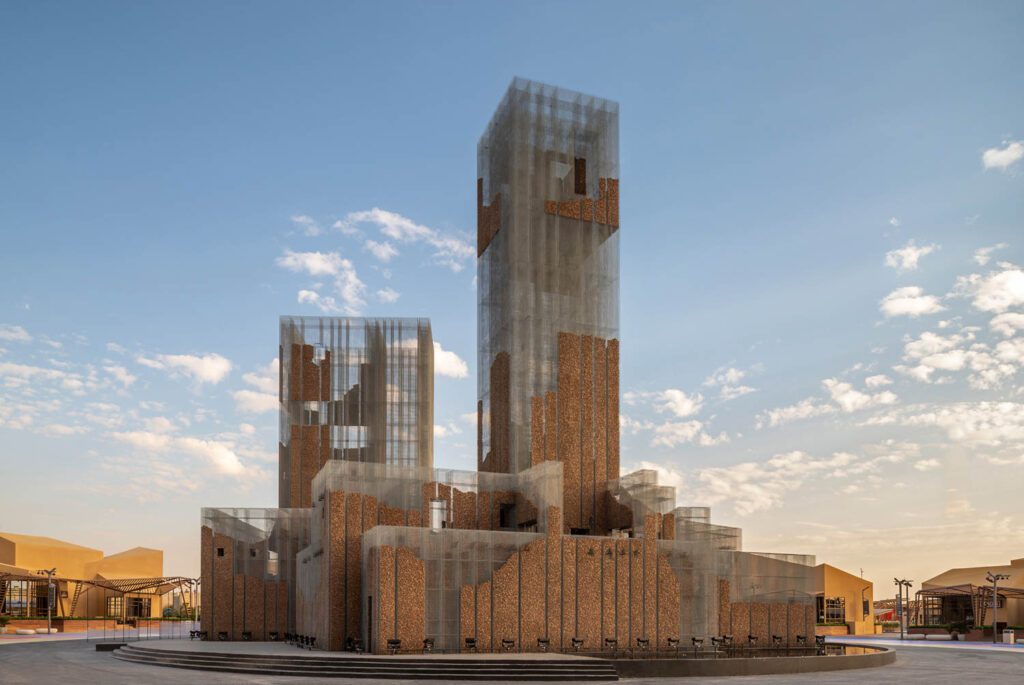 ID: What materials and technologies work best or have the most memorable impact when creating an installation or experience?
HA: People love mystery and illusion. When they don't understand how it comes together, they are drawn to it. They tend to respond to lighting effects; there is a magical factor about it. One of our most popular installations was the Fireflies of Diriyah in collaboration with Studio Toer, with a field full of jumping glowing lights that looked, in fact, like fireflies. For 'Memoir,' we worked with lighting expert Ignace D'Haese. The lighting mirrored daylight from sunrise to evening throughout the ceremony. Subtle light gently filtered into the room through backlit mashrabiyas and traditional wooden carved window concealers. Light fixtures throughout the project weren't visible as the entire lighting system was built on the structure's exterior.
ID: In an article I read, you spoke of having Arab values, which are all about generosity. Can you expand on that a little and explain how that applies to your work?
HA: The art of hospitality is an essential aspect of Arab culture, a value we carry in our lives and work. It shows in the way we relate to our clients, giving them undivided attention and being very honest and transparent with them. It also shows in our projects. There is a warmth to our spaces where guests feel welcome, at ease, and taken care of. We don't relate to cold and sterile spaces; they might be beautiful but often miss the human element.
ID: Do you think there are certain cultures that are more drawn to big immersive, maximalist experiences? And why do you think people are drawn to immersive experiences today more than ever?
HA: The Middle East and the Gulf area are certainly into big immersive experiences, but so are India and the United States, particularly in sports and entertainment events like the Super Bowl. Europe is a bit more understated. I think the reason people are drawn to them is because they like the idea of being transported. They want to experience a new place and a different journey just for one night. At some of our events, our guests don't want to leave until 7 in the morning. From a general point of view, people have been investing more in experiences than products in recent years, and the pandemic has reinforced this.