Cindy Allen Imparts Design Wisdom to the Next Generation
Capping off NeoCon 2023, a group of students and junior designers gleaned wisdom from none other than Interior Design editor in chief Cindy Allen. During an intimate confab in SANDOW Design Group's DesignScene lounge, Allen imparted knowledge to the next generation of talent, including First NeoCon attendees and some of Interior Design's 30/30 nominees.
Kicking off the discussion, a designer with seven years of industry experience asked Allen how she stays inspired in her career. Nodding to the Cadmium-hued DesignScene installation, a multidimensional take on the magazine's signature warm palette by 3form, Allen touched on the value of exchanging energy with other creatives. That, and love. "I was recently asked this same question, about inspiration," Allen said, "and immediately thought of my husband. I said love, love keeps you inspired." She cited the 3form collaboration as an example of maintaining inspiration through months of exhaustive project-planning and back-and-forth decision making.
Allen also stressed the importance of optimism and honesty. "You're probably under a lot of different pressure from your clients," she said. "You have to be honest with your design partner; negativity can block your creative spirit."
Manifesting a Design Career
When it comes to building a design career, Allen encouraged designers to ask for a help in many shapes and forms. "You have to ask the universe for some inspiration," she told the crowd, noting how challenging it can be to find the perfect mix of projects to feature for any given issue so at times, she too, sends a request into the ether. That doesn't mean sitting back and scrolling TikTok, necessarily. "Sometimes you need to just get out of the house, take a walk and look at nature, make some sketches. You need to develop your own set of tools to build inspiration," she said.
As for getting published in Interior Design, Allen assured the group that submitting project images by famous photographers is far from a necessity. "I look at hundreds of photographs from around the world. We print stories, and there is no limit to what that can be. We're always looking for great talent, new ideas, and interesting ways to tell a story." Some of the better photographers, in Allen's opinion, are folks who convey design through different perspectives, shooting a project in a unique and bold way.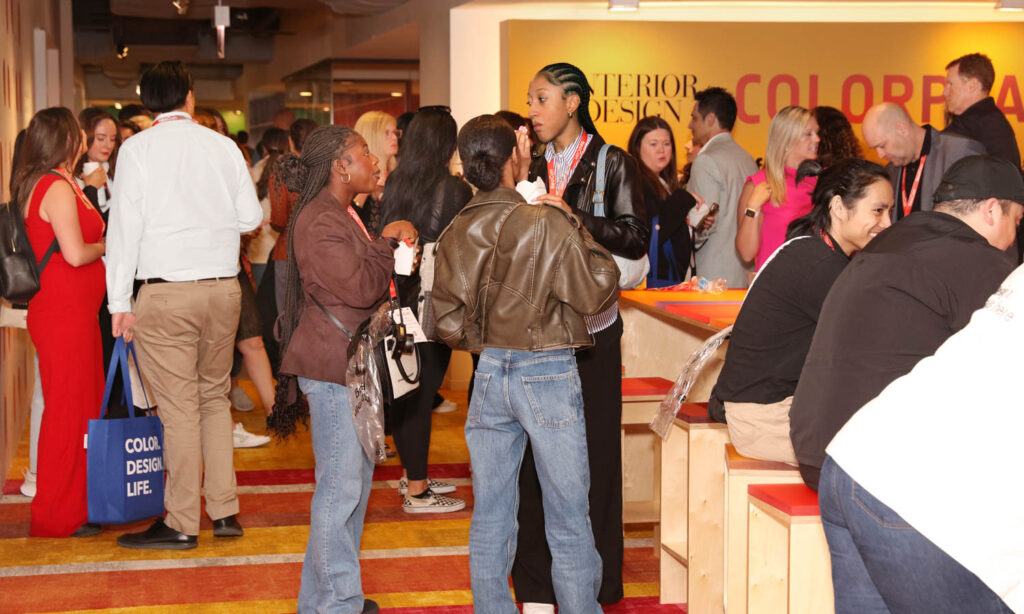 On the Intersection of Storytelling and Design
Storytelling also is a key component of the design process—one on display in the many showrooms throughout THE MART. Several designers in the room gushed about their showroom visits and the energy in the halls at NeoCon, citing Haworth's space among others. "They [the Haworth team] were walking us through a sequence of spaces, telling us how we'd use their products, and involving us in the brand narrative," said one designer. "I started dreaming about how I'd design a shower, and that led me to thinking about how professional manifestation and personal perspective can intersect."
Allen agreed, noting the kinship among Gen Z and new designers is palpable. "It's wonderful your generation thinks this way," she said, of the designers' affinity for planning their future careers. "I'm not as much of a planner, but I am a gatherer, and I'm more interested in learning about you than learning about me." Gathering—whether it's personal tidbits, anecdotes, or fabric swatches—is Allen's superpower. "If you really want to know somebody, ask them for five minutes about their childhood. If somebody is willing to share that, you immediately know who they are."
This penchant of constant curiosity has guided Allen's career. "I would not accept anything that wouldn't push our brand into the future," she continued, explaining how she led Interior Design through crises, from the September 11 attacks to the pandemic, and searched around the world for new voices and stories, burgeoning the brand onto the global stage, discovering talent, and forging relationships in the community.
Designing for a Better Tomorrow
"What are you excited about," asked another designer, "And what are you concerned about?" In response to the latter, Allen shared qualms over the lack of in-person mentorship for today's youth, and how crucial it is to value mastery over expedience.
As far as excitement? Allen is looking forward to seeing what the next generation will do, given the industry's investment in sustainability. "We're at a pivotal point in design right now. Your generation is in a position of responsibility, especially since you all have such a social consciousness." And equipped with the right tool kits and manifestations? Allen says there are no limits: "Your generation is poised to save the world."