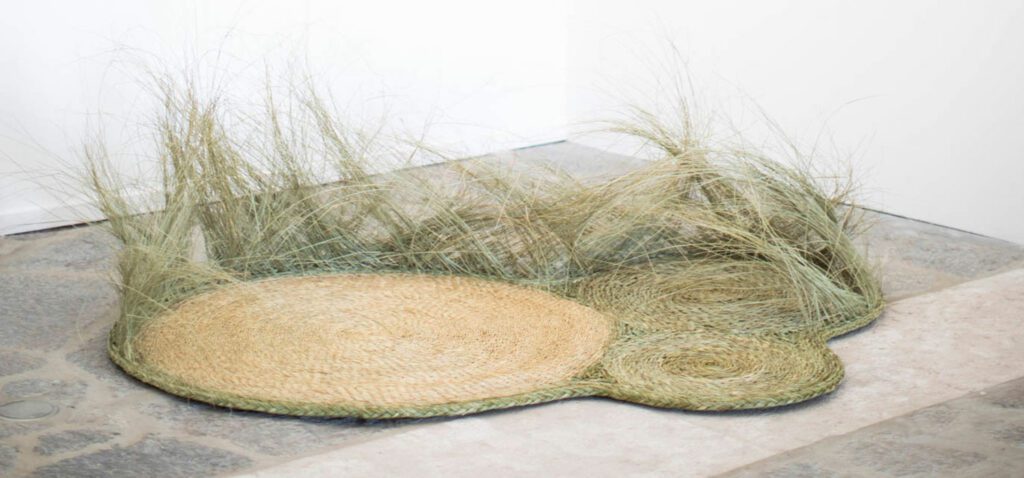 Belgium Is Design Spotlights Work by Women as Part of New York Textile Month
Although trend forecaster, Lidewij Edelkoort, and trend analyst, Philip Fimmano, have been brewing the idea of simplicity for a few years, the pandemic escalated the duo's interest in fuss-free aesthetics, organic materials, and humble user interactions. Their return to New York Textile Month to curate Belgium Is Design—following 2019's Textiles Revealed show—explores these trends through the works of nine designers. "When we set out calls with possible contributors, we realized many were in fact focusing on natural fibers and un-dyed materials," Fimmano says.
Their curatorial theme also nods to the Shaker aesthetic. "We are blending the Belgian design's interest in materials and the Shaker design legacy in the U.S.," adds Fimmano. This curatorial commitment starts with the show's title, "The Gift To Be Simple," which adopts a line from the 1848-dated Shaker song, "Simple Gifts," commonly attributed to Elder Joseph Brackett. 'Tis the gift to be simple; 'tis the gift to be free, the lyrics start.
Textural quality and the experience of touch are essential in Edelkoort and Fimmano's concert of designers, which includes Emma Cogné, Natalia Brilli, Céline Vahsen, and Pascale Risbourg. "We wanted to blend the simple everyday experience of engaging with furniture and objects with the textures of organic materials," says Fimmano. The all-women roster has been fully coincidental but a statement on female labor and women's right to claim their autonomy is not lost on the curators. "There is perhaps a sensitivity aligned with natural materials, and maybe the grouping of nine women designers says something about this aspect of making objects," Fimmano explains.
See works from each designer featured in "The Gift To Be Simple" below.
"No matter how wild the pieces look, all of the designers are interested in respecting the materials and their origins," Fimmano says, and a good example is Cogné's woven reed rug, Clareira. The French designer created the rug, which also moonlights as a bed to nap on, at Lisbon's Museum of Popular Art in collaboration with Portuguese designers Mariana Campos and Ana Paula Abrunhosa. The bordering of spiky reeds, called Step Gigantea, carves a plot of seclusion and intimacy for the napper while also building a dramatic, almost sculptural, effect to the eye, fitting for a show about simplicity with an edge.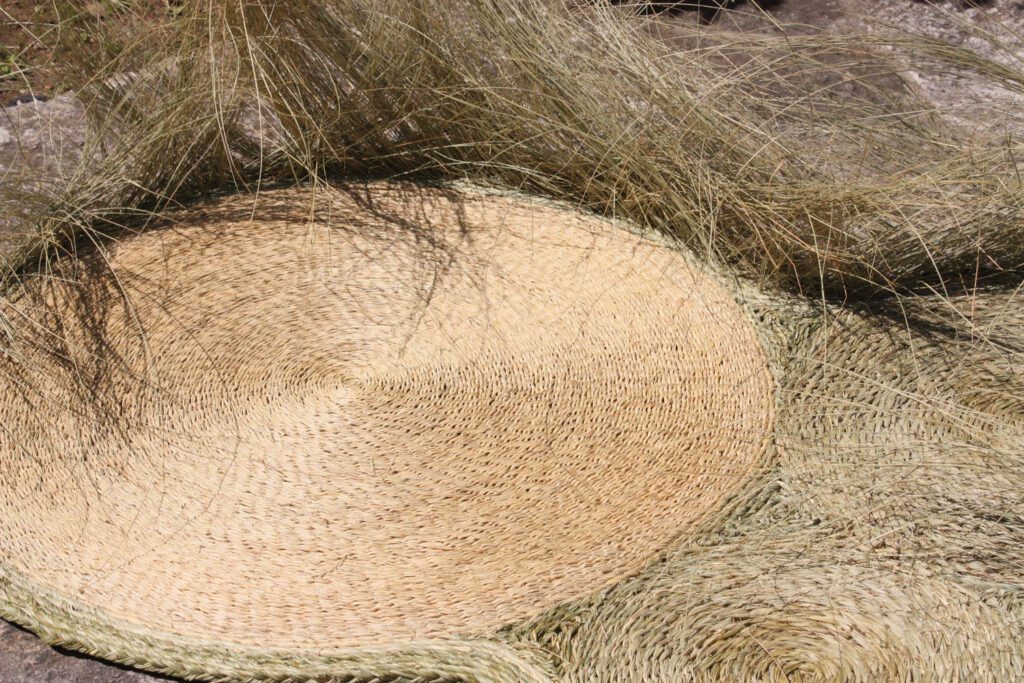 Simplicity as a theme neither compromises humor, nor omits references to the body, as proven by Risbourg's clay vase, titled Antonio. While the 15-inch vessel does not directly radiate a resemblance to the human silhouette, an elongated torso, a bent arm placed on the hip, and a leg are imaginable traits in the French's designer's one of many terra cotta creations titled after male names. Simplicity in this chunky object is synonymous with shedding a biomorphic figure to its essentials and reference figuration with help from the viewer's imagination.
This rug by Kasiers is a stand-out representative of the show's material and social sentiments. Linen, a product historically associated with Belgian design and craft, creates a functionally practical, environmentally-conscious, and texturally inviting base for this 47 inches by 70 inches grey-hued floor mat. Giving the impression of an abstract painting on a woven surface, the rug is a subtle accent through its muted color palette yet a tactile touch to an interior through the yarn's soft finish.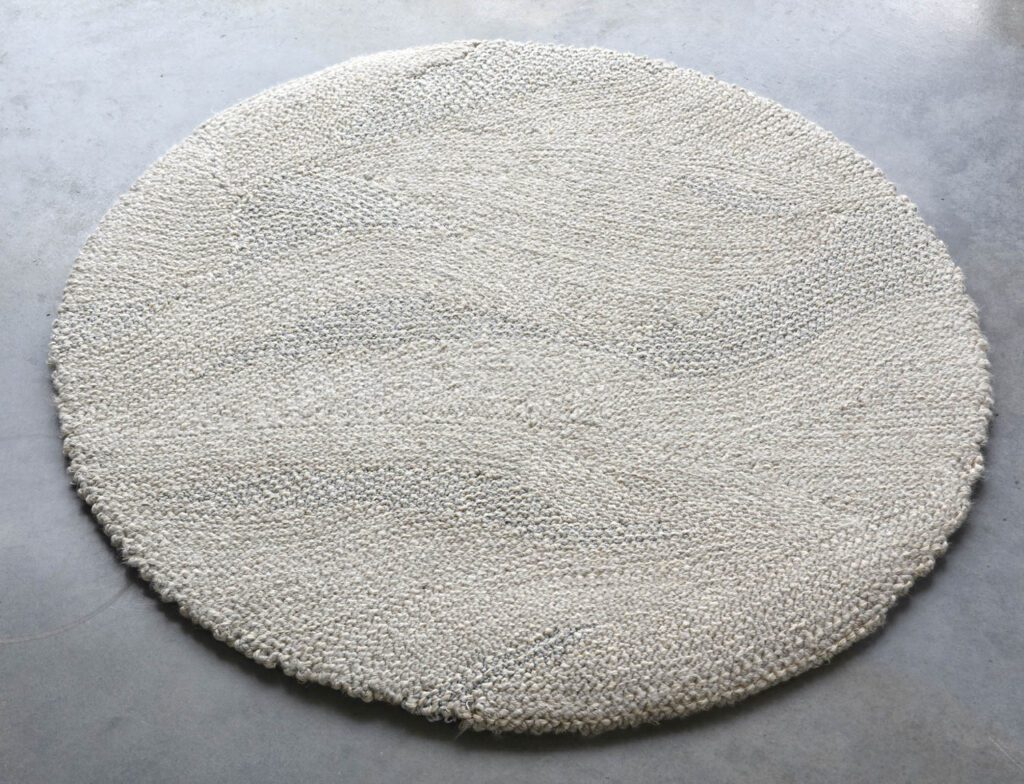 Coming from a background in leather design, Brilli merges her familiarity for fashion with slow and environment-friendly production of interior goods. The introduction of three dimensionality and the sprawl of ornate details—both delightful as the title suggests but also industrial—makes this natural raffia tapestry an experience to view and utilize. Brilli collaborated with a family workshop in Madagascar to render the 102 inches by 63 inches surface and used dead stock fabric from French and Italian leather shops.
Upcycling is also a motivation in de Ville's tapestries, which are made out of discarded cuts from her Brussels-based wallpaper company, Tenue de Ville. In their second lives as loosely hung objets d'art with geometric patterns, the woven wallpapers carry the formalist precision of Modernist art. Striped off of their wall-covering purpose, they are instead intended to adorn the walls, woven with a loose geometry, unfinished around their edges to indicate to the weaving process and the touch of the maker's hand.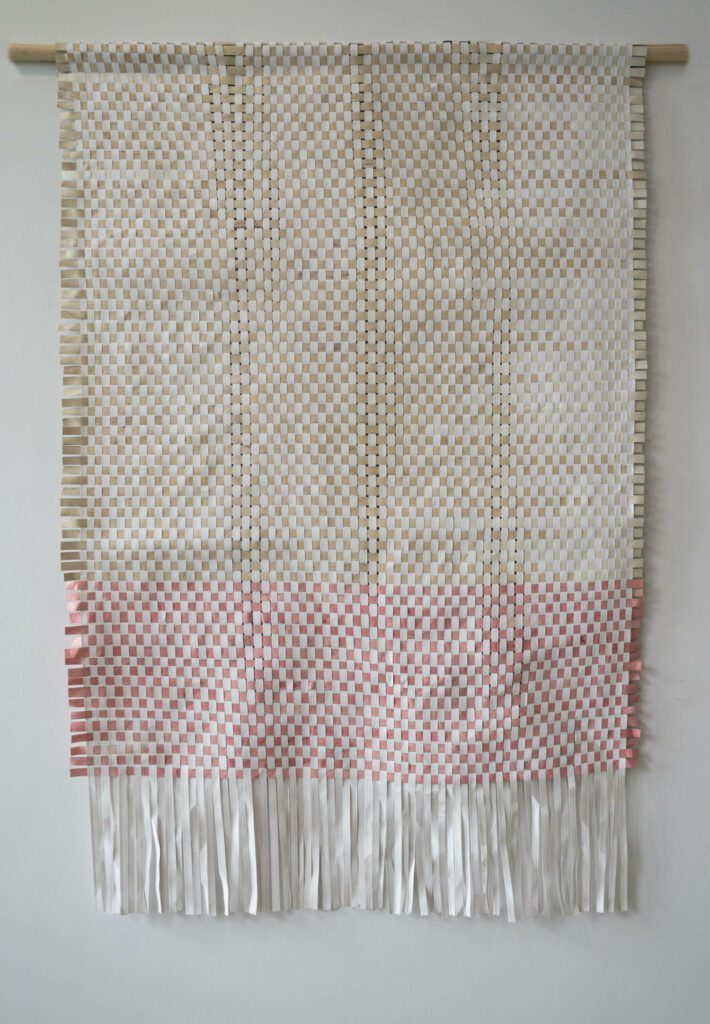 Céline Vahsen, Untitled Cotton Tapestries
Although Vahsen mixes her hand-woven cotton tapestries with materials such as linen and copper, her geometric patterns unite in their unmediated compositions. The Belgian weaver hand dyes her cotton into dusty pastel shades of purple, pink, and brown, letting the loom guide her juxtapositions that often times result in humble geometric abstractions. Either placed on the floor as mats or hung onto walls in painterly fashions, Vahsen's work is shy about her process yet intriguing with its invitation to feel the material's textural quality.
Lancelot created this line of poufs, rugs, and pillows in India for the Spanish brand Gan with a signature aesthetic of large patterns in wool. A teal-colored pouf, for example, carries the symbol of a leaf repeated all throughout the cube-shaped seat. A rug continues a smilier pattern but dissolves into an abstract composition of lines, used also on a small couch pillow. Simplicity in the series is not only about economic patterns also in production: the wool colors are kept un-dyed during production out of respect for environment and to create familiarity with the material's natural hues.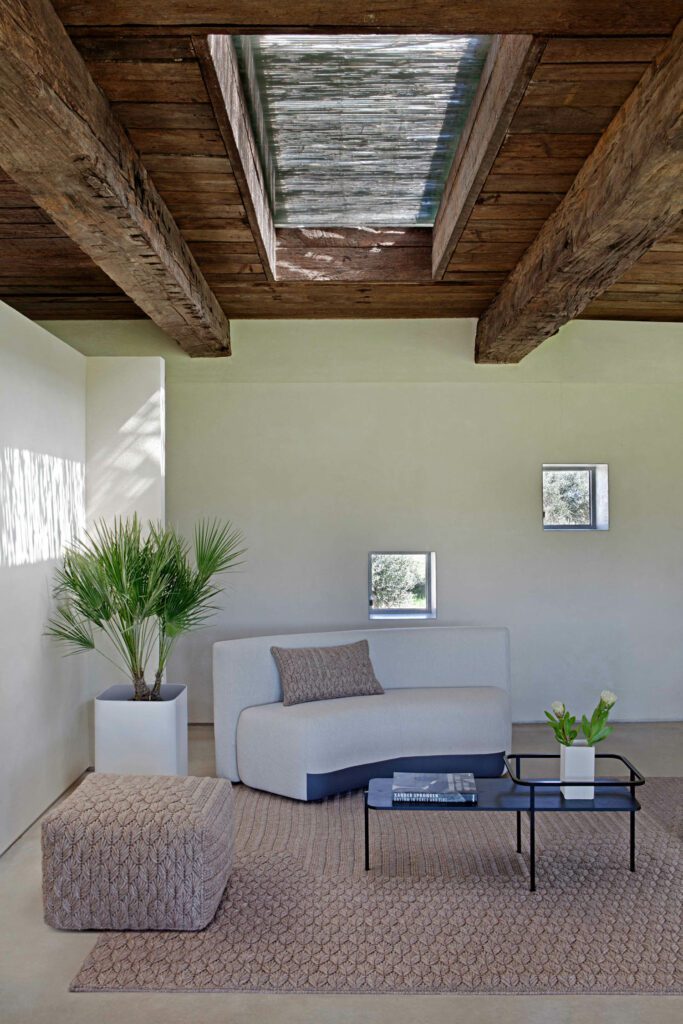 Lace is another historically "Belgian" material, its origins dating back to the 16th century when craftspeople wove delicate threads of yarn for celebration purposes. Like other craft techniques, lace is also being reinterpreted by the means of technological improvements and the curiosities of designers to implement them into their creations. "Today's design is a balancing act between innovative technology and the touch of the hand," says Fimmano. "Young designers may be making something with one hand and use the other for a technological tool." Geneviéve Levivier and A+Z Design's Magic Lace, in which the laser technology has been used to form typical lace patterns, is an ideal example of this medley between history and the future. The materials used in the process include European jute, Texel wool and PLA, which results in an elegant floral imagery, rendered in lace's romantic quality in addition to an answer to what may come for design in near future.
The Brussels-based design studio Design for resilience joins the show with a series sponges made out of hemp knit in vegetable fiber. Their utilitarian design and anti-bacterial quality are the main draws for the cleaning clothes while also demonstrating the range of nature-conscious products the show spans about design from the region. While the fiber's strength has the Oekotex Standard 100 certificate, its reusable quality and minimalist pattern distinguishes the product from the experience of mass produced cleaning tool.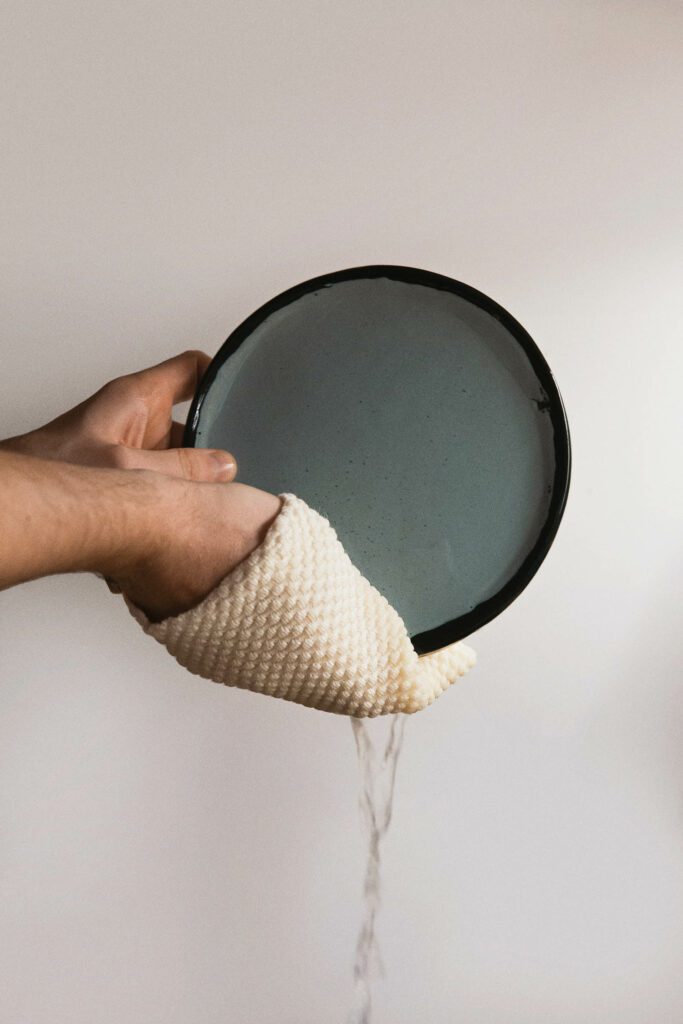 "The Gift To Be Simple" is open at 138 Wooster Street in New York City through October 10, 2022.