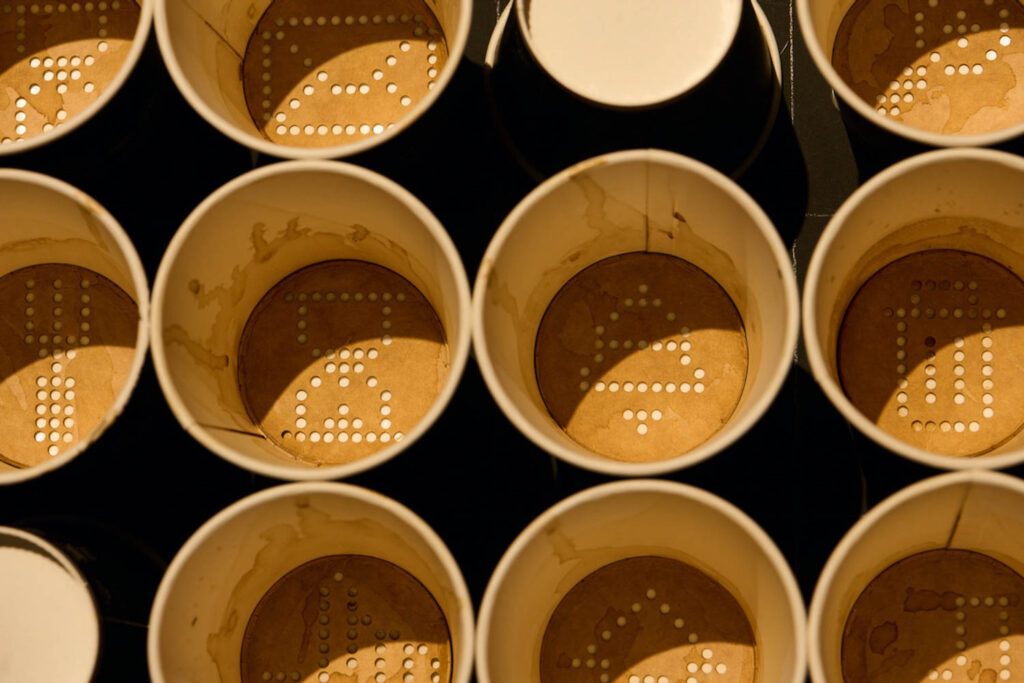 11 Highlights from Jerusalem Design Week 2023
Design can be manipulative, an edgy Jerusalem Design Week 2023 proves. For this year's event, held June 22-29 at cultural center Hansen House in Israel's capital, 150 international designers, artists, illustrators, and creators presented objects and site-specific installations after an open call for 'lies and falsehoods.'
A loose definition of design prevailed—and that was intentional. "Design is not only the shape and the aesthetic, but also the planning," explains artistic director Sonja Olitsky, who curated the show alongside Dana Ben Shalom and Jeremy Fogel. From a living room that requires a mow to an AI that studies your coffee grounds, as well as armed and dangerous nesting dolls, here are 11 of our favorite finds from this year's show.
Top Picks From Jerusalem Design Week 2023
What defines a garden? To examine this question, Studio MA of Moria Architects overtook an interior courtyard at Hansen House. They then arranged it with upholstered furniture sprayed with hydro-seeding, or a specialized mix of seeds and mulch usually used to grow grass to prevent soil erosion, surrounding the vignette with real and artificial grass. After three weeks, the result was an untraditional outdoor living room, lush, growing, and surrounded by greenery.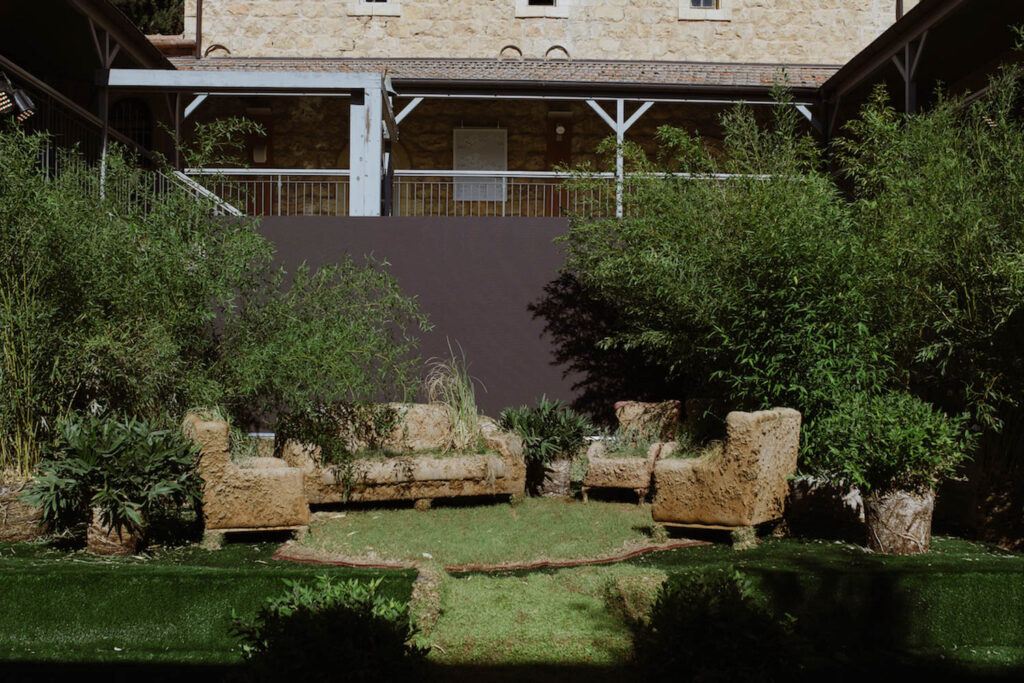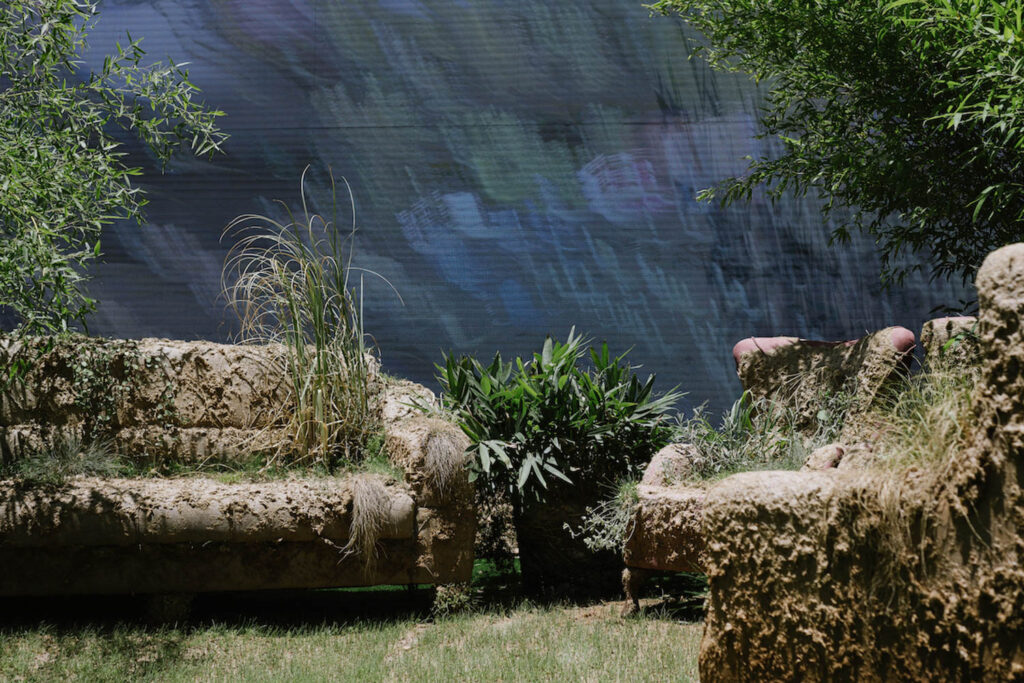 2. "The Uncanny Valley of Future Food"
Lab-grown steak can imitate the real thing or appear as something entirely new. For the exhibit "The Uncanny Valley Of Future Food," 11 designers presented possibilities in both directions for four lab-grown foods: eggs, dairy, meat, and fish. When it comes down to it, consumer acceptance determines what you are likely to consume—and perhaps, that's the steak here, which takes on a gradient cubic pattern.
3. "Prediction Addiction" by Elad Medan and Roy Amit
When in the past we turned to fortune tellers, now we have AI. With algorithms responding to your coffee grounds, "Prediction Addiction" generates a tarot card-like reading offering advice on short-term decisions and existential dilemmas.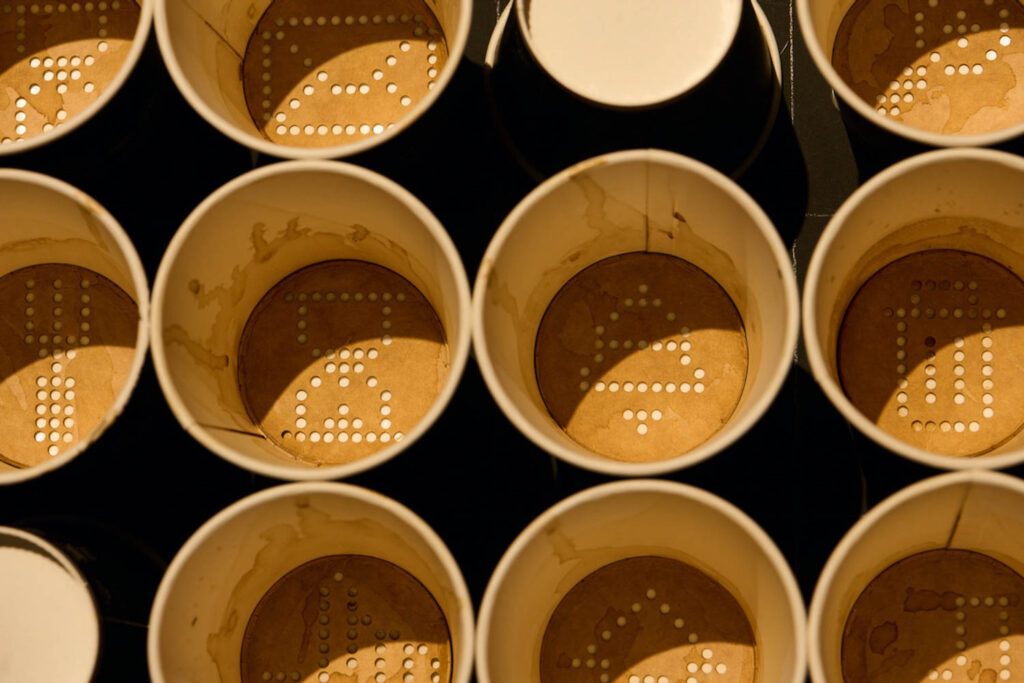 Floor or carpet or shadow? Site-specific installation "A Shadow is Present" by Studio Yarnatak is all three, with a hand-tufted rug matching the hues and pattern of a historic tiled floor reclaimed from Tel Aviv's oldest district, Yaffa, following gentrification. Resting on the tiled floor, the carpet and its distinctive shape gives the illusion of a shadow cast by a near-by podium.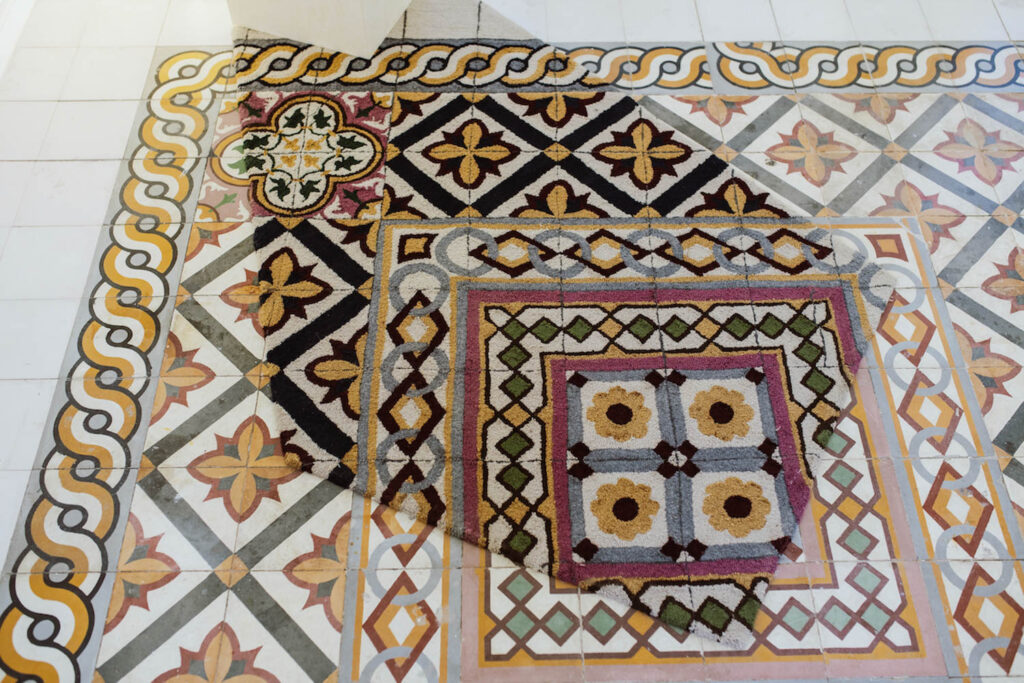 5. "Woodenwood: A Circular Design and Manufacturing Process for Wood Waste"
Sawdust is a common waste product from the wood industry. WoodenWood is a prototype seating collection of curved, 3D-printed wood products. Each piece finds new life for raw wood scraps and sawdust, mixing them with cellulose-based natural binders for beautiful forms approaching a zero-waste circular design process.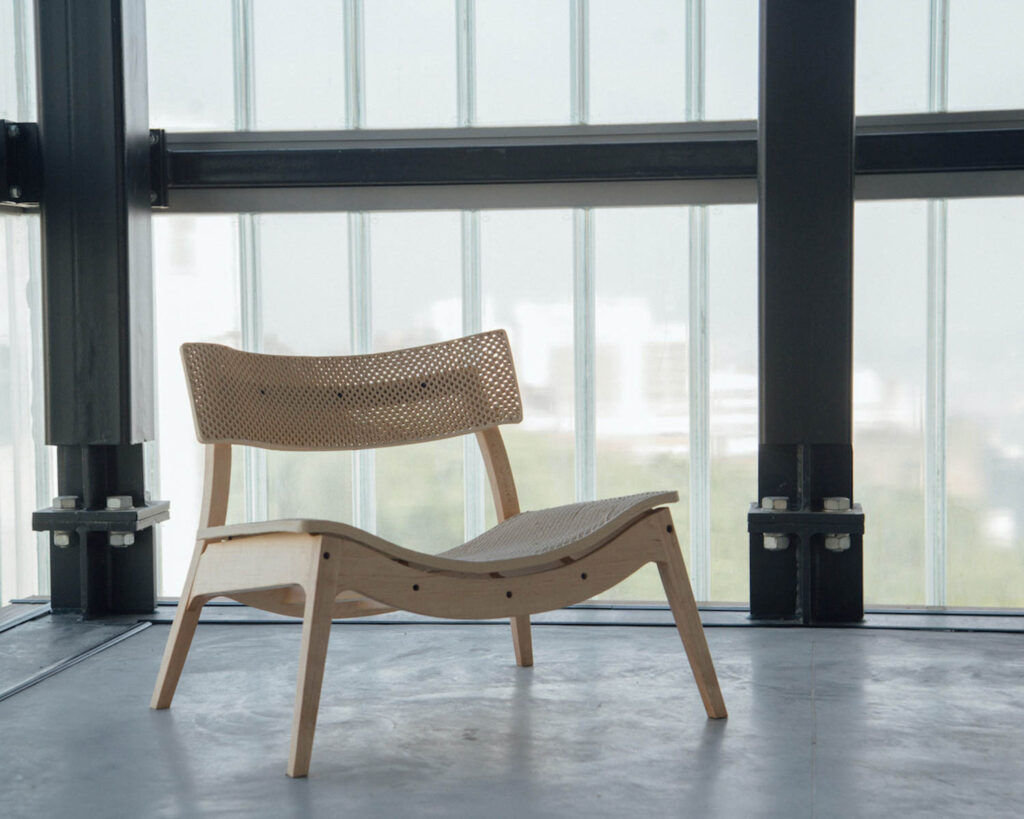 Blanks, bullet-shaped incense by Rina German Berezovski, point to the smoking gun that continuously disrupts society with mass shootings. The clever design transforms something traditionally used for cleansing, purifying, or relaxation into a tool of protest and criticism.
With its illuminated mesh form, the Un-Curtain by Studio Cheha is more light sculpture than curtain. Instead of concealing, it invites a second look.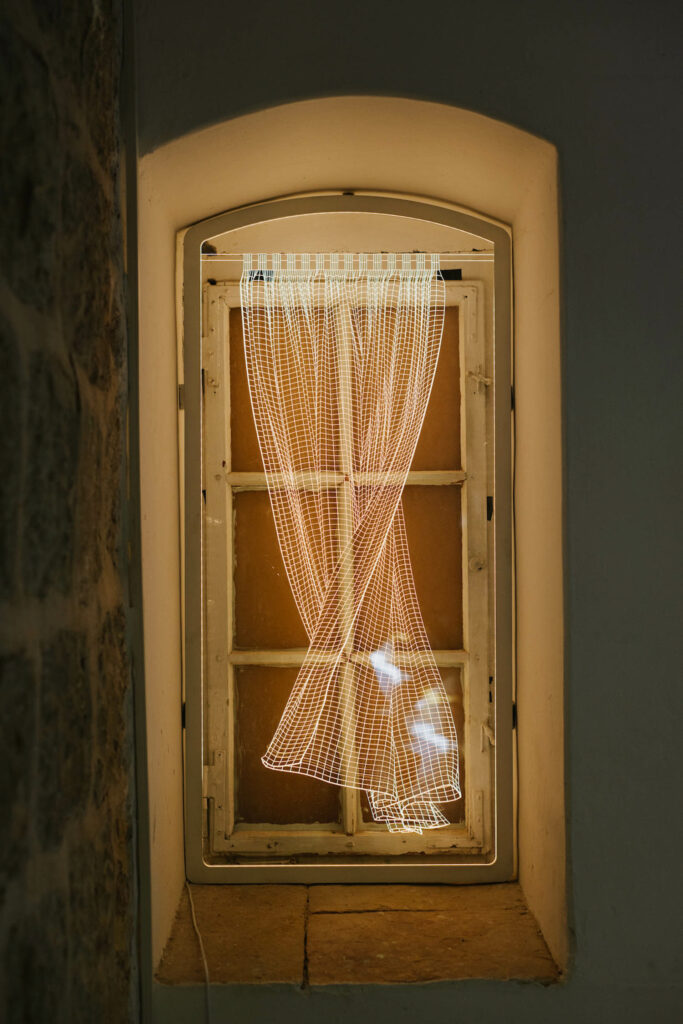 Russian nesting dolls or Matryoshka are usually kind and matronly in appearance. In a stark contrast, Matryoshka 2.0, a series of nesting dolls by Yonatan Levi, are armed and dangerous—or so it seems with the threatening weapons they point when open.
Concerned by drying lakes and melting icebergs, Idan Sidi and Gal Sharir conceived Fountain of Youth, a fountain made of transparent colored acrylic. Drawing attention to the search for life-giving water, the sculpture addresses a global water crisis.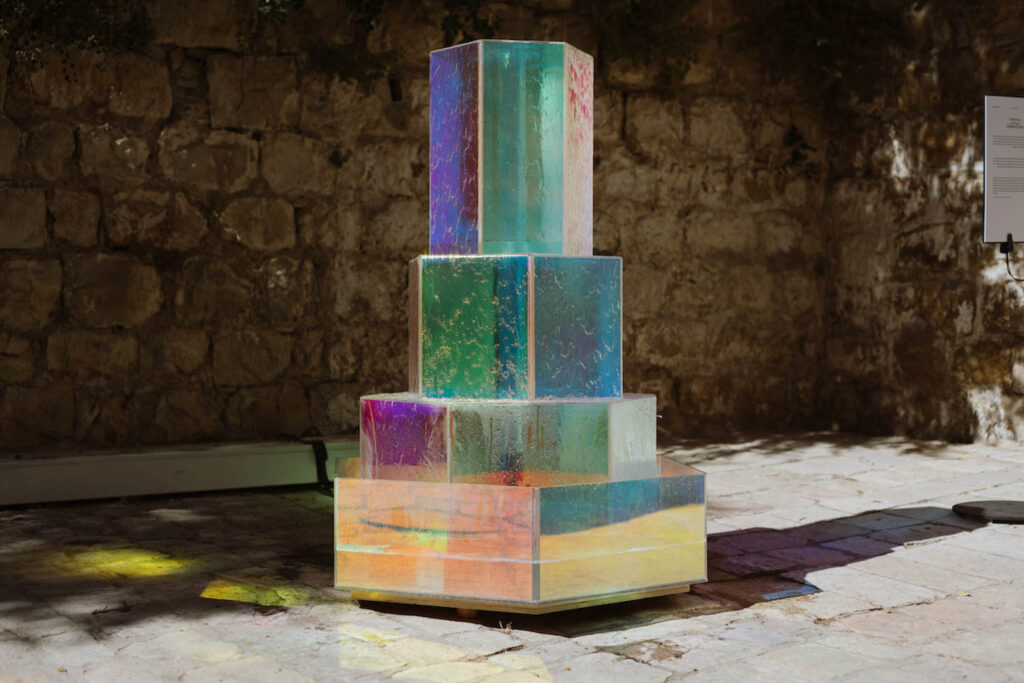 "Noy" by Reddish Studio highlights the popular trend of ornamental fish, revealing them as colorful abstract shapes moving in elegant glass vessels. The installation was included in the exhibition "Overstuffed," which explores the idea that mankind positions itself on top of—instead of a part of—nature.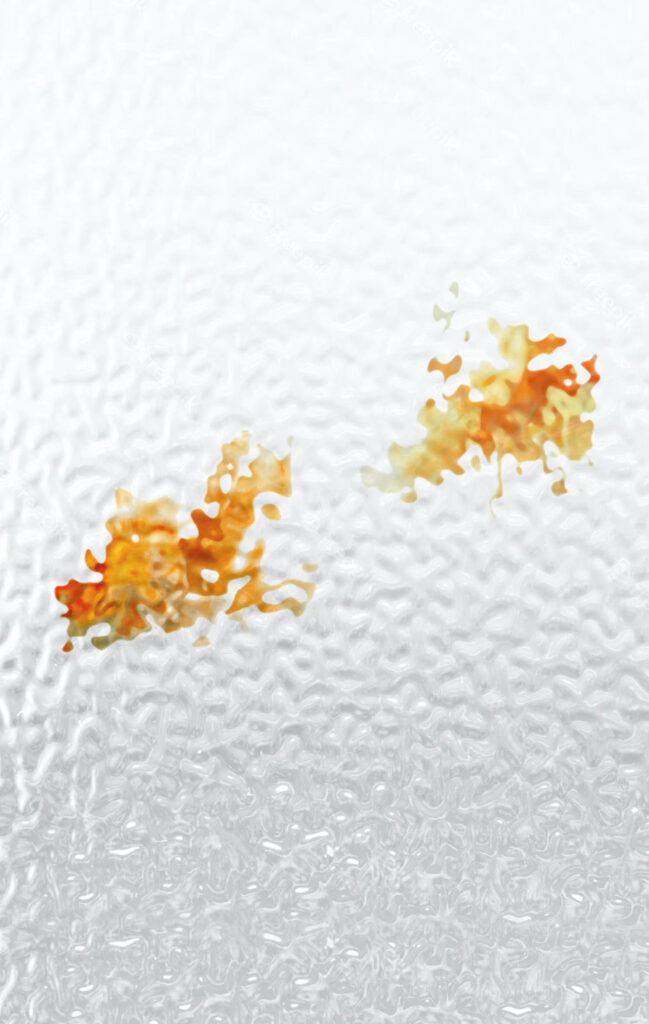 On a second level bridge, behind the rusty bars of a window, visitors discovered a poster by Rodion Raskolnikov of Russia's current president, Vladimir Putin, Should we view the world—and some of its horrors—in black and white, or in shades of grey? "Black and White. Now" by Typomania Project enlisted 24 designers, calligraphers and illustrators to react to this brief with a series of black and white posters presented on the Hansen House facade.