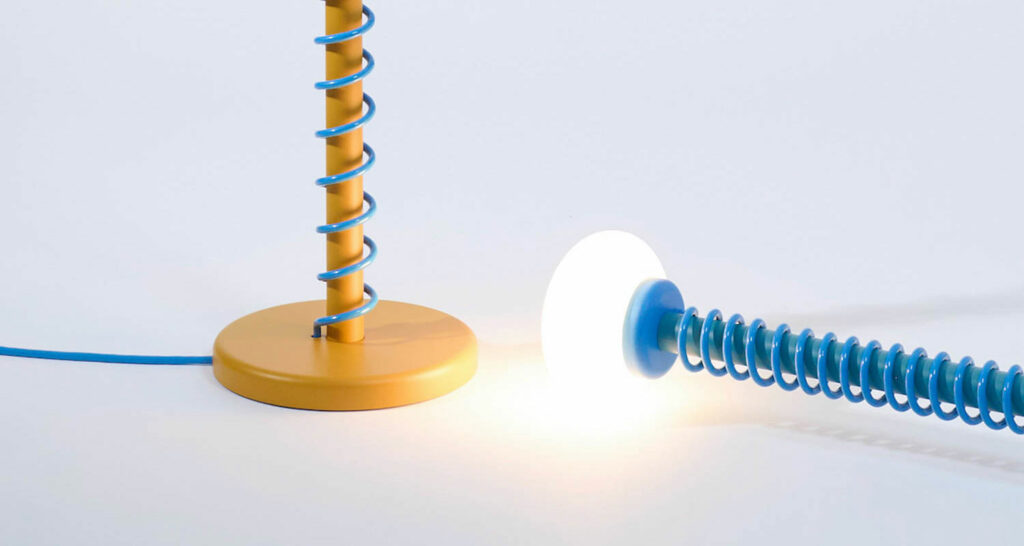 12 Young Designer Highlights from SaloneSatellite 2023
Clever innovation was spotted all over SaloneSatellite, Salone del Mobile's platform for young designers last week. From sustainable materials to unexpected forms, a fresh perspective dominated the 24th edition, which drew more than 550 rising stars under the age of 35 to the Fiera Milano exhibition center.
Each year, a few hot talents are singled out in the SaloneSatellite Awards program—and this year the top prize found new life for tatami mats. From a giant, free-standing lampshade to seemingly dripping cabinets and a compostable stool, here are 11 of our favorite finds.
SaloneSatellite Spotlights the Work of Young Designers
The graceful fold of a Japanese kimono sparked the idea for the aluminum and leather Haori by Atushi Shindo—after he found himself wearing the traditional garment for the first time. Inside the giant, free-standing lampshade, internal projection converts an LED light into a soft, soothing glow.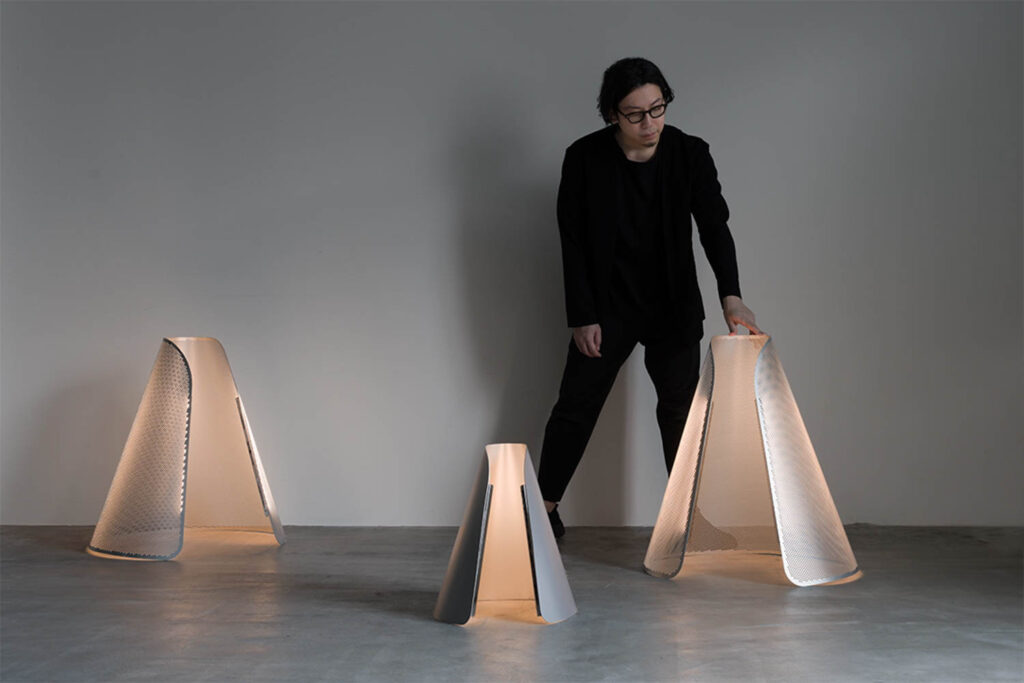 "I tried to find a sense of water," says Finnish master cabinetmaker and designer Antrei Hartikainen on his Melt furnishing collection, carved out of untreated Finnish pine. Paneling on the hand-built wall-mounted cabinets appears to be dripping—as if water is flowing along their surface or melting.
3. Tatami Refab Project by Honoka
Honoka nabbed first prize in the SaloneSatellite Awards. With the idea to repurpose tatami matts—frequently discarded in Japan—the Japanese design studio mixed them with biodegradable resin. With help from a large 3D printer, they then created a furniture collection. The transparency of knitted tatami-resin Sori and Muri, a pendant light and table, changes according to degree of light and angle viewed.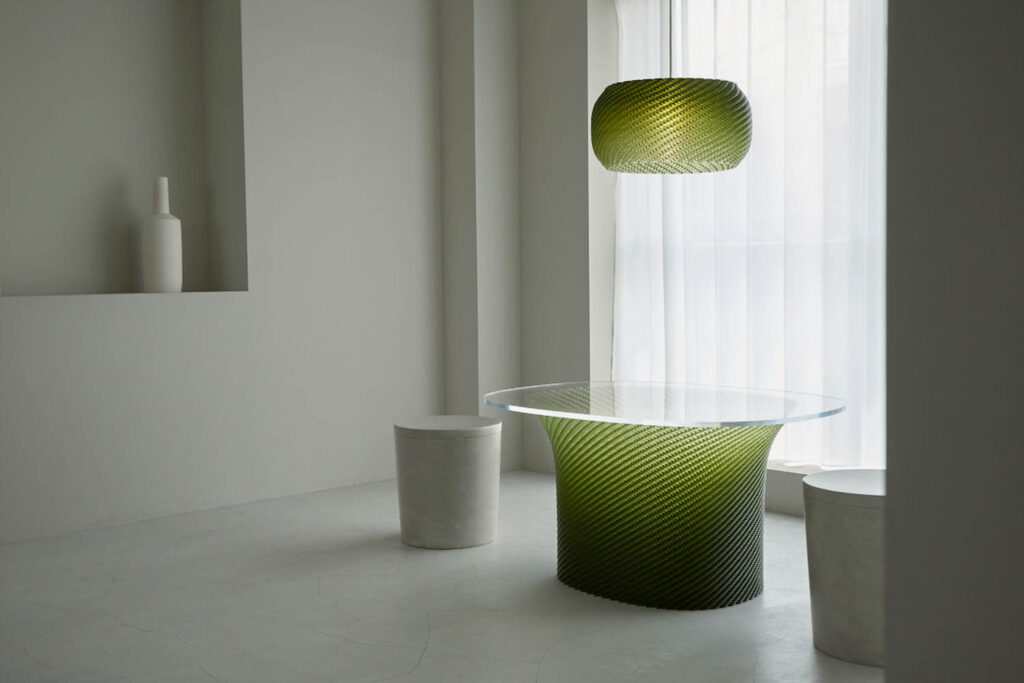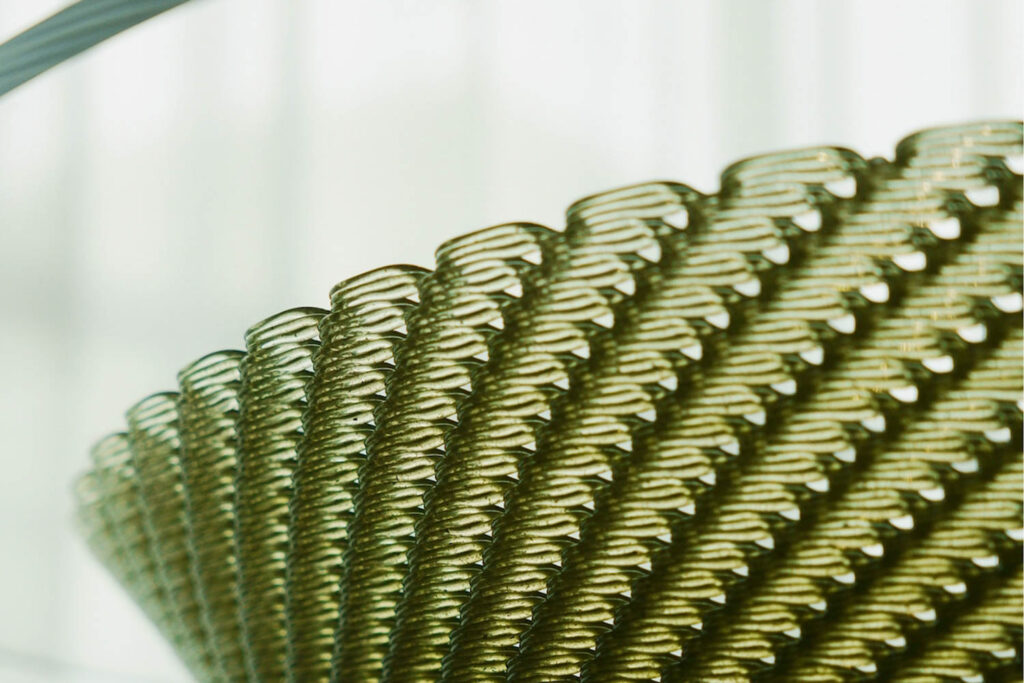 4. Shi-Tai by Hideyuki Yamazawa for Swarm
Decomposition and its method of breaking down particles into smaller pieces is behind the shape of the Shi-Tai, produced with help from Generative AI. Hideyuki Yamazawa mixed recycled cardboard and cushions with paper, resin, and green coloring to develop the chair's new material, based on the traditional Japanese lacquer technique called "Shi-Tai."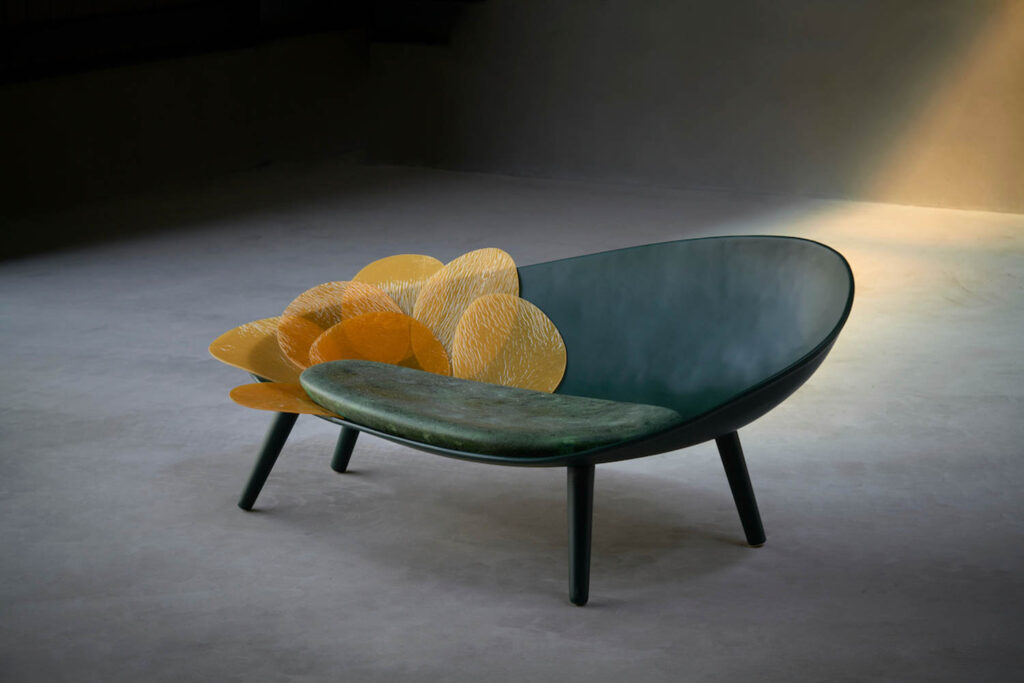 Diamond-shaped projections emerge from the sharply-angled solid brass OCTA Twin pendant light, which has an internal floating diffuser for its LED lights. "All of our lamps are inspired by crystal structures," explains co-founder Dominique Wolniewicz. "Working with rough and polished finishes—the exterior is always brushed and the interior polished–creates all of these reflections."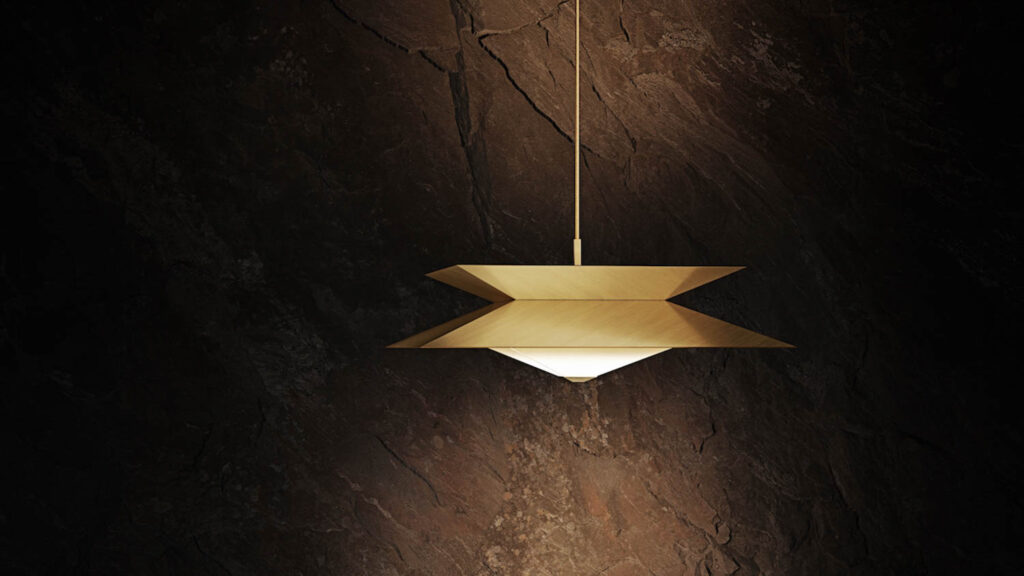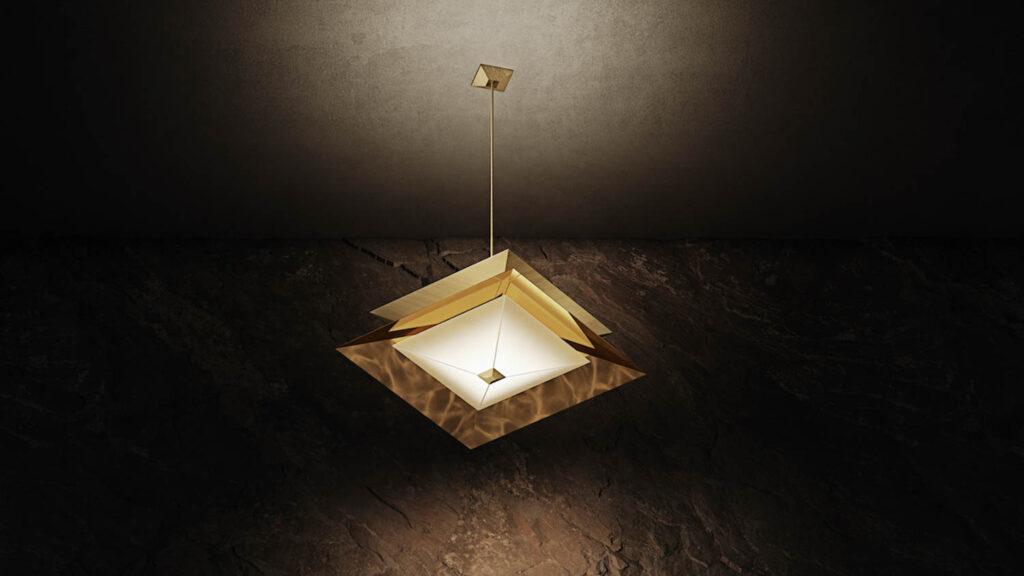 Gothic architecture and plastic stools that are widespread in Hong Kong are behind the curves and fluted legs of Triplex 4.0, Studio Ryte's fourth version of a stool and second prize winner in the SaloneSatellite Awards. The award also recognizes its new material, a biodegradable flax fiber. "Our intention was to create a furniture piece that is relatable, compact, and light enough for the nomadic lifestyle of the current era," says Dennis Cheung, founder of the studio.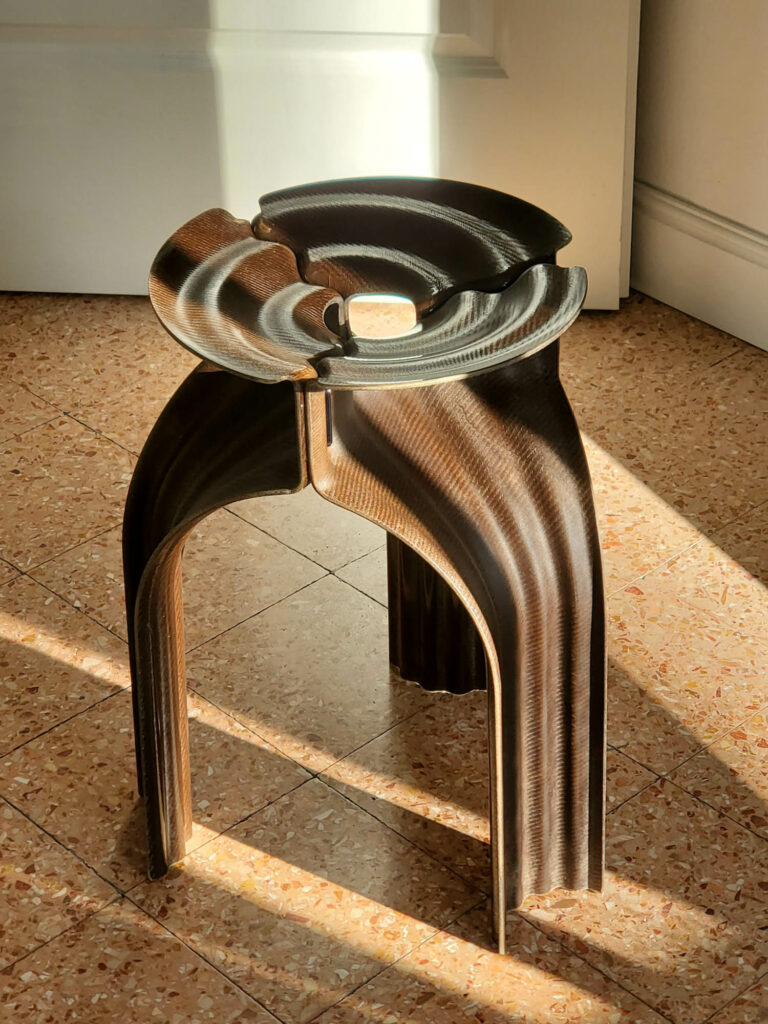 With Céleste, designer Laure Gremion transforms LED strip lighting found in the average hardware store into an elegant chandelier that's both modular and adaptable. Generally glued on a wall, the strips are instead looped on a steel frame. "LED strips are a fascinating material that is highly underestimated and only glued to rigid elements and most of the time hidden," says Gremion. "But using its flexibility is much more interesting! So I started experimenting with it and noticed that when I twisted it in loops, it was creating tension, and with weight, it could make a curved shape, and become a totally new material."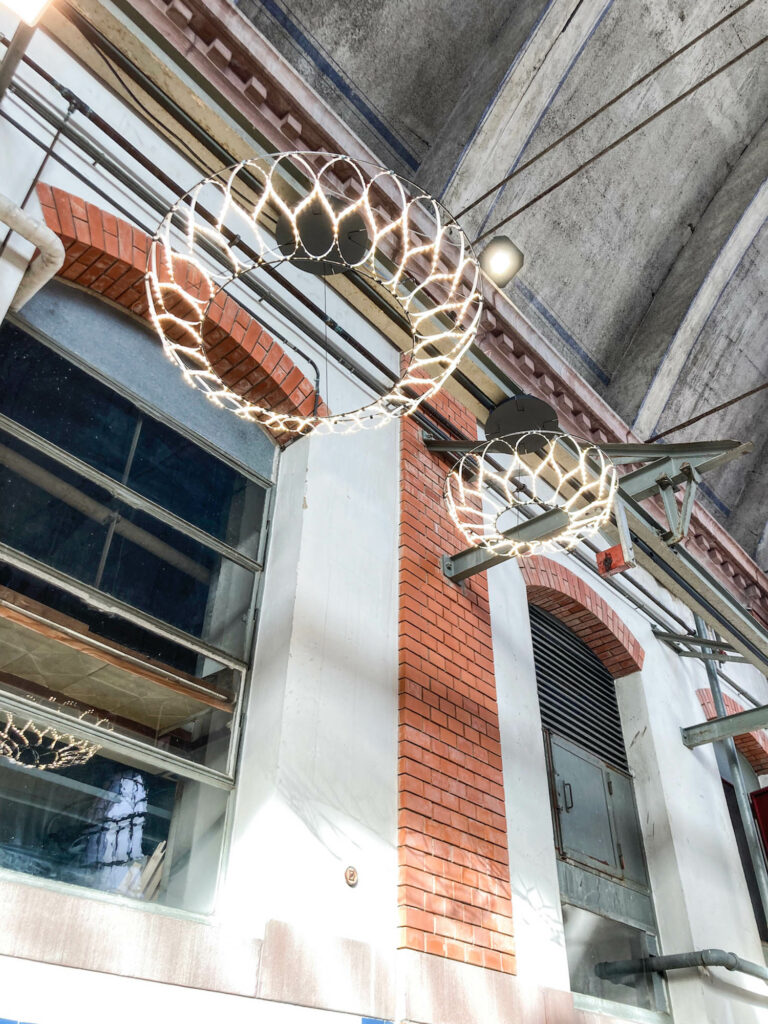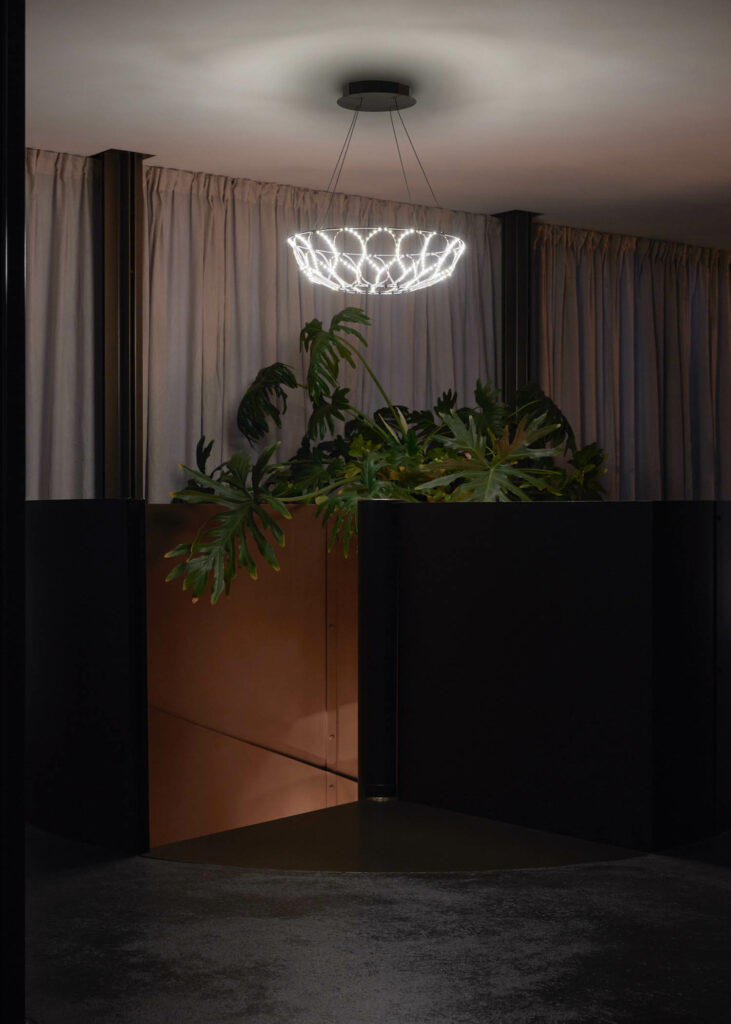 8. Sitzle by Yoomin Sun
Students of designer Stefan Diez—also a professor at the University of Applied Arts Vienna—had their work highlighted in the exhibition "Rethinking the Elements of Architecture." For those of us who gravitate towards heat sources in cold temperatures, Sitzle by Yoomin Sun is a set of couches with a built-in radiator. The seating concept, which brings the heat source to you, allows more efficient use of heat.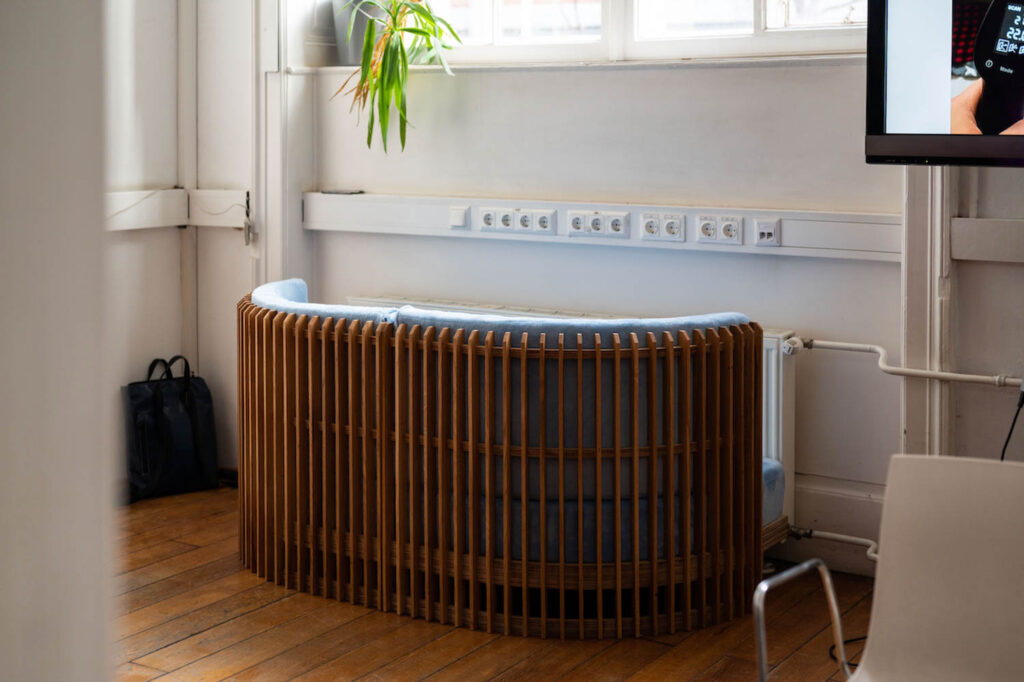 There's no need for solar panels to be ugly, according to Julian Paula and Paul Canfora, also featured in "Rethinking the Elements of Architecture." Made from transparent organic photovoltaic film, the design duo's Solarshades are both decorative and functional, with the capacity to tap energy from limited light.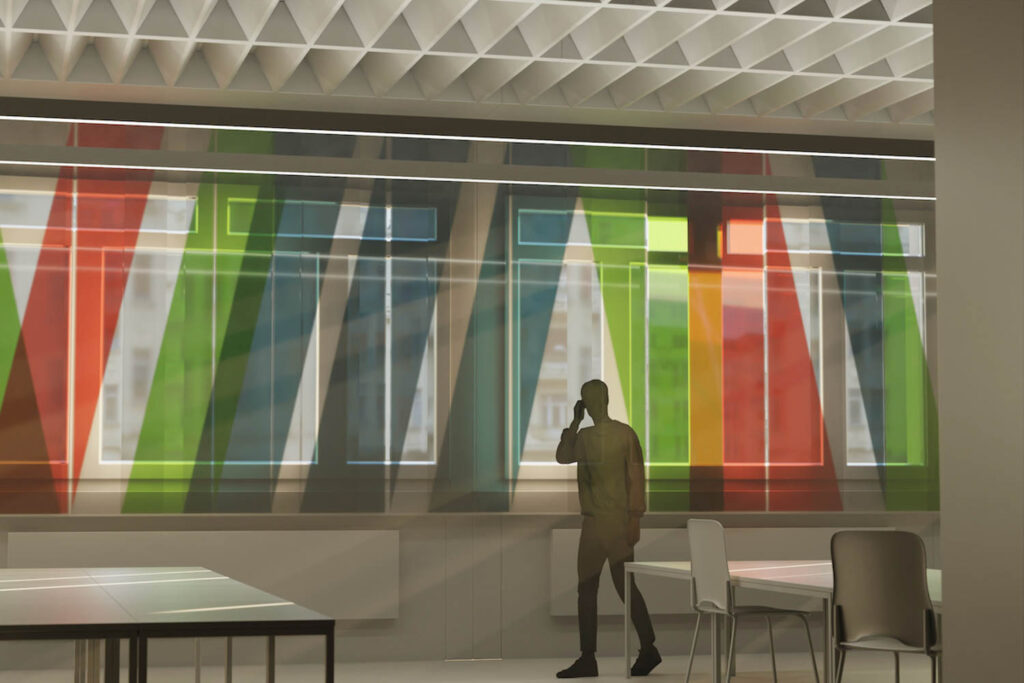 European sweaters available at African markets are the source of the yarn in hand-woven hanging bed Kudoazò by Ahokpe + Chatelin, a design studio working out of both Belgium and the West African nation of Benin. Each bed—crafted from polyester warp and mixed-fiber weft (wool, acrylic, and polyamide) and held up by steel rods—is unique. "We wanted to make objects created on Beninese territory for export while questioning the flow of materials," says Estelle Chatelin co-founder of Ahokpe + Chatelin, the third prize winner in the SaloneSatellite Awards.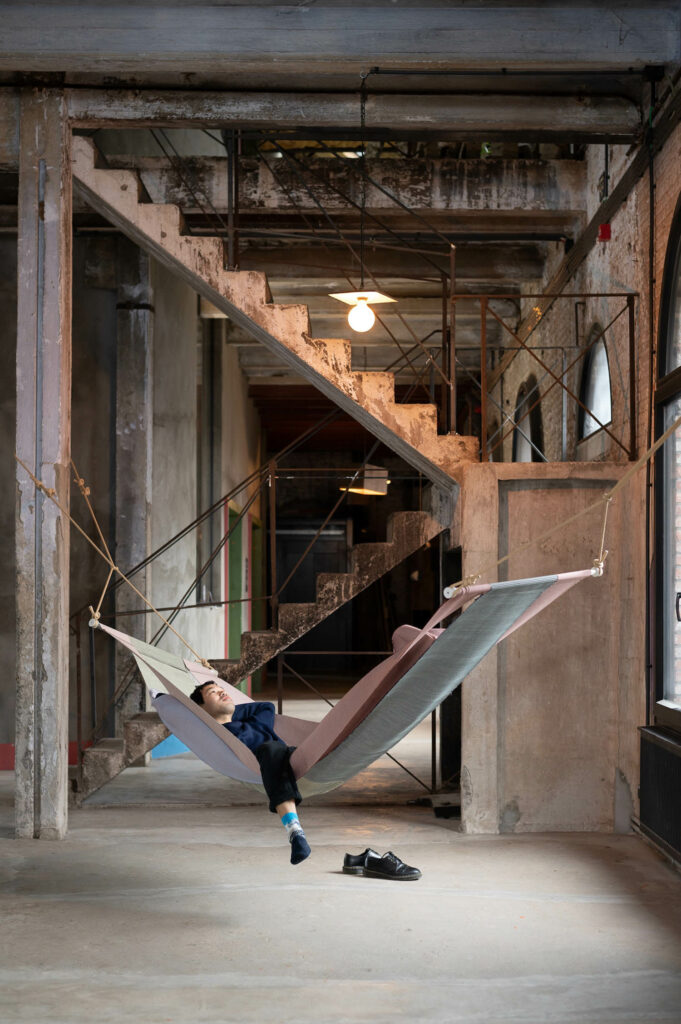 Pondering the idea that cords aren't usually the most attractive element of a luminaire, designer Peter Otto Vosding conceived floor and pendant light Spiral. The fixture's visible cable is wrapped around a height-adjustable aluminum pipe, and both draw the eye when rendered in vibrant hues.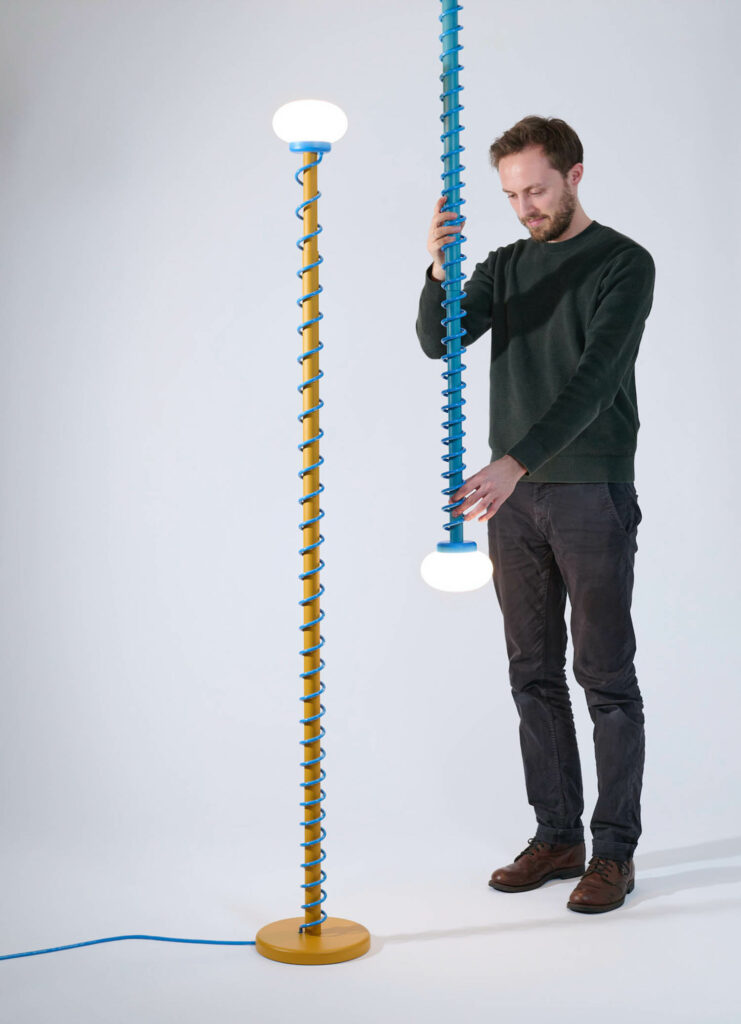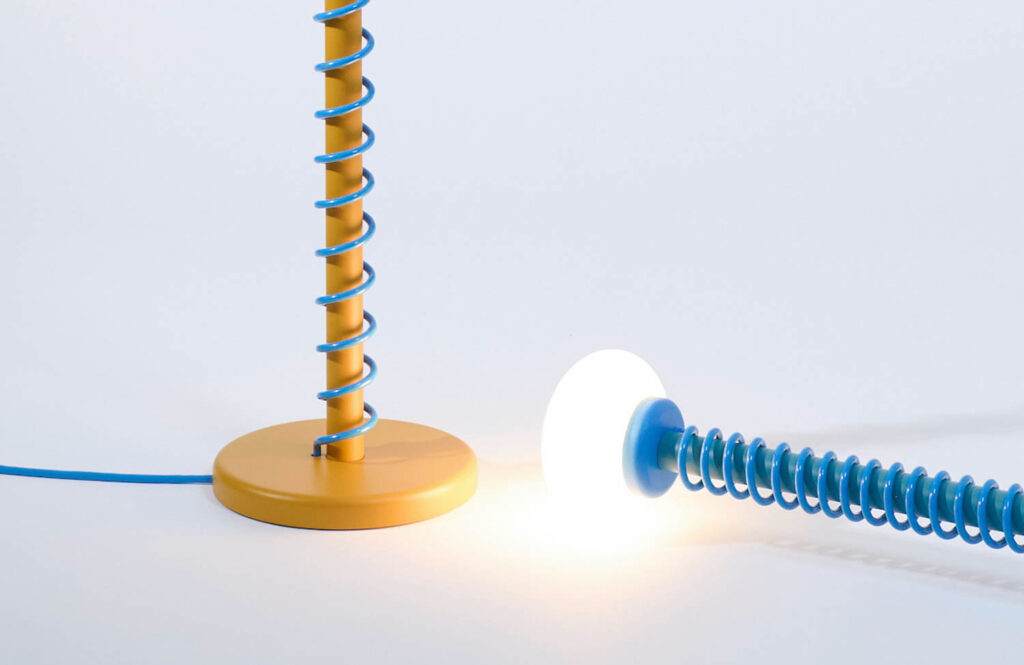 A seed traditionally sourced for red food coloring is the unexpected ingredient in Biodesign Biomaterial, an experimental biodegradable material by Gabriel Sotrati Angelo. A substitute for plastic, the material is created by mixing latex with annatto, or seeds of tropical America's achiote tree.