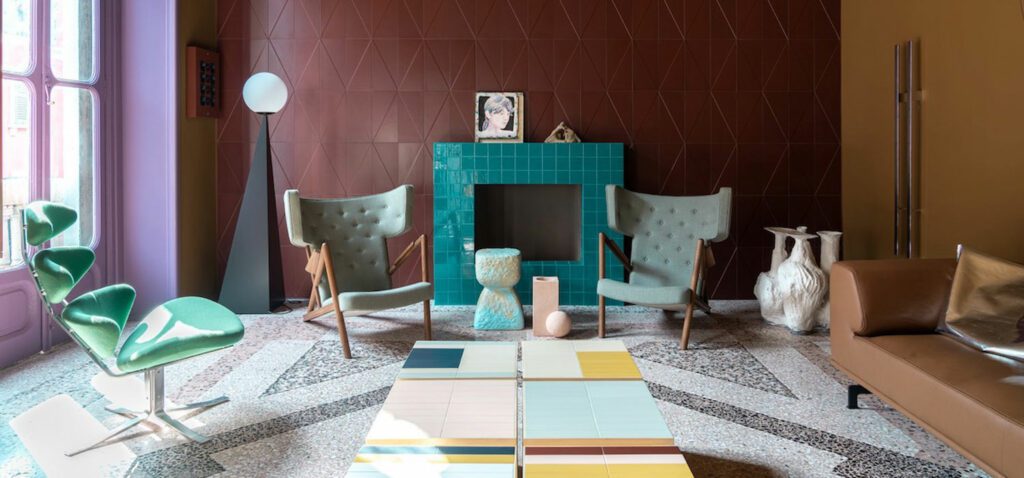 Highlights from the Milan Furniture Fair 2021
An online furniture launch can be…underwhelming, though the global pandemic forced more than a few. So for the global design community, seeking chemistry that only comes from in-person connection and live presentation, it was a summer of bated breath. Would the show go on?
Indeed, the Milan Furniture Fair finally returned this month, two and half years late, with wellness checkpoints at every entrance. At exhibition center Fiera Milano in Rho, Salone del Mobile was reborn as Supersalone. "Brands need space and possibility to express themselves, so that's something we're going back to," Salone del Mobile president Maria Porro told a crowd of journalists at the show (recently elected, she's the first woman in the position).
The numbers are in, and a total of 425 brands over four pavilions drew some 60,000 visitors to this year's edition. An event smaller in scale brought intimacy—and, judging from the talk around town, that's something many appreciated. On the trend front, it was no surprise that outdoor furnishings had their day in the sun, while notable offsite platforms included Alcova, which was bursting with exploratory furnishings.
From immersive apartment installations to newly launched products ranging from a colorful, transparent glass chair that appears to stand without a screw, mount, or reinforcement in sight to a lamp that's a plant and a candleholder paying tribute to London's industrial skyline, here are 14 highlights from the Milan Furniture Fair 2021.
Milan Furniture Fair 2021 Highlights
Ombré Glass 02 by Germans Ermičs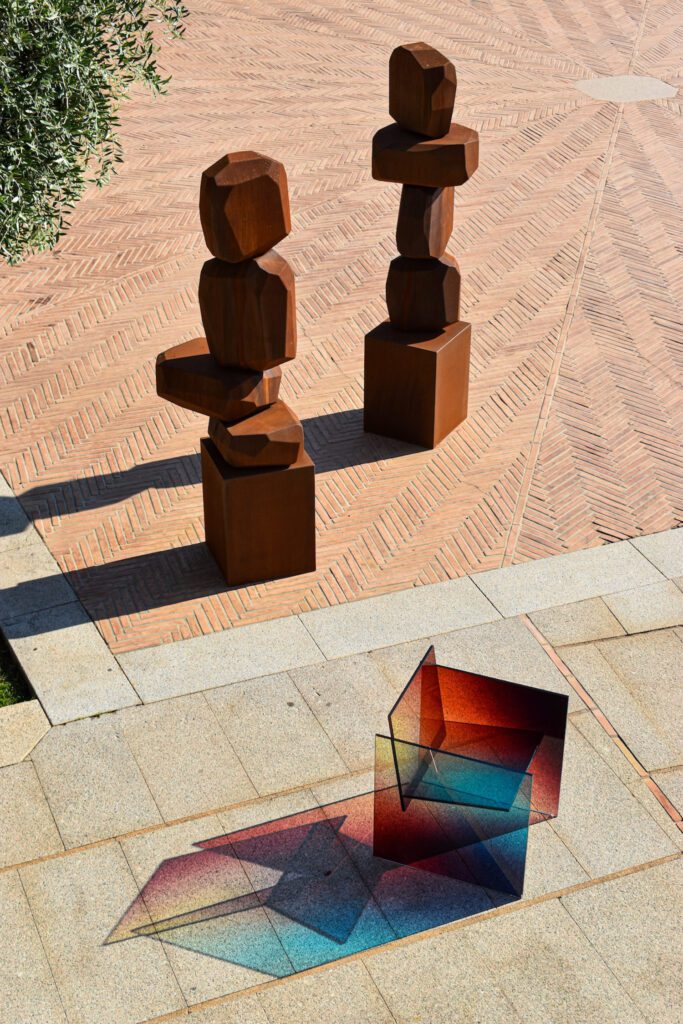 Employing Photobond 100, a ground-breaking glass bonding adhesive, Germans Ermičs was able to join six sheets of glass without screws, mounts, or reinforcements for his limited-edition Ombré Glass 02. A play on transparency, shadow, and hue that seems to stand effortlessly, the chair was shown at Rossana Orlandi Gallery.
Halo Leaf by Mandalaki Studio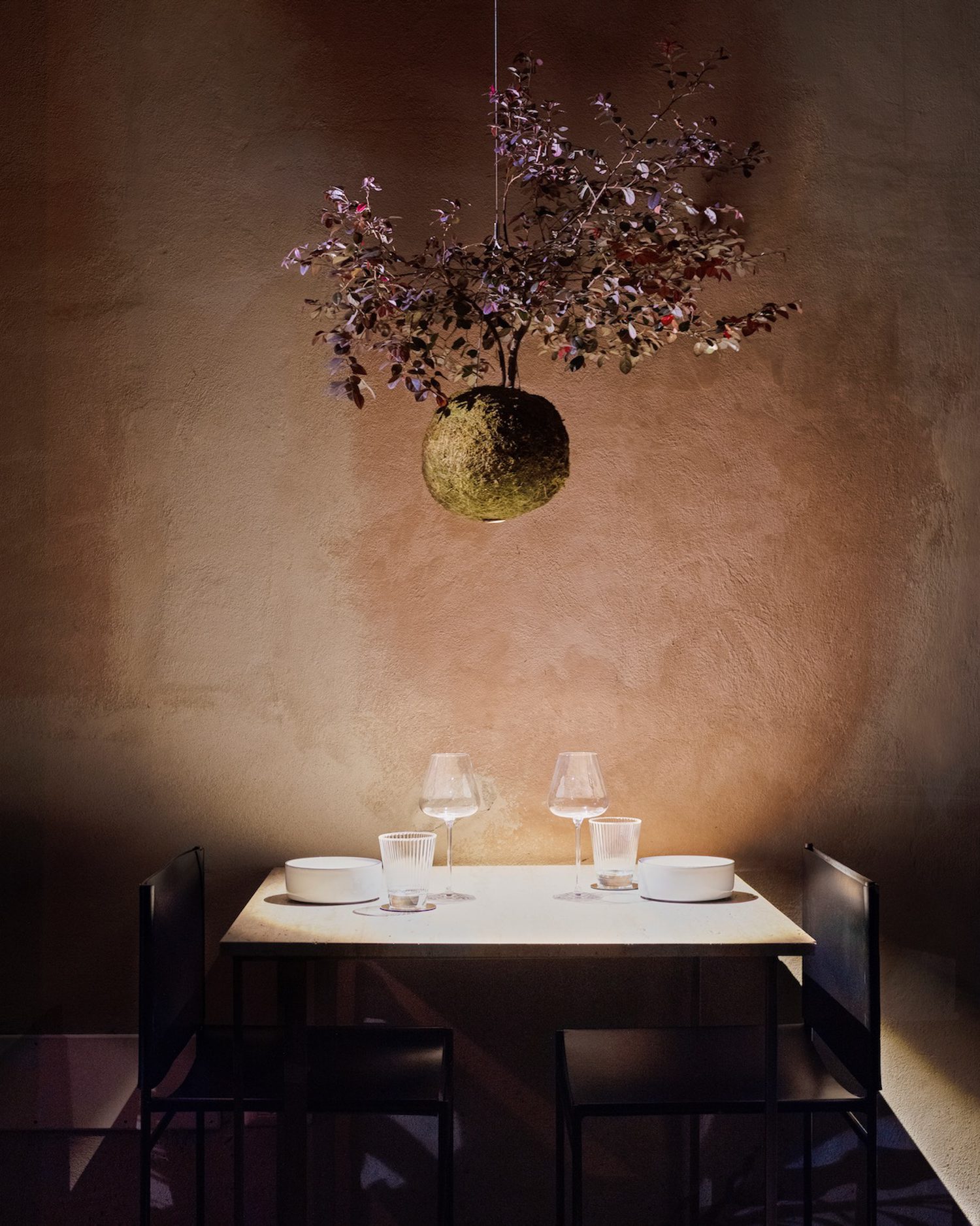 Flora—specifically a Bonsai di Ficus Retusa—is integrated into the hand-assembled, rechargeable battery-powered, aluminum, brass, and iron Halo Leaf lamp by Mandalaki Studio, shown at Rossana Orlandi Gallery. With the living pendant light, the design studio aims to draw nature into an urban landscape.
Bibendum by Lucy Kurrein for Molinari Design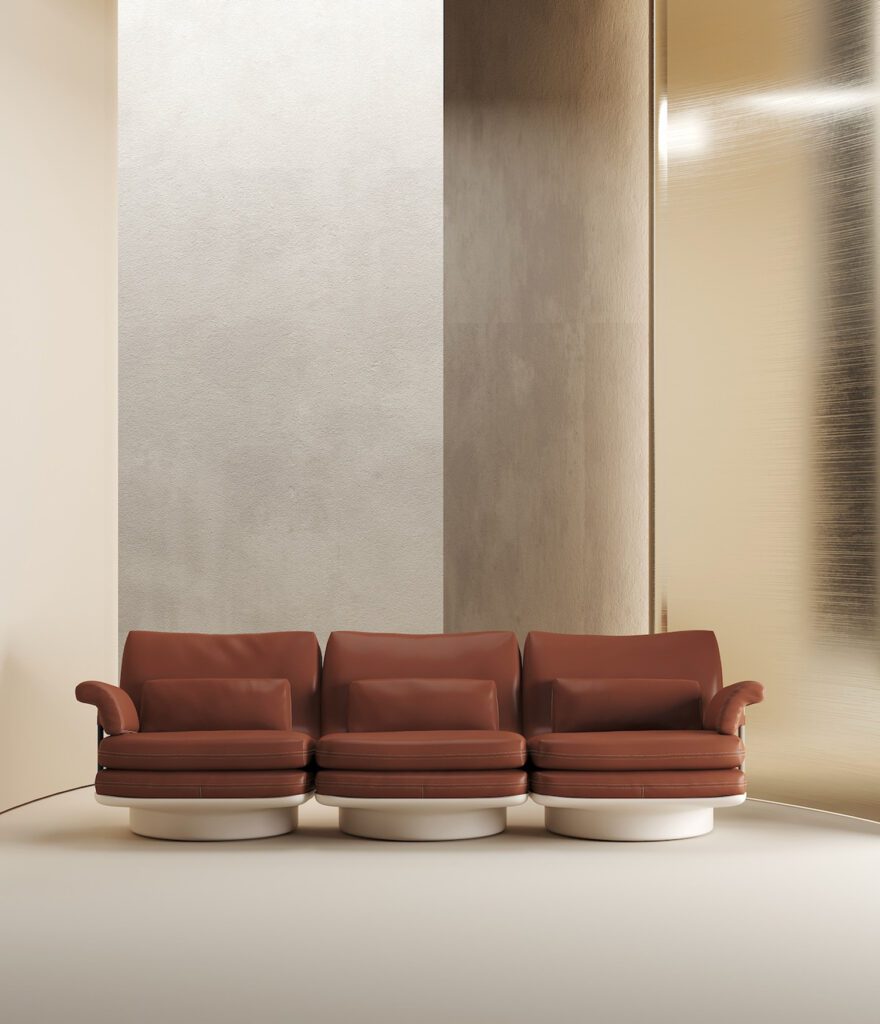 Each seat is a standalone armchair in the modular Bibendum sofa by Lucy Kurrein for Molinari Design—allowing endless configurations. Each also has a round base, for both a 1960s aesthetic and swivel power.
Geometric by Alain Gilles for Bonaldo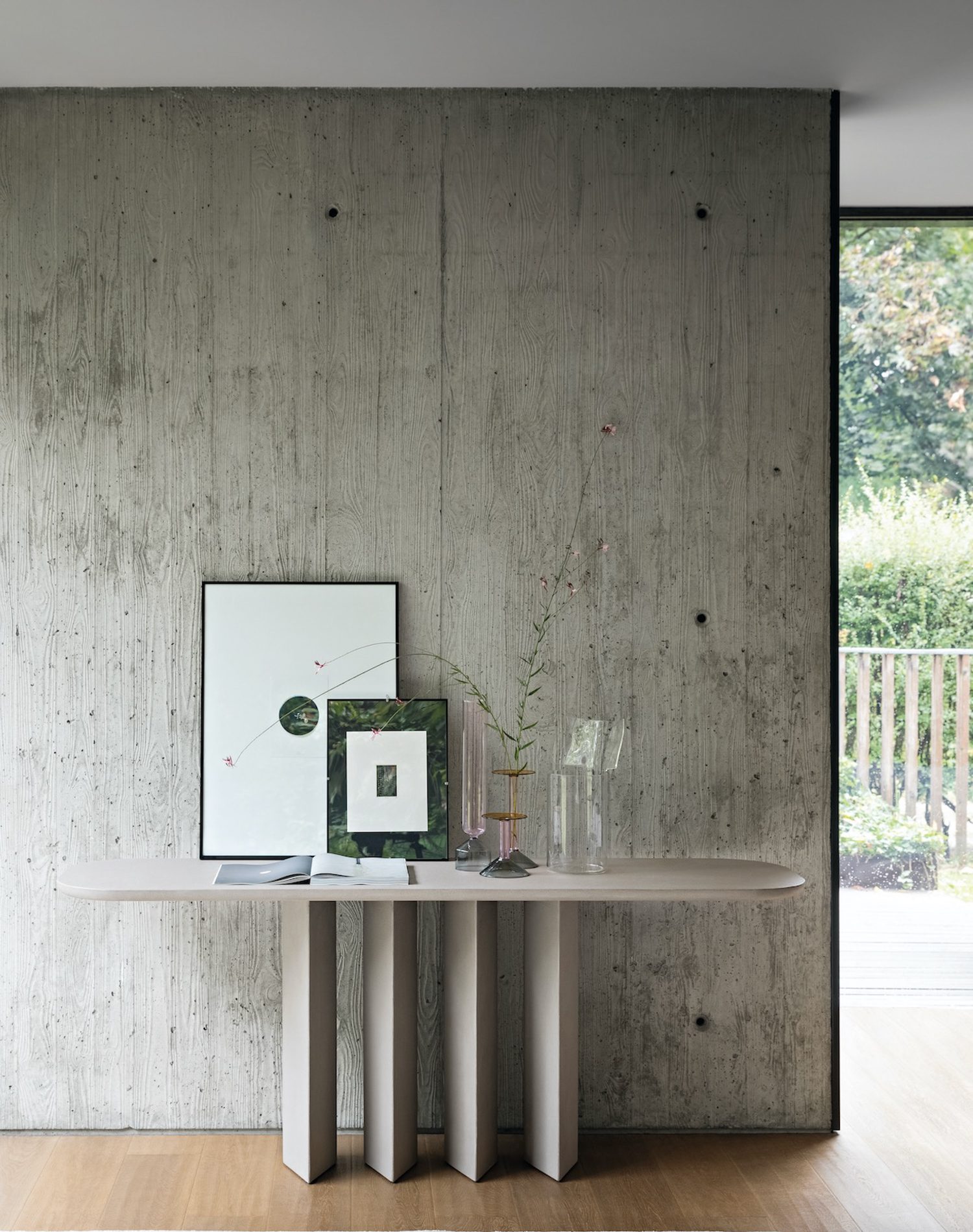 A play on perception, the Geometric console by Alain Gilles for Bonaldo presents lean or wide metal legs, depending on angle. It's available in four sizes, with a top of wood, ceramic, or MDF-treated to look like clay.
Stack by Philippe Malouin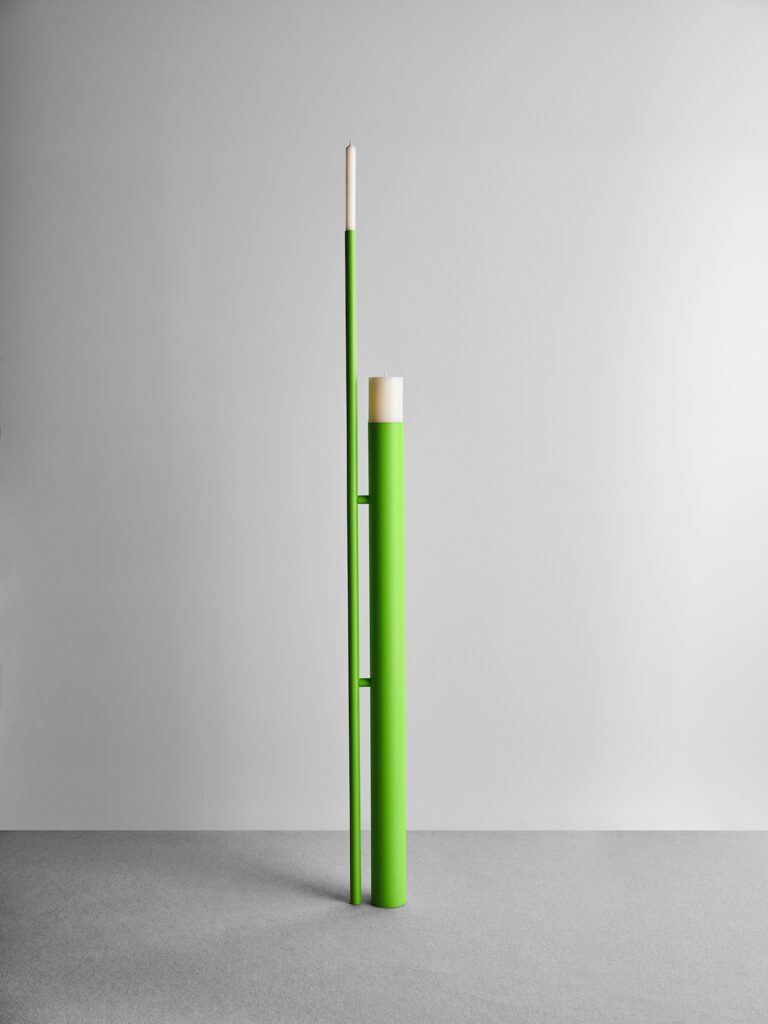 London's skyline, with its chimneys and industrial towers, sparked the idea for Stack by Philippe Malouin. The candleholder—and nine others—was exhibited in "A Flame for Research," an exhibition curated by Federica Sala and sponsored by brand Mingardo at architectural studio Offstage (which designed the exhibition). The candleholders were then auctioned off in collaboration with Christie's Italia. All proceeds will be donated to the Mario Negri Pharmacological Research Institute IRCCS.
Sillage by Studio Mumbai for Hermès
Luxury fashion house Hermès is behind what was perhaps the most show-stopping installation this year: five hand-painted, one-story house-like structures on a pink sand beach. Designed by architect and designer Charlotte Macaux Perelman, founder of Studio CMP, the structures contained the Hermès 2021-2022 home collection, including the Sillage armchair by Studio Mumbai. Varnished and hand-painted, the FSC-certified beech and cellulose microfiber-coated armchair has cashmere cushions.
Ceramics by Pierre Marie Agin for Bitossi Ceramiche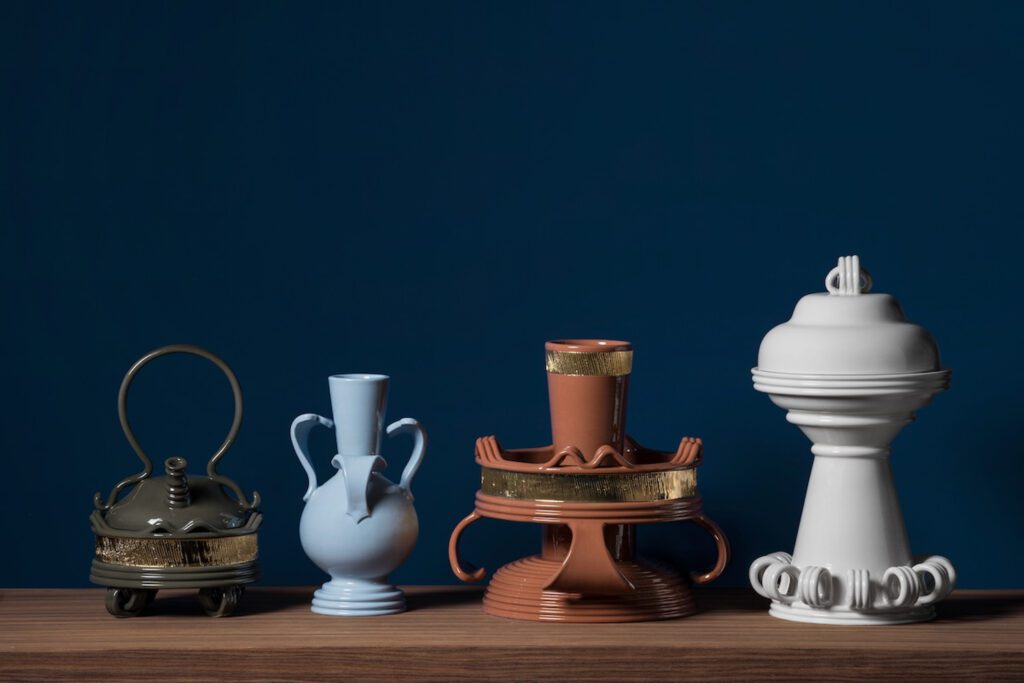 French designer Pierre Marie Agin dived deep into the archives of an Italian ceramic factory for his collection of ceramic objects for Bitossi Ceramiche, available through e-commerce design platform Lustare. Shown here is Black Teapot, Flower Vase, Ceramic Centerpiece, and Biscuit Vase With Lid.
Costume by Stefan Diez for Magis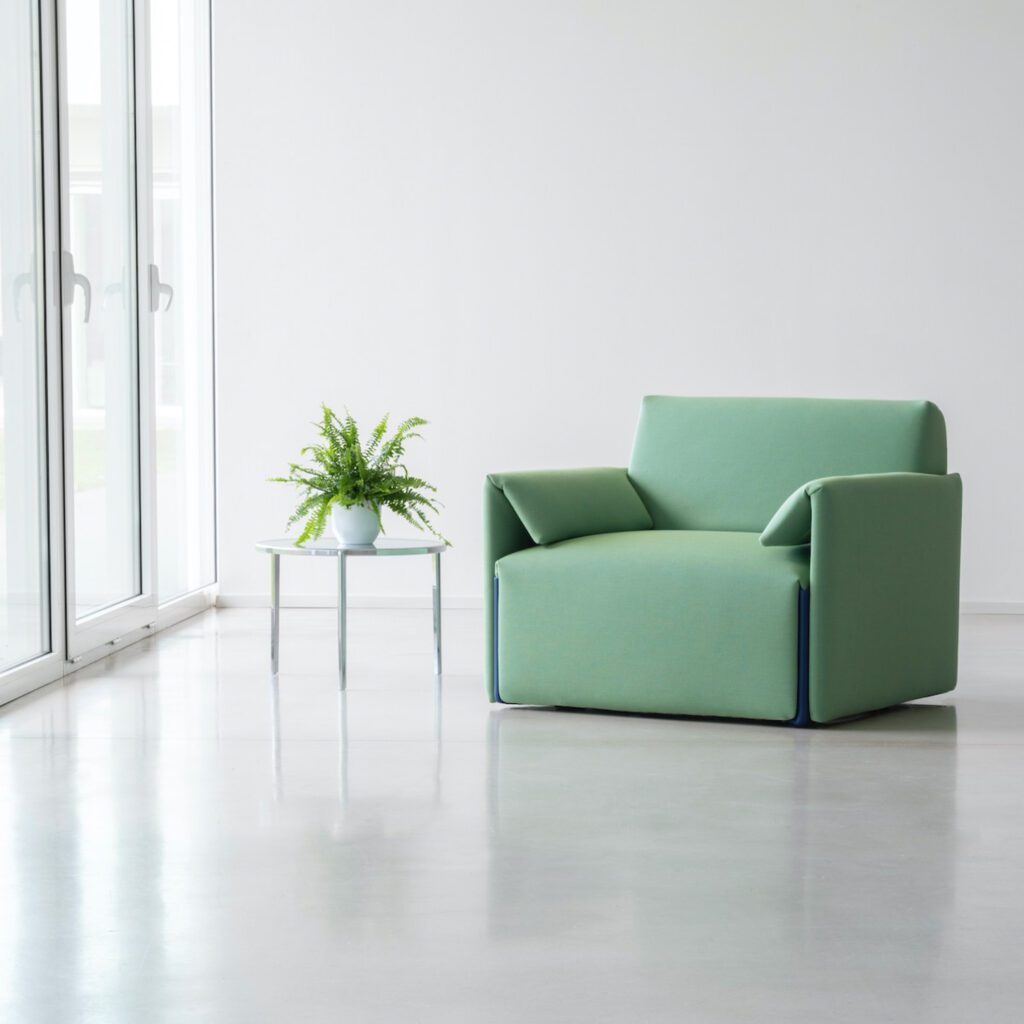 A sofa body formed from recycled and recyclable plastic and easily replaceable foam inserts and cover ease the impact and lifecycle of the Costume sofa by Stefan Diez for Magis. The modular design can stand alone, join more units, or extend with armrests. It's shown here upholstered in Uniform Melange 0963, a wool-blend by Febrik for Kvadrat.
Nina & Beni by Andrés Mariño Maza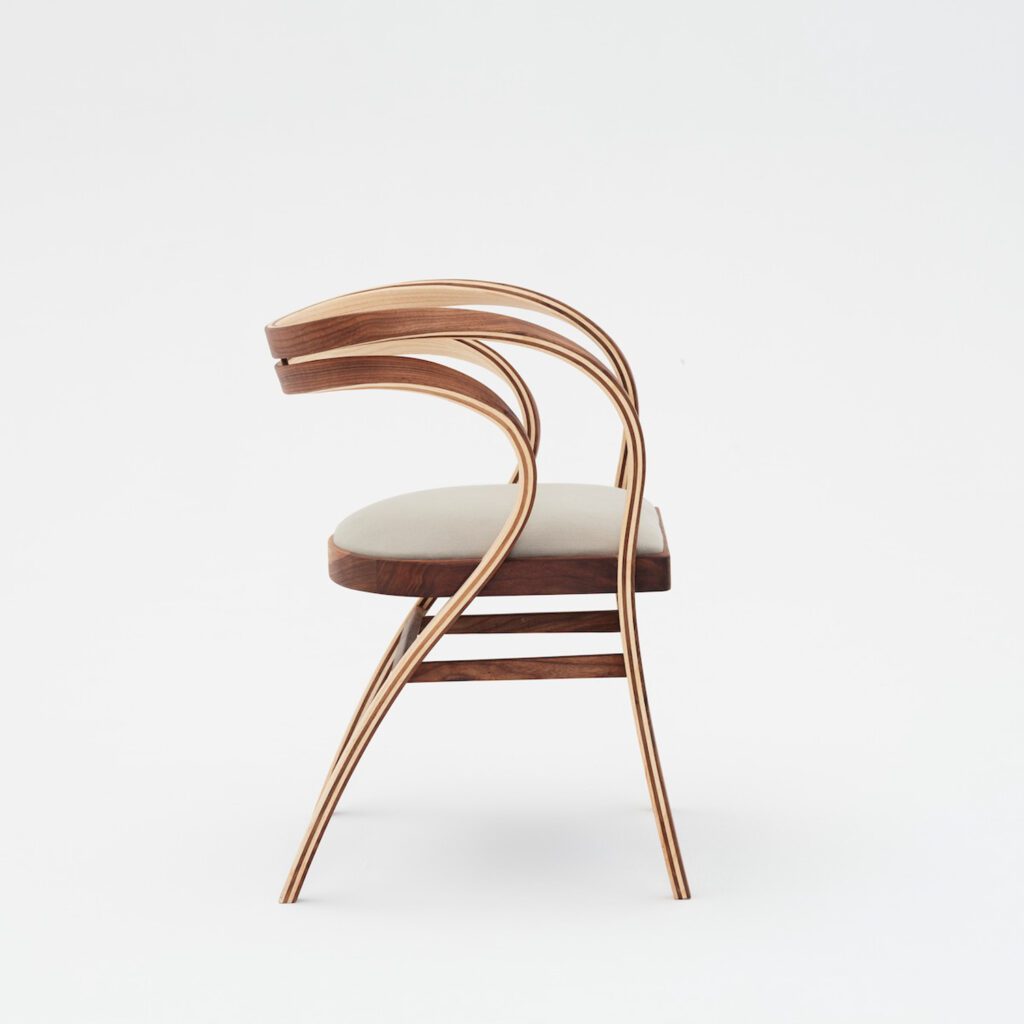 Andrés Mariño Maza turned to the material-saving construction techniques used in boat building and CNC molds for his hand-crafted Nina & Beni chair, highlighted at Rossana Orlandi Gallery. Armrests, back, and legs are just two steam-bent strips of wood (ash, cherry, oak, or walnut).
"I'll Be Your Mirror" by H+O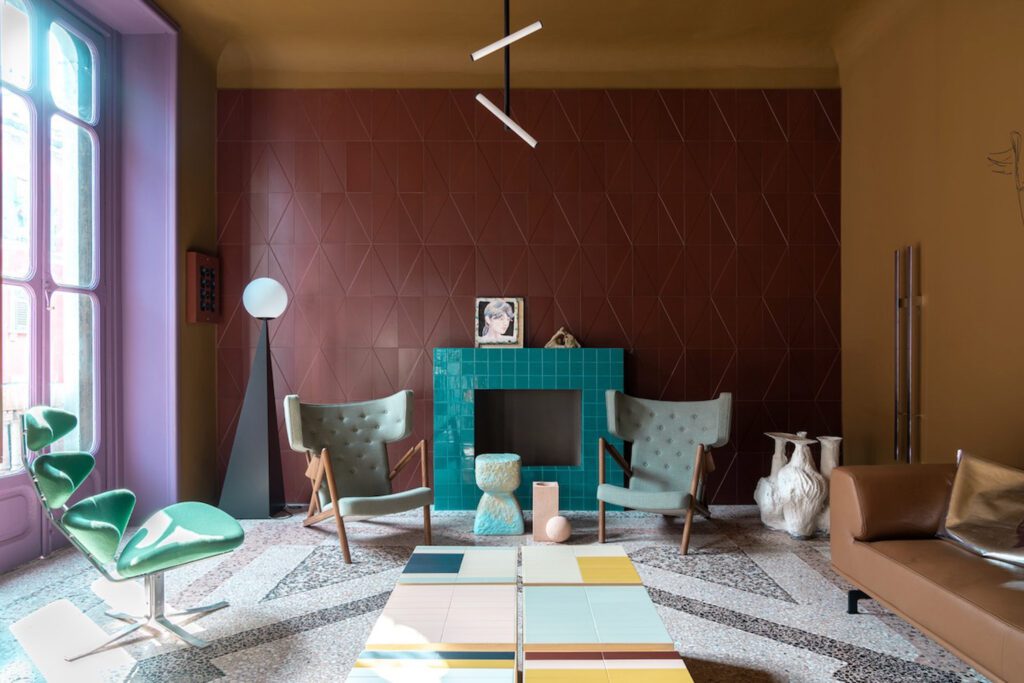 Ossino is also behind a second installation. With her experimental creative platform H+O—and fellow creative director and co-founder Josephine Akvama Hoffmeyer—she curated apartment experience "I'll Be Your Mirror." In this living room vignette, Albalat (center) by H + O is a collection of custom maple and tile coffee and bedside tables. The tiles on the tables are also by H + O while those around the fireplace (and the paint) is by File Under Pop. House of Finn Juhl, Atelier Aretti, Tubes, and Fredericia Furniture are among other manufacturers and design studios represented in the interior.
100 by Bocci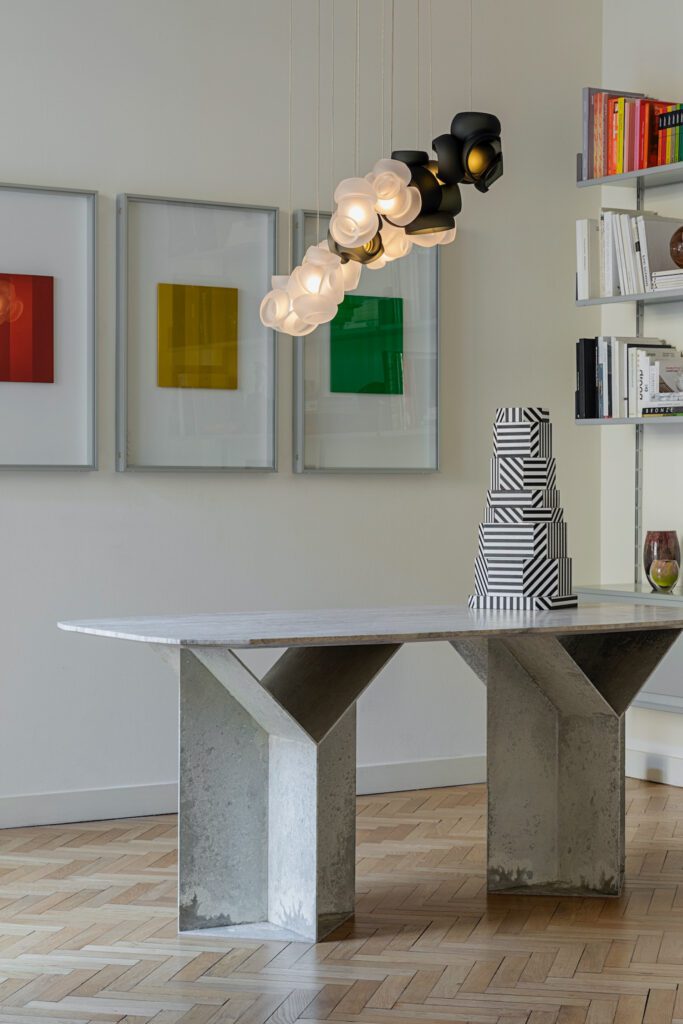 Unveiled in Carwan Gallery founder Nicolas Bellavance-Lecompte's private apartment, the 100 pendant light by Bocci is the result of experimental smashing of molten glass bubbles—an act that manifests unpredictable forms.
Serenissimo by Lella and Massimo Vignelli and David Law for Acerbis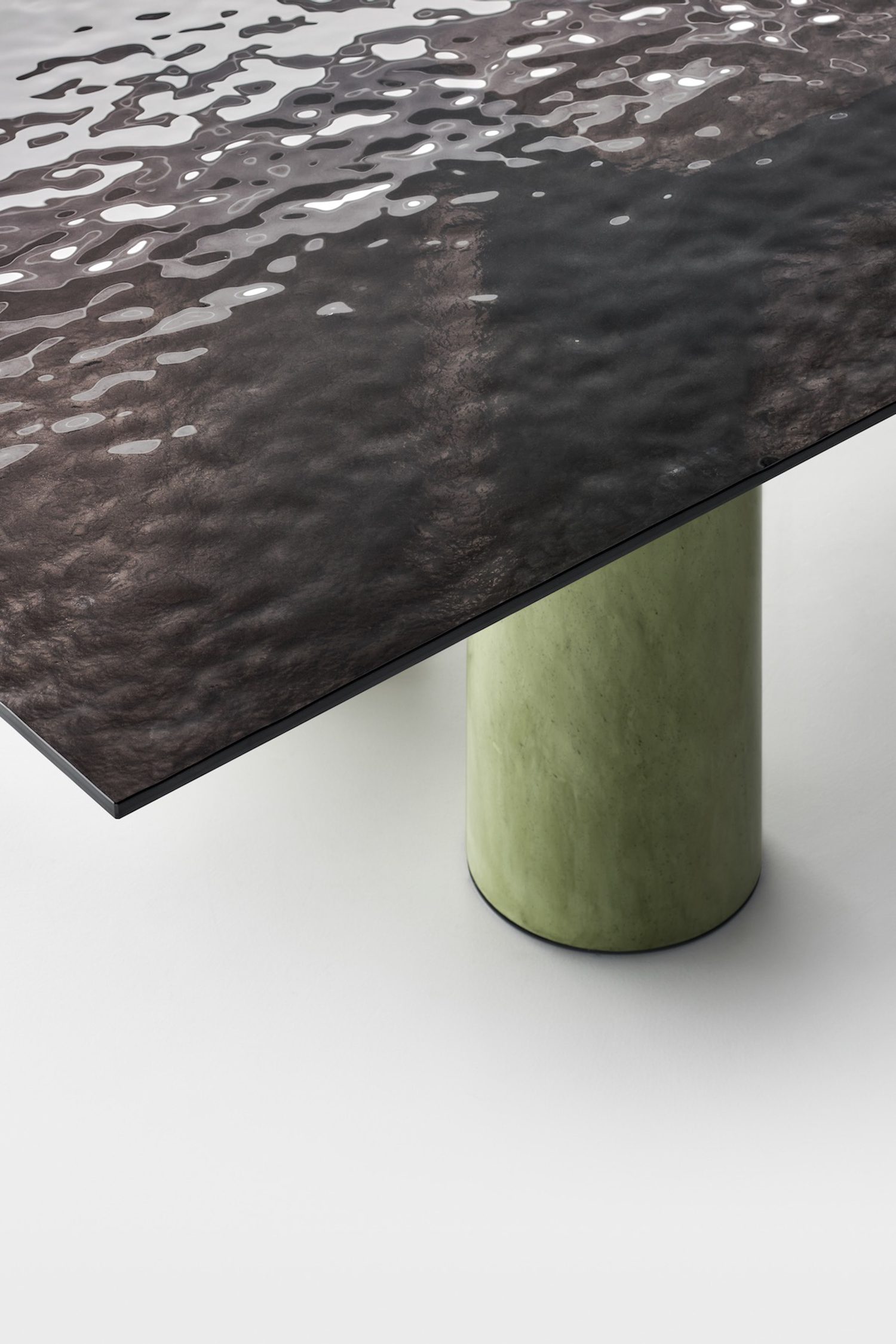 A plane of glass rests on four tubular columns and stretches nearly 10 feet – this striking composition, offered in various states of transparency, defines the Serenissimo table, designed by Lella and Massimo Vignelli and David Law in 1985. Previously only available at auction houses, the table returns as a launch from the archives of brand Acerbis, recently purchased by manufacturer MDF Italia.
Jim by Patrick Norguet for Lodes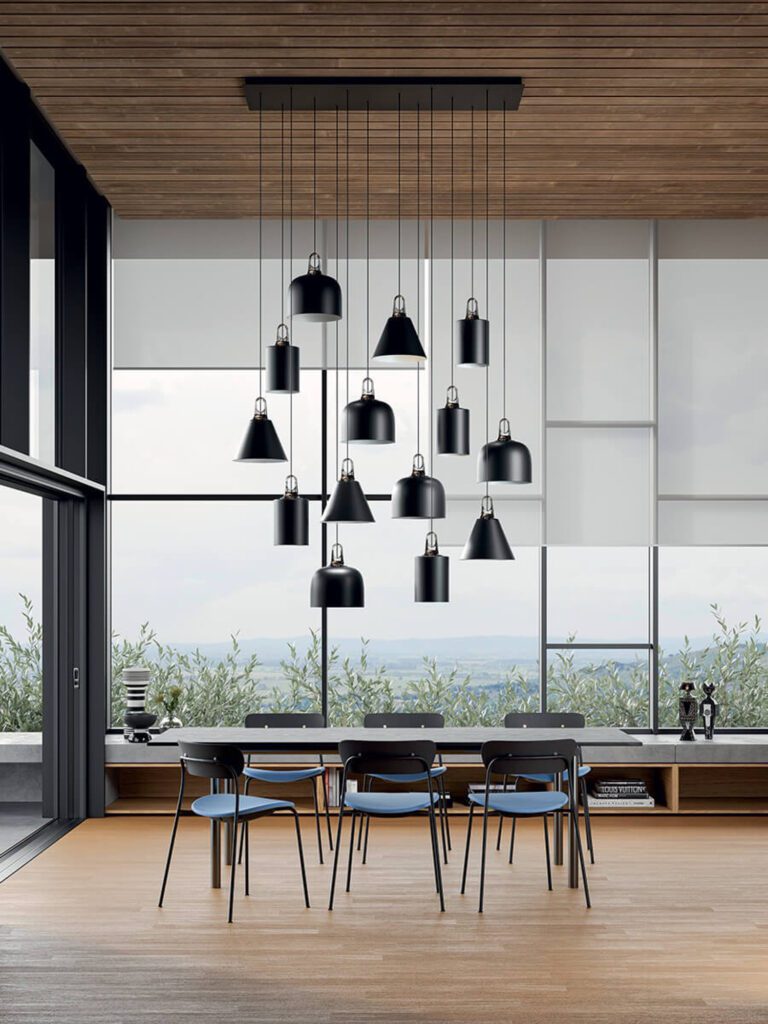 "We developed four shapes but then you can customize," says designer Patrick Norguet on Jim, his suspension lamp for Lodes. In addition to four different finishes for the dome, cylinder, cone, and bell shades, three different hues are offered for the transparent tinted methacrylate suspension element—meaning a number of combinations.
Lemni by Marco Lavit for Living Divani
Lean and eye-catching, the Lemni armchair by Marco Lavit for Living Divani is described by the designer as a "continuous gesture." Within its simple form of leather and black-painted tubular steel centered by a backrest roll cushion, the sculptural easy chair has a curve that repeats itself.