Interface Names Chip DeGrace Executive Creative Director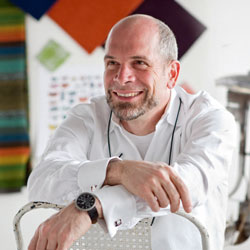 This newly created position marks a pivotal point in the modular carpet giant's storied history.
Chip DeGrace has been the creative force behind

Interface

for years, serving until recently as the Atlanta-based company's senior vice president of creative. So it should come as no surprise that when Interface chairman and CEO Dan Hendrix needed to choose someone to fill the newly created position of executive creative director of the world's largest carpet tile company, he set his sights on DeGrace.
DeGrace began working at Interface in 1990, when he began by working closely with designers. Over the years he worked his way up to creative director of FLOR, the company's home carpeting brand, where he played a key role in FLOR's 2003 launch. In his new position, he'll continue to oversee creative at FLOR in addition to taking on a larger role with its parent company.
Having the ability to take the story of Interface culture and share it with customers has always been an important part of DeGrace's job. "We may make carpet tile, but we sell design," he says.
Prior to joing Interface, DeGrace worked as a commercial interior designer at

Integrated Services Design (ISD)

and

The Environments Group

in Chicago. His time at both companies helped solidify his belief that sustainable goods can be both stylish and safe for the environment.
"Sustainability is a part of everything we do at Interface," DeGrace says. "It's so natural and is how the company approaches every issue."
Interface Inc. began from the ground up in 1973 and has been a leader in the carpet industry for its ability to design and manufacture carpet designs that are both aesthetically pleasing and environmentally responsible.