Interior Design and the IIDA's DesignUnity Initiative Explores How to Build and Sustain Diversity
Last December, Interior Design and the IIDA cohosted a panel discussion to inaugurate DesignUnity, a partnership championing racial equity, diversity, and inclusion in our industry. The conversation about how to build and sustain diversity is ongoing and continues here, with a closer look at top firms' efforts and initiatives.
Constructive critique, self-examination, problem-solving, and constant assessment and reevaluation are inherent to the interior design process, a sort of operating system for interfacing with clients. Increasingly, though, firms are using those same tools on themselves—in an effort to dismantle systemic racism both within the industry and beyond. To wit: HOK, which founded its diversity and inclusion initiative in 2008, conducts a biannual survey of its staff to temperature-check its handling of DEI issues. Huntsman Architectural Group and CannonDesign have educated their employees on topics such as unconscious bias and microaggressions. Perkins and Will has unrolled tools such as a firm-wide pay-equity analysis to track progress. And numerous firms have solicited outside guidance for a clearer-eyed perspective on their approaches. Studios Architecture, for instance, partnered with Coach Diversity Institute to monitor and evaluate the impact of its commitment to equity and inclusion as well as to craft a bespoke training program for its staff. ZGF Architects has committed to the International Living Future Institute Just label, which helps create more social and equitable policies to improve demographics, equity, and employee engagement.
Many have focused energy on scholarships, mentorship, and breaking down barriers to entry in the profession that bedevil minority groups. "Creating a diverse pipeline of talent is our industry's greatest challenge," says James Woolum, a partner at ZGF, which has teamed with historically Black colleges and universities to fill internships. "Getting individuals interested in design at an early age and creating long-lasting pathways are keys to diversifying the industry in a meaningful and enduring way—issues that aren't easy to solve." Leveraging design thinking can help. "We don't need to stray too far from design's core competency to figure a lot of this out," IIDA executive vice president and CEO and Interior Design Hall of Fame member Cheryl S. Durst affirms.
Even firms with longstanding diversity initiatives have been taking a harder look at what they could continue to improve, and many have recently fine-tuned or expanded existing efforts. Perkins and Will recently renamed its in-house program Justice, Equity, Engagement, Diversity, and Inclusion—adding the first two words "to ensure those concepts were unequivocally addressed," director of global diversity Gabrielle Bullock explains. In 2019, HKS built on its three-year-old equity initiative, Better Together, by onboarding a dedicated global director of JEDI, Yiselle Santos Rivera, to help formulate a strategic plan focused on "creating structures of accountability and being transparent about areas of improvement," she says.
Increasing transparency has been a crit­ical factor in the effort to make the industry more welcoming to all. Firms are scrutinizing their demographic data to pinpoint where there's room for progress, to track the impact of specific diversification efforts, to hold themselves accountable, and to ensure their minority employees and communities feel included, recognized, supported, and psychologically safe. Some data: Since 2014, the makeup of nonwhite staff at Perkins and Will has increased from 23 to over 30 percent. Some 27 percent of ZGF's staff identify as coming from an underrepresented racial group; at Studios, 62 percent of the staffers are members of an underrepresented populace. Gensler just unveiled its first-annual Diversity Report, sharing metrics on its 6,000 global employees. "Recognizing a need to address systemic issues around diversity and racism, we asked, 'What do we need to do to make an impact?'" co-CEO Diane Hoskins says. Ascertaining a benchmark was key. "If we measure where are we today—for better or worse—we can improve upon it."
The methodology of data-gathering had to be reconsidered through a more nuanced lens. "We embraced a very contemporary understanding of individuality, allowing people to self-define from the perspective of gender, orientation, ethnicity, and more," Hoskins continues. There were some surprises in the results: 7 percent of the U.S. workforce identified as LGTBQ+ and 161 people as having (or having had) a disability. "And although we have Black employees at all levels of our company," she says, "we discovered that our Black community is only 1 percent above the industry average"—around 2 percent, per the 2019 AIA Membership Demographics Report that Gensler used as a point of comparison—whereas 18 percent of the firm's staff identifies as Asian, which is three times the industry average. "Although diversity exists within our firm, we're not yet where we want to be; we have to improve in terms of our Black community," Hoskins says. To do so, Gensler is focusing on recruitment; a firm that, pre-pandemic, was hiring an average of 100 people per month and anticipates returning to that pace early next year can go a long way to helping diversify the field. (Apparently even hiring freezes haven't stopped companies from agitating to move the needle: Stonehill Taylor, while not in a position to staff up this year, has had success partnering with organizations including the ACE Mentor Program and the Opportunity Network.)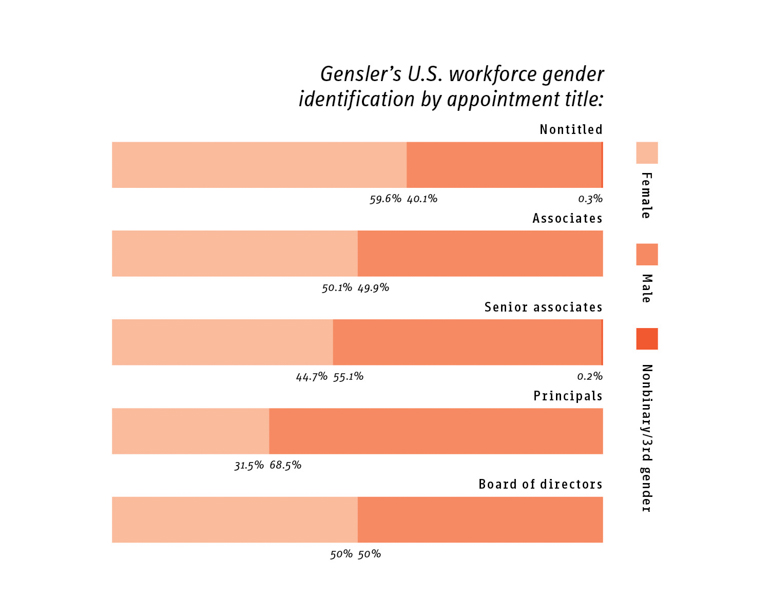 Improving numbers is, of course, just one piece of a highly complex puzzle. "That the industry is composed of many different types of professionals doesn't mean that this industry is inclusive," Durst says. BIPOC designers must be given more opportunities to achieve and shine in the workplace. "Dismantling the systems that have not traditionally allowed people to succeed means looking at HR manuals, performance reviews, firm culture, and even how your company defines success," she continues. For this reason, many firms are reevaluating how work is being distributed among teams. "Contributing to marquee projects is what moves you to the next level," Durst adds. "If you've been toiling away in the background, you're not being seen—literally and figuratively—by the folks who can most amplify or advance your career." Hoskins acknowledges that younger talent in particular needs to be more forward-facing. "Too often, only the name on the door gets recognition," she continues. "For diversity to really take hold, we have to get out of this star system, and move toward more of a 'constellation of stars' mentality."
The industry as a whole is coming to a better understanding of its blind spots, including an underacknowledged history of exclusivity. "We pride ourselves on being good, kind, caring, altruistic people," Durst says. "But the reality is, for a very long while, design was for certain people, not for all people. We can't use our intrinsic openness as an excuse for not doing the work that needs to be done and not seeing the inequities and disparities that exist." The past year has been a wake-up call for many. Denton House rolled out its diversity program after one of its Black designers expressed concern about attending an install in an area known to have a population of white supremacists—something her colleagues hadn't initially considered, and were appalled to hear is a too-common occurrence. "Our firm is based in Salt Lake City, which is 72.8 percent white and 48 percent Mormon," says firm vice president Amy Winn. "With this demographic, there is not a lot of exposure to race and race-related issues." Denton House embarked on a series of thoughtful discussions and trainings, started a book club, and invited guest speakers, such as Julia Yoo, president of the National Police Accountability Project, and Diana Brown, an active Mormon and assistant director for Interreligious Engagement at Georgetown University, who addressed religion's role in conversations about race. "Through our program, we have been able to open eyes and hearts to injustices that many never knew they benefitted from or contributed to," Winn says.
Although the industry has made strides, there is still much work to be done. When it comes to diversity, there's no "finish line," as Durst puts it. But there is strength in numbers. "The only way to really effect change," Bullock concludes, "is if we do it together." Count us in.