Material ConneXion's Top Five Green Materials
From discarded skateboards to hemp fibers,

Interior Design

's sister company

Material ConneXion

brings you a selection of five sustainable materials. Learn more at

materialconnexion.com

.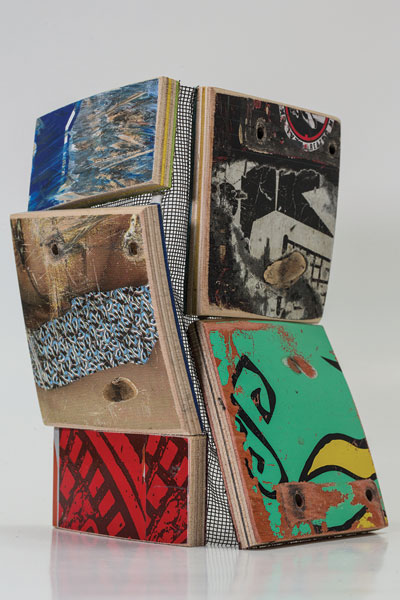 MC# 7114-01


Plywood mosaic tile that is composed of waste wood from discarded skateboards. The slightly curved 7-ply pieces retain the graphics, holes and scuffs of the boards, offering a vibrant colored mosaic construction. The broken skateboards are collected from over 300 core skate shops and parks in the US and Australia. The mosaics can be produced in large format flexible panels of individual mosaic pieces backed by scrim. The patterns include Brick Offset, Brick Stacked, Cube offset, Brick & Cube Offset, Cube Straight with Border tile and large Loose. The mosaics can be customized by color, palette, size, or incorporating logos. They are used as bar fronts, conference room tables, bar tops, column wraps, accent walls and back walls in retail, table base wraps, back splashes, and decor walls in children's hospitals, corporate headquarters, and retail.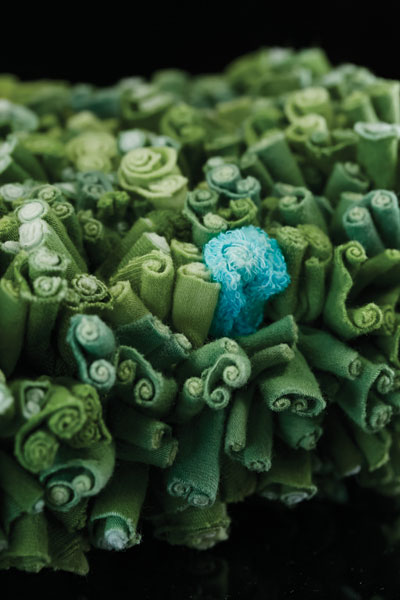 MC# 7168-01

Hand crafted three-dimensional cotton textiles from waste fabric. Small spiral tubes of knitted fabric are stitched onto a woven base cloth, creating a vertical pile with a tufted effect. The textured surface is comprised of cotton fabric scrap from textile factories, creating new products from waste materials. The finished product is highly dye-fast and compatible with machine washing. The scrap fabrics are boiled to remove dirt and chemical impurities then dyed with azo-free dyestuff to the desired color. The dying is intentionally non-uniform and due to the variety of textiles incorporated the degree of dye pick-up is also irregular, creating unique patterns of color density and color absence. The textile is cut into strips, which due to the knit construction curl into spiral tubes, and sewn onto the base fabric. Local village women in northern Thailand do the dying and stitching. Applications include home décor, carpets, pillowcases, upholstery, and apparel.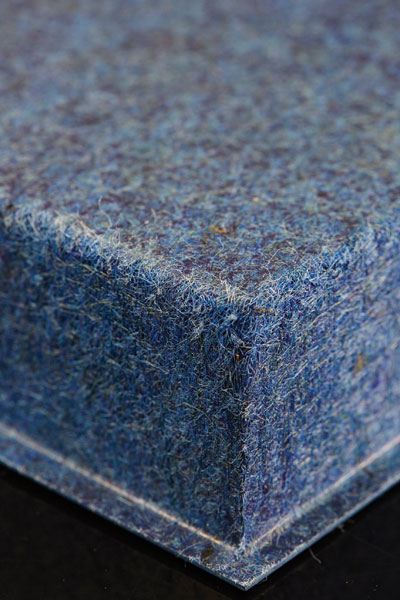 MC# 6347-05


Rigid architectural panels from natural fibers. They are constructed from natural, rapidly renewable fibers as well as post-consumer recycled polymer content. The panels are formaldehyde free, can be fire-rated, are light weight, and when bonded with a water-based acrylic resin, can be 3-D (molded) into products. These composite panels combine natural fibers with polyester resin or a bio-based resin. They are formed to shape and hot pressed into their exact dimensions. The panels can be used for commercial, residential, healthcare, hospitality, retail, education, display applications, as well as woodworking.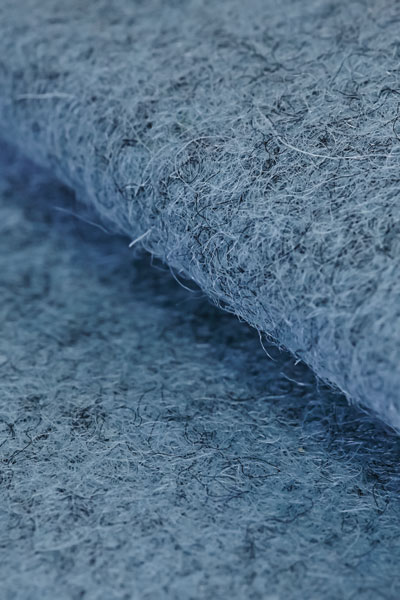 MC# 6549-04

100% pure new wool felted fabric used for interior upholstery. This fabric has been created with consideration of environmental impact, farmed sustainably in New Zealand. It is made exclusively from LaneveTM wool, where the wool is sustainably produced and traceable to individual farms on the Banks Peninsula of New Zealand. The pure new wool has a soft hand as a result of using wool from lambs shorn for the first time when coats are approximately 2 – 3 inch in length at their softest and it is produced by combining thin layers of fiber cement, pressing these firmly together under high pressure before completing an autoclave curing process. In addition, the sheets are reinforced by specific layering of carefully selected thin, long fibers, which adds to the overall panel strength. These felted fabrics are suitable for interior contract and residential upholstery applications.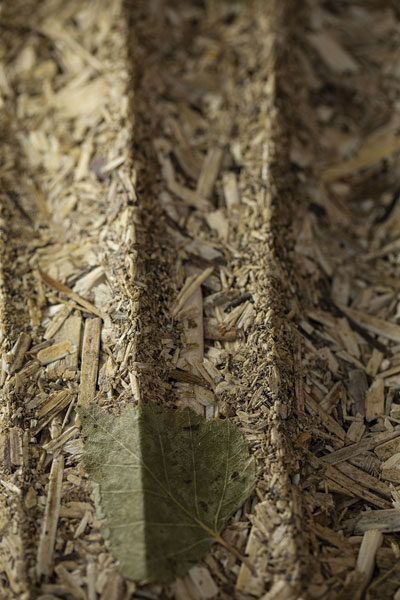 MC# 6968-03

Lightweight, natural fiber composite acoustical panels for interior use. 95% hemp fiber is combined with 5% binder that can be specified as biodegradable. This 100% biodegradable panel emits the natural fragrance of the materials it contains including leaves, hemp fiber and other natural inclusions. For the panels to retain their superior acoustic absorption properties, the porous nature of the surface of the panel should be retained. This restricts the location for their installation, preferably away from human touch. The panels are produced by pressing coarse hemp fibers with a binder into specific panel forms using a vacuum mold and heat. The panels are used for interior residential and commercial wall panels and ceiling panels.