Mavis Wiggins of TPG Architecture: 2022 Hall of Fame Inductee
Ceaselessly generous, effortlessly elegant, and indelibly humane, Mavis Wiggins thrives in the "and": that beautiful landscape between nuance and subtlety, art and design, the said and the unsaid. Her colleagues at TPG Architecture, where she serves as managing executive and studio creative director, consider her something of a client whisperer for entities from DZ Bank to Irving Place Capital, who tend to emerge from their collaboration as design evangelists in their own right. "Mavis's clients know every design decision is important to the success of the project," TPG managing executive and studio creative director Suzette Subance Ferrier explains. "That is because she includes them in the process and educates them, so that they become an advocate for the design scheme." Adds TPG managing associate and creative director Ricardo Nabholz, "Mavis understands clients better than they understand themselves. She shows them a vision of their future that fulfills their every aspiration and responds to needs that have yet to be articulated and offers them the opportunity to build that vision."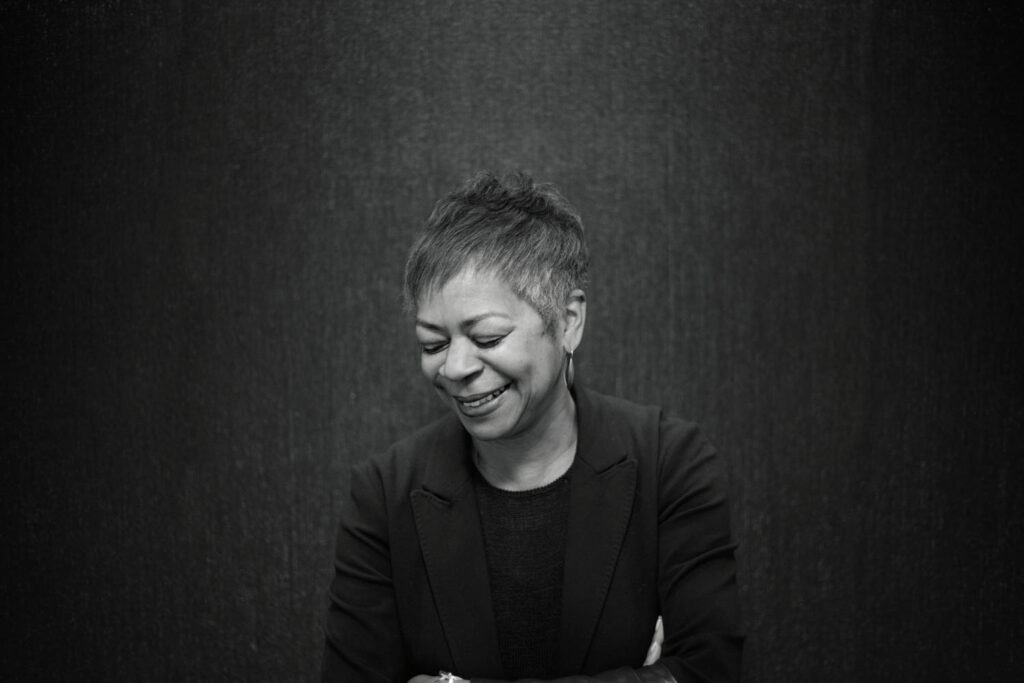 Behind the "Mavis Mantra"
The "Mavis mantra" equates the design process to a revelatory and bottom line–affirming journey that requires seeing the arc between what is needed and what can be achieved. "I first determine how I can best help a client, really help them, and therefore improve their business acumen by guiding them through a remarkable journey together," the workplace specialist says. "My mission is to help them see what is possible." Her vision is truly multidimensional and peripheral, allowing her to look, see, and interpret from a multiplicity of stances. "What sets Mavis apart is her understanding of both space and occupants," says Howard Albert, chief risk officer of insurance company Assured Guaranty, its New York workplace TPG completed in 2016. "She spent the time to understand exactly how we work and collaborate in the office, finding a way to be true to her aesthetic while really hearing what we were saying."
"Seeing the possible" is Wiggins's guiding principle, in life as in design. Her clear and coherent vision was honed by an early interest in photography and fine art. Growing up in Berkeley, California, in the 1960's, Wiggins was deeply influenced and affected by the multicultural mix of that time and place—one that saw peace and turbulence, youthful uprising and middle-aged malaise, civil rights and social unrest. The era's musical culture left a lasting impression, too: Wiggins still finds joy in the wall of sound that surrounded her then. "Sly Stone was a radio DJ at the time and played a crazy range of artists in the morning as we got dressed for school," she recalls. "Led Zeppelin, Jimi Hendrix, James Brown, Janis Joplin, Smokey Robinson—my personal sound­track then is my playlist now."
Wiggins took her love of the visual arts with her to Brooklyn, New York, where she moved to attend Pratt Institute. She claims the design profession "found" her. "At Pratt, I realized I could shape space and continue to enjoy the fruits of what fine art offers, and even apply some of those principals to interior architecture," the discipline in which she received her BFA and connected with mentors like Joseph D'Urso and Stanley Felderman.
That desire to shape space in combination with her keen photographer's eye for composition and framing—and her deep intuition to see place from both a designer's and the end-users' perspective—has resulted in a definable signature. During her three-decade career working at a roster of top-tier commercial-design firms (Gensler and HLW among them), Wiggins has become known for interiors that are elegant, serene, rational, and always tethered to place. "Mavis's work is deeply contextual," Nabholz says. "There are geographical, architectural, cultural, and organizational touchstones in each project. These come together to create spaces that are as timeless as they are specific to their place and purpose." Ferrier concurs: "There is a level of clarity to her work that echoes great modernist design but with today's level of sensitivity."
Those characteristics are on ample display at two projects Wiggins cites as most influential on her practice: the Rockefeller Foundation headquarters in New York, completed while working at Kohn Pedersen Fox Conway Associates in the mid-90's, and the HBO headquarters in Los Angeles, dating from 2004.
What made the former a seminal experience, she says, was "working alongside scientists, researchers, and intellectuals that were dedicated to getting in front of issues like global warming, crop biotechnology, global sustainability, and the arts."
The client relationship was also a distinguishing aspect of the entertainment company project, too. "It was really tough working directly with the most creative folks at HBO who were making these amazing, out-of-the-box programs," she says. "But I learned so much about how to be resilient, stick to my vision and articulate it clearly, and just believe in myself."
Thomas Giannetti, partner and CFO of Lexington Partners, recalls teaming with Wiggins on the firm's Manhattan headquarters, a project for which TPG was retained just before the pandemic. "Because of COVID, there were more challenges in the build-out than I ever thought possible," he says. "Mavis's determination to solve all the issues was tremendous given that we never knew what to expect with the pandemic," from labor and supply chain issues to health and safety protocols, and even the dissatis­faction of not being able to cross the usual benchmarks and hurdles in the typical order. "Mavis was steadfast," he continues. "She was determined to finish the project, without compromise, in a way that was seamless to our team."
Wiggins is equally dogged when it comes to fostering inclusion. Though personally quiet, she speaks up loudly for others as an activist instrumental in increasing diversity in the A&D community, through her thought leadership and her support of fellow BIPOC practitioners. As this author's personal aside, I stand proudly beside Wiggins as the only two Black women thus far inducted into the Interior Design Hall of Fame. When asked what our joint selection means in the context of time, she responded, "It means we all have more work to do. And we will." There it is again: that word. There is beauty in the and—in the elegance and optimism that Mavis Wiggins embodies.
A Closer Look at Projects by Mavis Wiggins