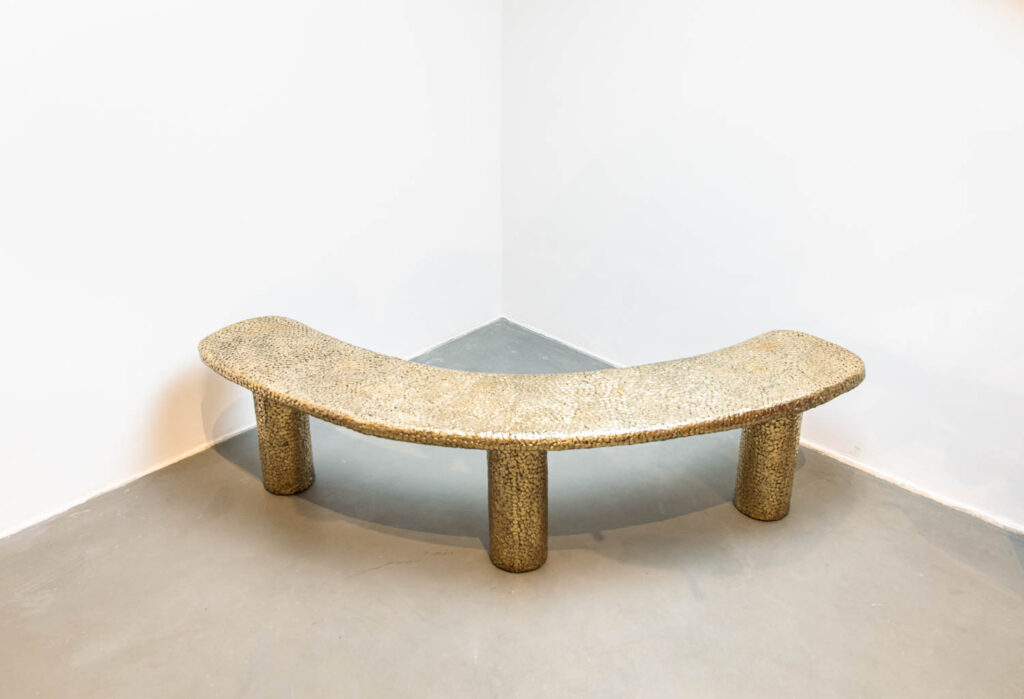 Nifemi Marcus-Bello Celebrates Ancient African Practices in His First U.S Exhibition
On a hot February noon, California's sun peels into the glass bars of Marta Los Angeles, unveiling an installation where culture meets design. A mother's voice, thick with fluent Yoruba—spoken widely in Nigeria—echoes around the room, singing praises to her child. The "Friction Ridge" exhibition, which runs through March 4, 2023, by Nigerian designer Nifemi Marcus-Bello is a combination of two installations—a set of bronze benches and a sound installation of Marcus-Bello's mother. In the sound installation, his mother sings his personal Óríkì, poetry chanted in Yoruba that shines a light on the virtues and achievement of a child and references the power they possess.
Marcus-Bello's designs have always been rooted in deep historical and cultural perspectives and this installation is no different.
For inspiration, the designer turned to two different regions in Africa, examining the east and west. Understanding the artistic and cultural expressions of body painting, which is synonymous with the Surma tribe of Ethiopia in East Africa, his work reflects a chalk ritual performed with the thumb to celebrate the bonds of friendship between individuals in the tribe. Marcus-Bello also sought inspiration from the craftsmanship of the ancient Benin kingdom of West Africa through a century-long, wax-casting technique used for the creation of royal portraits.
During production, Marcus-Bello worked side-by-side with artisans in Lagos, Nigeria, and Benin. In reference to the Surma tribe, both the designer and the artisans thumbed down clay on the surface texture of the bench, thereby creating a silicone mold. To honor the traditions of the Benin Kingdom, they used a lost wax casting technique to invent the curved form of the bronze bench.
By interweaving these different cultural practices and expressions, Marcus-Bello aims to celebrate the interconnectivity of African designs, erase its monolithic ideologies, and carve a decentralized yet unified aesthetic.