Ones to Watch: M-Rad



How does a designer who's just 30—who only finished his MArch studies at Los Angeles'

SciArc

in 2009, and who launched his own office barely a year ago—already have a global practice with a presence in three cities on two continents?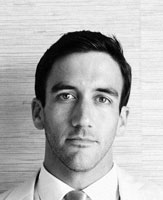 Matthew Solomon Rosenberg came into this unusually cosmopolitan condition almost by accident. Born in the Canadian town of Saskatoon and educated there and in California, the architect was wooed to Beijing after he finished his studies and worked there for a spell before returning stateside with his American wife. When he set up his office,

M-Rad

, in early 2012, he was able to give it a presence in China through his extensive contacts there. "It's exciting to work over there," says Rosenberg, "but my focus now is really in North America."
Most of that focus to date has gone into speculative projects of a range that's fairly startling: M-Rad has developed proposals for designs on almost every scale, from vases to houses to neighborhoods. What's garnered the firm the most attention yet has been competition submission for the project to convert New York's Fresh Kills landfill on Staten Island into a gigantic park. M-Rad's proposal, "Fresh Hills", was selected second prize in a field of 250 entrants in a competition sponsored by the city Park Department.
The design features a complex, rolling landscape of hills and planting, with an even more complex series of eco-friendly installations to help capture and save energy. "I'm striving to create something that will enliven an area, says Rosenberg, "and also that offer new knowledge about sustainable architecture to people." Putting aside an overriding preoccupation with "form-making," Rosenberg's work is less about flash than performance.
The designer claims that work in China has been a bit hard to find of late, yet his ober-minded, ambitious approach seems to be paying off: M-Rad is currently at work on their first commission, a private back in Saskatoon. Rosenberg is looking forward to more built projects in the future: "Twenty-thirteen is going to be a good year," he says.

<



Ones to Watch: Matthew Plumstead



Ones to Watch: Alex Turco