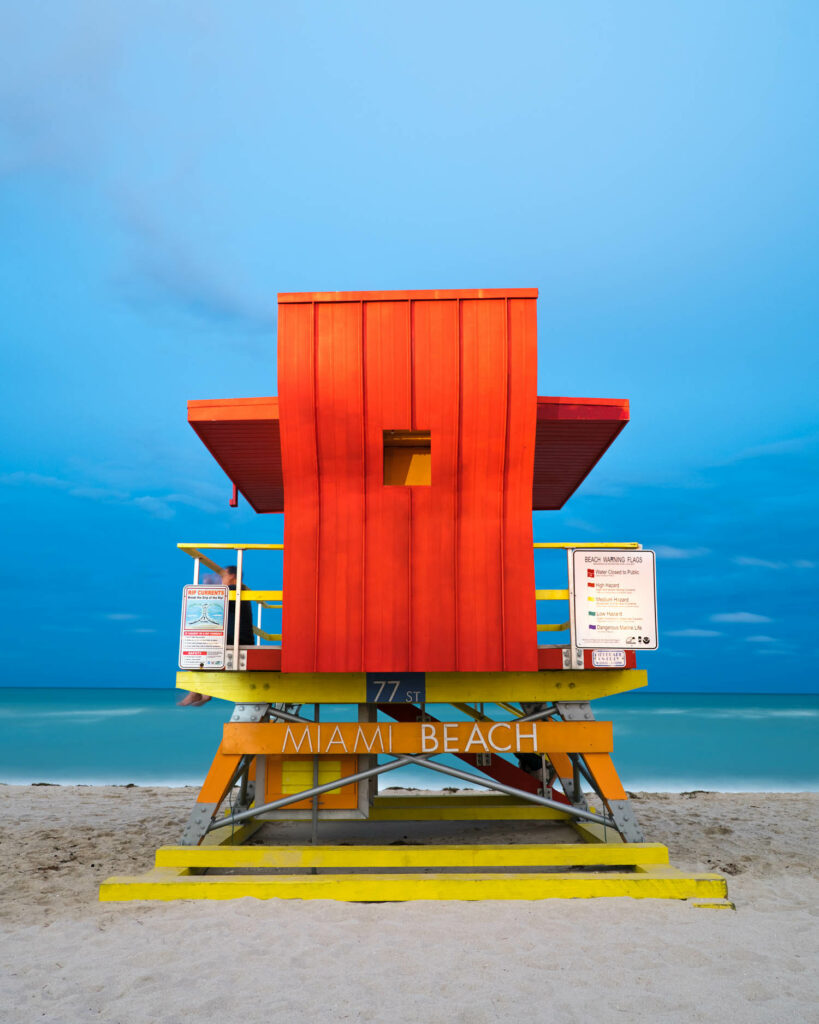 See the South Beach Lifeguard Towers in a New Light in Tommy Kwak's Book
It was 1995 when William Lane Architect was commissioned to design five lifeguard towers to replace the ones in South Beach that had been destroyed by Hurricane Andrew. The colorful, art deco–influenced structures were popular, yet it was another 20 years before the city came back to the Miami Beach–based firm to create six prototypes to replace most of the lifeguard towers serving the 8 1/2 mile stretch of Atlantic Ocean coastline.
It was 2019 when photographer Tommy Kwak traveled from his home in Montclair, New Jersey, to Miami Beach and first saw the pink tower on 17th Street—the aha moment that sparked his project to catalog all 38 towers and turn them into a book. "I was captivated by its electric palette and solitary form in the early morning light. I then photographed a few more towers and was hooked," says Kwak, whose Palm series was available for the first time as NFTs at Art Basel in Switzerland last month. "My goal was to celebrate a kind of ephemeral beauty and, at the same time, transform the entities into more graphic forms," he says of the images he took during three trips over three years, each shoot starting before 6AM and stretching into the evenings. "My ideal conditions were on days that were overcast and drizzly, so the backdrop of sea and sky were as minimal as possible for the towers to stand out. Plus there were less people around in light rain."
On Kickstarter, Kwak raised the $16,000 needed to enable Brooklyn-based Blurring Books to publish the hardcover, due out this fall. In the meantime, limited-edition prints are available through Clic.