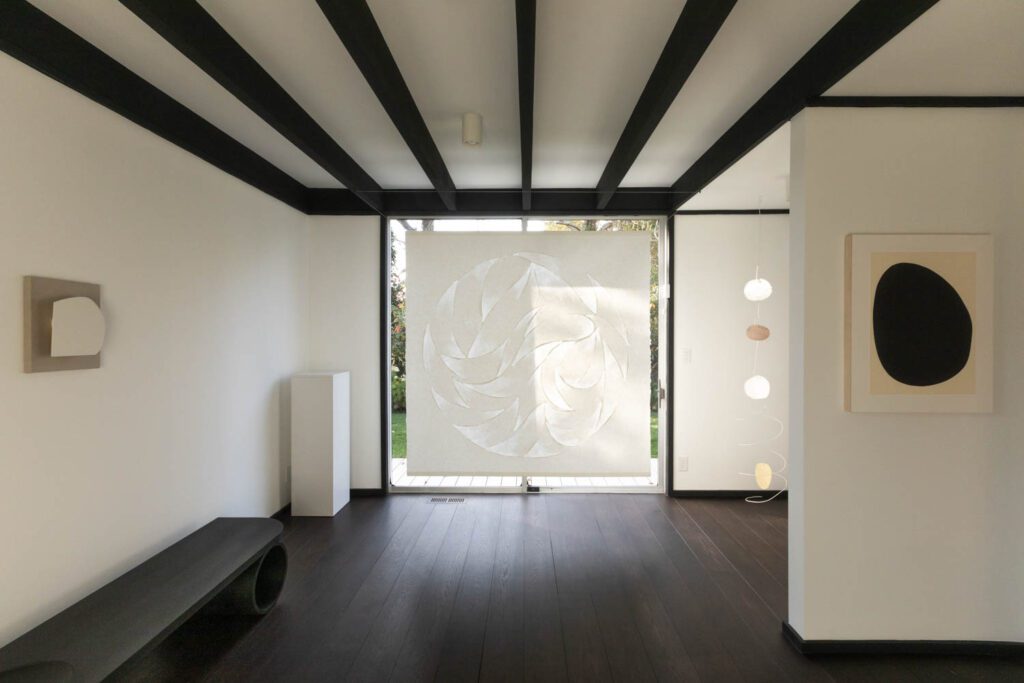 Skip the Beach and Explore Renowned Art at This East Hampton House
The excitement in Lisa Perry's voice is palpable as she describes the hand-dyed, woven tapestries of Japanese artist, Mitsuko Asakura. "The colors, the intricacy, the richness, the way that she puts these weavings together—it's extraordinary," gushes the designer and curator as she prepares for the opening art showcase at Onna House in East Hampton, New York. "Her works look like they were made for the house," she adds, noting the Japanese influences evident in the architecture of the residence-turned-art space—and in its name.
Onna offers a nod to the word 'woman' in Japanese, indicating the type of work one can expect to see inside. The house, built in 1962 and restored by Perry, provides a serene backdrop tucked away in a tree-lined neighborhood for guests to experience pieces by women-identifying artists and designers sans the stuffiness synonymous with some gallery spaces.
In addition to Asakura's works, the inaugural exhibition—opening June 2— also will feature Ligia Dias' Paper Dress collection, jewelry, and mirrors. The Paper Dress series explores the politically charged poster garments of the 1960s, which remain relevant in today. "To see extraordinary artwork in this setting is so refreshing," adds Perry, who cannot wait to welcome art enthusiasts from near and far this summer.
Visits to Onna House are available upon appointment only. For more information, visit the Onna House website.