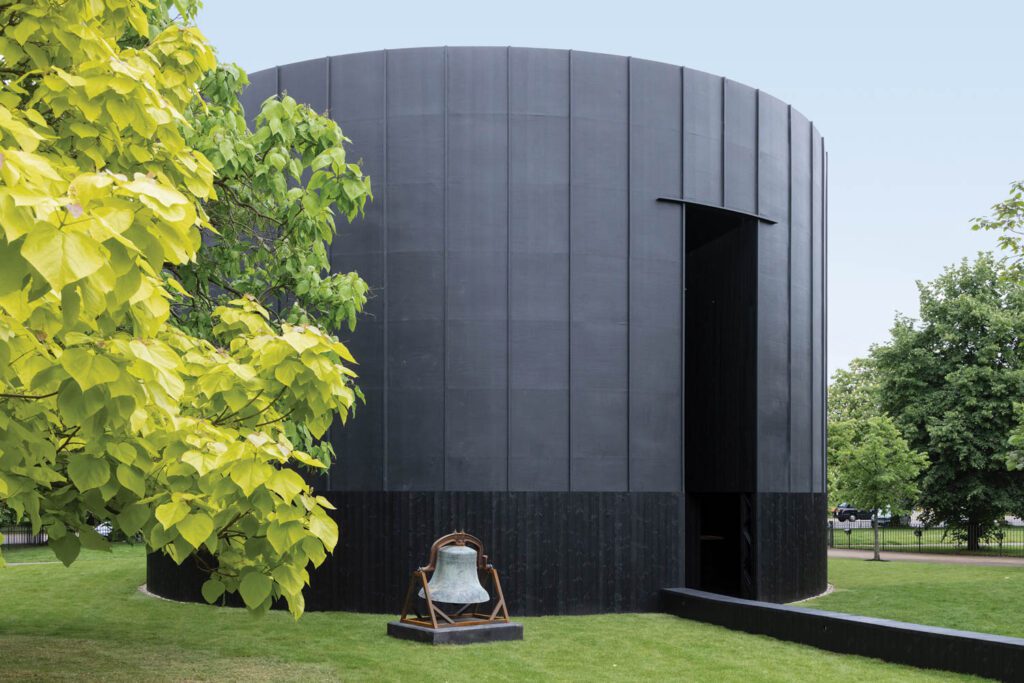 Theaster Gates Conceives of a Bold Serpentine Pavilion in Kensington Gardens
Beehive kilns from the American West, the Roman tempietto at San Pietro, mud huts made by the Musgum people of Cameroon: These are some of the forms that African-American artist, University of Chicago professor, and community activist Theaster Gates held in mind when he conceived Black Chapel, the 21st Serpentine Pavilion on the gallery's grounds in Kensington Gardens, London. At 35 feet tall, with 2,160 square feet of interior space, it's the largest pavilion yet, and the first conceptualized by a non-architect.
The stained timber-and-steel structure evokes a religious austerity that befits its name. It's meant to be a secular place for meditation, reflection, and healing, as well as a stage for a summer of programming that includes lectures, tea ceremonies, and experimental music. Inspired by the Rothko Chapel in Houston, inside is a new series of "tar paintings" by Gates, whose late father was a roofer. "The pavilion resembles a memorial," Gates says, "not only to the legacy he shared with me but also the ways in which his vocation has become mine."
It took a team to bring the project to life, starting with Gates and Sir David Adjaye, who provided key architectural support. They were then paired with activist Sharon Prince, founder and CEO of Design for Freedom, a groundbreaking initiative by Grace Farms that advises on the sustainability and ethical labor practices behind construction materials. Further, Black Chapel has been acquired by Therme Group, a leading well-being company, which will relocate the pavilion when its current run ends October 16.