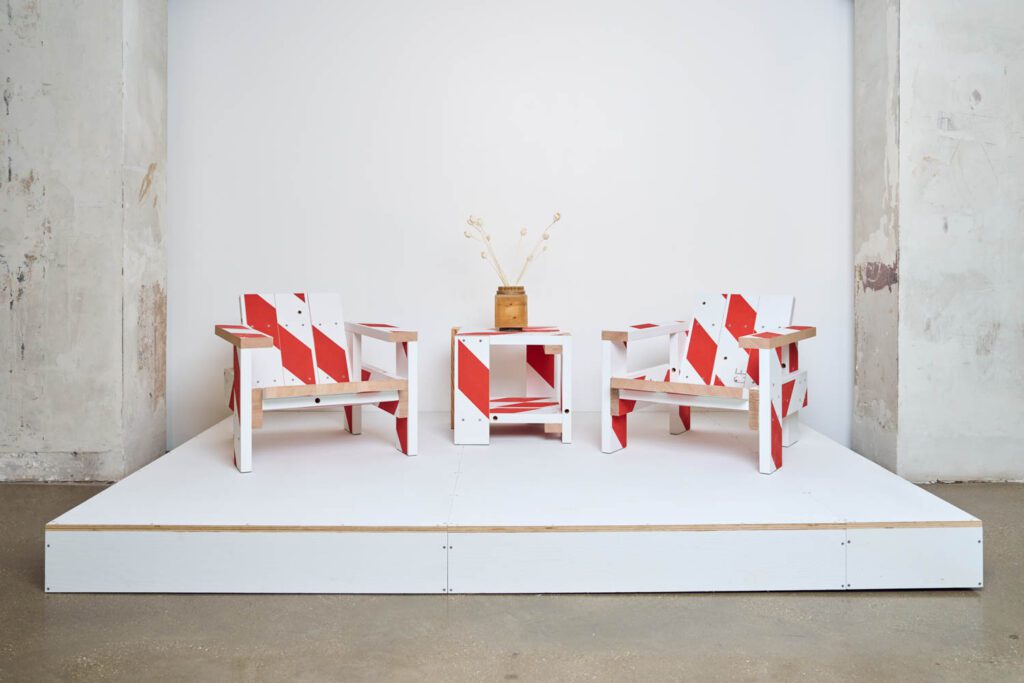 Tom Sachs Shares Insights into His First Furniture Exhibition in Two Decades
The Rebuild Foundation is an artist-led, community-based platform for art, cultural development, and neighborhood transformation in Chicago founded by international arts icon Theaster Gates. It operates a constellation of sites on the South Side of Chicago, one of which is the Stony Island Arts Bank. Built nearly a century ago in 1923, the meticulously restored, formerly abandoned bank serves as a creative space for the preservation, redeployment, and amplification of art and cultural artifacts on the South Side of Chicago. Rebuild Foundation and the nearby Anthony Gallery, which focuses on contemporary artists creating work that reflects African and Black American identity in Chicago's Fulton River District, have joined forces for "Tom Sachs: Furniture." Running through September 4, it's the artist's first gallery exhibition of his furniture in the United States in over 29 years.
"Tom Sachs: Furniture" is an extension of Sachs' sculpture practice. Designing and building furniture for 30 years, Sachs' work is conspicuously handmade and shows evidence of each piece's construction, removing it from the realm of miraculous conception that pervades industry. This transparency—the idea of showing marks—tells the story of the making.
To mark its opening on July 8, Tom's Sachs Rocket Factory held a physical rocket launch in Chicago at Kenwood Gardens—13 abandoned lots that the Rebuild Foundation and Theaster Gates Studio turned into community garden space on Chicago's South Side. Interior Design caught up with the multimedia artist and designer on his first love of sitting—while standing up for what you believe in like Lebron James—literally just before liftoff.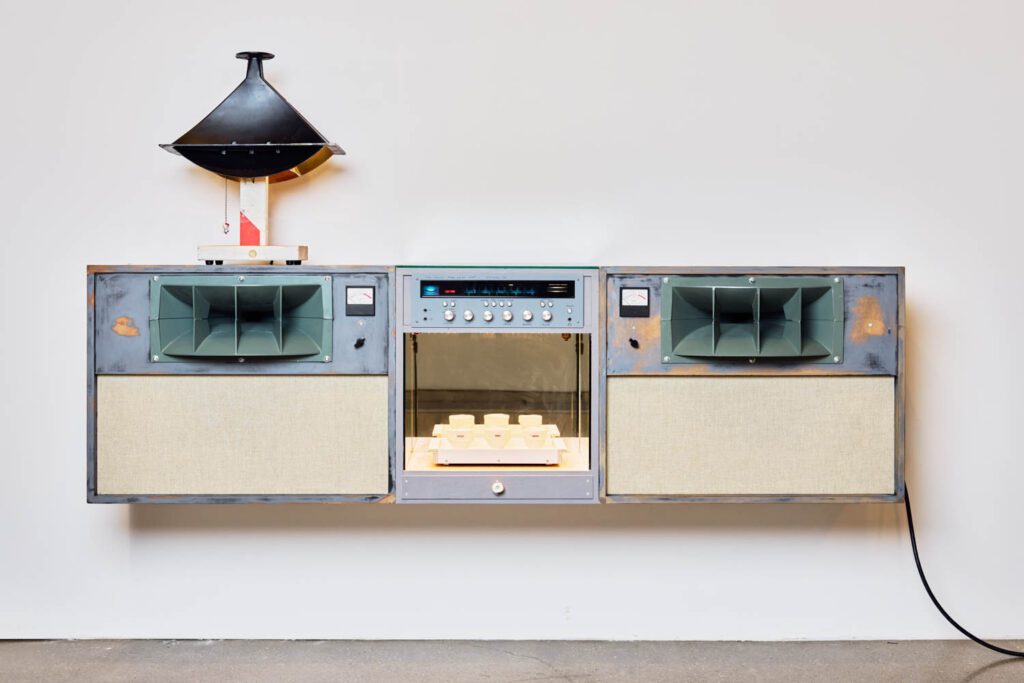 Interior Design: Why a furniture exhibition now after 20 years?
Tom Sachs: I wanted to contribute to this community that Theaster's created, and the most organic way was for me to share this new body of work of sculpture that I've been working on for the past 30 years and that's production furniture. And for me, there's sculpture in everything, including a chair.
ID: What's your relationship with Chicago? I think of you as a New York guy.
TS: Community is everywhere. I live in and work in New York, but I've got friends and connections in Chicago for many years and, we now have an increasing sense of global telepathy and have friends all over the world. All of us do now. I love Chicago and it feels good to be working in a space like this with an artist who I respect and who's doing good stuff for the community of the South Side.
ID: What's your relationship with Theaster Gates? How do you interact artistically?
TS: We both make things in ceramic, which is the most technically demanding transformation of the rawest materials that come literally out of the ground and are treated with intense amounts of heat until they become objects than can last longer than the best buildings ever made.
Theaster and I have a lot of shared values. We both believe that art has transformative power. The act of making has an almost shamanistic quality of transforming raw materials into objects of spiritual power through the magic act of work.
"The values of accessibility are important in everything that the studio produces. It's universal so I don't care if it's a sculpture or a painting or a chair or a movie or a cathedral or a spaceship. The values are all the same."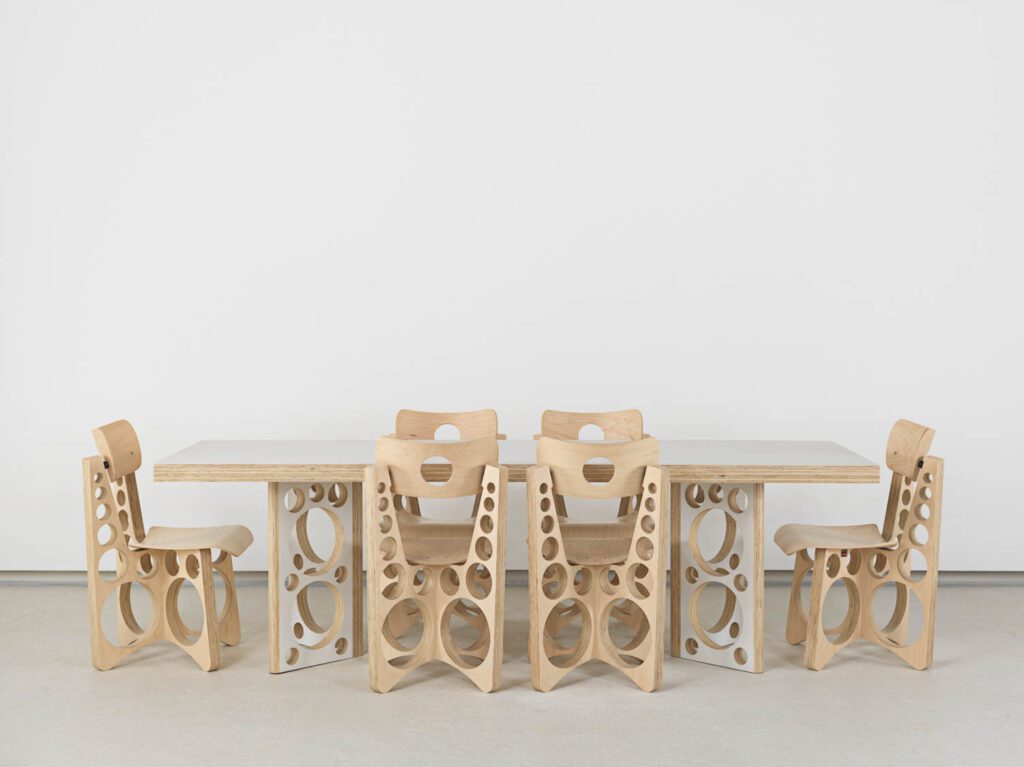 ID: Is it the heat that makes ceramic technically demanding?
TS: It's just an old tradition. The oldest known man-made things are Jōmon pottery from Japan. It's like as old as cave paintings. And there's also something very accessible about making ceramics. They convey liquid from the earth into our bodies and it's a way for people to connect with each other and there's a humility to this material where it's the lowest things: Our toilets and restaurant cups are ceramic, but also some of our most sacred, precious, spiritual objects are ceramic.
ID: How about furniture?
TS: Furniture is the same. The chair is a sculpture you can put your ass in. We all sit right? Not everyone has a painting, but everyone has a chair. It's accessibility. The values of accessibility are important in everything that the studio produces. It's universal so I don't care if it's a sculpture or a painting or a chair or a movie or a cathedral or a spaceship. The values are all the same.
It can be part of your everyday life. The values of transparency means that the furniture shows how it's made. You can see the screws. You can see that the wood was painted before it was cut. The use of your life will show on the furniture. It will show the scuff. It's not really meant to be perfect forever like an iPhone. It's meant to last a lot longer. An iPhone might be the best-made thing ever, but it's not heirloom because it can become obsolete, a piece of furniture might show the scars and mistakes of your life and that you exist.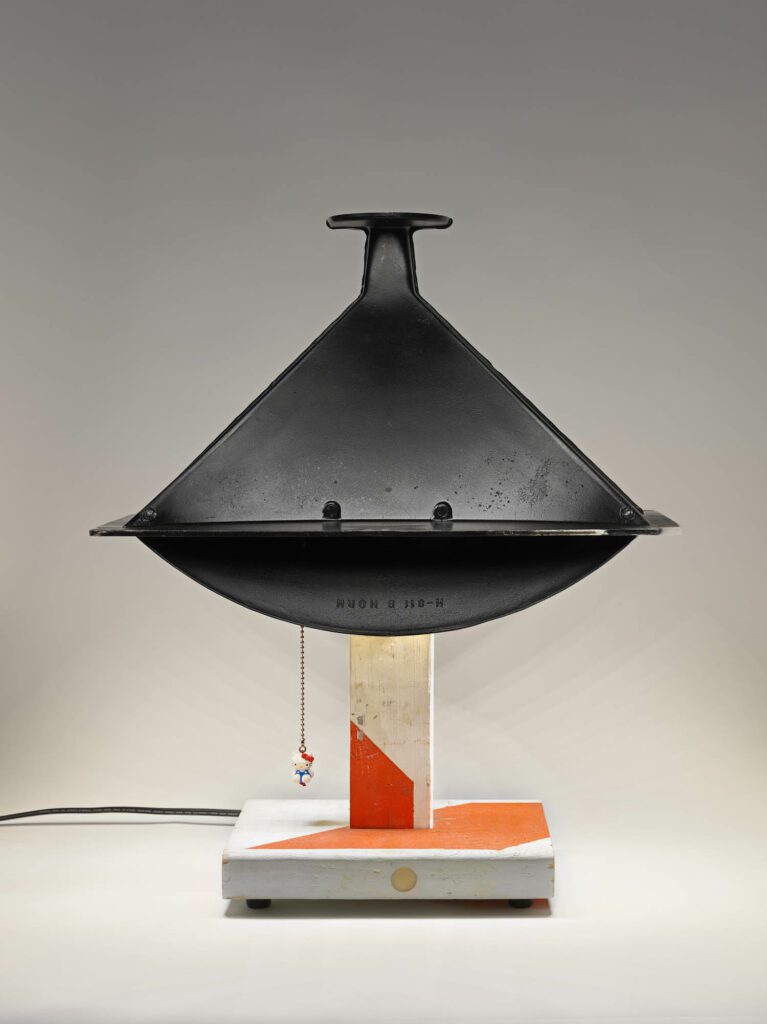 ID: This sounds like the Japanese concept of wabi-sabi, is that what you're getting at?
TS: I think that traditional Japanese craft embodies this, but a lot of other places do too.
"We have to take advantage of our gifts to make the world a better place."
ID: Besides the embrace of imperfection in Japanese design what are a couple examples of who else would influence you in this regard?
TS: An example of someone who does that is anyone who fixes their old thing to build a greater connection with it instead of buying a new thing.
Which could be your old car. Which could be sewing your favorite pair of jeans back together, not buying a pair of jeans with acid-washed holes premade in their knees but getting them new and wearing them for a decade and building a greater connection with them. I think those are the kinds of values that we're trying to promote in this work.
ID: Last questions: Since you're a Nike designer who's your current favorite NBA player—and why?
TS: The king is LeBron. Because, yeah sure, he's the best basketball player that ever lived but also because he has values that extend beyond his space in the game. I think it's important that we recognize LeBron for his activism and how he uses his platform and his reputation as the greatest player of all time to be a role model for change. To help other players to lead. We have to take advantage of our gifts to make the world a better place. And so I think LeBron's a hero. You got to stand up for stuff.