20 Area Rugs With Impact
As above, so below. These bold area rugs don't let the furniture get all the attention.
1. Moscow Home by Art Group
A custom fireplace warms the living room, brightened by abstract artwork and Designheure pendants. A Louise floor lamp by Lam spotlights a bench by Sancal; the sofa and poufs are by Baxter.
2. Sonic Union's Manhattan Office by Revamp Interior Design
A communal space past reception gathers West Elm chairs, Blu Dot poufs, and a Flor rug that complements the faceted custom wall cladding. The custom plywood desks are stained a bright blue to create unity.
3. Art-Filled São Paulo Apartment by Estudio 20.87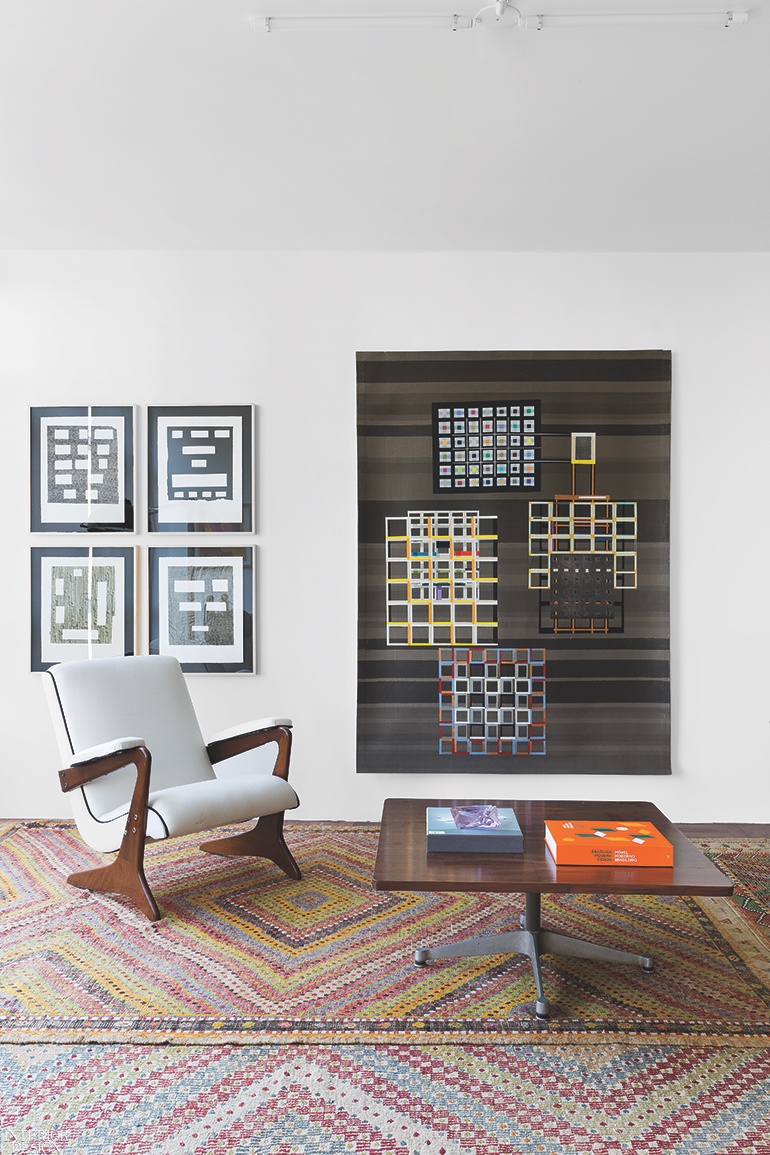 The home of furniture designer Houssein Jarouche proves that pop art isn't dead. Slides, an oil on canvas by Luiz Zerbini, accompanies a '60's armchair by José Zanine Caldas and an Eames table. The faded Moroccan vintage rug nods to Jarouche's cultural roots.
4. Drawing Hotel by Nido Architecture
The biggest challenge of this project was the ground level, with only 1,900 square feet of public space to accommodate the entrance, reception, retail, and the lounge. A partition of oak rods that double-functions as a library defines the lobby, its seating area composed of a bold black-and-white rug, a loveseat by Neri & Hu, and a tubular Philippe Nigro chair that resembles contemporary sculpture.
5. Capital 8 Paris Office by Saguez Workstyle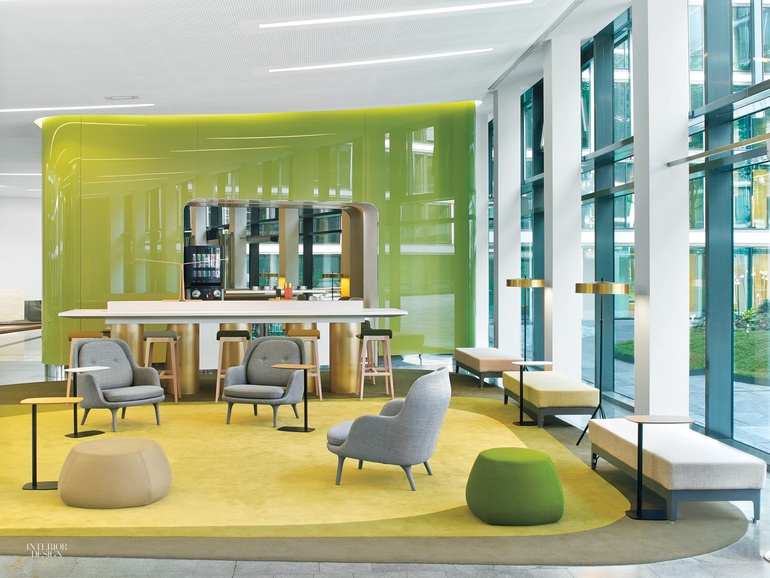 To modernize this 1960s office, loungelike coworking spaces are partially enclosed by bright green glass, actually giant screens that can be programmed to display real-time news, weather, or company information. Hayon Studio chairs and Patricia Urquiola ottomans furnish another coworking space.
6. Teads Madrid Office by Stone Designs
Airy mid-century modern furnishings imbue the environment with a sense of ease. The client's own vintage George Nelson clock centers a symmetrical arrangement of Costura sofas and Solapa tables, all by Stua, upon rugs by Now Carpets.
7. Viacom Los Angeles Office by Rottet Studio
Viacom wanted their workplace to be a destination, which starts with an eye-catching entrance. In reception, an immense monitor displays changing visuals. Sofas by Alfred Kleene and Gabriele Assmann flank a cluster of tables by Vincenzo Maiolino.
8. Serafina Beach Hotel by ICRAVE
Though San Juan was still recovering from Hurricane Maria at the time of construction, the team went full steam ahead. In the lobby, Swing chairs by Kettal and a rug by Durkan furnish the PiñaCo lounge.
9. São Paulo Home by Diego Revollo
The original polished Cumarú floor now modulates in tone, with light grey walls and bursts of color provided by upholstery across pieces by Brazilian favorites. Jorge Zalszupin's Adriana armchairs are covered in velvet from Emporio Beraldin.
10. La Honda Home by Alison Damonte Design and Mattingly Thaler Architecture
Communal spaces are large, private ones small, in this weekend-house-in-the-woods. The décor deliberately eschews timber finishes in favor of clean-lined optimism.
11. California Farmhouse by Dash Marshall
The clients asked for agrarian references while also wanting a space that was fresh and contemporary. A sofa in the living area by Jaime Hayon mixes with one of his armchairs and an Eero Saarinen Womb chair.
12. Brooklyn Townhouse by Coil + Drift and Cold Picnic
The vignettes of this home seamlessly marry past and present while catering to modern life in the city. In the living room, two Josef Hoffman bentwood cane chairs face Cold Picnic's area rug.
13. Tropical Manhattan Apartment by Sanchez + Coleman
Tasked with refreshing this four-bedroom pied-à-terre on Manhattan's Upper West Side, Christopher Coleman combined his new chromatic restraint with a touch of his old flamboyance, creating a predominantly white shell to which he added feverish electric-blue and lemon-yellow accents. A geometric rug picks up on the yellow of wingback armchairs; the floor lamp and coffee table are vintage finds.
14. New York Penthouse by Whitehall Interiors
Design principal Karen Asprea wanted to avoid the inoffensive but lifeless aesthetic common to most developer units. Classic materials establish a calm base, with jewel-tone pillows, impressionist rugs, and vivid art adding a lived-in feel.
15. Asmundo di Gisira Hotel by Studio GUM
A jade green rug adds a touch of color to the black flooring. Gaetano Pesce's foot and a white crocodile sculpture populate a guest room.
16. Armazém Luxury Housing by Pedra Líquida
To accompany the bespoke furniture, architect Luís Sobral and owner Fernanda Gramaxo selected production pieces as well as some items crafted in India or Turkey—the latter was a source for the vivid rugs. In reception, a Turkish rug softens the area's concrete floor.
17. Chelsea Apartment by Frampton Co
Designer Elena Frampton mixed works of art with eye-popping wall coverings, such as the study's expanse of peacocks. The Sacco rug was designed by Frampton.
18. Hand Made's Kraków Office by Beza Projekt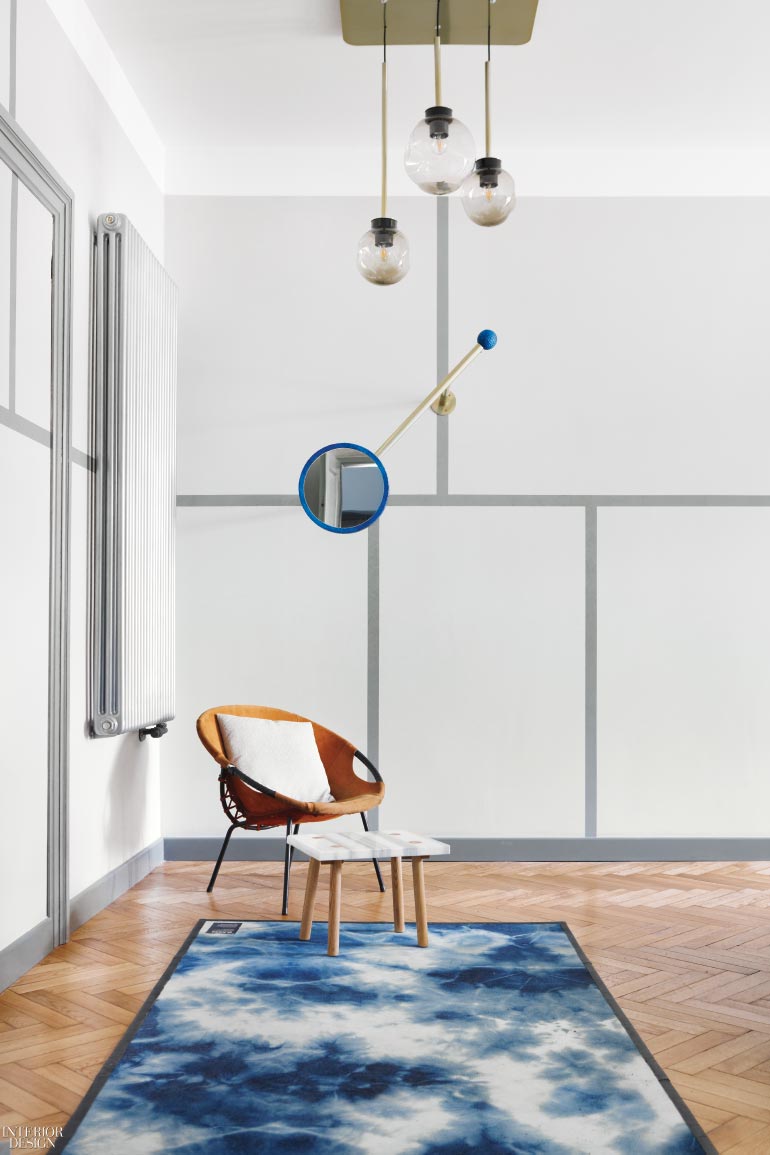 This office makes bold use of Hand Made's signature gold-and-blue palette: the colors appear in plaster walls, custom Shibori rugs, upholstery fabrics, and bespoke lighting fixtures. In the chief officer's private workspace, a vintage chair comingles with a custom carpet, lamp, and mirror conceived by the designers.
19. Swarovski's New York Office by Perkins + Will and Valerie Pasquiou
To make the workplace hospitable, Pasquiou grounded rooms throughout with rugs. Iosa Ghini Associati sofas define the lounge.
20. Kitz by Krampulz Meyer Architekten
The boutique hotel is green throughout as a reflection of the nearby forests. In the café, Jean Prouvé armchairs stand out against a red area rug.
Looking for more inspiration? Check out these luxurious living rooms and seductive master suites and hotel rooms.