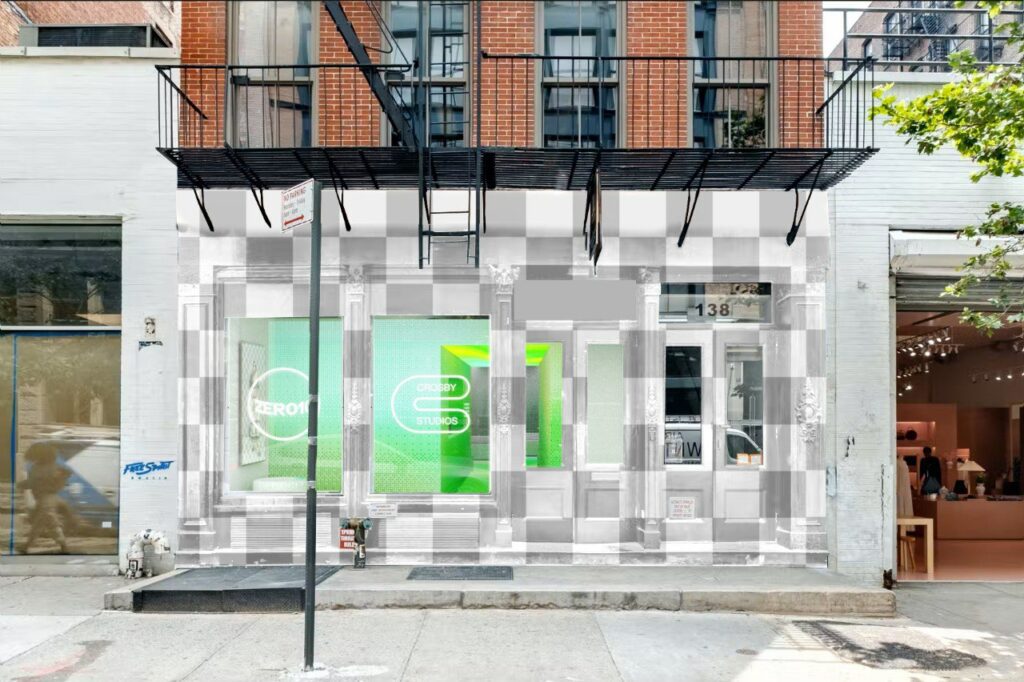 A New Fashion Pop-Up from Crosby Studios and Zero10 Goes Digital
This new pop-up might be the only clothing store in SoHo with no clothes inside. It's a collaboration between Crosby Studios and Zero10, a virtual fashion platform. Instead of racks of physical items, there are QR codes that take customers to the Zero10 app, where they can digitally try on new pieces designed by Harry Nuriev, founder of Crosby Studios.
The physical space is meant to feel like a portal into the metaverse. Crosby Studios wrapped the interior, from floor to walls to banquette seating, in a custom pixelated wallpaper. The ceiling at the entrance is a shape-shifting light box with an ethereal effect, while further in it turns to a checkerboard of LEDs that mirrors the pattern found outside. The checkerboard pattern continues in the "fitting room," which contains QR codes linking to Zero10, and on the virtual items themselves. Everything is custom, like coffee tables in the lounge area and stools upholstered in that same pixelated pattern.
To boot, there's a boba tea bar from Eat Me Milk Me in the lime green entry hall. Behind the bar there's a light-up sign with a quote from punk icon Henry Rollins. Its message is that spaces like these, which exist in the digital space as much as the physical, are part of a coming fashion revolution.
The pop-up, located at 138 Wooster Street in Manhattan, is open September 7-18, 2022.