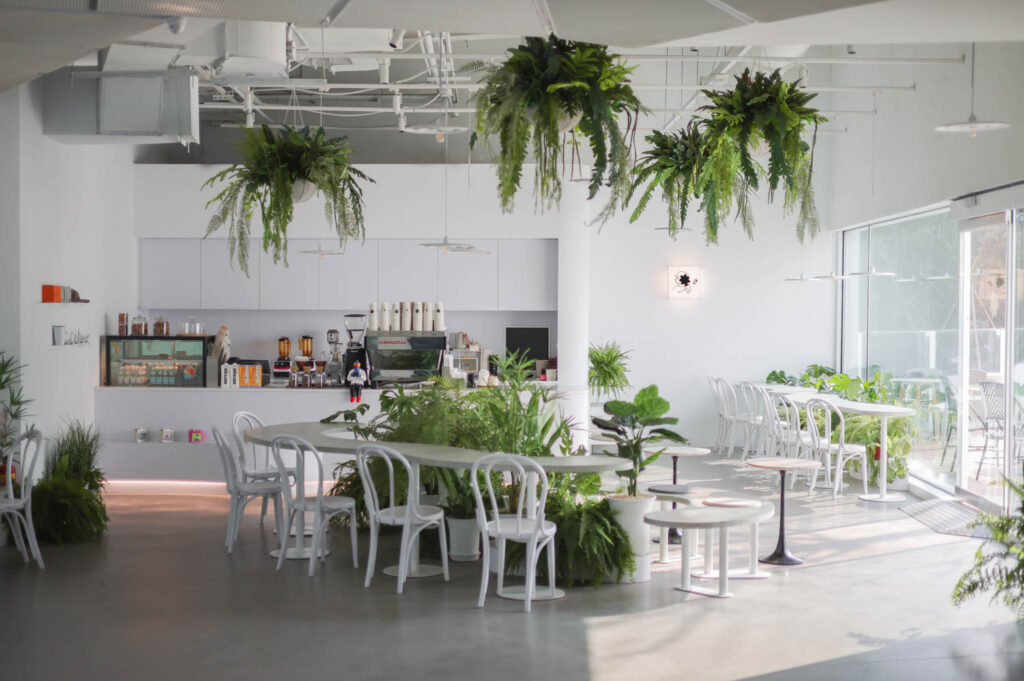 Refuel in Akau Coffee's Latest Outpost in Taiwan
Tucked in the Neiwei Arts Center in Kaohsiung City, Taiwan, is a greenery-filled cafe, designed to connect visitors with the area's verdant surroundings. Mirroring the white interiors of the Arts Center, a ribbon-shaped building designed by Ricky Liu, Akau Coffee's Makadao branch takes on a gallerylike appearance albeit with plentiful pops of green.
The beloved brand, which stems from Pingtung county in southern Taiwan, nods to its origins—'Akau' is the word historically used by the indigenous community there to describe it. With an independent bean-roasting laboratory on-site, Akau Coffee serves up tastes of Kaohsiung City's local ingredients, culture, and customs in a bright locale brought to life through a collaboration between the Kaohsiung Museum of Fine Arts, The Gala Asia, and 3+2 Design Studio.
"The elements of our design are always based on nature," shares 3+2 Design Studio. "We designed all in pure white, integrating this area and emphasizing nature as much as possible." The physical path to the cafe informed the overall design. Recalling pedestrian trails that cut through a forest en route to the site, the design team opted to incorporate such influences inside the space, incorporating biomophic forms and an abundance of plants.
Curved tables that reflect the soft bends of a river are surrounded by leafy greens, creating a forest-like ambiance. Hanging ferns build on the aesthetic, as do circular pendant lights that take on the appearance of concentric ripples created when a stone disrupts a still pool of water. The minimalist interiors invite the outdoors in, and for those who prefer to soak up the sun sans a roof overhead, Akau Coffee also includes a patio with a tree sprouting from its center—a forest within a forest.
Inside Akau Coffee's New Locale in the Neiwei Arts Center