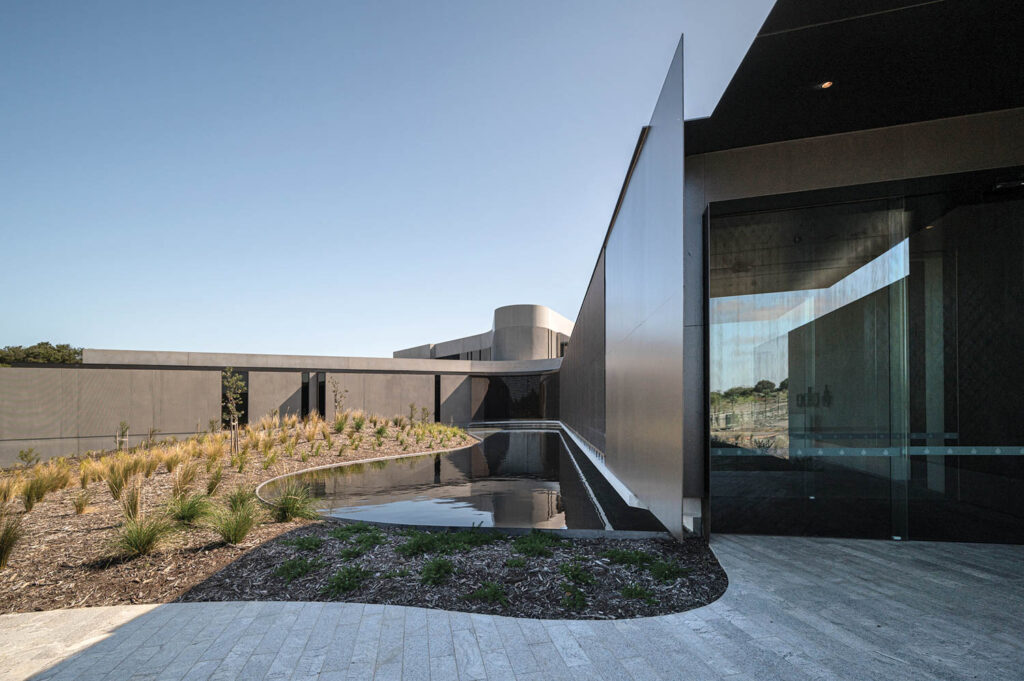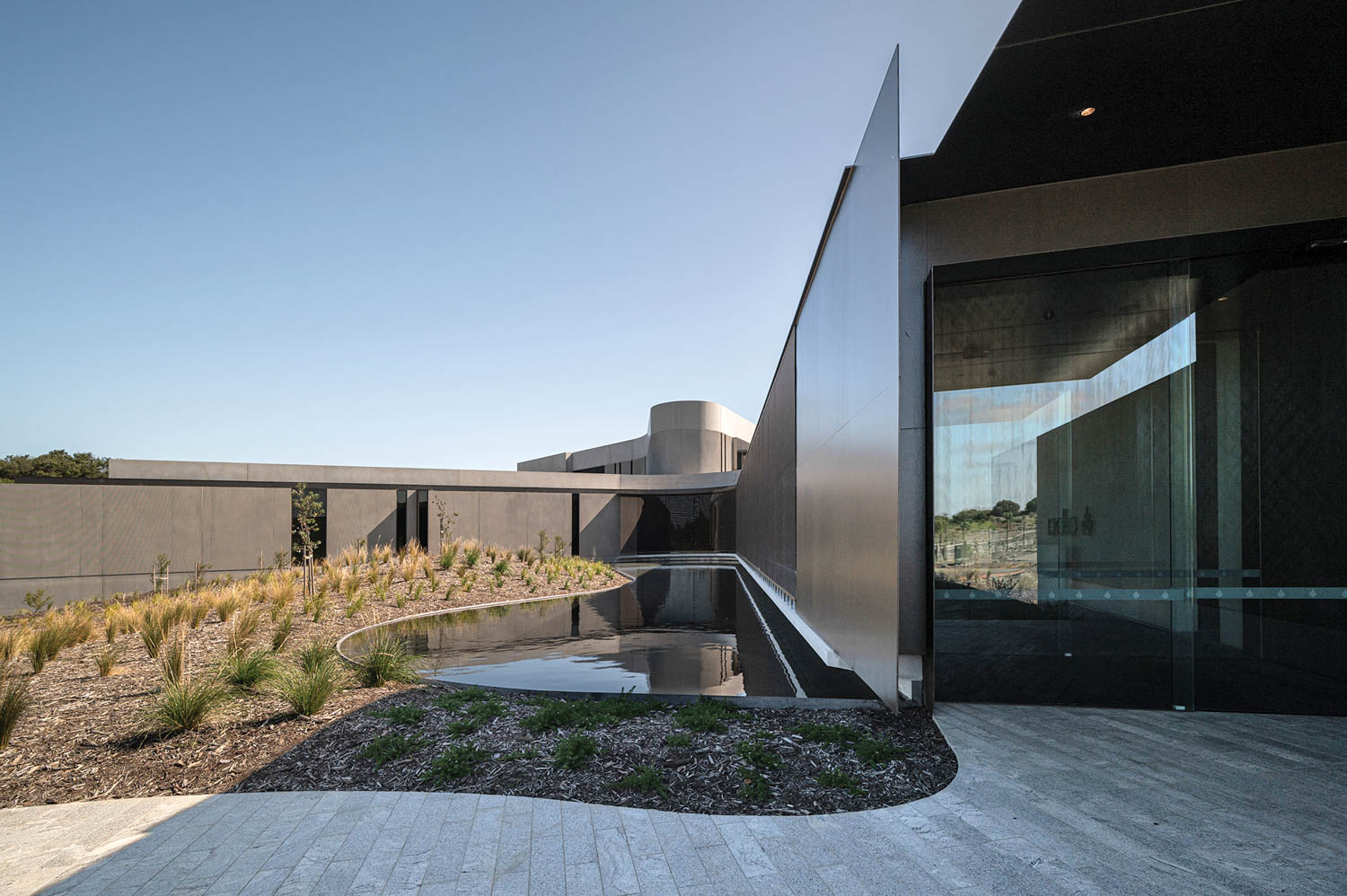 Experience Tranquility at Alba Thermal Springs & Spa in Australia
The Mornington Peninsula, a 280-square-mile enclave about one hour's drive southeast of Melbourne, Australia, has long been the city's coastal getaway. Fringed with sandy beaches, rocky shorelines, and rugged cliffs, the semirural landscape blends rolling hills with natural bushland—an ideal setting for the wineries, restaurants, hotels, resorts, and health and wellness properties that dot the area. Among the most recent additions to the latter, the Alba Thermal Springs & Spa by Australian firm Hayball is distinguished by both its sensitive design and its use of 100 percent geothermal water—only the second such facility on the peninsula to do so.
Located on 37 acres of undulating terrain covered with tea trees and other indigenous vegetation, the Alba comprises two structures—the three-level main building and the Hemisphere, a separate pavilion with a steam room, sauna, and plunge pool, more than 41,000 square feet in all—surrounded by 32 outdoor geothermal pools connected by a network of winding foot paths. When Hayball got the assignment, the firm already knew the area—it had previously worked on a multibuilding lodge at nearby Moonah Links golf resort—but had not designed a wellness destination before. It was, in fact, the neighboring project that captured the interest of the client, who was "very intrigued by how we tucked the cluster of lodge buildings into the landscape," says Hayball principal Eugene Chieng, who headed the project's architecture team.
Local firm Hayball Designs Alba Thermal Springs & Spa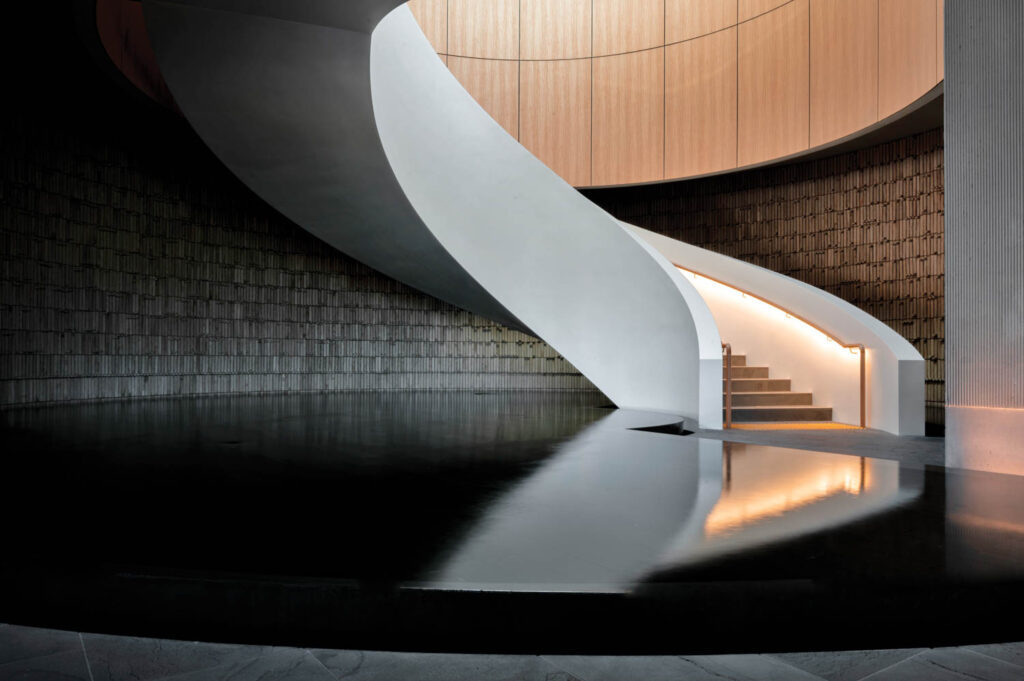 Hayball went further than tuck the main Alba building into the landscape, however, burying the rear portion in the hillside and rendering the exposed parts in raw concrete of a color and texture that harmonize with the surrounding natural palette. "We toyed with the idea of using rammed earth," Chieng reports. "But that would have been too challenging during COVID." His team worked closely with Mala, the project's landscape architect, on positioning the building and further anchoring it to the site with curved concrete walls that cut through the terrain to form sunken courtyards, sheltered nooks, and other sequestered spaces. While he resists labeling the structure "brutalist," Chieng acknowledges the influence of the movement's precept that "a built form can be quite bold but at the same time mindful of its context."
Architectural Binaries Create a Sensory Journey
"It was important to choose a material that could be used expressively both inside and out," says principal Bianca Hung, who led the interiors team. The concept centers on the idea of rejuvenation as a sensory journey, a transformative experience that's offered—and intensified—by the Alba's confidently choreographed sequence of larger and smaller spaces. The building needs to satisfy two programs: a public one, for visitors using the locker rooms before heading outside to the thermal pools; and a private one, for patrons of the day spa facilities. (Housed on the second and third levels, these include a relaxation lounge, manicure/pedicure area, Vichy showers, various massage and treatment rooms, and a penthouse suite of private salt baths and geothermal pools.) "There was an effort to create a contrast between inclusivity and exclusivity," Chieng continues, describing how Hayball utilized such classic architectural binaries as light and shade, compression and expansion, smoothness and roughness, and solitude and togetherness to conjure an enveloping environment that's "constantly provoking the senses, but in a very controlled manner."
The journey begins at the entry, an intimate portal framed by a bronze-finished steel-slab canopy and side panel, which opens to the long, spacious reception hall. The Alba's limited materials palette is set here: a massive cast-concrete sign-in desk backed by a ribbed-concrete wall on the left; a curved expanse of floor-to-ceiling windows, their aluminum frames and glass panes also bronzed, on the right; and bluestone tiles underfoot. Only wood is missing from the restrained mix. An exterior steel-mesh tension screen veils the windows, softening the light and allowing shadows and reflections off an adjacent water feature to animate the space.
A discreet doorway behind reception leads to the private spa locker rooms, while visitors en route to the public changing rooms and outdoor pools enter a transitional zone centered on a monumental circular slab of cast concrete, the top embossed with concentric rings of bronze evoking ripples on water. "It's a piece of sculpture, a seat, and a moment to help direct the path through the space," Hung notes. The bench's totemic aura is heightened by a skylight directly overhead and concealed LEDs illuminating the base. But the building's biggest coup de théâtre is reserved for the adjoining space: a double-height rotunda, topped with an oak-paneled oculus and floored with a dark reflecting pool, from which a perfectly lit spiral stair rises in a graceful curve to the spa floors above. No work of art could ask for a more flattering showcase.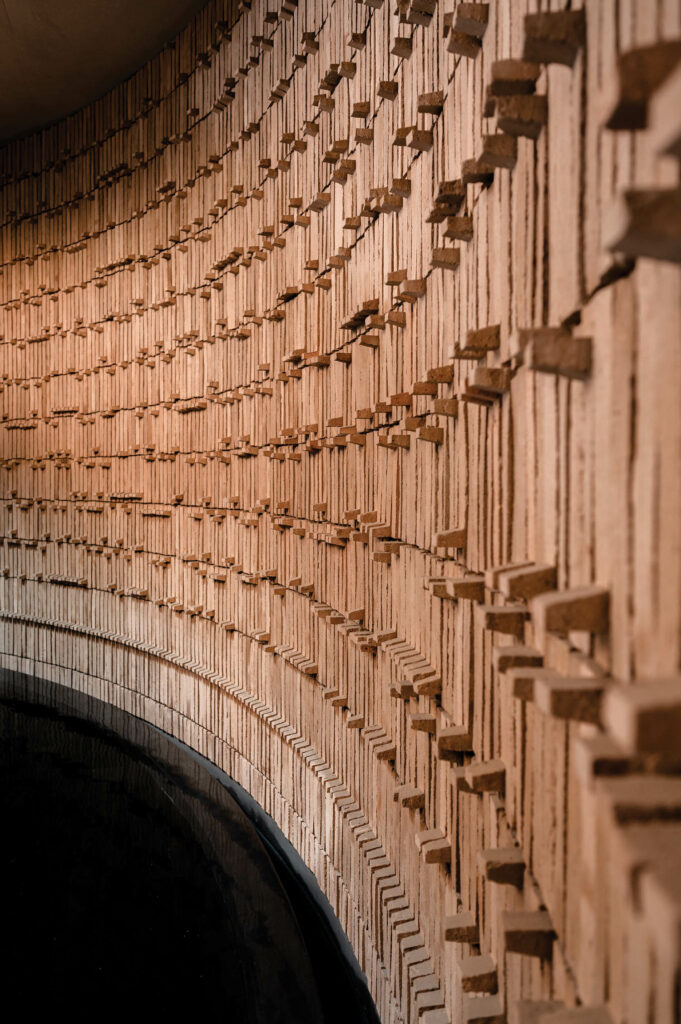 A Color Palette Designed to Evoke a Sense a Calm
"In terms of the plan," Hung adds, "the stair and the reflecting pool are the pivot point of the entire building," a motionless fulcrum around which the other spaces form a dynamic solar system. For the public zones, including the restaurant which occupies its own second-floor pavilion, the palette is light and airy, prefiguring the natural environment that awaits outside. In the private zones, colors tend to be darker and moodier, wood surfaces are more plentiful, and rooms are individuated with changing ceiling heights and different size windows. "Everything," Hung says in conclusion, "plays into the idea of journey and rejuvenation and calmness."
Inside Alba Thermal Springs & Spa in Australia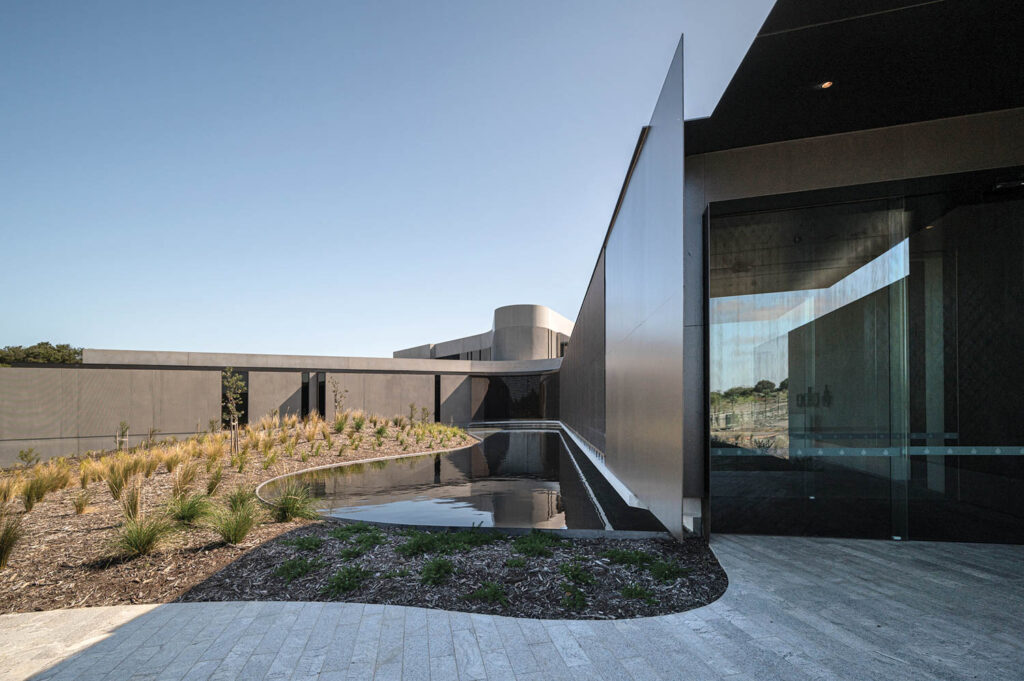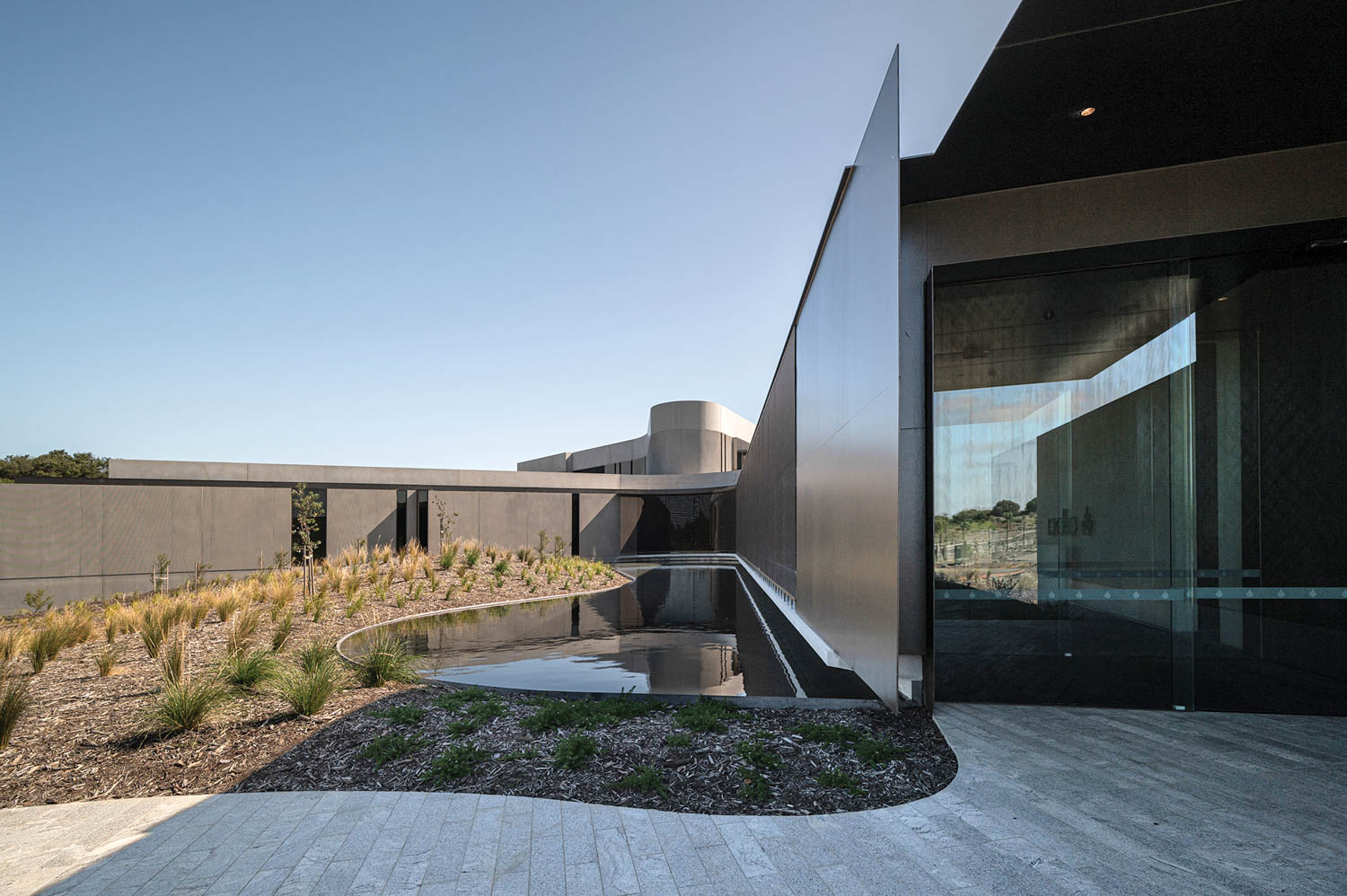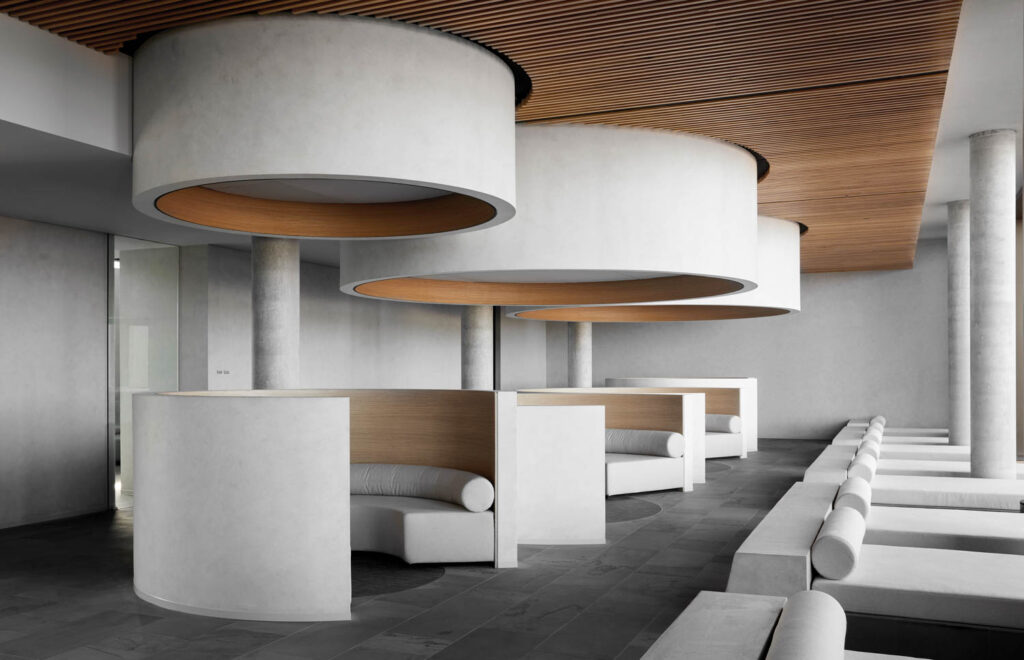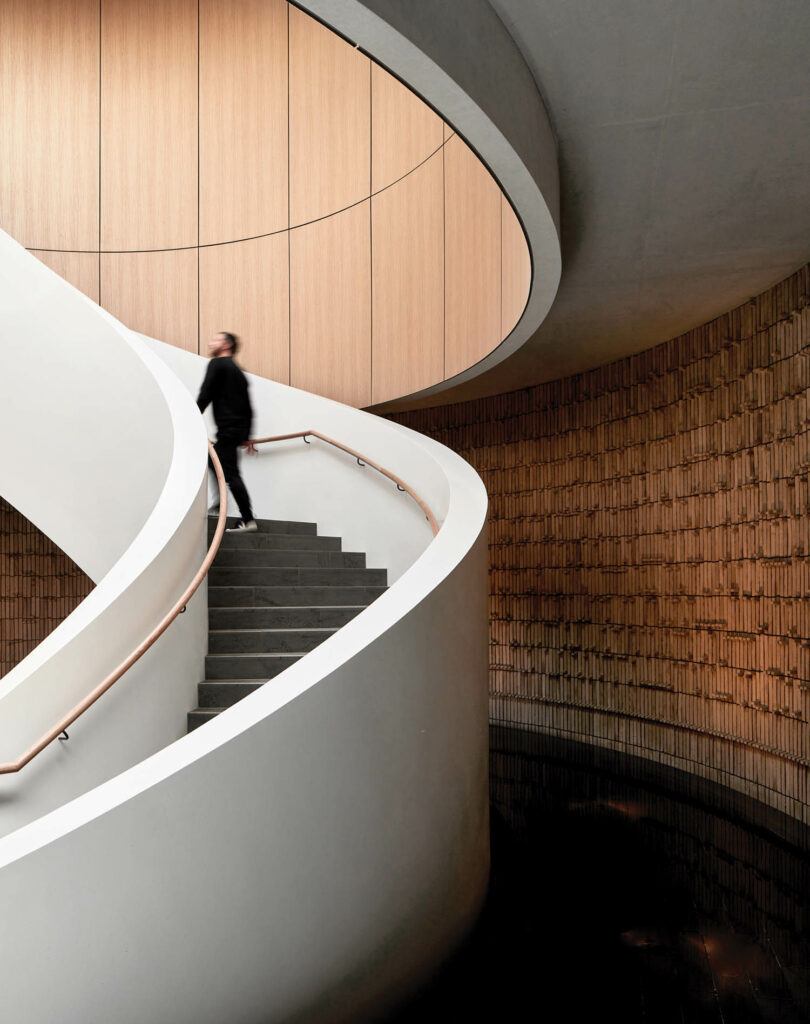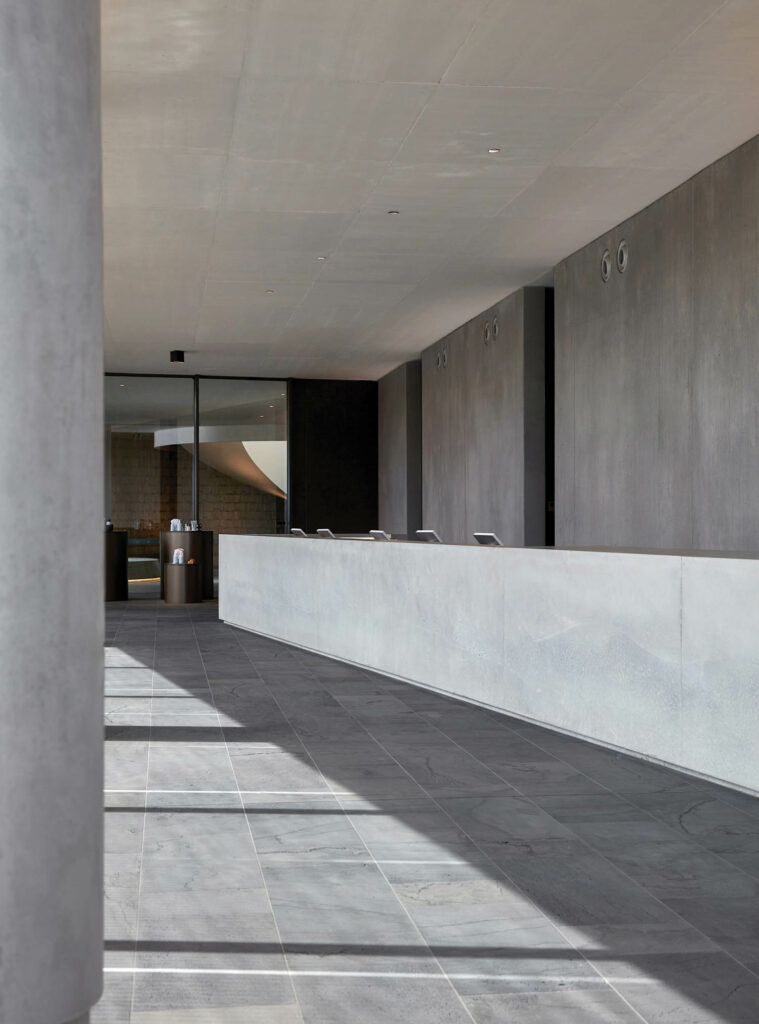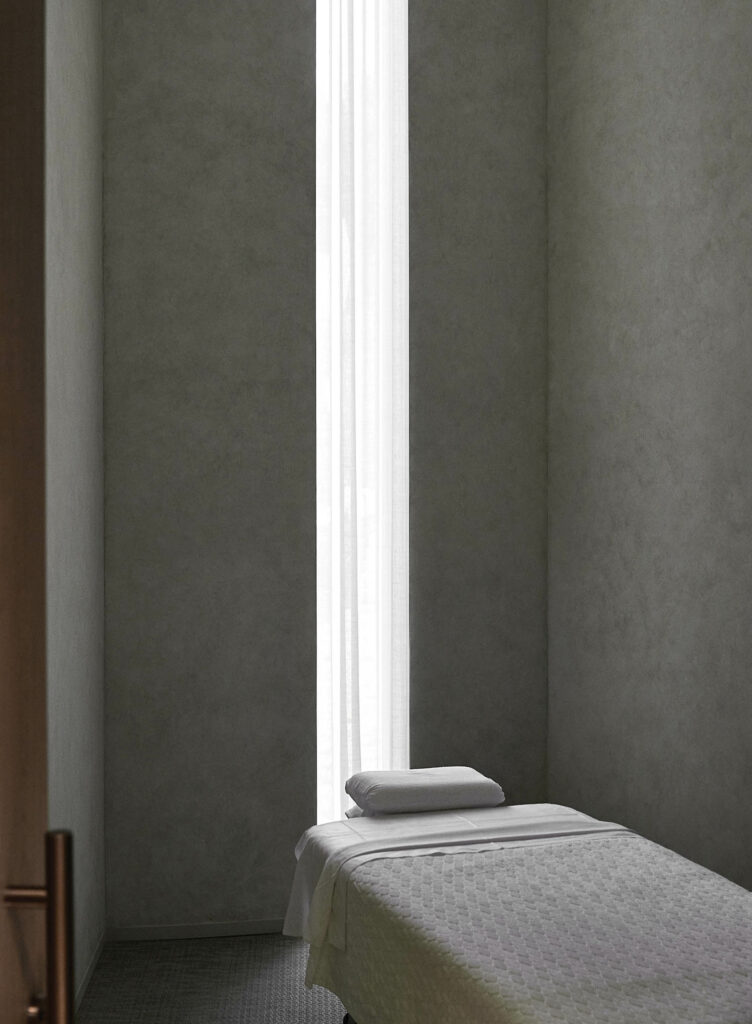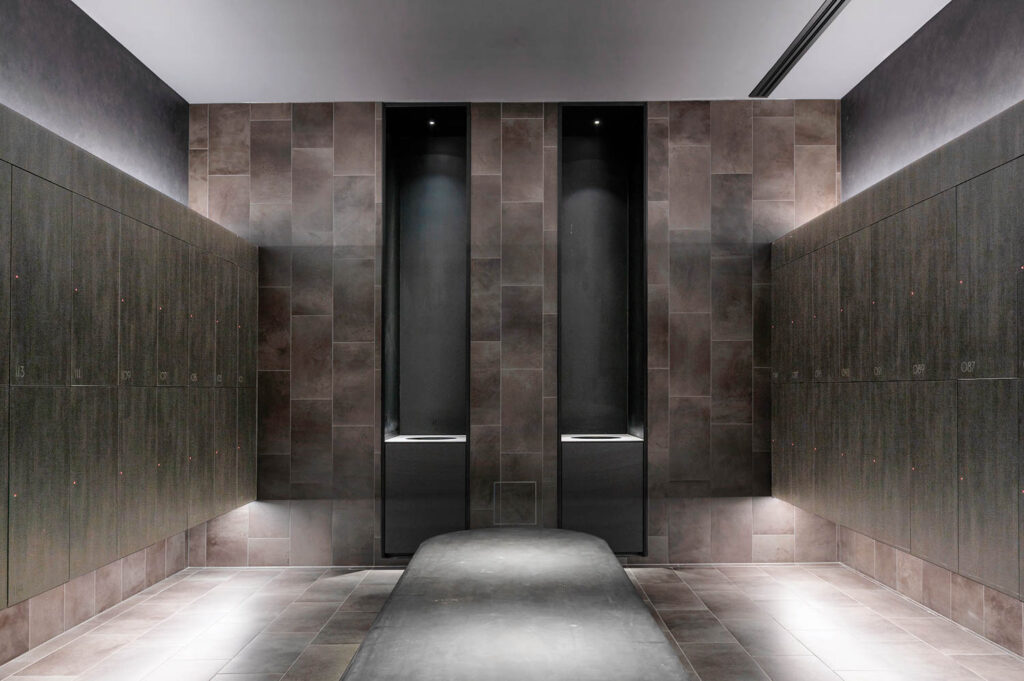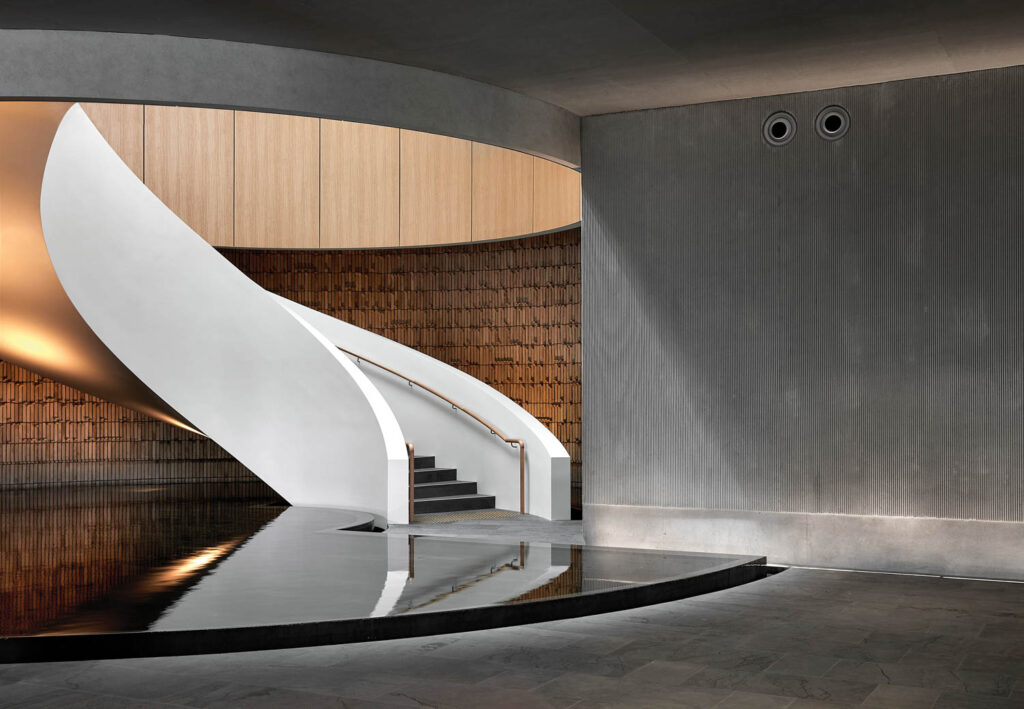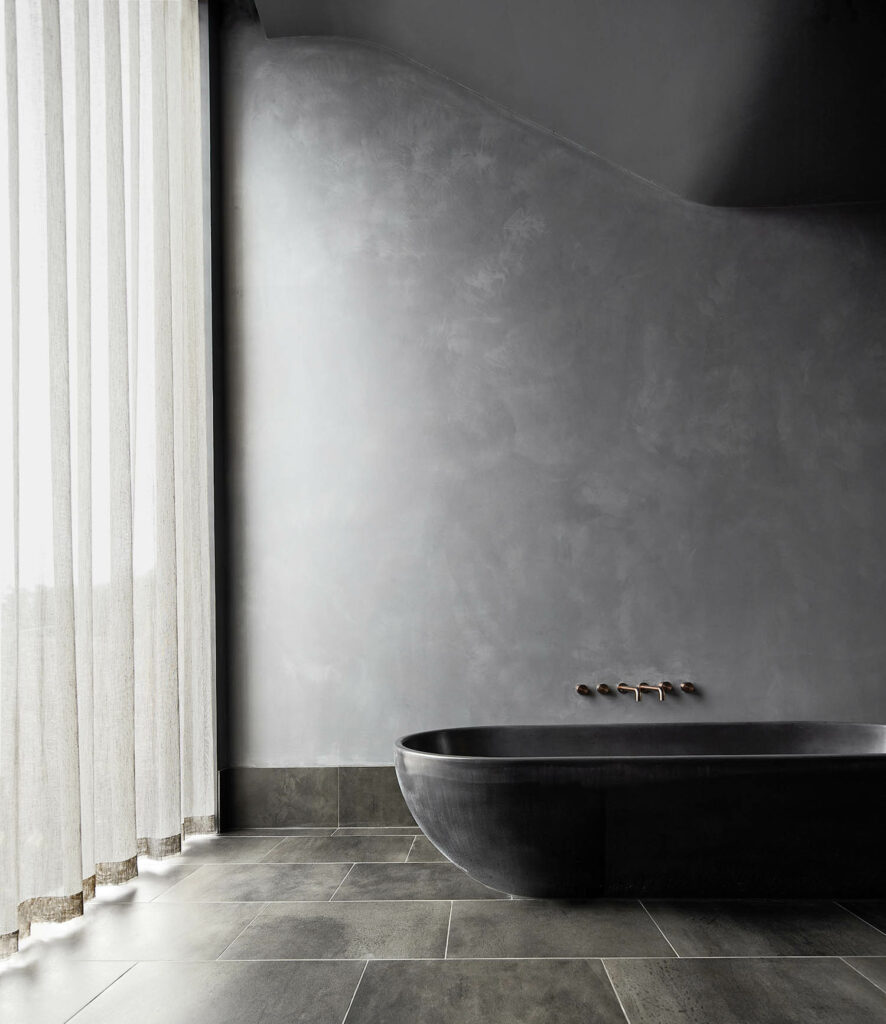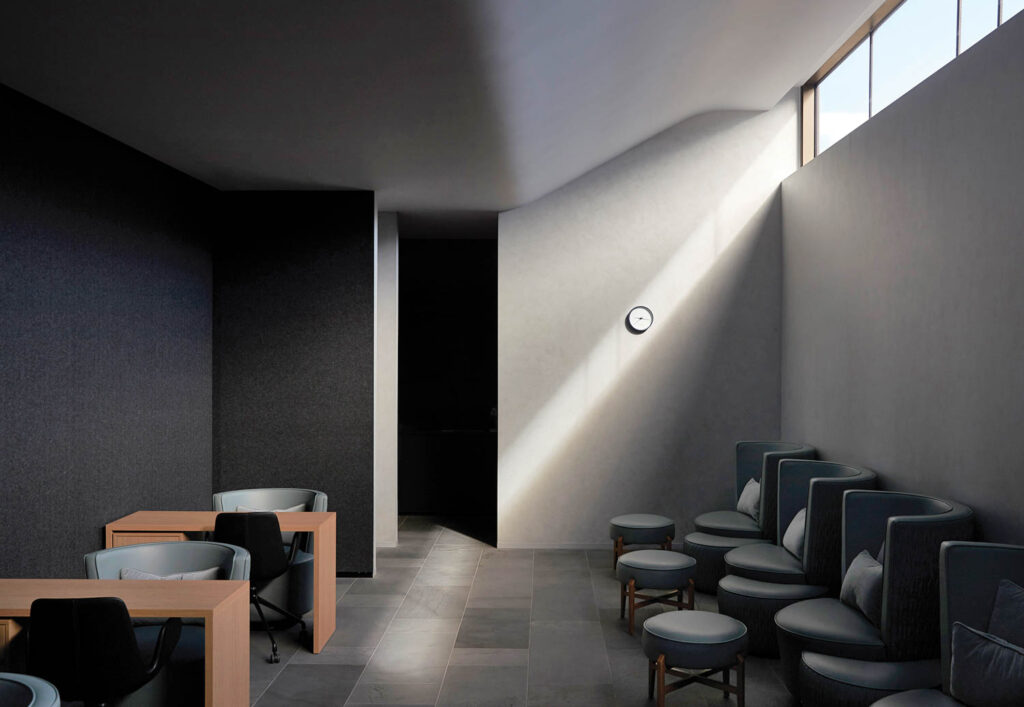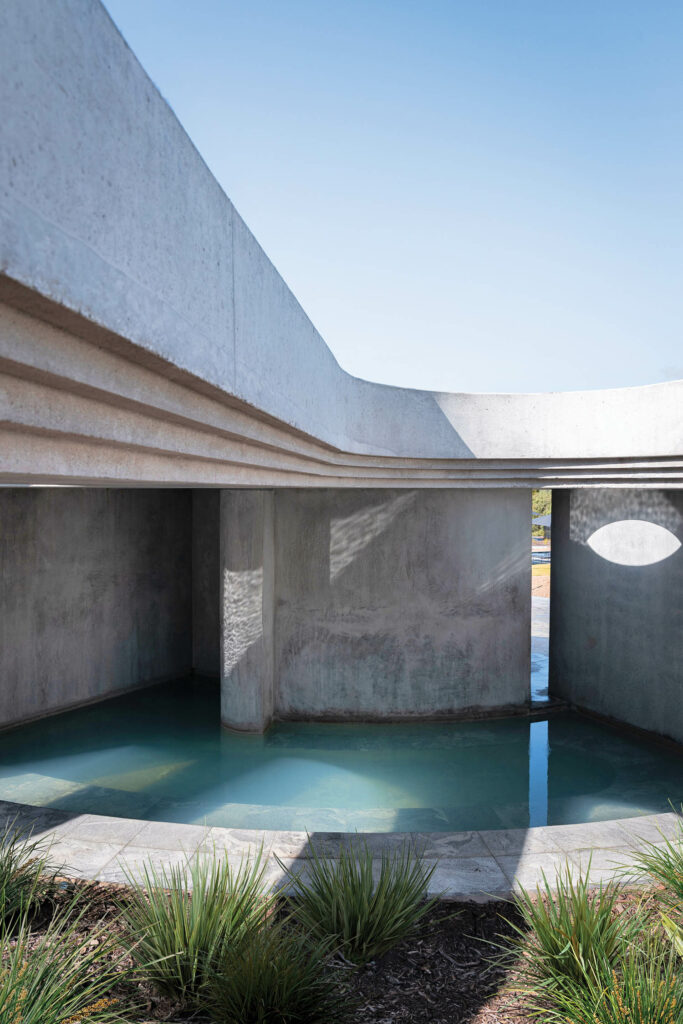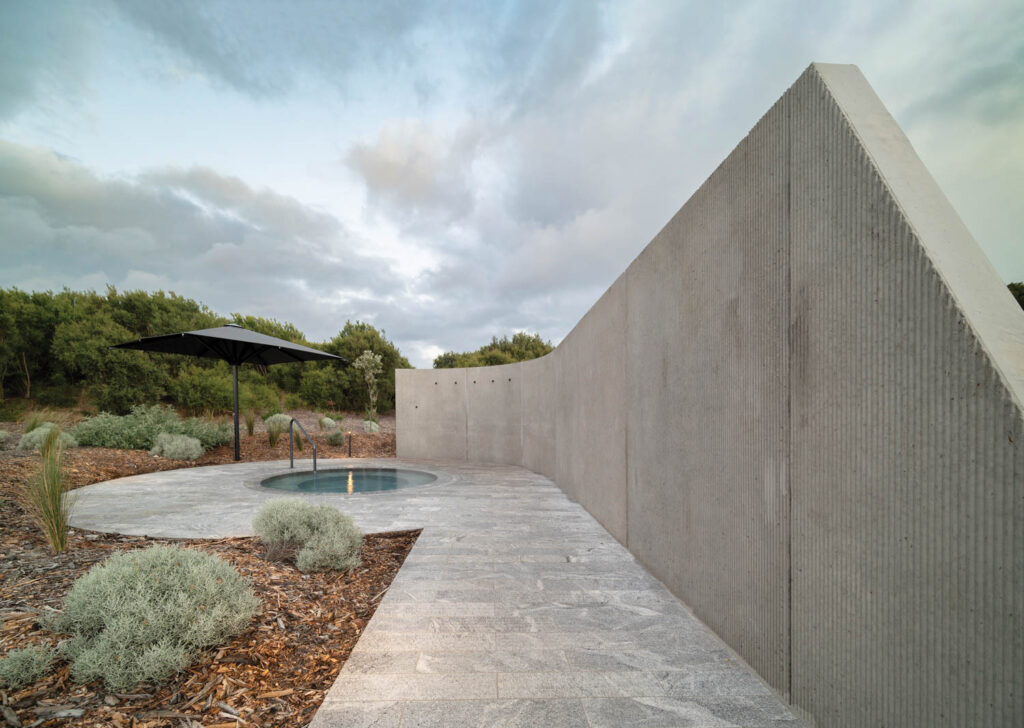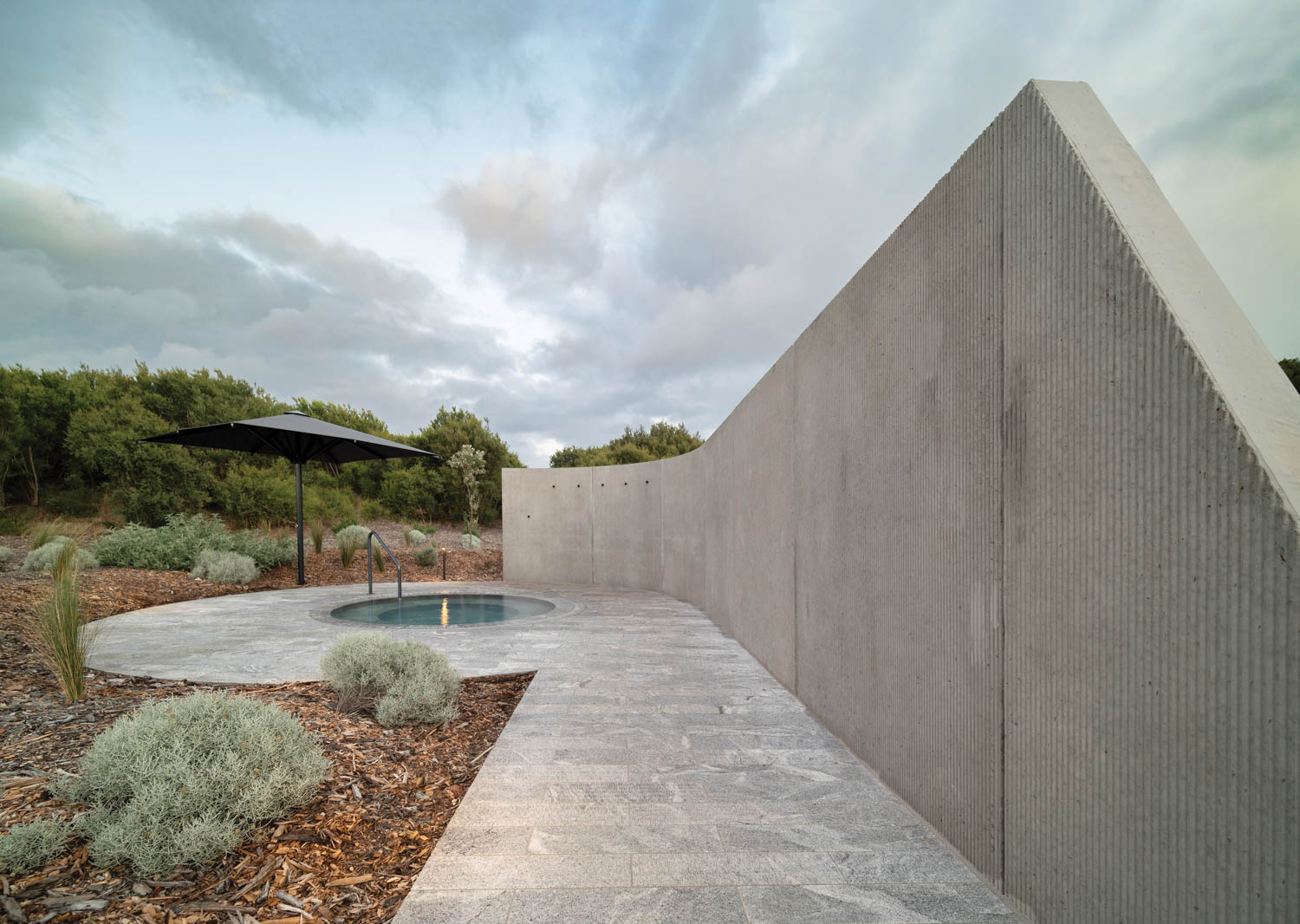 project team
HAYBALL: robert mosca; jean-francois lagace; laura mason; tim caldera; gianni iacobaccio.
mala: landscape architect.
aquarius swimming pools: pool consultant.
arup: acoustic consultant; lighting consultant.
studio mass: custom signage.
stantec: structural engineer; mep.
zuster furniture: custom furniture workshop.
gdp group; minicon: general contractors.
PROJECT SOURCES
FROM FRONT
las losas: custom wall tile (rotunda).
locker group: mesh tension screen (exterior).
kvadrat maharam: seating fabric (lounge).
mortlock timber: ceiling slats.
caesarstone: bench (locker room).
intraspace: lockers.
metz tiles: floor tile (locker room, bathroom).
atkar architectural: banquette (restaurant).
instyle: banquette fabric.
concrete collective: tub (bathroom).
novas: tub fittings (bath­room), door handle (treatment room).
bolon: flooring (treatment room).
THROUGHOUT
sai stone: floor tile.
reckli: ribbed concrete panels.
new age veneers: wood veneer.
taranto windows & glass: windows, skylights.
dulux: metalwork finish.
porter's paints: paint.
read more