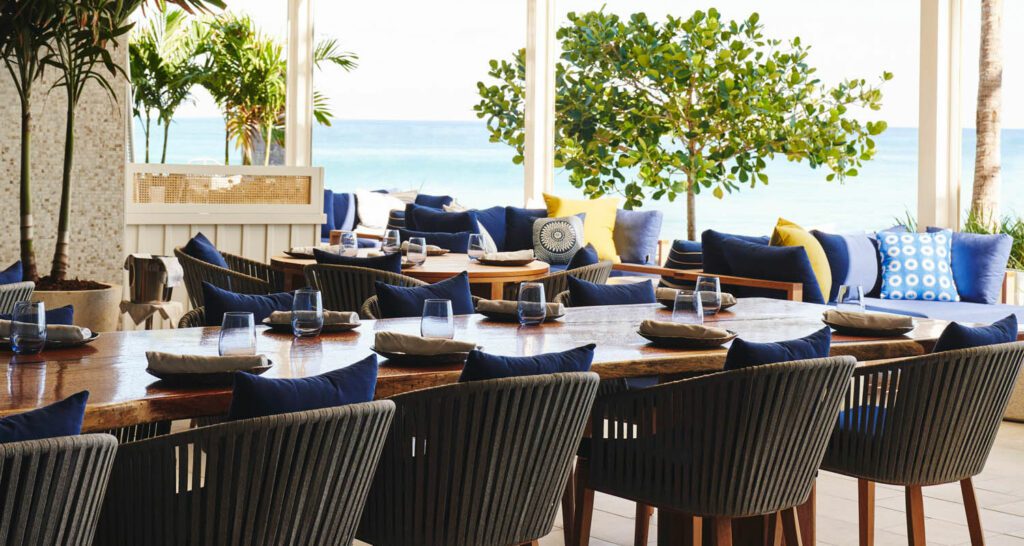 Alfredo Paredes Designs a Beachside Restaurant in Fort Lauderdale for Laurent Tourondel
Alfredo Paredes certainly knows how to set a creative scene. Make that many types of scenes. That's because the first-generation Cuban-American who graduated from The Art Institute of Atlanta spent 33 years with Ralph Lauren, the last 20 as executive vice president and chief creative officer. He led teams designing global retail and visual display. He headed up the Home Design Studio. He honed hospitality bona fides with The Polo Bar in New York and Ralphs, the ne plus ultra boite on Boulevard Saint-Germain where chic Parisians gather for burgers and other American classics. All of which brings us to the designer's latest endeavor, in fact two of them. After leaving the Lauren enterprise in 2018 and taking a year off ("I worked since I was 15 years old"), he established Alfredo Paredes Studio. It was just four months pre-pandemic. As luck (and talent) would have it, a famous chef friend soon called with a proposition: design Dune by Laurent Tourondel, beachside in Fort Lauderdale. "I was grateful for the opportunity," Paredes says of his first independent hospitality job.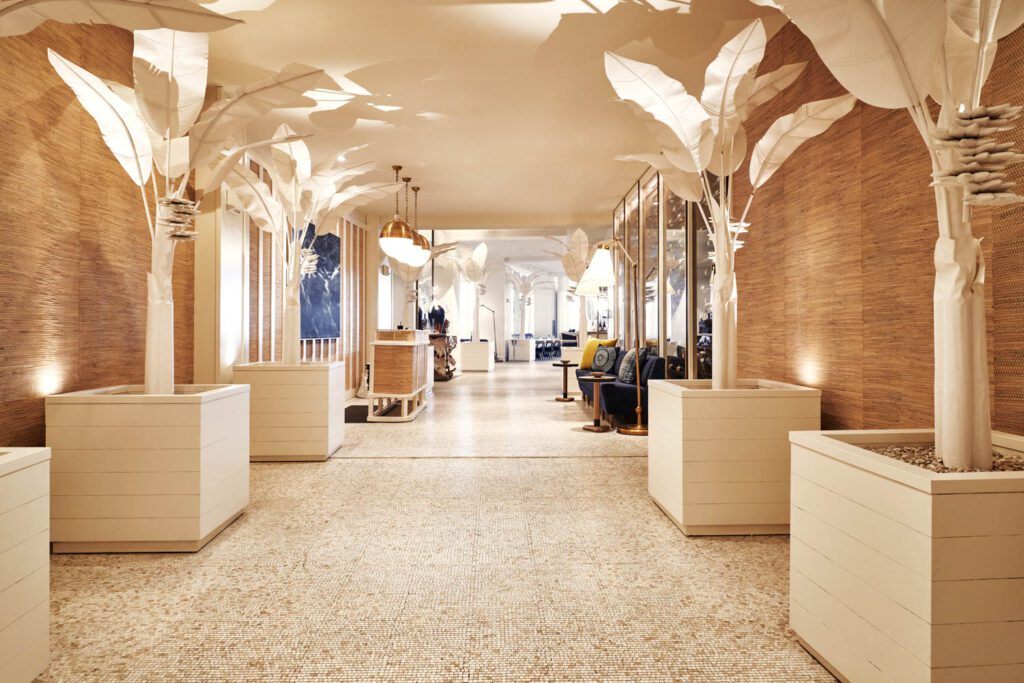 Actually, the restaurant was pre-existing and huge. The 10,000-square-foot premises, including terrace and back-of-the-house, was created as an amenity for the upscale condo complex, Auberge Beach Residences and Spa its overall interiors by Meyer Davis. With the property's change in ownership came the charge to re-imagine the restaurant.
"He explained what he wanted it to look like," Paredes said of Tourondel. "Beachy but not necessarily Floridian; beachy with an ode to the Caribbean and South of France." As for the vibe? "Fancy and chic yet breezy and not intimidating." Further, the guest experience would shift from day to evening. "The restaurant would feel one way at 5 p.m. under the sun and another at 8 p.m.," he adds. "Lighting was key."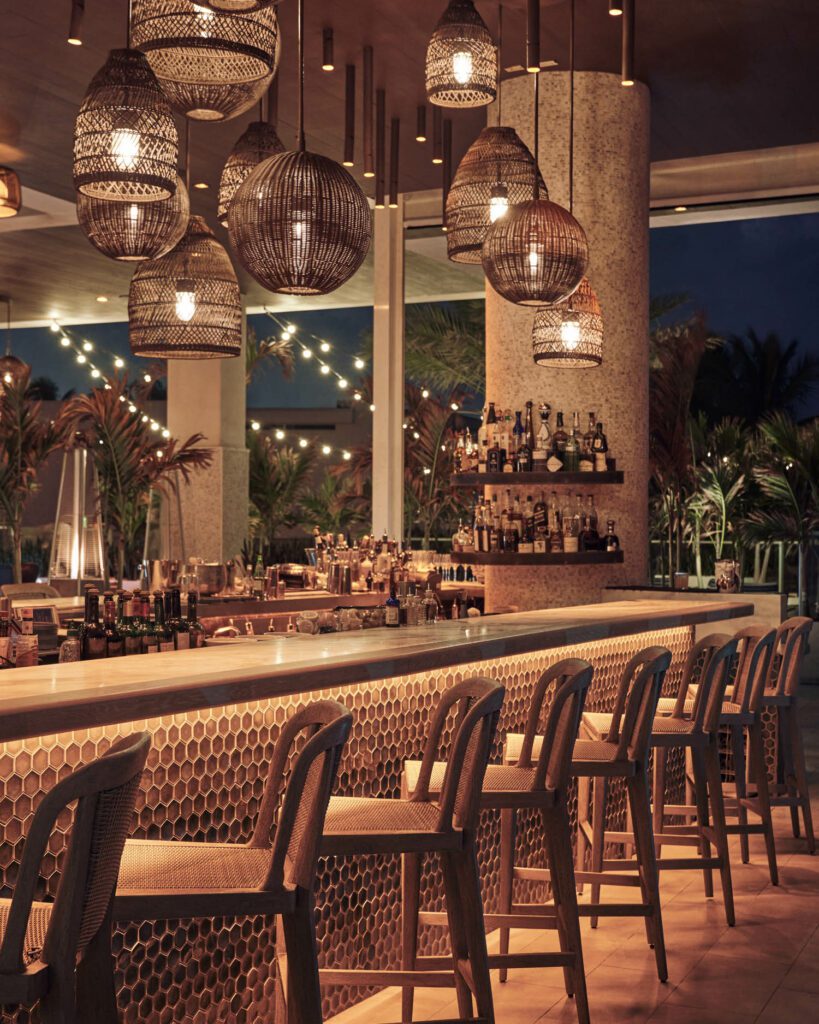 Paredes made no structural interventions yet employed design elements to articulate the approximately 450-seat-space that "goes on and on out to the terrace," with its covered bar accessed by glass doors. Dune's approach comes through the building's lobby leading to an allée of illuminated palm trees fashioned from creamy canvas. The pathway leads head-on to the whopping white ceramic and oak bar. It faces the dining expanse and has a new sushi bar along one side. For a bit of intimacy, there's a lounge area set like a cozy den with custom sofa, cocktail tables from Paredes's own collection, and floor lamp by Thomas O'Brien. Fittingly, photographic artwork shows a diver plunging into the ocean. Meanwhile, full privacy comes within a wine room for twelve. It's lined with restyled cabinetry and new brass and glass pendants among countless bottles. The scheme is vaguely nautical with more of it pervading main dining.
Banquettes are covered in indigo leather; chairs upholstered in navy-and-white-striped fabric; artisanal woven pendants overhang all. "Every seat had to be about the view," Paredes explains the prevailing low profile interrupted only by a sprinkling of the canvas palms, strategically placed. Talk about Dune's embracing the best of all worlds. "Indoors, it's elegant, candle-lit, and clubby. Outdoors, it's transformed to a beach restaurant complete with fire pit."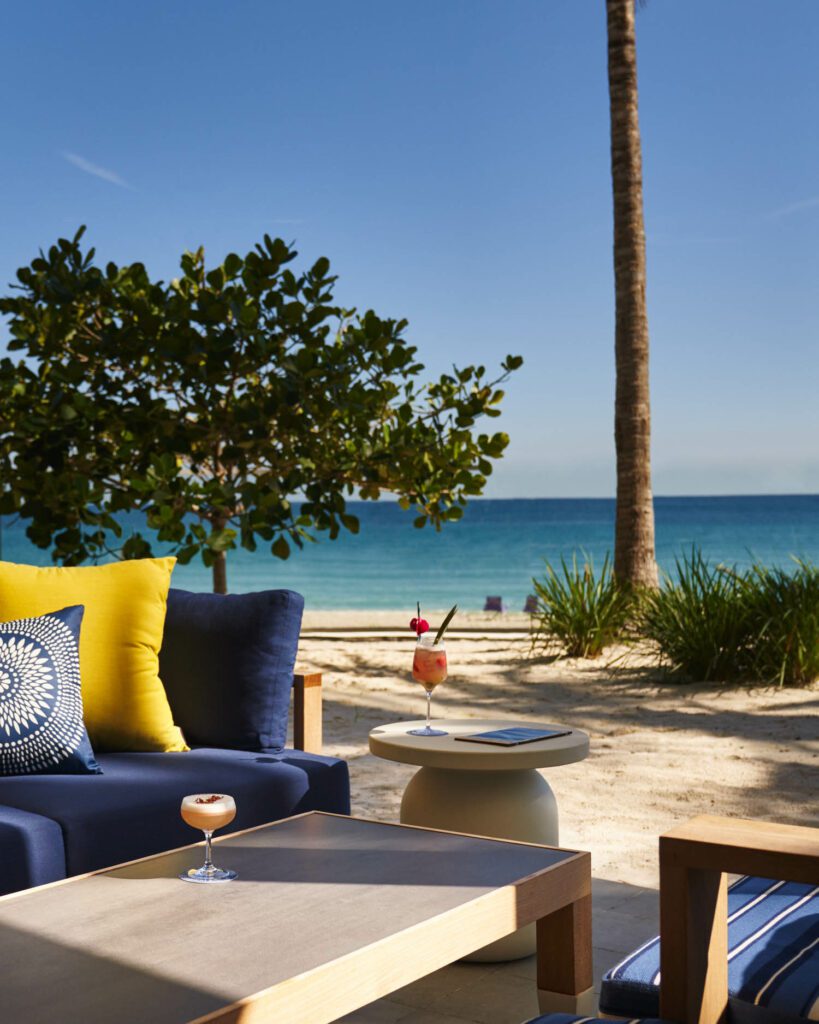 Since completion, the project dispels Paredes's early Covid trepidation. "I never knew if restaurants would open again," he admits. "It's busy and buzzy." The future looks bright for Alfredo Paredes Studio. He and a team of eight are back full time in their Chelsea, New York, headquarters. "Residential is on fire," he adds. Ergo a full slate of commissions on the boards.