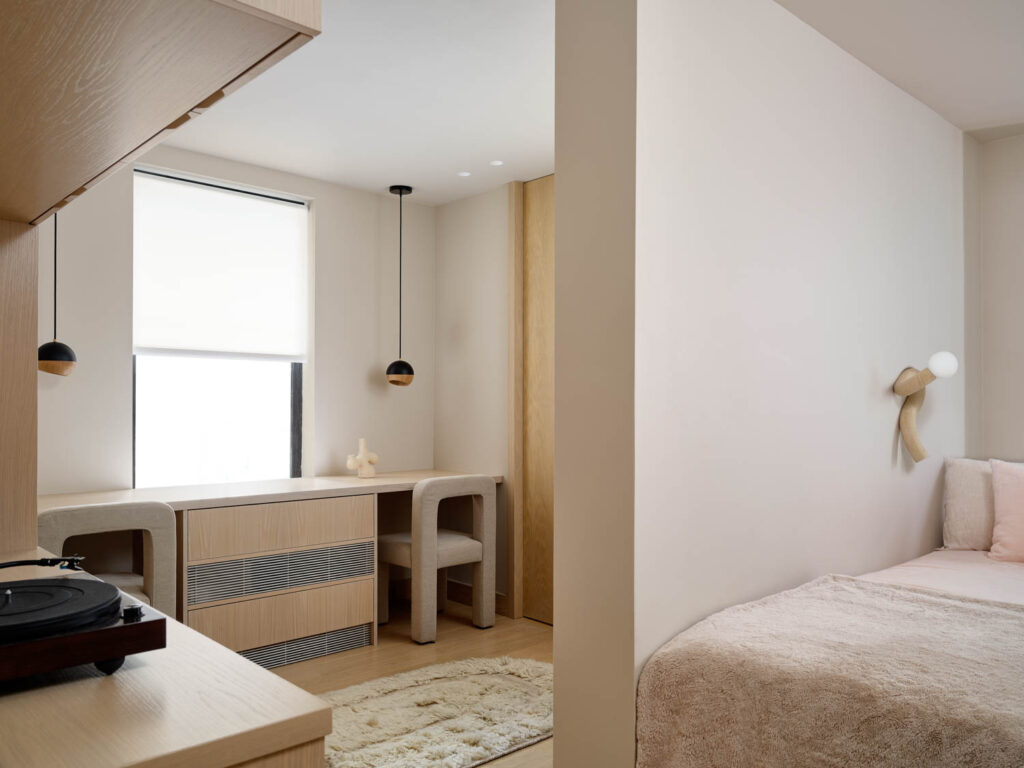 This Upper East Side Renovation Offers One Family a Fresh Start
Design isn't always just a matter of replacing and refining; at its best, it can foster renewal. When a wife approached Antonio Matrēs to reconceive the 1,400-square-foot Upper East Side apartment that had been the home she shared with her late husband and their three girls, the brief was both simple and emotionally complicated. "She wanted a soft and welcoming environment for her girls," Matrēs says. "A fresh start where they can feel peace again."
Matrēs began the renovation by rethinking the layout. First, he opened everything up: an entrance-foyer, bright and defined by a floating closet with skimmed edges, now flows into an interconnected kitchen and living and dining areas, all previously walled off from each other. A 60-foot-long console hovers in space around the edges, offering ample storage and crisp demarcation of space.
That move offered a solution to a smaller, but more crucial problem. What to do with a smaller bedroom once used for house staff, all of sixty square feet, near an equally compact bathroom? He doubled the bedroom by taking a bit from kitchen, which now felt much larger anyway. As for that bathroom, "it was used as storage space," since there was none in the bedroom. A full wood wall of closet storage there (and in each of the other bedrooms) addressed that issue with ease, allowing the bathroom to better serve its purpose.
And more: like in so many New York City apartments, the radiators were old and loud. "I hate radiator covers, and anyway we couldn't find a modern design that fit with the rest of the apartment," Matrēs says. And so he designed his own. "I don't even want to tell you how hard it is to design a steam radiator," he laughs. "But they have a similar shape as the bathroom sconces and the other pieces custom-made for this apartment." Everywhere, the effort was worth it. The formerly tight staff quarters is now, he says, a "palace" for the oldest daughter, complete with private access to transform, when the moment arrives, into her own "shared apartment."
Until then, the four will gratefully share the whole place, filled with tapestry and ceramic pieces by Ukranian designer Yakusa, and a striking forest candelabra by Jan Ernest. "They needed a fresh start," he says, and he offered that, as well as a little bit of healing.