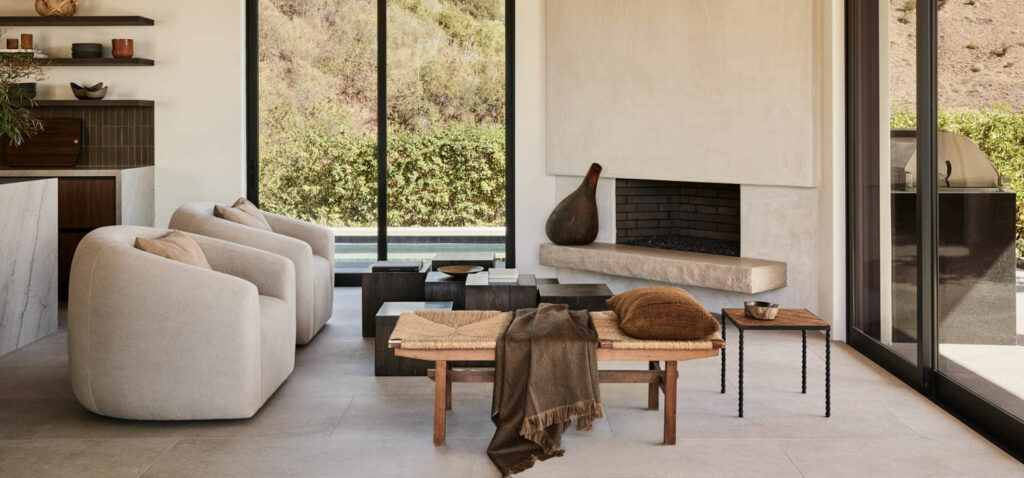 A Quintessential Santa Barbara, California Home
In the hills of Santa Barbara County, California, this 3,000-square-foot home is all about the views. With nods to the Mid-Century Modern aesthetic, a former professional football player and his wife trusted interior designer Corinne Mathern—at the helm of her eponymous studio—to shape a peaceful refuge from which they could enjoy the sunshine all year long.
"One of the inspirations that the homeowner came to the table with was of Aman Kyoto in Japan," remembers Mathern, noting that the couple recently moved from Dallas, Texas. "I derive a lot of inspiration for tranquil spaces from the Aman Resorts, so I knew it would be a good fit."
Inside the home, a mix of pigmented blues, greens, and yellows echoes the natural surroundings, as do earthy materials including wood, clay, stone, and plaster.
"We wanted to create a retreat for the homeowners, where they could enjoy the natural landscape and feel the calmness of the mountains," says Mathern. "If we strayed from natural materials, it wouldn't have had the same effect."
Mathern also took inspiration from works by Mies van der Rohe for the open concept space with floor-to-ceiling doors and windows; Eileen Grey for the Mid-Century Modern influence; and Alvar Aalto for the sense of calmness throughout the space.
"We created a seamless connection between the indoor spaces and the exterior spaces that invite you to experience them as one and the same," says Mathern.
Perfectly balanced, the result is an ode to nature that invites the homeowners to slow down and contemplate the beauty of their environment in an atmosphere where everything falls into place.