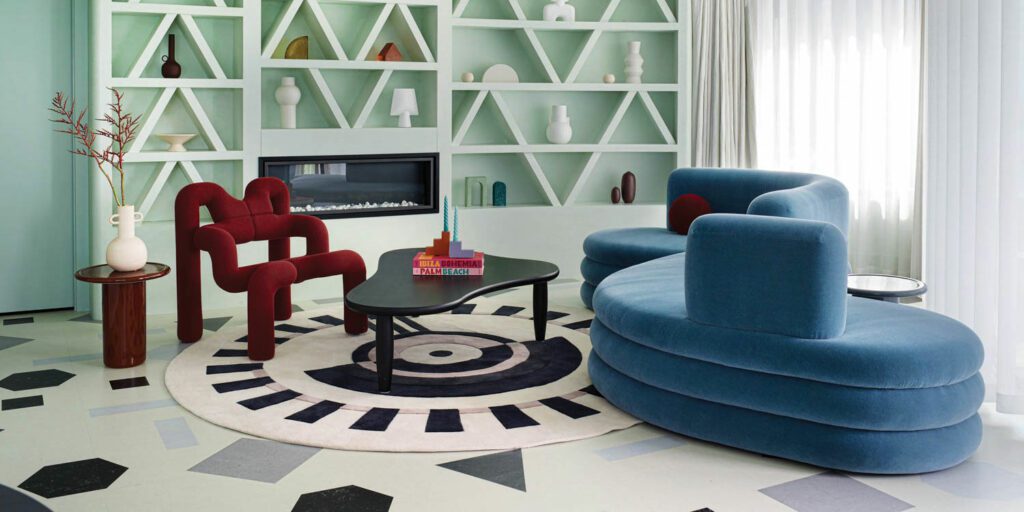 This London Apartment for a Famous Singer Nods to Idol, David Bowie
When a famous British singer bought a pad in a Foster + Partners multi-tower apartment complex on the banks of London's River Thames, a duet of desires played in his mind. First, he longed to transform its undoubtedly luxurious but standard-issue interiors into one of the city's great party spots. And second, a beloved portrait of his idol David Bowie had to take pride of place.
After a few scrolls on Instagram, he found his players: Simone Gordon and Sophie van Winden of Owl Design. The pair had met in an interior architecture course at Ravensbourne University London, rebelling against the school's partiality toward glass-box minimalism. By 2014, a few years after graduating, they'd founded their own firm, lending their signature blend of fluid shapes and bold colors to hospitality and office projects across the country. The pandemic moved them mainly into residential spaces, freshening up homes with a touch of post-Memphis here, post-Modernism there. With Owl remixing the 2,000-square-foot three-bedroom apartment, the singer knew he'd have a hit.
Gordon and van Winden's top-to-bottom redesign is indeed off the charts. The pair addressed the challenges of the building's distinctive curved walls—lovely on the outside but hard to work with in the rooms themselves—with a Memphis-inflected preference for clear geometric forms. The living area walls boast built-in bookshelves that trace the curves, divided into snappy triangular compartments for the client's collectables.
"The principal bedroom was a really difficult shape as well," Gordon notes. A bed takes up most of the room's footprint, so the designers framed a custom headboard directly against the wall. "Its curve mirrors the shape of the room, as do the bedside tables." Both are a rich, deep red. "Monochrome always brings a room together," she adds.
The burgundy-ish tone pops up in ceramic side tables throughout the space, brightening a shadowy media room dominated by a beckoning, oversize green-velvet-upholstered custom sofa and plush carpet right out of a 70's conversation pit. Bigger crowds can gather at the custom dining table while perched on Noom's groovy Gropius chairs in eye-popping orange wool, quaffing drinks shaken up at the full-height built-in bar cabinet nearby, its interior lacquered a zesty tomato hue. Both rest on linoleum floors in a custom pattern meant to recall terrazzo—albeit supersized.
"The flooring was a completely bespoke design, and installing it was quite nerve-racking," Gordon reports. "But it ended up looking amazing." Owl didn't touch the kitchen much, apart from spraying the cabinets a snappy mint green to match the walls and installing a tidy grid of backsplash tiles. ("It's mostly a place for caterers to cook in," Gordon notes with a laugh.)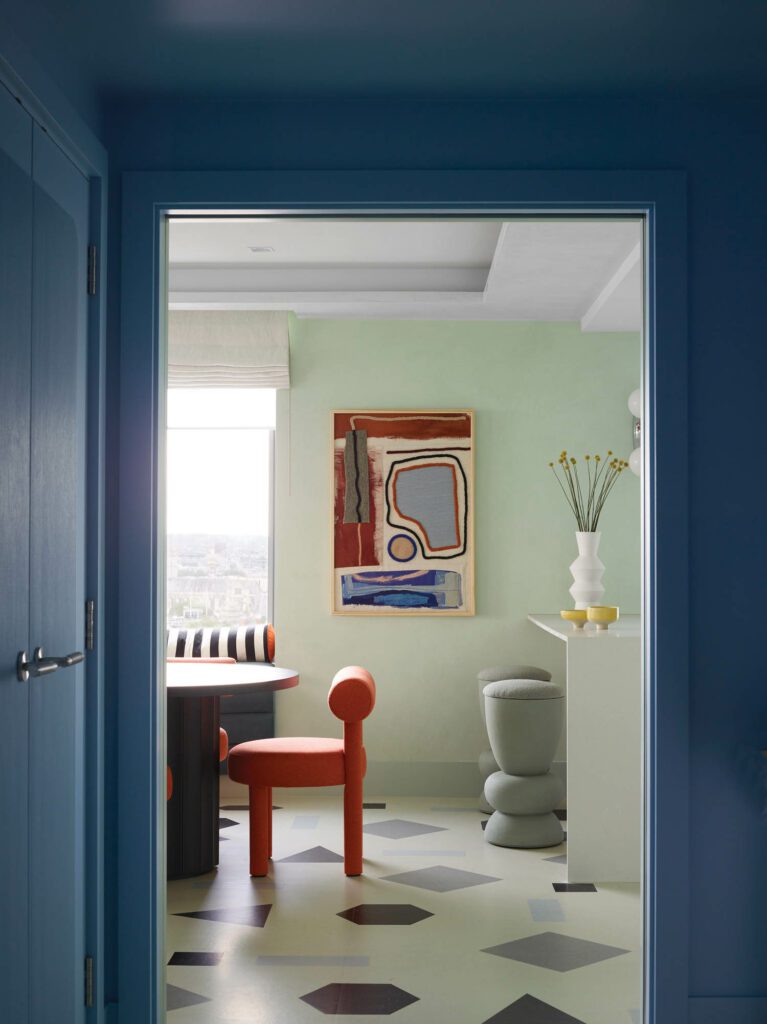 Owl did put a lot of work into the elevations of each room. "The living room walls are covered in Venetian plaster," Gordon continues. "That was a real challenge, getting all the nooks and crannies." Hallways are coated in high-gloss paint to amplify the abundant daylight. And the spare bedrooms boast eye-catching wallcoverings: a blue faux–grass cloth for one, and an op-art repeating pill pattern for the other (the client's manager's favorite place to crash).
While guests inevitably dash into the dining area to check out the blockbuster views, the true VIP spots are the hallway in which the Bowie portrait holds court and, unexpectedly, the nearby WC. Its walls are clad in sequin homages to Aladdin Sane's famed lightning-bolt face paint, and a secreted stereo greets each partier with a timeless hit and timely exhortation to party: "Let's Dance."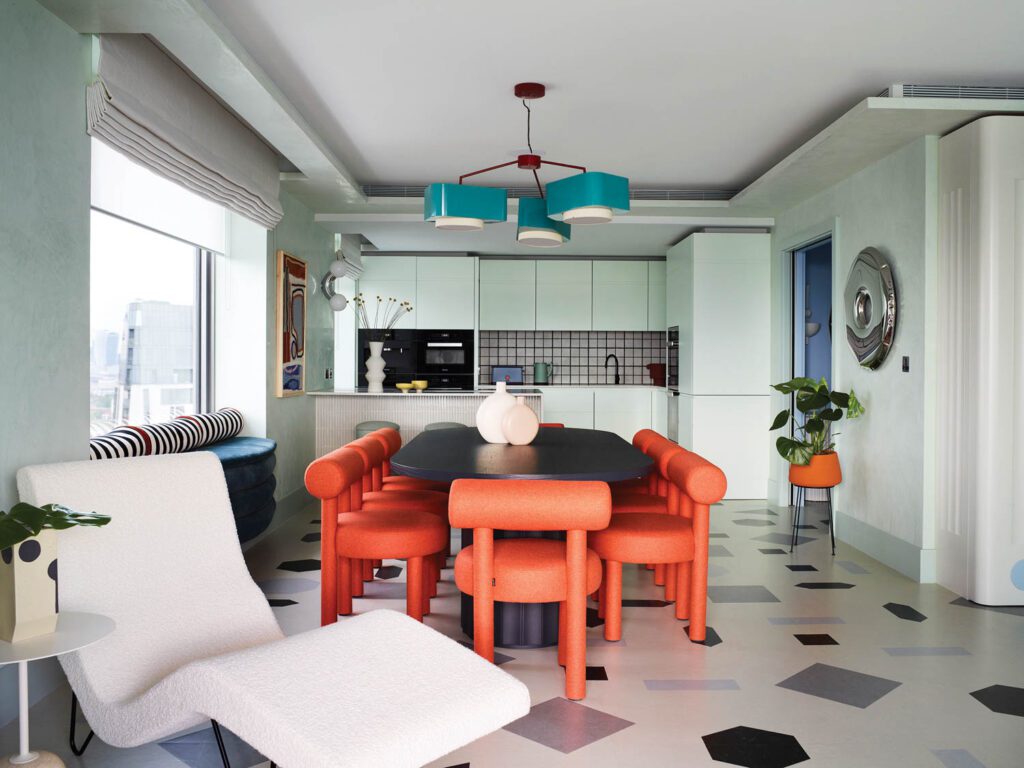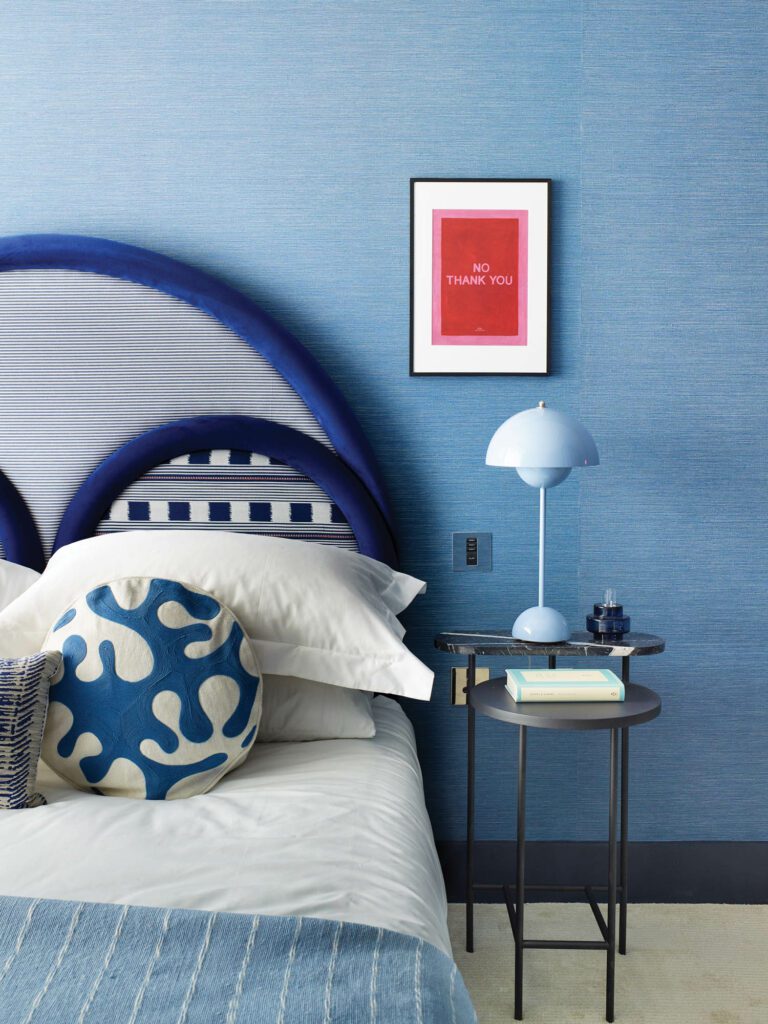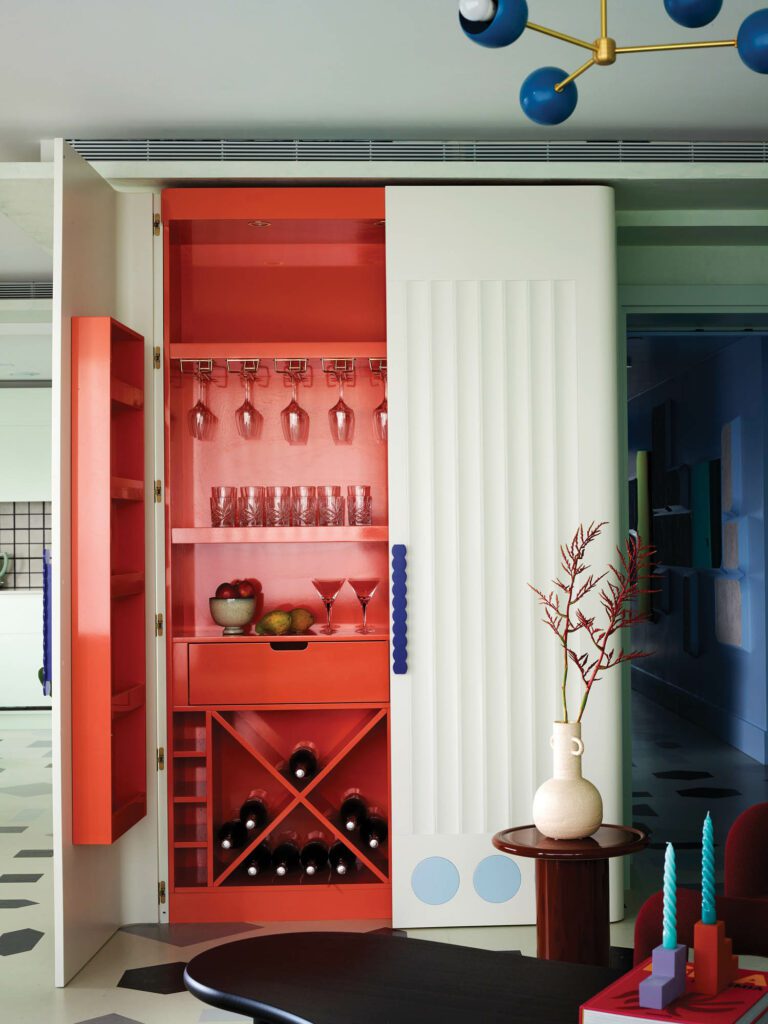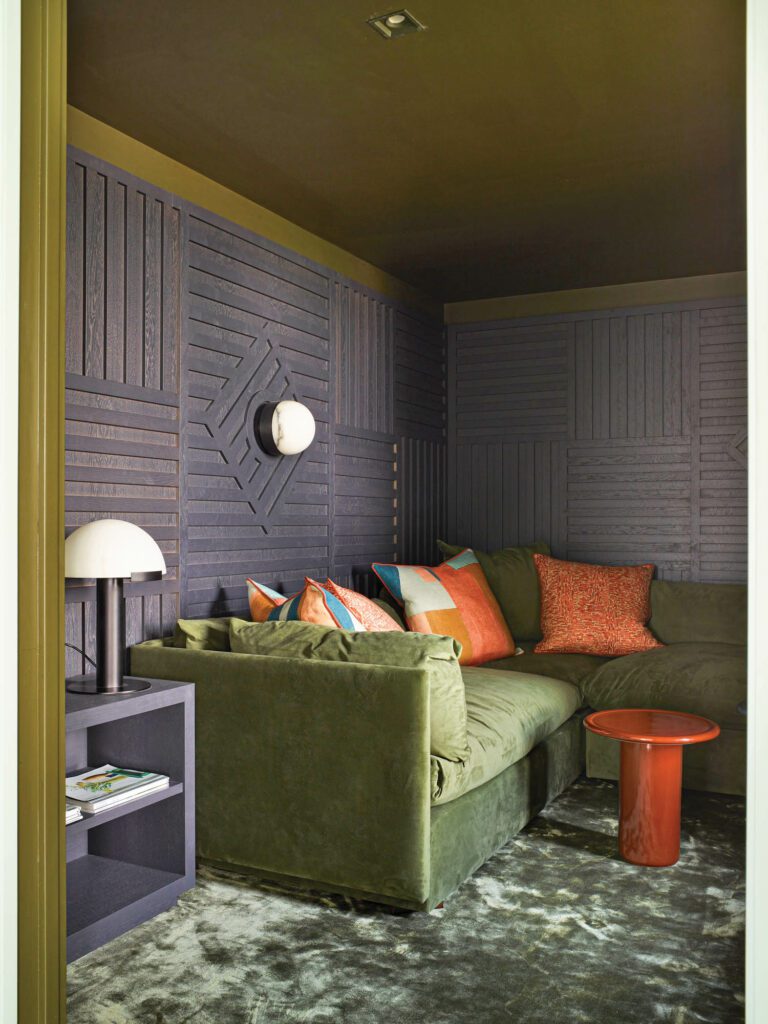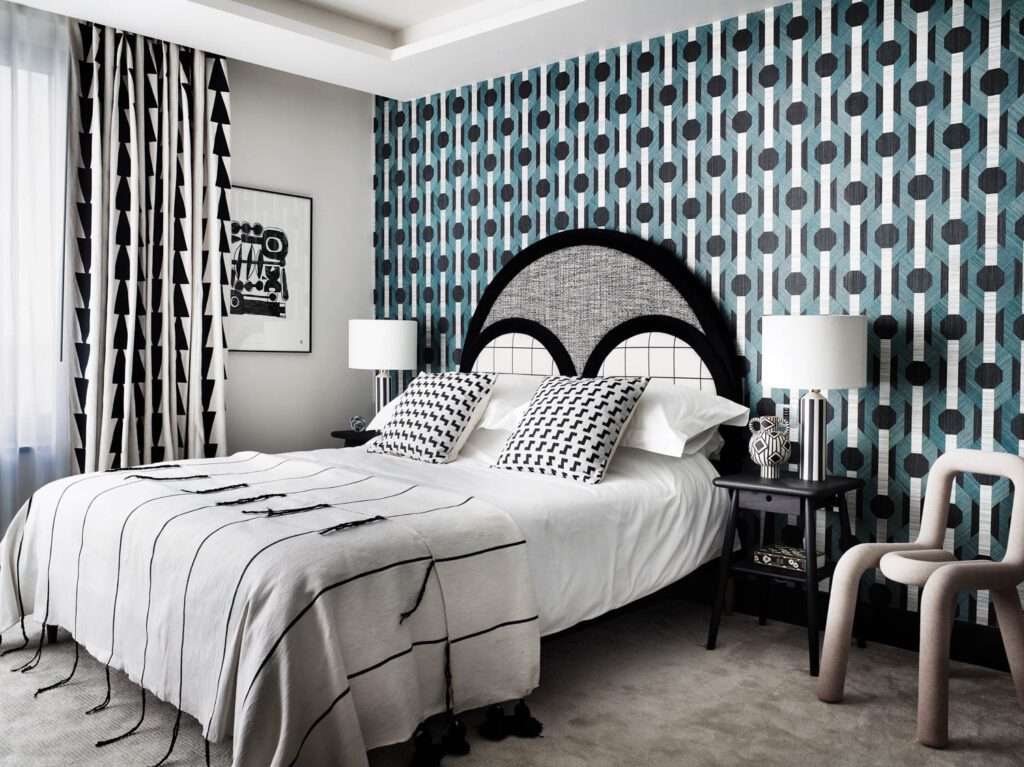 PRODUCT SOURCES
FROM FRONT
THROUGHOUT