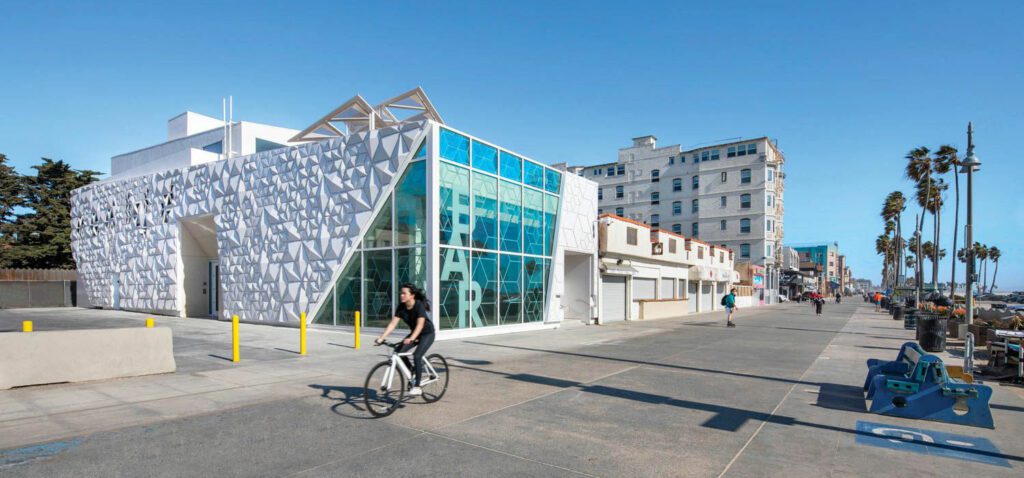 Belzberg Architects Designs a Multigenerational Jewish Community Facility With Ocean Views in Los Angeles
Amid the dive bars, fast-food joints, and tattoo stands populating a funky stretch of the famed Venice boardwalk stands a luminescent jewel: BAR Center at the Beach, a community facility that's part of the Jewish Federation of Greater Los Angeles. Its bright-white, three-dimensional facade, the work of Belzberg Architects, is aglow day and night like a sculptural installation amid towering palm trees backdropped by the Pacific Ocean. Technically, the project is a renovation, since the building originated in 1927. But in the supremely talented hands of BA—specifically founding partner and Interior Design Hall of Fame member Hagy Belzberg and principals Lindsey Sherman Contento, Barry Gartin, and Kristofer Leese—it's essentially a new-build.
Constructed first as a dance hall, the structure was expanded in the '50's with a second floor for housing, which, according to folklore, was utilized as a brothel. In 1964, the pendulum swung the other way with the building transitioning into the Israel Levin Senior Center, a haven for the area's aging population, particularly its numerous Jews. In 1994, the Northridge earthquake severely damaged the second floor, necessitating its removal. Which is what ultimately brought the project to Belzberg and his team in 2013, leading to its recent completion this summer. "Part of the reason it took so long is that it was donor-funded," Belzberg takes up the narrative, referring to contributors Bennett and Allison Rosenthal, the center's namesakes. There were also the complexities resulting from the various "add-ons that created a Frankenstein's Monster of a building," Gartin recalls.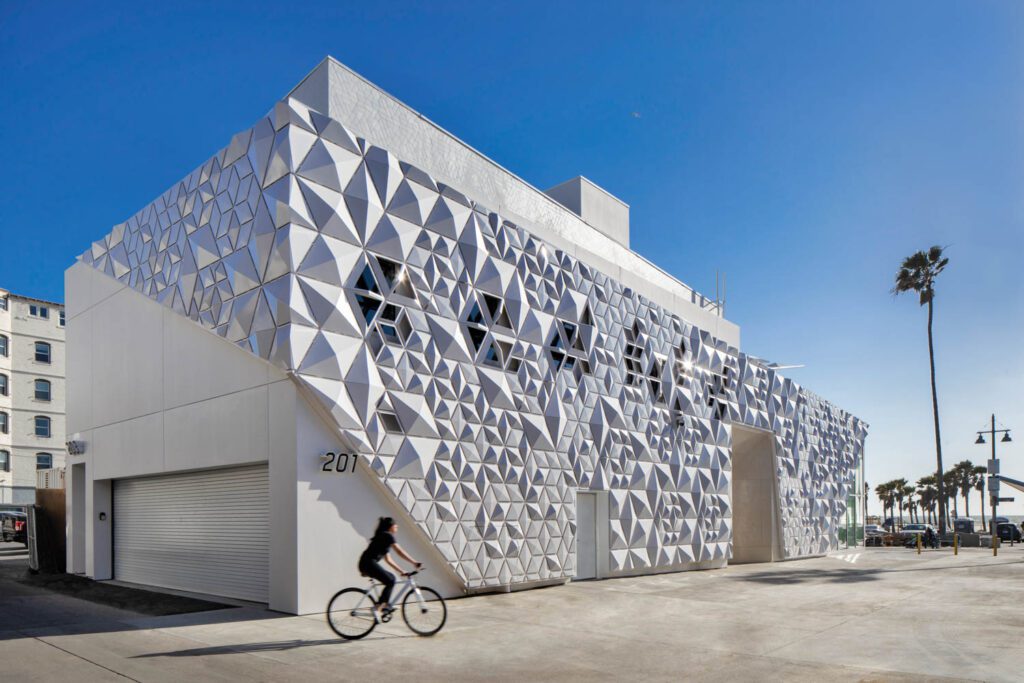 But any visitor walking by who steps inside the airy, light-filled volume would never know it. "It's a jewel box," Sherman Contento says of the center, which, among various other activities, offers yoga classes. "It's a little building programmed to do a lot," Belzberg continues. Community is the core mission. BAR is conceived as a multigenerational institution bringing together the old and the young through events and activities, both spiritual and physical. Its reach is projected to extend past Venice to greater L.A.'s Jewish community at large. In keeping with the neighborhood's history, however, the doors are open to everyone, regardless of religion. "50 years ago, Venice was a rich cultural mosaic and a center of diversity when the rest of L.A. was segregated in an ugly fashion," continues Belzberg, whose firm also designed an addition to the Holocaust Museum LA and the USC Shoah Foundation.
While retaining the same mandated footprint, BA rebuilt the center's second story and added another level, bringing the now three-floor structure to 7,000 square feet. Reorganizing spatial configurations, reception, a spacious community room, and a commercial kitchen have been allocated to the ground floor. Classrooms, flex spaces, and a library are on two; they open to a new roof deck that the firm built on top of the community room and outfitted with an angular, chuppah-reminiscent trellis to provide shade from the SoCal sun. The top level is a three-bedroom apartment that provides free housing for recent college grads in exchange for them leading on-site activities between senior and younger Jews—a first for community centers within the federation.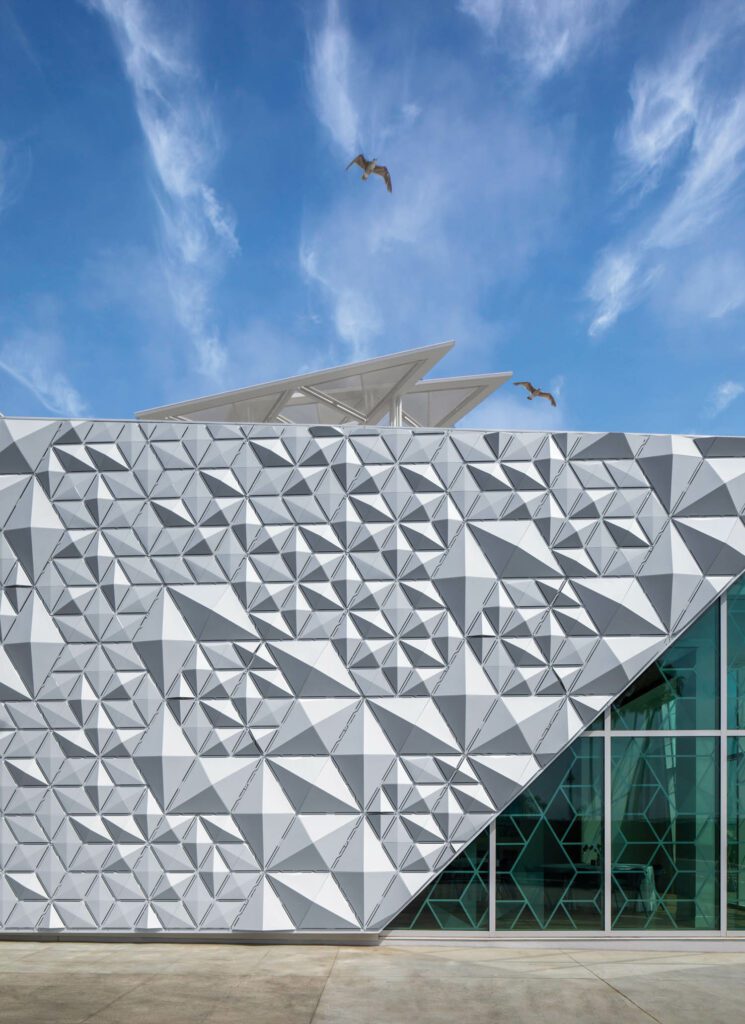 Interior finishes are durable while evoking a beachy vibe. BA newly wrapped the brick envelope with white fiber-reinforced concrete mesh, except for swaths on all the elevations, which are now glazed. Flooring is pale wood-look vinyl planks or sand-colored porcelain tile. A slatted-oak screen forms an entry canopy around the reception desk, its surfacing a triangular pattern of laminates in graphic white, gray, and metallic. In the adjacent community room, the slatted wood transitions into an acoustical ceiling system of more triangles. The roof trellis is another composition of triangles. Clearly, the shape is integral to the project. Extrapolated from the Star of David, it is the firm's subtle reference to Judaism. Sustainability was a factor, too. "Making use of its coastal ad­jacency," Belzberg notes, BA installed operable windows for natural ventilation as well as energy-efficient appliances and fixtures.
Yet BAR's undisputed standout is the facade—one that bravely sidesteps the Venice norm. "Typically, projects here integrate with the fabric. This does not," Belzberg explains. "It's meant to attract people and not disappear." Its dimensional aspect comes from steel-framed panels of aluminum powder-coated white. Utilizing four software programs to devise the pattern, the six panel types are, again, triangular in form and mounted on a hexagonal base. They join a glass curtain wall patterned via a sandwiched laminate. The world being what it is today, the glass is ballistic, and the aluminum is treated with an anti-graffiti coating; should vandalism occur, panels can be removed and replaced. "We were posed with a paradox: How to make it open and community-based, yet secure," Sherman Contento comments.
Combined, the elements form an abstracted Star of David in varying scales, as does the glazing pattern. At night, it's all backlit by a system of color-changing LEDs. It's not immediately identifiable, but, as Leese says, "If you look for it, you can see it."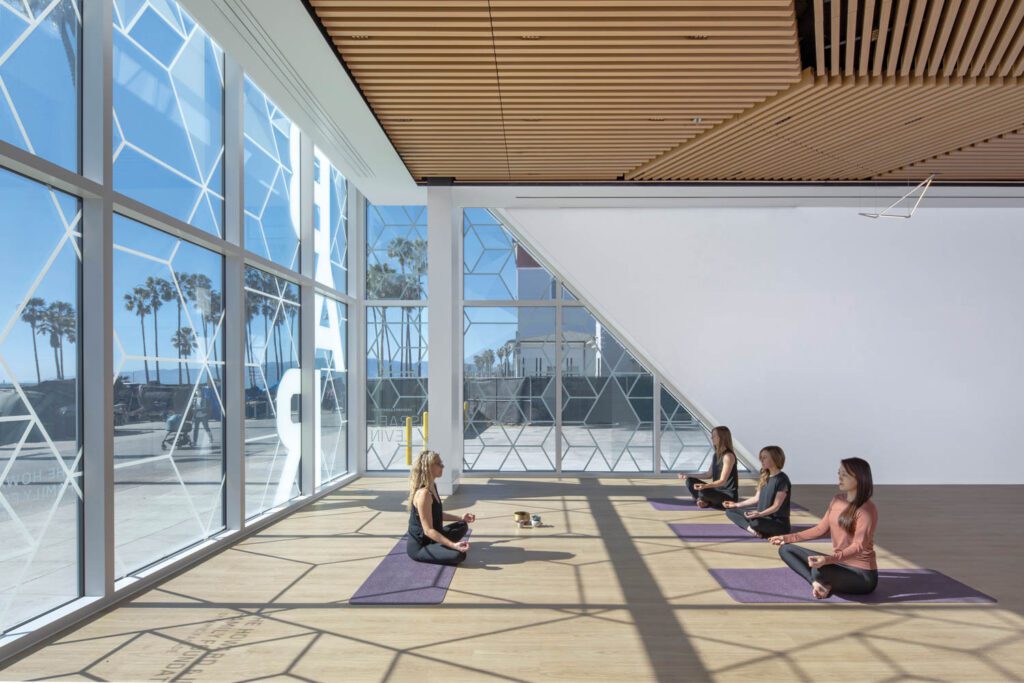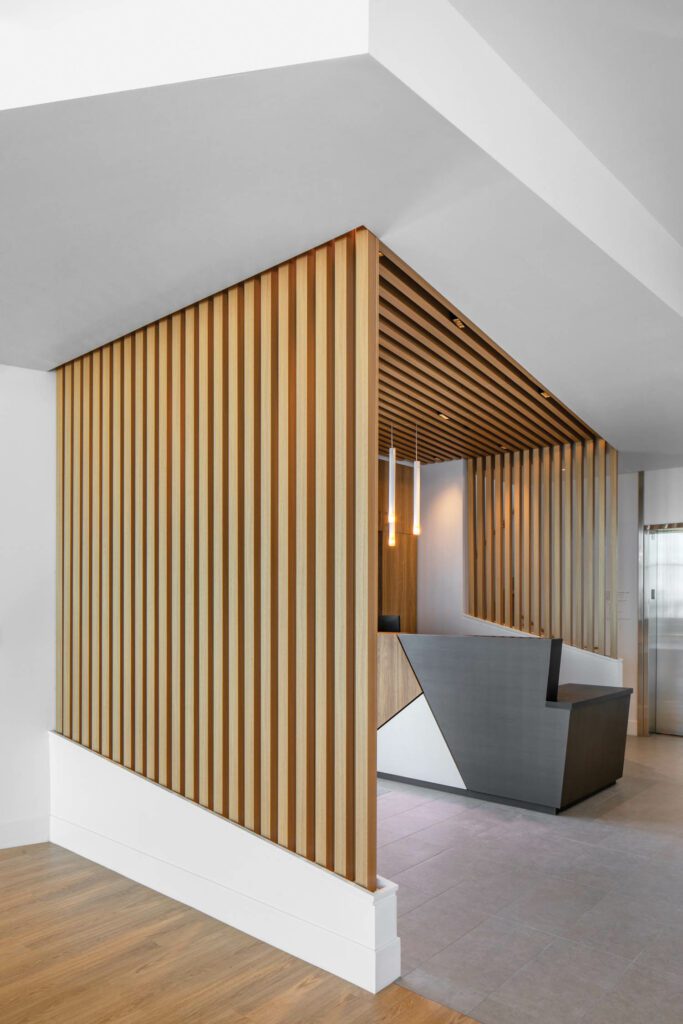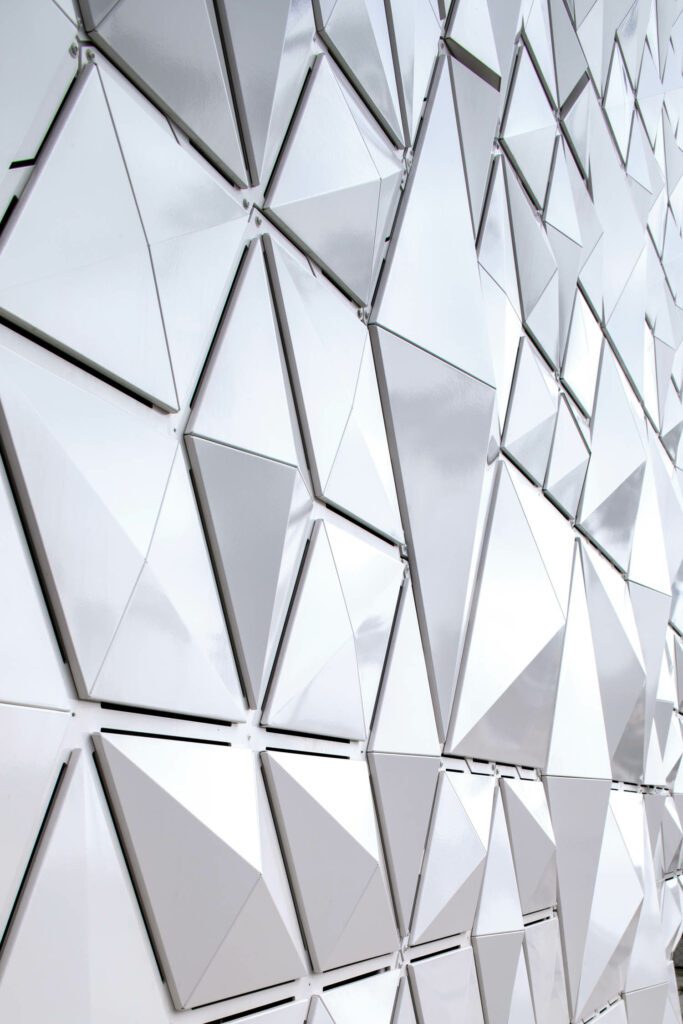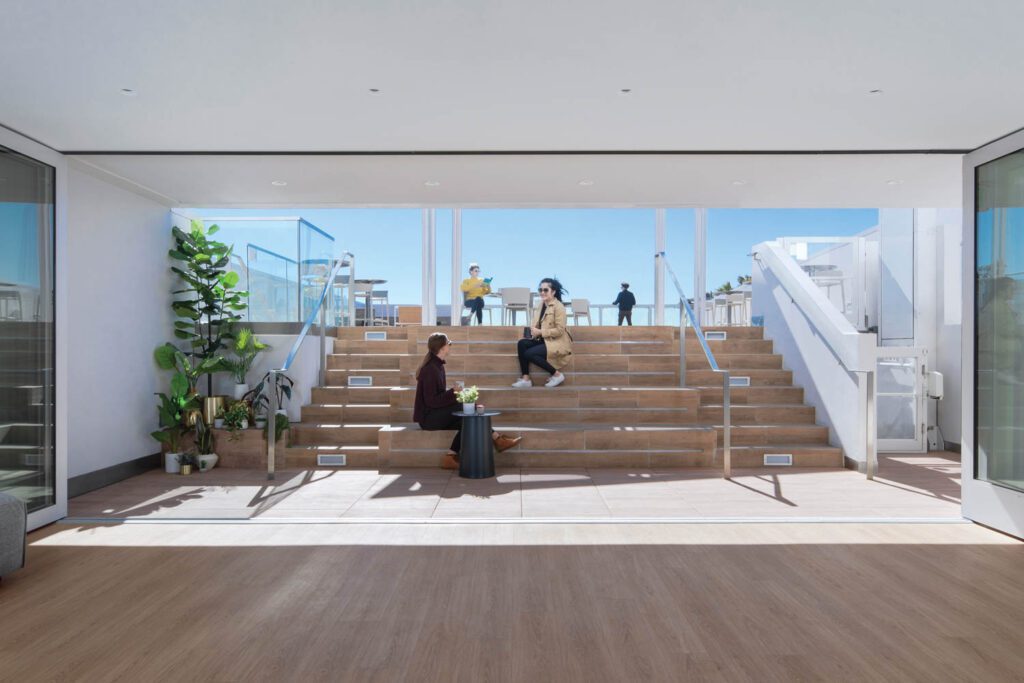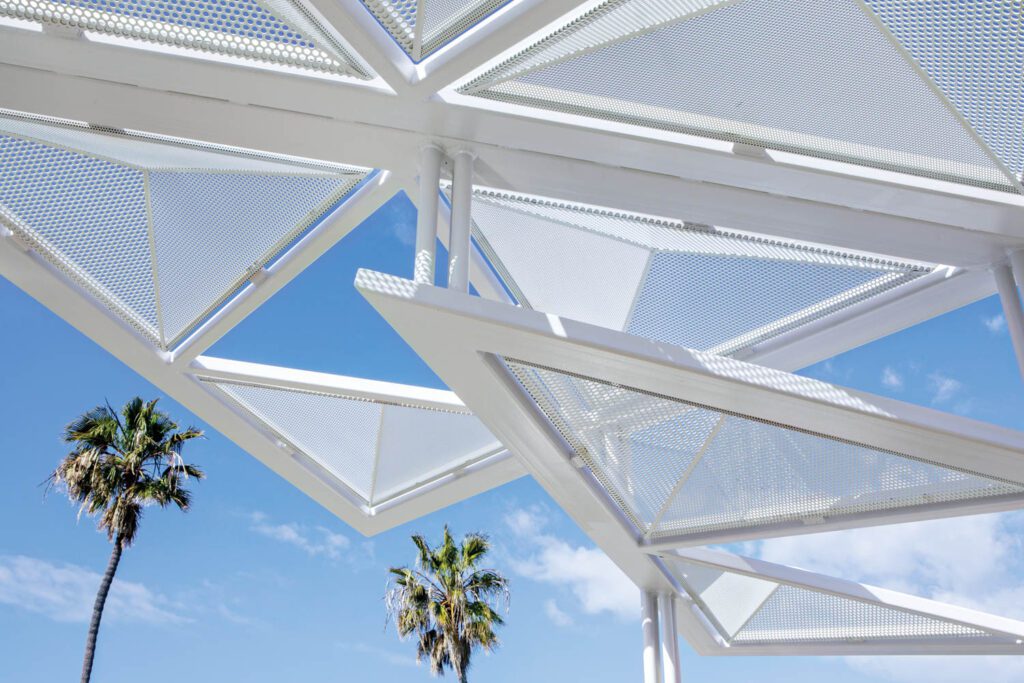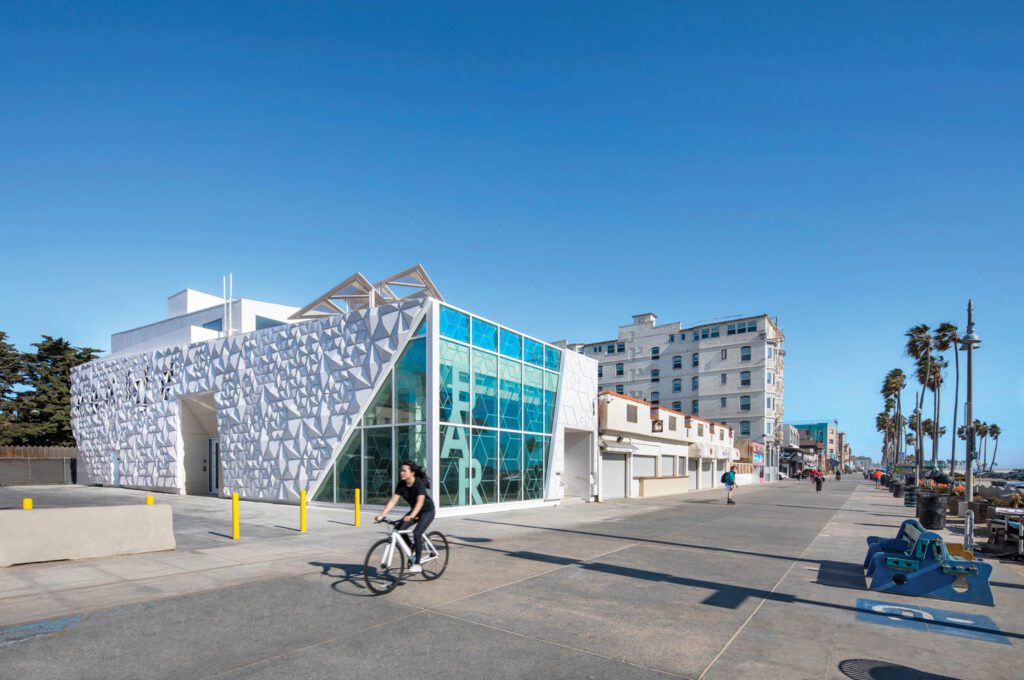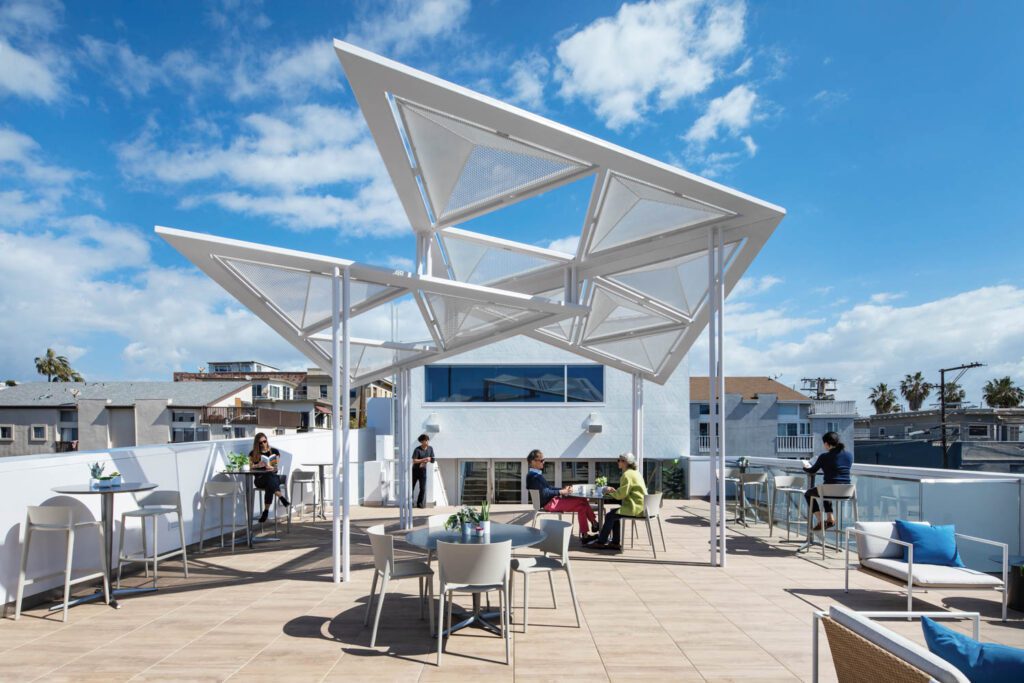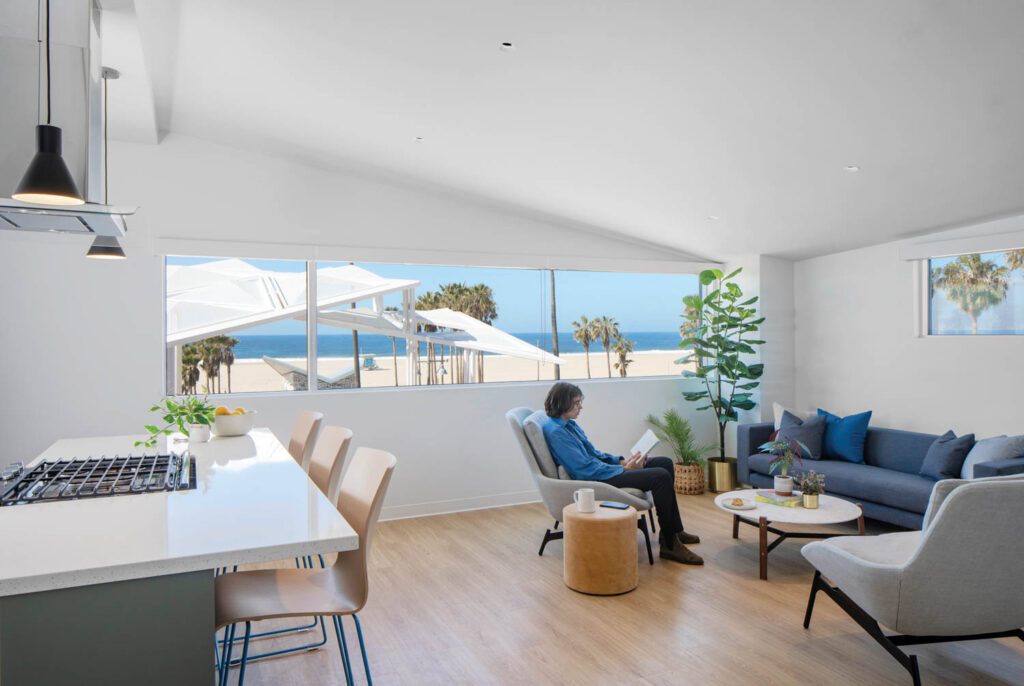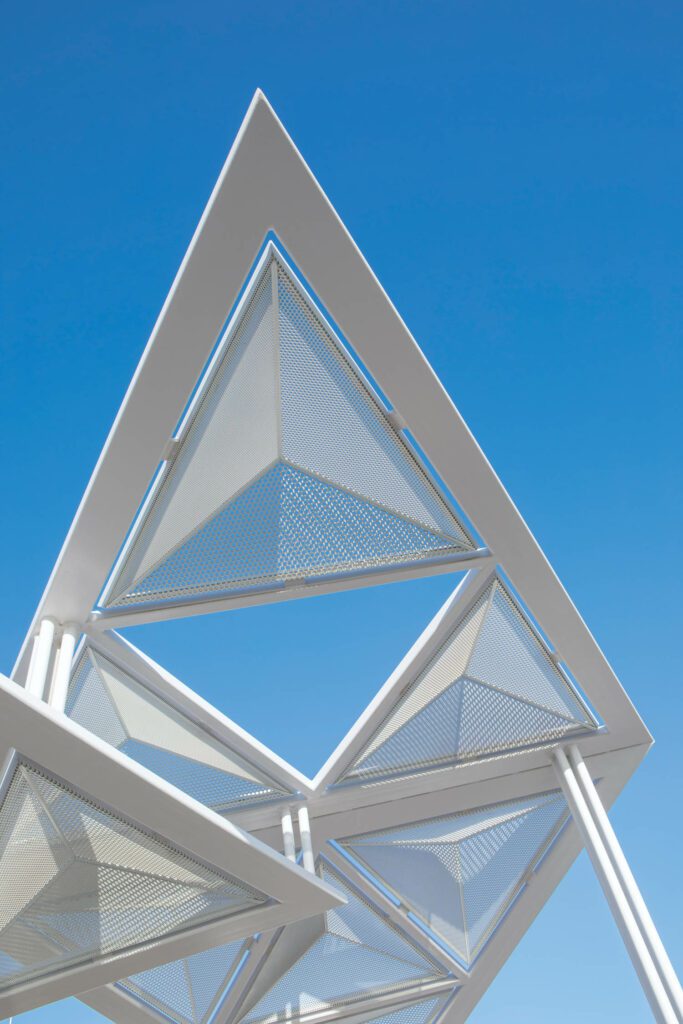 PROJECT TEAM
from front
THROUGHOUT